China manufacturer price poultry chicken feed pellet making plant for sale
2020-09-14 Back to List
If you are looking for related products or have any other questions, please feel free to contact us.
Contact Us
1.China manufacturer price poultry feed pellet making plant from Richi Machienry
RICHI customized poultry chicken feed mill plant is suitable for producing and processing feeds for animals like chicken, duck, goose, quail and other animals, which is customized in accordance of the clients requirements. For the clients who has high data pressure, we offer the customized small animal poultry chicken feed pellet production line. And the quantity of the chicken feed machinery in it is able to add or reduce based on your actual situation, to realize the less investment and maximum chicken feed production.
2.Raw materials for poultry chicken feed production
The common raw materials for poultry chicken feed are: corn, sorghum, black wheat, wheat, white rice, rice bran, rice, barley and its products, oat and its products, tapioca meal, vegetable meal, cotton meal, peanut meal, whey meal, meat and bone meal, fish meal, blood meal, feather powder etc.
Aiming to the features of these raw materials,RICHI ring die poultry chicken feed pellet production line mainly consists material receiving and cleaning system, crushing system, batching and mixing system, pelleting system(key machine for small poultry chicken feed mill) , finished products packaging system. Details of the breakdown can be seen in the poultry chicken feed production process table below.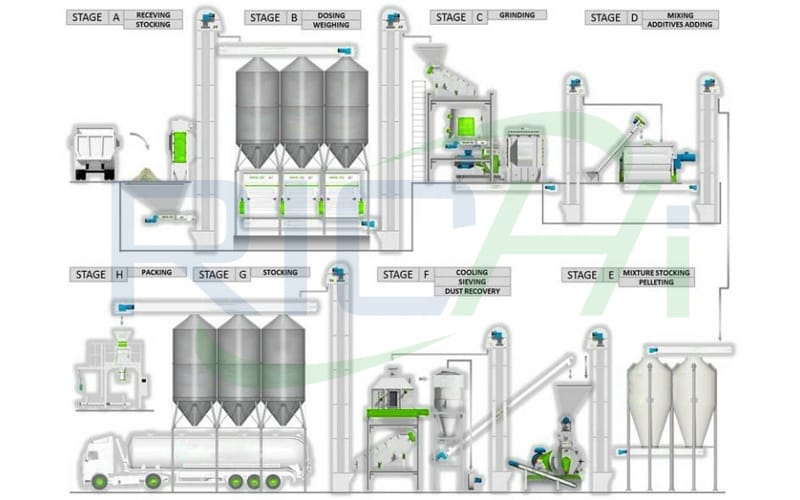 Richi Machinery poultry feed solutions fully consider the characteristics of raw materials, different combinations of equipment in each process only to provide you with better service.
3.China factory supply poultry chicken broiler animal feed pellet making plant output range and cost
Richi Machienry provides poultry feed production lines for you which can producing poultry feed, pig feed, ruminant feed and other animal powders 1 ton to 70 ton per hour,4000-300000T/YEAR. Also, we can customize the poultry feed plant with production capacity based on the actual demand from clients.
The cost of poultry chicken feed pellet manufacturing line with China factory price is around 20000USD-500,000,0USD.
Customized poultry feedstuff powder feed processing unit line can be precisely designed into the complete chicken feed machinery to produce feed for chicken as broiler, laying hen, chicks and the complete pig feed machinery to produce feed for piglets, fattening pigs and breeding pigs; also we can customize most suitable livestock, poultry and ruminants feed processing equipment, premix processing equipment, concentrate processing equipment etc in accordance of the clients'actual requirements.
4. Automatic small poultry pellet feed production plant
Considering the cash-strapped start-up clients, Richi Machinery specially launched small scale poultry pellet processing line and mobile sized feed line for poultry chicken.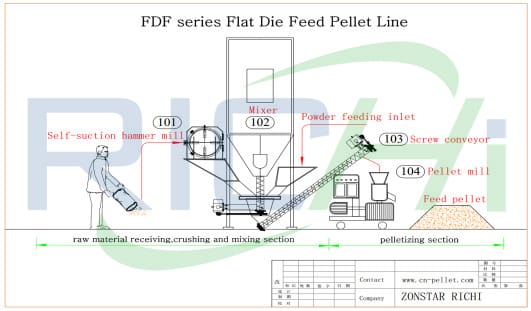 (1)80-800kg/h simple home use small flat die poultry chicken feed pellet making line for sale
Such as, chicken feed producing machinery, producing the animal feed pellets without adding water, is the type of "dry in and dry out". The pressed feed pellet can be stored for half a year without the quality going bad, helping the farmers to store the animal needed feed well. The most simple 80-800kg per hour poultry chicken feed pellet making plant produces the feed only with one set of fla die small poultry feed pellet machine. High temperature produced from the feed pellet mill machine operation can sterilize the feed, thus improving the quality of the feed. And of course, one set of machine is not enough for the small farm or the small feed processing factory, the users should choose the machinery according to actual scale and daily output requirement.
80-800kg/h poultry chicken feed mill plant cost is about 2000USD-4000USD.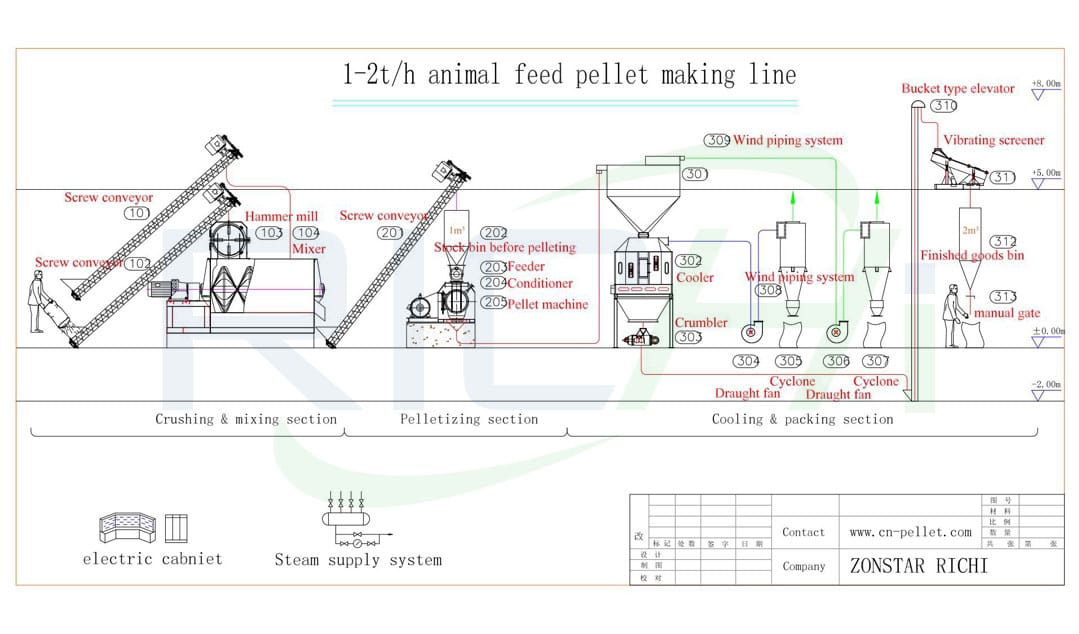 (2)1-2 ton per hour ring die poultry chicken animal feed processing plant for sale
The main equipment of a complete 1-2 ton per hour chicken feed pellet production machine line for poultry feed includes 37kw poultry feed grinder with CE, 22kw ring die poultry feed pellet milling machine, single roller chicken feed mixing machine, counter-flow feed pellet cooler, crumbler machine, pulse dust collector, vibrating screen, bagging machine, etc.
1-2T/H China manufacturer poultry feed plant cost is around 10000USD-100000USD.
As the manufacturer integrating widely used wholesale poultry feed production line design, installation and debugging, Richi Machinery not only supplies the professional poultry feed equipment and provides overall solution, but also is your loyal partner. We insist technical innovation, providing you with improved pre-sale, on-sale and after-sale service. As the increasingly expanded and intensive world map, all of you are welcomed to join us for creating your own feed career.