5T/H Ring Die Poultry Livestock Feed Pellet Machine For 5 Ton Per Hour Feed Prodution Line
2020-09-14 Back to List
If you are looking for related products or have any other questions, please feel free to contact us.
Contact Us
With the promotion and popularization artificial compounding feed in the animal husbandry, the highlights of 5t/h ring die poultry livestock feed pellet making machine has become more and more visible gradually, pellet machine brings strong driving force for the development of poultry and livestock, thus continuously increasing farmers buy the 5t/h pellet making machine to produce pellet feed by themselves.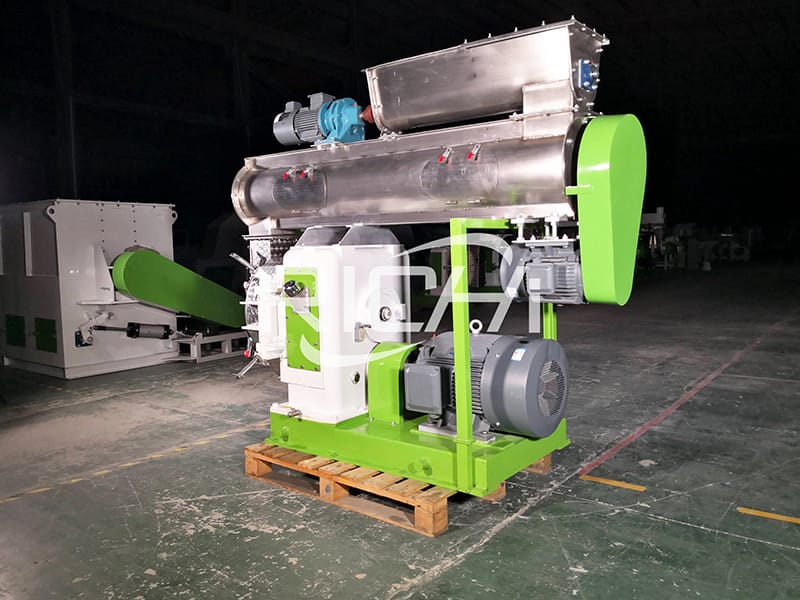 1.Why Choose 5 Ton Per Hour Poultry Livestock Feed Pellet Machine For 5T/H Feed Mill Plant ?
During the poultry livestock chicken pig pellet feed production, some additive medicine are put into the 5t/h poultry livestock feed pellet milling machine to reduce the nutrition loss, meanwhile killing the pathogenic microorganism and parasite, thus ensuring the feed quality. Because the poultry livstock feed pellet processing machine processes high quality pellet feed, suitable for middle and small scale animal livestock poultry feed pellet making plant, livestock farms, poultry farms and individual farm, becoming the ideal equipment for the farmers to produce animal feed.
2.Parameter Of 5 Ton Per Hour Ring Die Livestock Feed Pellet Milling Machine
Model:SZLH350
Capacity(TPH):5-7
Main Motor Power(kw):55
Feeder Motor Power(kw):1.5
Conditioner Power(kw):3
Dia.of Ring Die(mm):350
Final Pellet(mm):2~12
3.Helpful for Feeding and Disease Prevention of Livestock Animal
During the animal feed pellet production, 5 ton per hour ring die livestock poultry feed pellet processing equipment gelatinizes the starch of the mixed powder materials, making the pressed pellets possessing of certain fragrance, increasing the palatability of pellet feed and stimulate the appetite of animals. It is measured that the livestock animals increase food intake by 10-15% by feeding the pellet feed after curing , meanwhile during the pressing processing, short-period high temperature reaching to 70℃-100℃ in the livestock poultry feed machine kills a big part of parasitic ovum and pathogenic microorganism, apparently reducing the probability of animals being sick. It has been found that the livestock animals fed with pellet feed have less dysentery, stomatitis, and allotriophagia. Additionally, pellet feed is featured with uniform composition, tidy appearance, smooth surface, high density, adjustable length between 5-20mm and diameter between 1.5-6mm (needing to replace the die), easy to store and transport.
More Details About:
(1)5T/H Poultry Feed Pellet Prodution Processing Line
(2)5T/HLivestock Feed Pellet Manufacturing Plant
3.Helpful for Better Nutrition Absorption
When feeding animal pellet feed, animals chew them for longer time, giving the feed enough time to mix with saliva, stimulating intestinal motility, thus improving the nutrition digestibility of pellet feed. When 5t/h livestock poultry animal feed processing pellet machine works, the activity of the enzyme becomes strong, and the matters involved in the beans and cereals which stops the nutrition digestion and absorption will be passivated, that will be beneficial to the digestive system of the animals.
4.Increasingly Improved Livestock Poultry Feed Pellet Producing Machine
Through several years of developing, the animal feed producing technology of the livestock feed industry has been increasingly improving. And how to reduce feed cost and satisfy all sorts of livestock and poultry nutrition demand has become the first problem to be solved for the vast number of farmers and the feed industry. Straw biochemical protein feed technology is to soften the lignin inside of the agricultural straws through crushing, fermenting and pelleting etc. which degrades crude protein, crude fiber and crude fat into matters that is easy to be digested by animals. At the same time, a big amount of mycoprotein will be produced in the fermentation, becoming soft and sweet after fermentation.
And pelleting processing increases the palatability of livestock, the average level of crude protein, amino acid will increase to 40.6% and 95.8%, arginine, cystine, histidine increase by big percentages, sugar and fat content will increase too, producing the Vitamin B,D and E etc and growing factor. When mixed with the other materials, complete feed will be processed into pellet feed with rich nutrition through pellet machine, increasing the food intake for livestock, thus the animals grow faster. Grain investment cost is reduced (the nutrition value per ton of straws equals to 270 kg of pellet feed), feed cost is reduced, while the incomes of farmers is increased.
5. 5T/H ring die poultry livestock feed pellet making machine with manufacturer price
5T/H China factory price of complete animal feed pellet mill machine for livstock and poultry is around 20000-25000.
About more information of Hot Sale Livestock and Poultry Feed Ring Die Pellet Mill, please contact Richi Machienry!