Operation and use of 3t/h full automatic poultry chicken feed pellet plant
2020-09-04 Back to List
If you are looking for related products or have any other questions, please feel free to contact us.
Contact Us
In order to ensure the normal operation of the 3 tons per hour full automatic chicken pellet feed plant, prolong its service life, reduce failures, and improve economic efficiency, here are some suggestions on the operation and use of the 3 ton chicken feed line equipment for your reference.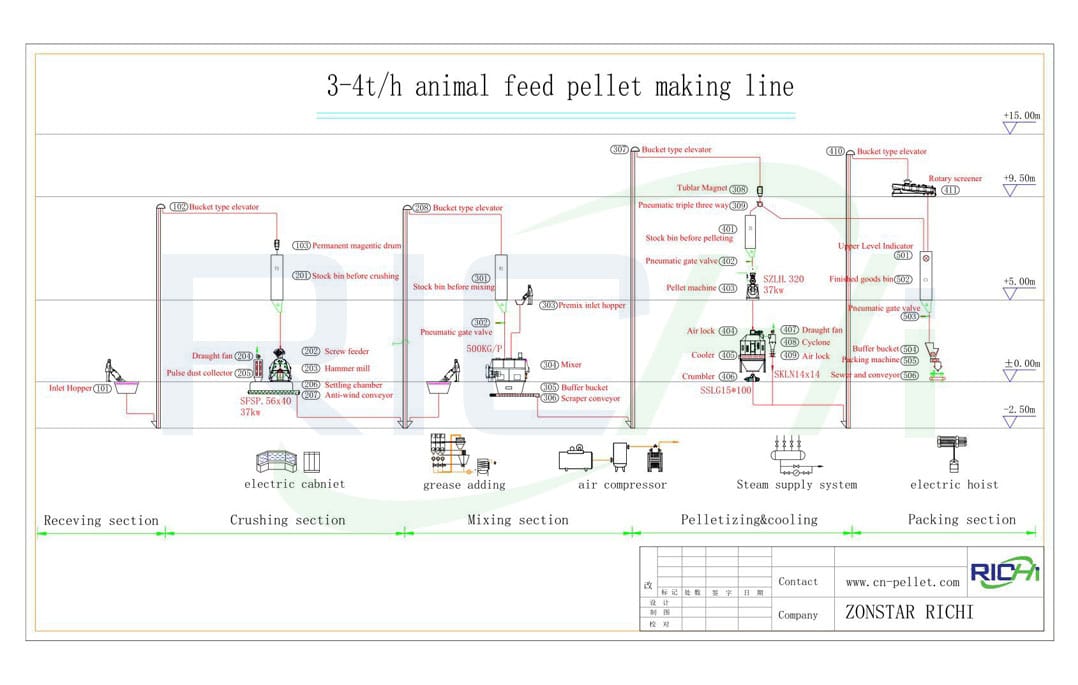 1. Before the 3t/h full automatic poultry chicken feed pellet making plant is started, the staff on duty at each post will inspect the equipment.
(1) Whether foreign matter has fallen into the equipment; whether each rotating part is flexible, whether there is jamming or bumping; whether each connecting part is firm; whether there is powder leakage, air leakage, oil leakage, etc. If there is a fault, it should be eliminated in time.
(2) Whether each gear has lubricating oil; whether the transmission belt tension is appropriate; whether the hammer of the chicken poultry feed hammer mill, the die and the pressure roller of the 3t/h ring die chicken feed pellet making machine, etc. need to be replaced; whether the screen specifications meet the requirements.
2. The personnel on duty in the control room should master the daily production schedule and the storage of main and auxiliary materials in order to schedule chicken feed production.
3. Operation sequence
(1) Turn on the main power switch first, and then place each system switch to the working position.
(2) Turn on the sound signal switch to notify each staff member to enter the work post.
(3) After finishing all preparations, the staff on duty in the control room determines the entry number of each material, assigns each three-way valve to the corresponding position, first activates the dust removal fan, and then turns on the switches according to the processing sequence.
(4) The personnel on duty in the control room should always pay attention to the various signal lights on the simulation screen. If the batching warehouse signals an empty or full warehouse, the relevant feeding personnel should be notified in time to operate the warehouse gate.
(5) The staff should according to the 3t/h chicken feed production arrangement, call up and input the required chicken feed formula, operate the computer and its auxiliary device correctly.
(6) When operating the feed device of the poultry chicken feed grinder machine and chicken pellet mill machine, ensure that the main motor is working under the rated current without clogging.
(7) Various trace elements, vitamins, etc., are fed in proportionately and quantitatively from the additive inlet of the chicken feed mixer. Each batch of materials is mixed by the chicken fodder mixing machine, and the input time is when each batch of materials is just started to be mixed by the control room Give input signals and feed materials in time.  
【3tph fully automatic poultry chicken feed plant machinery】
(1)CE Approved corn rice husk grinder hammer mill machine for chicken feed
(2)CE Certificate Chicken Food Mixing Processing Machine
(3)Widely used pelletizer of ring die to making chicken feed
(4)hot sale chicken feed pellet cooling machine
(5)china factory directly supply automatic chicken feed pellet packing machine