1-2 Ton per hour small scale cattle feed pellet processing plant machinery price
2020-08-11 Back to List
If you are looking for related products or have any other questions, please feel free to contact us.
Contact Us
What is the annual profit of a 1-2 tons per hour small cattle feed mill plant? How much is the cattle feed processing equipment? If you want to build a small cattle feed processing plant, the price and profit of cattle feed equipment must be considered. Since the situation of each country is very different, and Richi Machinery is a large-scale feed machinery manufacturer from China, the investment and equipment prices of cattle animal feed pellet making line s discussed today are based on small cattle feed mill processing plant in China.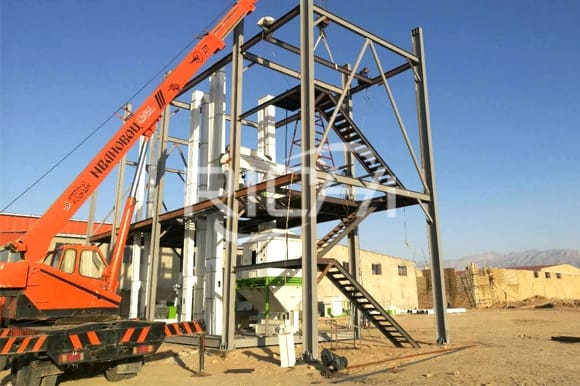 1.1-2 Ton per hour cattle cow feed pellet making plant price
(1) How much is the cost for setting a small cattle feed plant
Among them, compared with the investment cost of millions of large feed factories, the threshold for small feed factories is still very low. The mini cattle feed plant cost is about 100,000 to 200,000 yuan. Of course, the cost is only an estimate. The specific cost is based on actual It depends on the situation.
(2) Annual profit of small feed mill
Generally, the annual profit of a small feed factory is directly linked to the annual production capacity. That is to say, the higher the annual output, the higher the annual profit. Usually, the annual output of a small feed factory can reach about 2000 tons, if it is 300 yuan/ If you calculate the profit per ton, then the profit per year is about 600,000 yuan.
(3) Small cattle feed plant animal food manufacturing equipment
The 1-2 ton small cattle feed pellet line here refers to the kind of production and processing factory that is similar to a family workshop. The required space is not high. You only need to buy a cattle hammer mill grinder, a cattle feed mixer, and a small cattle animal feed pellet mill,a sewing machine, and then buy some processing materials, such as fish meal, corn, soybeans, whey powder, rapeseed meal, etc., basically have the ability to produce feed.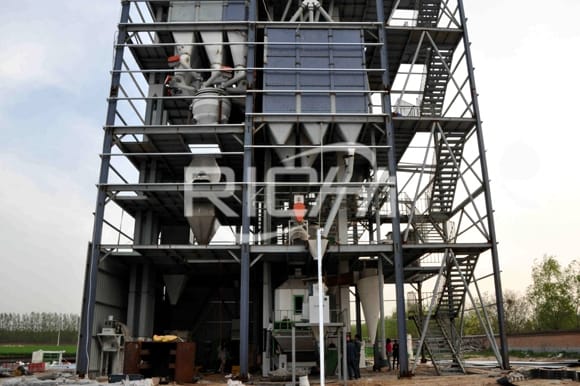 2. Precautions for opening 1-2 tons per hour small cattle feed plant
(1) Pay attention to the choice of opening venues
Generally, a small feed factory needs to have an independent area. The production area needs to meet the requirements of the cattle feed production process. At the same time, the transportation must be convenient. In order to prevent product contamination, reduce noise, and reduce pollution to the living area, the site needs to be equipped Good lighting, dust removal, ventilation and fire fighting measures.
(2) Carefully choose cattle feed production and processing equipment
Cattle feed processing equipment requires simple and efficient, pay attention to production performance, can choose equipment manufacturers that are easy to purchase accessories, and have more convenient maintenance services. Relatively speaking, the return on investment of cattle feed factories is relatively high. Although the market is now fiercely competitive, If small feed mills can continuously improve feed quality, the prospects are very impressive.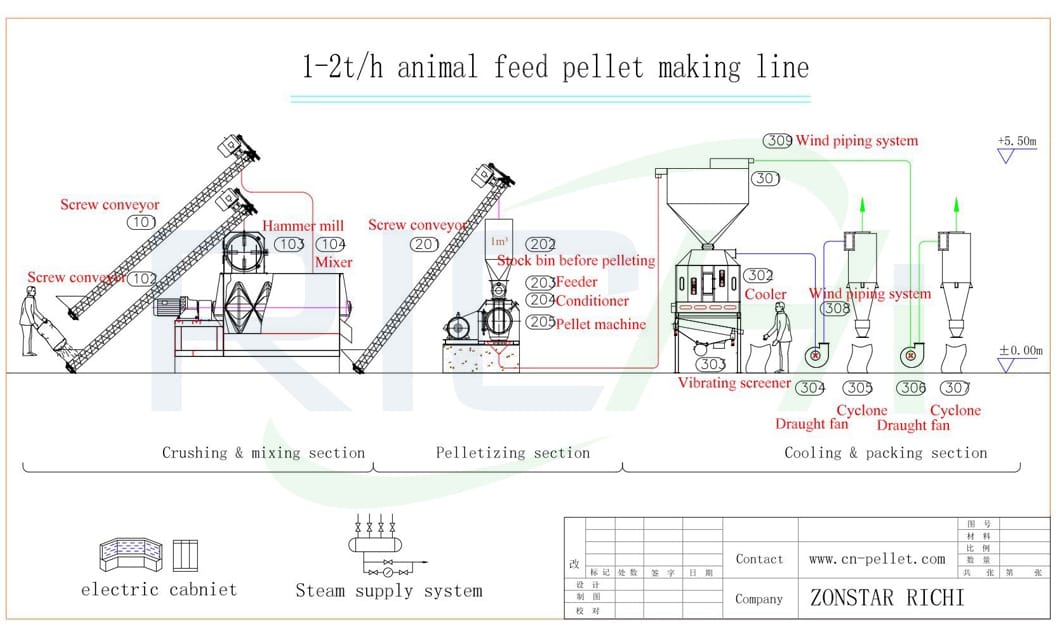 3.1-2t/h Cattle Feed Production Line
According to customer different feed types, different output configuration can be customized. We devote ourselves to undertaking all cattle feed production line 1-20T/H and to providing more value added service to all the customers.
Capacity:1-2 TPH per line.
Final Product: Pellet feed.
Pellet Size:4.0-10.0mm.
Dosing System:Manual or Automatic.
Bagging System: Manual or Automatic.
(1)RICHI will do these things for you:
①Determine the scale of cattle feed mill.
②Determine the feed process and recommend cattle feed machine.
③Control mode selection.
④Cattle feed manufacturing plant structure selection.
⑤Planning the general drawing of cattle feed mill plant site.
(2)1-2 TPH cattle feeding plant machine
Whether it is a family cattle farm or a small size cattle feed factory, the processing of cattle feed pellets is of course not only simple mixing, but also requires crushing, granulation and other stages. The following Richi Machinery will tell you in detail the process of a complete 1-2 ton per hour cattle feed pellet production line.
①Cleaning Machine
To ensure GMP cleaning is an important aspect. Different type of cleaner used for this purpose.
②Conveying machine
All transportations like bucket elevator, screw & chain conveyor etc. for conveying RM & Finished goods.
③Grinding machine
Raw materials need to be grinded as 225 m/microne perticle size by cattle feed crusher for different type of feed.
④Mixing machine
Different R/M are mixed here with additives, oil/fat, medicines, etc. Good cattle feed mixer ensure good quality.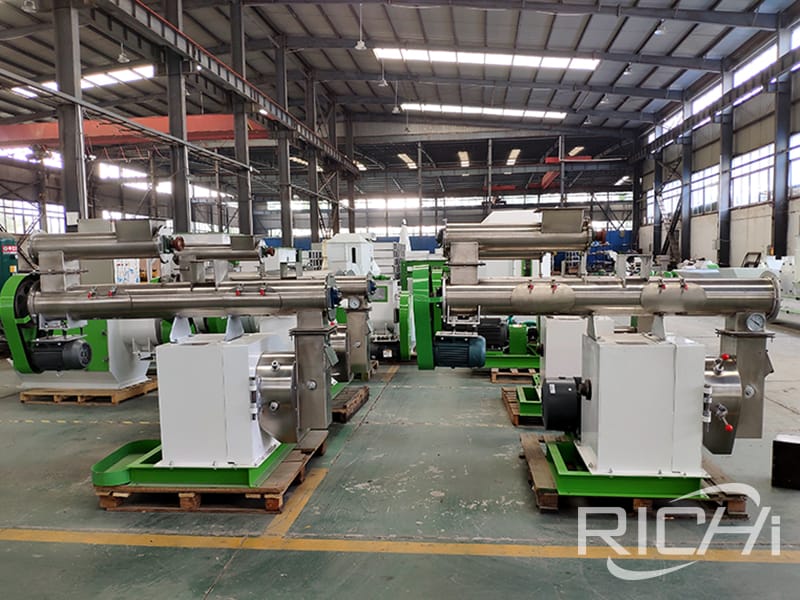 ⑤Pelleting machine
Produce final cattle pellet feed. A good pellet means "A complete feed" and a good cattle feed pellet making machine can ensure that.
⑥Cooling machine
Extruded feeds are about 70-90° C. Cattle feed cooling machine bring down it at normal temperature (+4° max).
⑦Screening machine
To ensure supply of quality and perfect size feed, screener plays a vital role. Uneven sizes screaned-out.
⑧Bagging machine
Ready cattle pellet feed need to be packed. It can be manual or automatic bagging depends on requirement.
4.Typical turn-key cattle cow feed pellet plant projects:
Saudi Arabia 15-16T/H Cattle Chicken Combined Feed Pellet Production Line
South Africa 10T/H cattle feed pellet manufacturing plant
This article is about complete set cattle animal feed pellet production line machine and cattle feed manufacturing plant cost.You can directly consult Richi Machinery for more questions about"1 ton per hour cattle feed pellet making plant""10t/h cattle feed pellet production machine line for cattle feed"" customized 5 ton per hour cattle animal feed processing plant""how to make cattle feed""corn grinder for cattle feed",for more info about cattle feed line price,Email: enquiry@cn-pellet.com,Whatsapp/Cel: +86 185 7410 3366