Small Scale Cattle Feed Processing Plant Machine For Making Cattle Pellet Feeds
2020-08-12 Back to List
If you are looking for related products or have any other questions, please feel free to contact us.
Contact Us
1. Small scale cattle farm investment (the following investment prices are subject to the actual situation of China's breeding industry)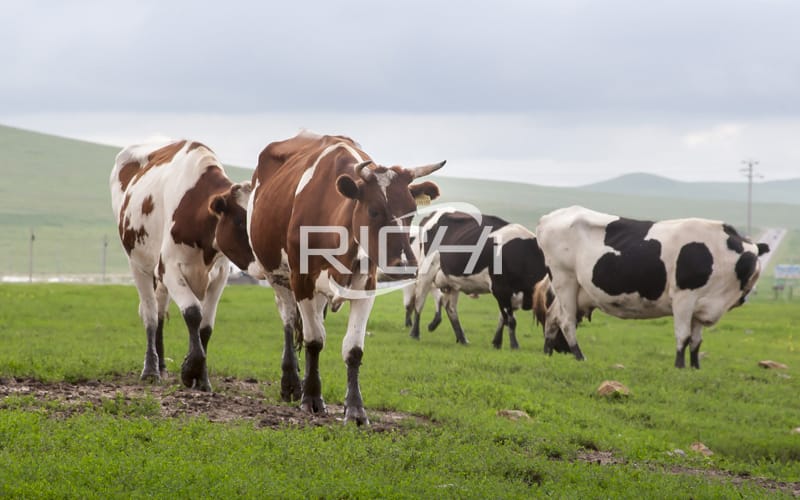 (1) The construction of a simple breeding farm mainly depends on the breeds selected by the farmers and the number of breeding. The first investment, including the cowshed, feed, labor, water and electricity, and slaughter, requires an investment of at least 10,000 yuan per cow. The total investment to build a small cattle farm of about 20 will also be around 200,000.
(2) Building a cattle farm is inseparable from pens, forage houses, grinders, water and electricity, etc. However, the cattle shed does not need to spend most of the money. Generally, it can be controlled at about 100,000 yuan. The most important thing is to keep the cattle Buy it.
(3) It takes more than 300,000 yuan to raise 50 cattle from buying cattle seedlings to raising them for slaughter.
This is speculated by Richi Machinery based on feedback from some cooperative farmers, and the specifics depend on the completeness of the cowshed building and feed equipment. Generally speaking, if the budget is not very sufficient, we usually advise customers to buy cost-effective feed equipment at the initial stage of establishing a cattle farm. If you want to expand the scale in the future, you can replace it with better equipment. Many of our customers do this. For example, I recently thought that an old customer from Uzbekistan runs a chicken farm, but the feed is processed by himself, so we have a 1-2 ton feed production line. Three years have passed. Due to good business conditions, the current output of the chicken feed pellet production line can no longer meet his needs, so he has ordered a 3-4 tons chicken feed processing line from Richi again, and the equipments are currently in the processing stage.
2.Cattle Pellet Feeding Machine For Making Cattle Pellet Feeds
Cattle feed pellet machine is a cattle feed processing machine to produce feeds for cattle,livestock,dairy cow. There are unique types of this cattle feed mill example industrial feed pellet machine electric small animal feed, flat die cattle feed machinery and manual cattle feed pellet machine. One of the advantages of the cattle feed equipment is that it's easy to manage for both small and large scale farmers. It's more economical to use and most of these cattle feed pellet mill making machine is that they are portable.
3.Why Farmers Like to Use Cattle Feed Pellet Making Machine?
The cattle feed pellet mill machines are mainly found on those countries that cattle farming is being practiced in small or large scale. Farmers appreciate this machine due to its durability, it's simple to use and moreover it has long life span that serves the farmer efficiently. African countries, India, Mexico and some parts of North America.
4.Advantages of China factory price animal feed pellet mill making machine for cattle food
(1)One of the advantages of these cattle compress pellet mills is that most of the small scale and large scale farmers can use it. When using the cow feed pellet mill the mixing of raw material is mainly done manually and the machine has a capability of mixing.
(2)The second advantage of the cattle feed pellet plant grain pellet mill is that it requires a very small land occupation.
(3)The other advantage is that for that operating it for the first time it becomes easier for them to handle because it has a quick installation.
(4)The small scale cattle feeding machine have low cost with more return to ensure that most farmers can be in a position to purchase it.
5.Cattle Feed Pellet Making Machine Used in Small Cattle Cows Feed Pellet Production Line
Small sized farms animal cattle fodder pellet making machine is used to small cattle cow feed pellet plant. Small cattel feed pellet plant is a machine system that is mainly made of the small flat die feed mill or small ring die cattle feed mill. The small cattle feed pellet production plant is usual use flat die cattle feed machine and the large cattle feed pellet manufacturing plant is usual use ring die cattle feed machine. The cattle feed pellet plant is appropriate for both large, medium and small scale farmers mainly made of simple structure with small occupation and it has a low noise.
The small cattel feed mill plant machine is more convenient to use because the cattle pellet equipment suitable for the both levels of farmers. lt has a smooth surface and a low density making it simple for farmers to use. The primary advantage of the cattle feed pellet plant is that it has a better adaptability and occupies a narrow area. The other advantage is that the feed pellet made by this plant are of high hardness and smooth surface therefore making it easier for digestion and absorption. The third point is that small cattle feed pellet plant when being used the moister of the pellets is more similar to the moisture of the material why therefore good for storage. Cattle feed pellet is also made of quality therefore it's more durable for most of the farmers to utilize it.
Factory Price cattle feed pellet processing line plant
Capacity:300kg-2ton per hour
Final Product: Pellet feed.
Pellet Size:4.0-10.0mm.
Dosing System:Manual or Automatic.
Bagging System: Manual or Automatic.
6.Typical small cattle cow feed pellet plant design:
Flat die farm animal cattle feed pelletizing line plant
(The flow chart is for reference only, we can customize any production line suitable for you)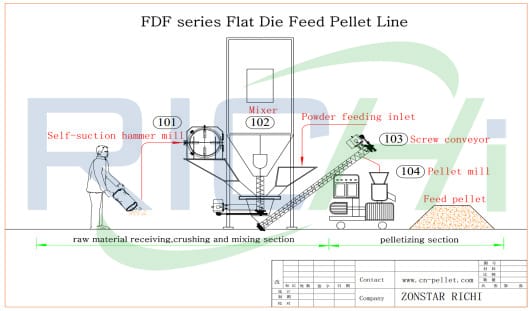 1-2 ton per hour small plant cattle pellet feed production plant
(The flow chart is for reference only, we can customize any production line suitable for you)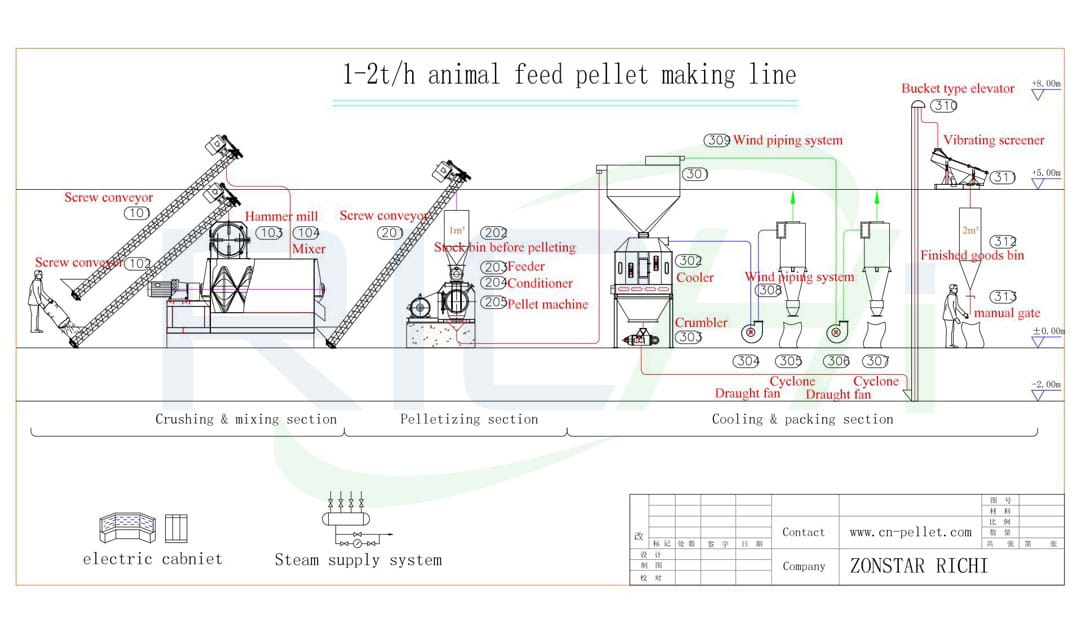 7.Typical turn-key cattle cow feed pellet plant projects:
Saudi Arabia 15-16T/H Cattle Chicken Combined Feed Pellet Production Processing Line
South Africa 10T/H cattle feed pellet manufacturing plant
This article is about complete set cattle animal feed pellet production line machine and cattle feed manufacturing plant cost.You can directly consult Richi Machinery for more questions about"2 tons farm animal cattle feed pelletizing line plant""10t/h cattle feed alfalfa pellet production plant"" customized 5 ton per hour feed making plant""how to make cattle feed""corn grinder for cattle feed",for more info about cattle feed line price,Email: enquiry@cn-pellet.com,Whatsapp/Cel: +86 185 7410 3366