New design automatic poultry broiler pellet feed production plant for sale
2020-07-27 Back to List
If you are looking for related products or have any other questions, please feel free to contact us.
Contact Us
Richi Machinery's new design automatic poultry broiler feed production line is equipped with main feed inlet, hoist, rotary distributor, batching bin, batching scale, pellet pre-cleaner,corn grinder for chicken feed, mixing bin, animal poultry chicken food mixer, chicken pellet making machine,chicken pellet cooler and packing scale. according to the direction of raw material travel. The broiler chicken feed produced by this complete set broiler poultry animal feed pellet production line has the advantages of uniform composition, good quality, simple structure, good energy saving effect, and low feed production cost.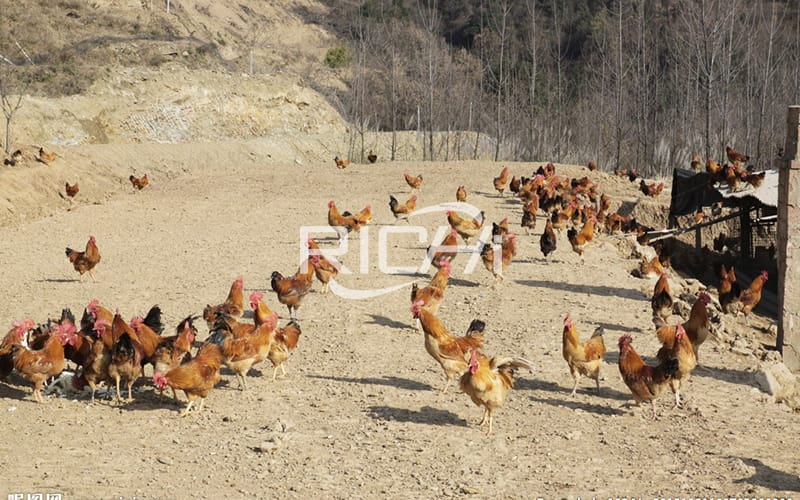 1. Process requirements of new design broiler forage pellet production line
(1) Corn crush (using Ф2.0~2.5 screen);
(2) The granulating die hole is Ф3.5-4.0, and the granule hardness requires high;
2. Difficulties in the new design broiler chicken feed mill
(1) Powdering rate
(2) Output
(3) Conditioning temperature in winter (70℃)
3. Improvement goals that innovative technology can bring
(1) The particle powdering rate ≤5%
(2) Unit output increased by more than 15%
(3) Formula and production operating costs are reduced by 10% on the existing basis
(4) The feed to meat ratio is reduced by 0.05-0.1 on the existing basis
4.New design complete broiler chicken feed manufacturing line process
Raw material cleaning——coarse crushing of corn (fine crushing of other raw materials)——ingredient mixing——pelleting——cooling——screening——liquid adding & coating——packaging
Technical value of key processes
(1) Tempering and maturation: improve the gelatinization degree of the surface layer of large grain corn;
(2) Homogeneous extrusion: improve the gelatinization degree of large-grain corn core, soften the hardness of large-grain corn; remove Salmonella and Escherichia coli, reduce aflatoxin and other mycotoxins;
(3) Pelleting: The degree of granulation gelatinization reaches more than 40%, which improves granulation conditioning effect and granulation output, reduces ring die hole resistance, reduces ring die wear, reduces powdering rate, and improves particle strength and hardness;
Main machine in this section:Ring die Poultry Feed Pellet Machine
(4) liquid adding & coating: post-spraying heat-sensitive elements such as vitamins and enzyme preparations and grease to reduce nutrient loss and reduce formula costs;
Main machine in this section: Intermittent Liquid Adding Machine
5. The value of the new design chicken feed manufacturing line
(1)High quality (high gelatinization, low powdering rate, high pellet strength, high hardness), high efficiency (high output), low consumption (low cost), high efficiency (creating value for feed factories)
(2)Feed safety (sterilization) animal feeding safety
3. Low feed-to-meat ratio (creating value for farmers)
6.China Supply Poultry Broiler Feed Mill for Sale
For the needs of special chicken broiler formula and special feed quality, conventional feed processing technology cannot solve it. To meet the processing requirements of special needs, special innovative processes and key technologies and equipment must be designed to meet their special needs, so as to improve feed processing efficiency, reduce formula and production costs, improve feed quality, and reduce feed-to-meat ratio , And ultimately realize customer value.
The poultry feed mills that RICHI has constructed adopt module design to realize customized poultry feed requirement. Meanwhile, RICHI's deep processing and innovative machines provide quality and safe feed for full poultry feed mill plants efficiently. The advanced technology used in RICHI's feed processing technology and our engineers'professional and rich processing technology ensure the most strict hygiene standard in feed milling and reduce pollution and cross contamination.
[More related knowledge about broiler pellet feed]
Complete poultry feed plant manufacturer
Turn-key cattel chicken broiler layer cow sheep fish feed plant
10t/h automatic complete poultry broiler feed pellet line with reasonable price
How to make chicken feed pellet for broilers?
Broiler chicken feed pellet formulas