Matters needing attention during the use of feed hammer mill (Part 1)
2020-01-24 Back to List
If you are looking for related products or have any other questions, please feel free to contact us.
Contact Us
The feed crusher is the first section of equipment in the feed production line, and its operation will directly affect the orderly progress of the subsequent mixing section, pelleting section, cooling section and packing section. However, in the actual use of feed mill, there are a lot of matters needing attention. Let me list them for you today.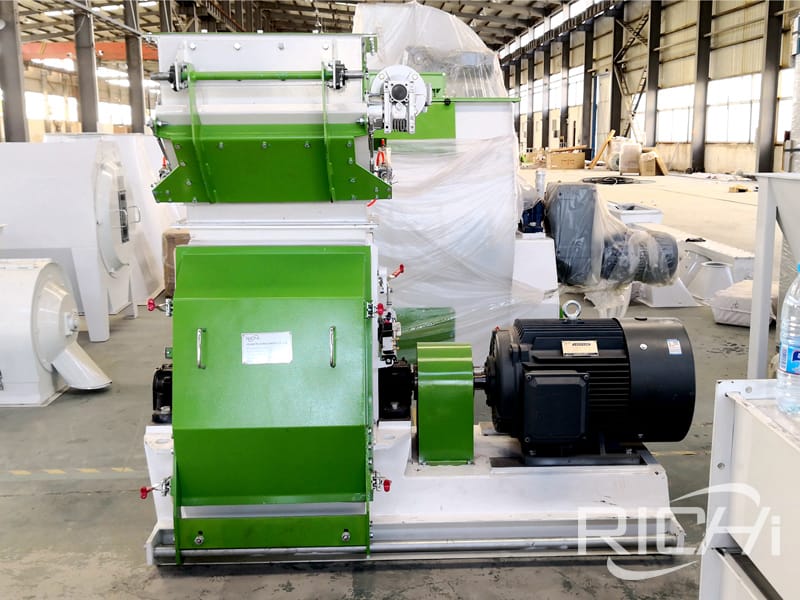 1. The shredder must be fixedly installed, and the axis of the shredder pulley and the power machine pulley should be parallel, and the two transmission pulley grooves must be on the same straight line, otherwise, not only the acceleration mechanism is damaged, but the belt is easy to fall.
2. If the belt pulley needs to be modified, it must be calculated to meet the needs of the spindle speed of the crusher. Do not increase the spindle speed at will. When the speed exceeds 15% of the rated value, it will cause severe vibration of the machine.
3. Carefully clean up the raw materials in advance and screen or select them if necessary to prevent iron parts, stones, etc. from entering the machine.
4. Before each use, open the shredder cover and check whether there is any damage in the machine, especially whether the cotter pin on the rotor is intact and whether the connection is loose. When it is confirmed that it is intact, close the cover firmly and screw it into the handwheel on the door. Drag the belt with your hand to check whether the moving part is flexible and whether there are abnormal noises and jamming.
5. After the machine is started, it needs to idle for 2-3 minutes, and it will be gradually added after normal operation.
6. The operator should tie the cuffs tightly, wear a mask, and gloves are strictly forbidden. When feeding, stand on the side of the grinder to prevent rebound debris from hurting the face. When crushing long stem crops, do not pinch your hands to prevent The hand was injured by being pulled back by the crop.
7. Feeding should follow the principle of "uniform feeding, small amount fast loading", that is, from small to large, until the load is normal, and continuous and uniform, to prevent "traffic jams".
8. If the inlet is blocked, do not use wooden sticks and iron rods to prevent sticks from being brought into the machine or popping them out. It is also not allowed to reach into the inlet to dial the material. You can use a harder stem The raw material is pushed into the crushing chamber.
View Richi Machinery feed hammer mill crusher:
(1)SFSP66*80b Feed Hammer Mill(10-13 ton per hour):https://www.cn-pellet.com/product/feed-hammer-mill.html
(2)SFSP66*60a Feed Grain Hammer Mill(5-8 ton per hour):https://www.cn-pellet.com/product/sfsp-fine-grain-hammer-mill.html
(3)SFSP66*60b high-performance animal feed hammer mill(6-9 ton per hour):https://www.cn-pellet.com/product/animal-feed-hammer-mill.html
(4)SFSP66*80a Animal Feed Grinding Machine(8-10 ton per hour):https://www.cn-pellet.com/product/animal-feed-grinding-machine.html
See more efficient feed crushers:https://www.cn-pellet.com/product/crusher-mixer/