Turnkey project large scale best design 45t/h native chicken poultry feeds production plant business plan
2021-03-19 Back to List
If you are looking for related products or have any other questions, please feel free to contact us.
Contact Us
Today RICHI will share you a business plant for 45tph full automatic poultry feed making plant for native chicken feed production.
1. Project Overview
A native chicken feed factory with an output of 45 tons per hour (120,000 tons per year), the project covers an area of ​​51.62 acres; the total construction area is 17,240.33m², of which the raw material workshop is 4,147.07m², the finished product workshop is 8267.95m², the raw material shed is 2,056.16m², and the business building is 1,464.20 m², 1034.95m² of auxiliary buildings. This project includes 3 native chicken feed production lines, including 2 broiler feed production lines of 18t/h (an annual output of 50,000 tons) and 1 laying hen feed production line of 8t/h (an annual output of 20,000 tons), as well as supporting the construction of water circuits and other infrastructure.
The characteristics of native chicken feed are moderate crushing fineness (sieve mesh aperture 2-4mm), moderate maturation and conditioning requirements (the pelletizer adopts double-layer conditioner), and the reserved quality preserver can increase maturity to produce high-grade feed and finished pellets. Large diameter (particle diameter is about 2.5-4mm).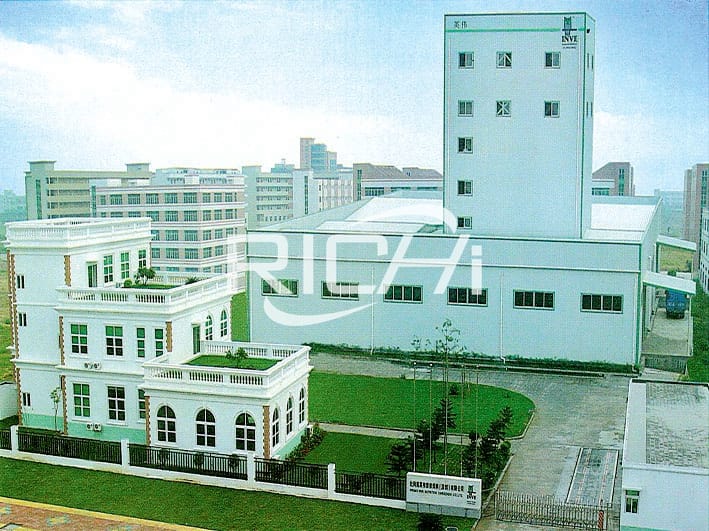 This epc poultry chicken feed factory project is designed to produce 45T/H per hour, using three crushing lines, one ingredient mixing line, three pelletizing lines, two packing lines and bulk packaging lines. The total power of the equipment is approximately: 1650KW; the construction area of ​​the feed production area is approximately: 16.5×33×40.5m; it is equipped with a 4T boiler. The whole line has compact design, reasonable structure, meets environmental protection requirements, and can be oriented design according to customer requirements.
2. Project construction investment:
Total investment of 1.48 million US dollars;
3. Project duration:
360 Days.
4. Raw materials used by customers:
Corn, wheat, barley, oats, sorghum, soybeans, soybean meal, fish meal, amino acids, miscellaneous meal, whey powder, oil, meat and bone meal, grains, feed additives, etc.
5.Most common methods for animal feed processing in 45t/h chicken poultry feed making line
(1)Complete 45tph autoomatic chicken poultry feed mill process flow
Silo-raw material receiving-crushing section-batching mixing section-granulating section-packing section-auxiliary section
(2)Details about 45 tons chicken poultry animal feed processing methods
① Silo storage section: This section is equipped with 3 2000T corn silos, which adopt an assembled structure, which reduces the cost of raw material storage, manual handling and storage area;
②Raw material receiving and cleaning section: In this section, the pellet feeding and powder feeding cleaning are separated independently, and the dust is removed separately, and the dust removal effect is good.
③Crushing section: This section adopts three chicken feed grinding machines and six smashing bins, which can alternately replace the crushed varieties. Before the raw materials enter the warehouse, impurities are removed by a magnetic separator to ensure the safe operation of the poultry chicken animal feed cereal corn rice grinders.
④Batching mixing section: This section uses 30 batching bins. Due to the large number of bins, three batching scales are designed to be batched at the same time. The batching program is independently developed by our company to realize accurate fast and slow feeding, fast batching speed and high precision.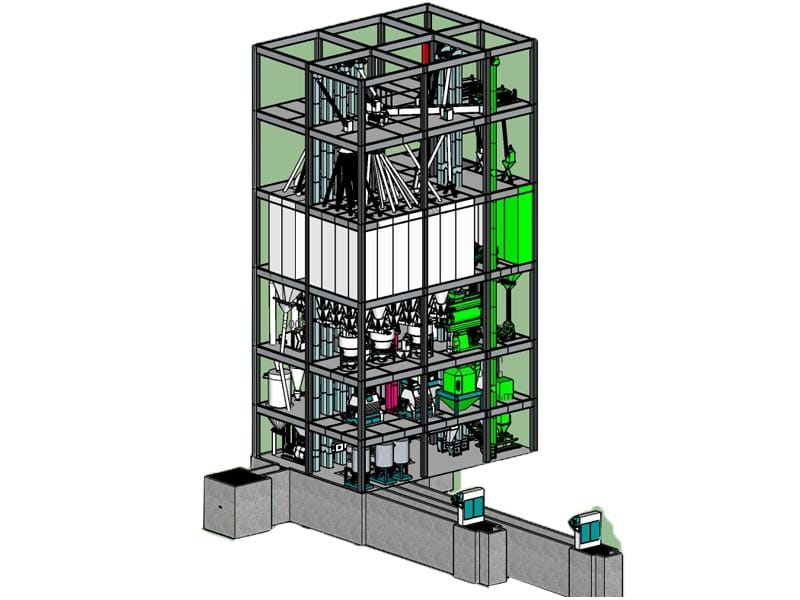 ⑤Pelleting section: According to the customer's process requirements, this section adopts three single-layer conditioners high quality chicken feed pellet making machines, and six granulating bins, which is convenient for changing varieties. After pelleting process, it enters into the chicken pellet cooler and the elevator to enter the rotary grading sieve for screening in order, and then enters the finished product warehouse after enzymatic spraying, and the rest is returned to the granulation or bag receiving.
⑥Packing section: This section is designed with 6 automatic packaging finished product warehouses and 12 bulk release finished product warehouses. Among the automatic packaging finished product warehouses, 5 warehouses are dedicated to the storage of finished pellets, and 1 powder and pellets can be stored. A unique anti-grading device is designed in the finished product warehouse. The granular materials or powder materials are finally automatically weighed and packaged by the packaging scale, and the bulk storage truck at the bottom of the bulk warehouse can be directly loaded and transported away.
⑦Auxiliary section: Dust removal system to improve the working environment of workers; grease addition system, commonly added at mixers, to improve the palatability of chicken feed.
(3)Manufacturing machines for chicken feed in 45t/h poultry feed mills chicken feed production
(4) According to the needs of different customers, the program can be optimized as follows:
① This scheme adopts the single-point dust removal mode, that is, each rotary distributor (powder) and granular material cleaning screen is equipped with a pulse dust collector, which has a good dust removal effect. Single-point dust removal is a humanized design for our company, providing a better working environment, but the cost increases, and customers can consider whether to adopt this configuration according to actual needs;
②The number of silos can also be adjusted according to the customer's formula, the characteristics of the raw materials and other factors to achieve the highest utilization rate and effectively control the production cost;
③In this plan, the chicken poultry feed pelletizer adopts a single-layer conditioner to meet the needs of general customers. At the same time, space for a quality preserving device is reserved. Customers can choose to use a quality preserving device to further improve the maturity of the material and improve the quality of the finished feed;
④ A chicken pellet crumbler can be selected after the cooler, especially when producing poultry feed, the crumbler can crush the finished large particles into small particles, improve production efficiency and reduce production costs;
⑤The distribution of finished products can be selected according to actual needs.