Constructing an animal poultry chicken feed manufacturing plant project with 40 tons per hour produciton capacity
2021-03-19 Back to List
If you are looking for related products or have any other questions, please feel free to contact us.
Contact Us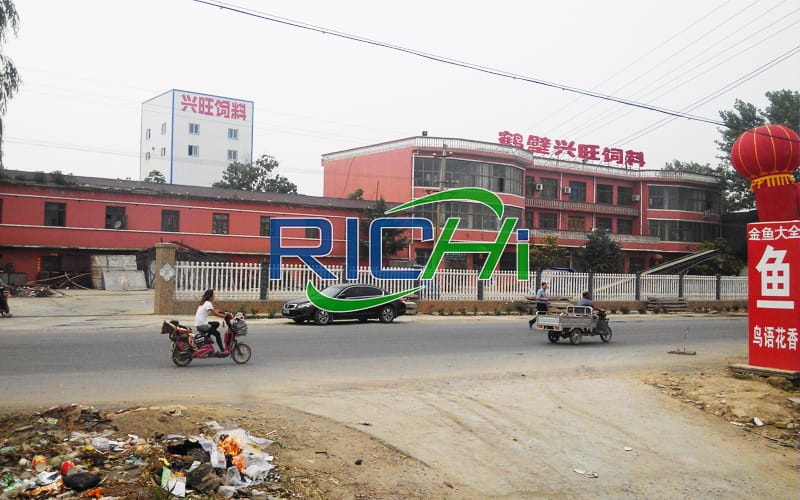 1. Project name:
40 Tons/hour poultry chicken feed factory construction project
2. Project construction content
Introduce joint ventures or cooperation with enterprises to build three crushing lines, two batching mixing lines, four granulating lines and four packing lines, with an annual production capacity of 100,000 tons.
3. Project construction conditions
The customer company now owns 60 acres of land with property rights, 2,347 acres of circulated leased land, and has 3 core poultry farms. The construction of the project conforms to the national industrial policy and local industrial planning, and meets the needs of enterprise development. It will promote the development of local economy and ensure food safety.
4. Investment budget
The total investment of the 40t/h animal poultry feed pellet manufacturing plant project is 113.2 million yuan, including 73.2 million yuan in construction investment and 40 million yuan in circulating funds.
5. Benefit analysis
(1) Economic benefits
After the large capacity 40tph compound chicken poultry feed making plant project is completed, the annual operating income will be 1.050 million yuan and the profit will be 165 million yuan.
(2) Social benefits
After the large 40tph chicken poultry pellet feed production project is completed, good social benefits can be won. Significantly reduce the breeding costs of local and surrounding pig farmers and increase breeding income; the project provides safe and pollution-free feed products to farmers, which will effectively ensure the safety of key inputs in poultry production and also ensure the safety of chicken food.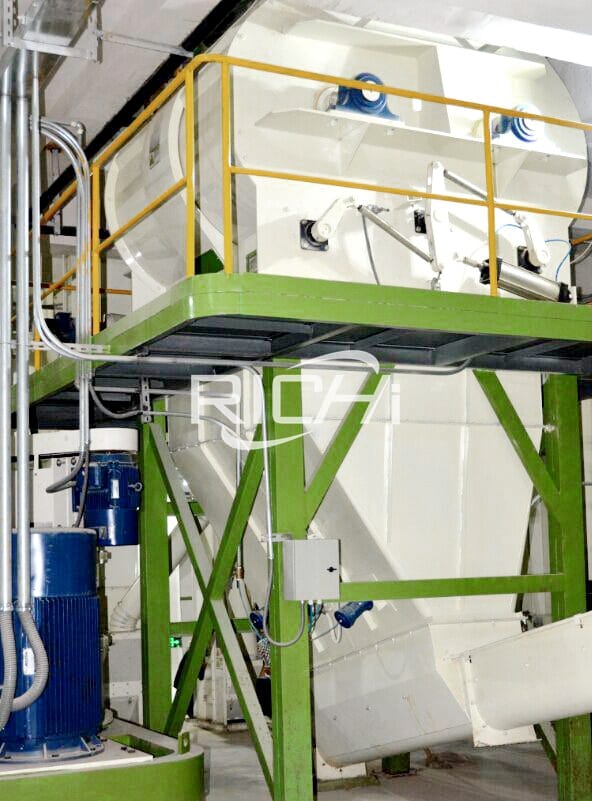 6. Market analysis
In recent years, China's feed industry has developed steadily, achieving substantial growth in feed output, output value, profits and taxes, and employment. It has completed a leap from hand-crafted workshop production to the world's second largest feed producer. The feed industry has rapidly developed into livestock and aquatic products The development of aquaculture provides basic support and strategic guarantee.
Today, the animal feed industry is facing an increasingly complex production situation, and the total feed output still maintains a steady growth. China's total annual commercial feed production exceeded 150 million tons, an increase of more than 5% year-on-year; from a structural point of view, the growth rate of chicken feed exceeded 10%. After years of development, China's feed industry is entering a mature period, and differentiated competition will become inevitable. Health, social responsibility, and mixed operation will be the industry characteristics of the feed industry. The construction of a pollution-free poultry feed production line is an urgent market need to drive base demonstration farms, professional chicken breeding cooperatives, and large breeding households to standardize breeding, healthy breeding, and clean breeding.
7. 40TPH China chicken poultry feed mill construction project overview:
Poultry chicken feed is characterized by moderate crushing fineness (sieve mesh aperture 2-4mm), moderate maturation and conditioning requirements (granulators mostly use double-layer conditioners), and the finished particle diameter is large (particle diameter is about 2.5-4mm) .
The total power of the equipment is approximately: 1400KW; the construction area of ​​the production area is approximately: 24.5×22.5×35m; it is equipped with a 3T boiler. The whole line has compact design, reasonable structure, meets environmental protection requirements, and can be oriented design according to customer requirements. The feed materials for this project include corn, wheat, barley, oats, sorghum, soybeans, soybean meal, fish meal, amino acids, miscellaneous meal, whey powder, oil, meat and bone meal, grains, feed additives and other feed materials of more than ten varieties.
8.Stages of 40t/h poultry chcken feed production and its equipments
(1) Components of a 40t/h chicken poultry feed production plant for pellets
①Raw material receiving and cleaning section: In this section, the granular material feeding and cleaning are separated from the powder feeding and cleaning, separate dust removal, and the dust removal effect is good.
②Crushing section: This section uses three hammer mill mash sizes for poultry chicken feed, each hammer mill machine to grind corn maize gain for chicken feed is equipped with two smashing bins, which can crush different raw materials at the same time to improve production efficiency. Before the raw materials enter the warehouse, impurities are removed by a magnetic separator to ensure the safe operation of the crusher.
③Batching mixing section: This section uses 36 batching bins, of which 4 shared bins are equipped with two sets of batching mixing systems. Each set of batching system is equipped with two batching scales for simultaneous batching, which is controlled by the batching program independently developed by our company. Accurate fast and slow feeding, fast batching speed and high precision.
④ Pelleting section: This section adopts four double-layer pellet making machines for chicken feeds, each poultry chicken pellet feed granulator machine is equipped with two silos to be granulated, and it is convenient to change the varieties. After granulation, it enters the pellet cooler, the crumbler, and the elevator into the rotary grading sieve for screening. The finished product enters the packing bin, the powdered material is screened out and returned to granulation, and the large particles are screened out and returned to the crusher for crushing.
⑤Packing section: There are 16 finished product warehouses in this section, of which 8 warehouses are dedicated to storing finished pellets, and 4 powder and pellets can be stored. The powder finished product warehouse is designed with a unique anti-classification device. Granules or powders are finally automatically weighed and packaged by a packaging scale, and a bulk truck is designed for packaging and transportation.
⑥ Auxiliary section: Dust removal system to improve the working environment of workers; grease addition system, common mixers to add, improve the palatability of feed.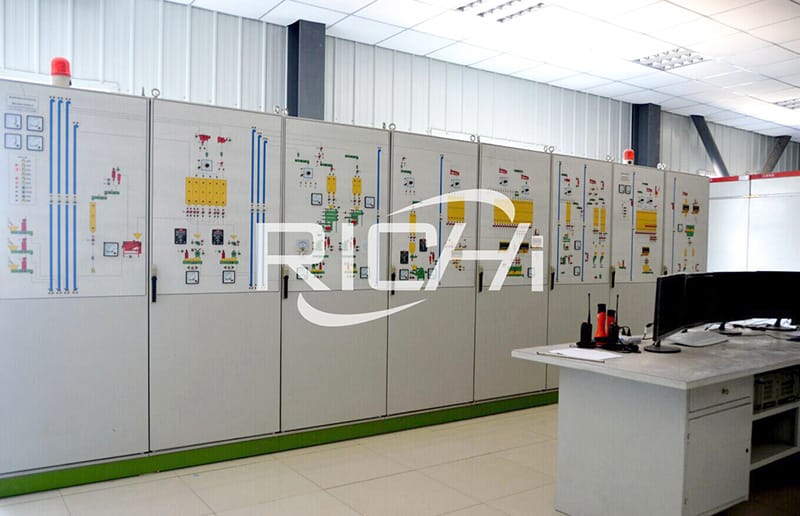 (2)Equipments requirement for 40t/h good design chicken poultry feed mill plant
①Cleaning equipment: granular sieve SCY100, designed to produce 30-50T/H per hour; powder sieve SQLZ90X80X110, designed to produce 30-50T/H per hour.
②Crushing equipment (3 sets): Chicken corn feed hammer mill crusher SFSP668*1000, 132KW, designed with an hourly output of 15-18T/H/set (¢3.0mm mesh).
③Mixing equipment: batching scale PCS20/PCS10, batching accuracy: dynamic ≤ 3‰, static ≤ 1‰. Mixing equipment for chicken feed(2 sets): SHSJ4, (30KW, 2000kg/batch), designed to produce 20-30T/H/set per hour. Mixing uniformity CV≤5%.
④Pelleting equipment (4 sets): SZLH420 chicken feed pellet making machine ring die type , 110KW, designed to produce 10-12T/H/set per hour. Cooling equipment (4 sets): SKLN6, designed to produce 10-15T/H/set per hour.
⑤Packing equipment: belt scale (both powder and granular feeds), packing range 20-50kg/bag, 6-8 bags/min.
9. According to the needs of different customers, the scheme can be optimized for configuration:
(1) This scheme uses a single-point dust removal mode, that is, each rotary distributor (powder) and granular material cleaning screen is equipped with a pulse dust collector, which has a good dust removal effect. Single-point dust removal is a humanized design for our company, providing a better working environment, but the cost increases, and customers can consider whether to adopt this configuration according to actual needs.
(2) The number of silos can also be adjusted according to the customer's chicken feed making formula, the characteristics of the raw materials and other factors to achieve the highest utilization rate and effectively control the production cost.
(3) The number of crumblers can be selected according to needs. If there are less crumbled materials, you can consider setting aside some crumblers;
(4) A vibrating grading screen is equipped before the finished product is packaged, which can remove the fine powder in the particles, and the customer can configure it according to needs;
(5) Packing and dust removal design can improve the working environment of workers, and customers can configure it according to their needs.
Richi Machinery specializes in the production of feed machinery and engineering. It can provide customers with animal feed (pigs, etc.), poultry feed (chicken, duck, geese, etc.), ruminant feed (cattle, sheep, etc.), ordinary aquatic feed (four major home fish, etc.), Special aquatic feed (shrimp, crab, etc.), extruded aquatic feed (floating and sinking fish feed, shrimp, etc.), premix (including various additives, etc.), pet food (cat food, dog food, etc.) complete equipment solutions Solutions to meet the different needs of customers.
We are glad to inform you that the machines in our company are produced according to countries or areas. In order to provide better service and products with you, it is our great honor to have the flowing information about you.
(1)Where will the project locate?
(2)What is your raw materials?And their size and mositure percent?
(3)Do you need the pellet mill only or a complete pellet line?
(4)What is the capacity you need?
(5)What's your use about the pellet, for burning or feeding animals?
Any requirements , just let RICHI know.