Business plan design of animal feed mill factory for poultry chicken cattle feed for 20 ton per hour
2021-03-18 Back to List
If you are looking for related products or have any other questions, please feel free to contact us.
Contact Us
Recently, a 20 tons per hour full automatic poultry livestock animal feed production line project of RICHI was approved. This is a two-line SZLH420 chicken and cattle feed production line project with an hourly output of 20 tons. This project is located in Mohekou Industrial Park, Anhui Province, China.
The total investment is 10 million yuan, of which fixed assets investment is 4 million yuan, and the building area is about 2000 square meters, including 1,000 square meters of leased workshops, 350 square meters of warehouses and offices and meeting rooms, laboratories and other auxiliary facilities.
After the project is completed, the annual production capacity of 100,000 tons of chicken feed and cattle feed can be formed. Today we will talk about the details of the 20tph automatic reasonable design chicken and cattle feed mill production line designed by RICHI for this customer.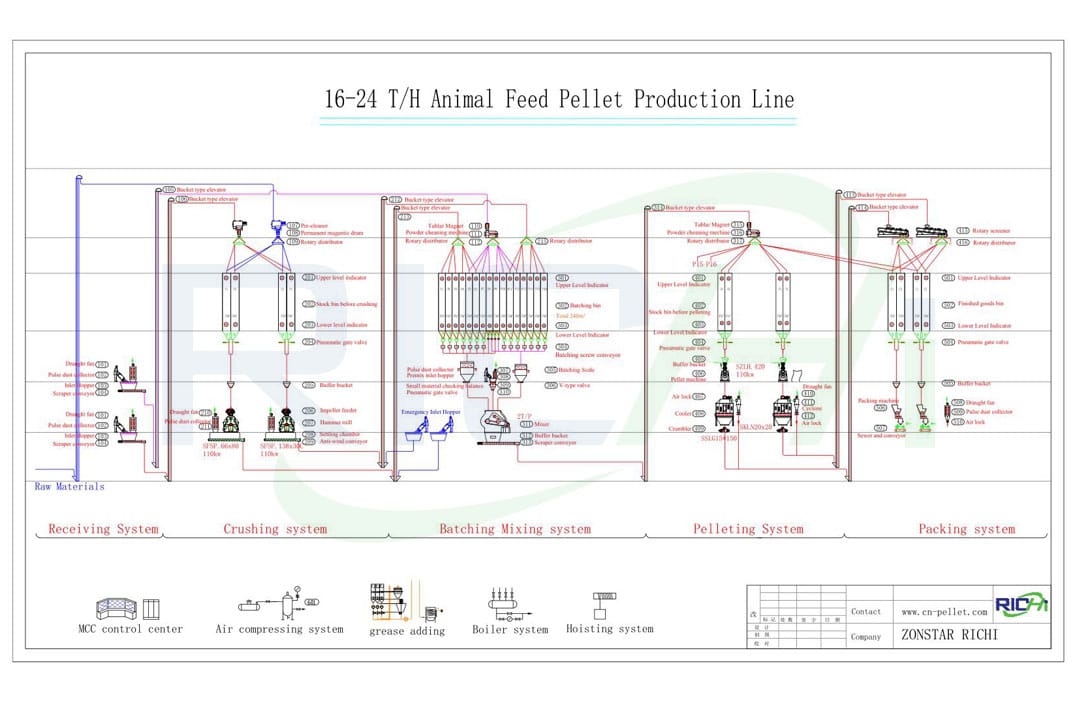 1.Raw materials for making chicken cattle feed pellets
Conventional livestock and poultry feed materials include corn, wheat, barley, oats, sorghum, soybeans, soybean meal, fish meal, amino acids, miscellaneous meal, whey powder, oil, meat and bone meal, grains, feed additives and other feed materials of more than ten varieties.
2. 20T/H chicken and cattle feed line making process flow
The characteristics of livestock and poultry feed are moderate crushing fineness (sieve aperture 2-4mm), moderate maturation and conditioning requirements (granulators mostly use double-layer conditioners), and the finished particle diameter is large (particle diameter is about 2.5-4mm) . The dual-line SZLH420 livestock cattle and poultry chicken feed making plant is designed to produce 20T/H per hour. It uses two crushing lines, one batching mixing line, two granulating lines and two packing lines. The total power of the equipment is approximately: 725KW; the construction area of ​​the production area is approximately: 16.5×16.5×28m; it is equipped with a 2T boiler. The whole line has compact design, reasonable structure, meets environmental protection requirements, and can be oriented design according to customer requirements.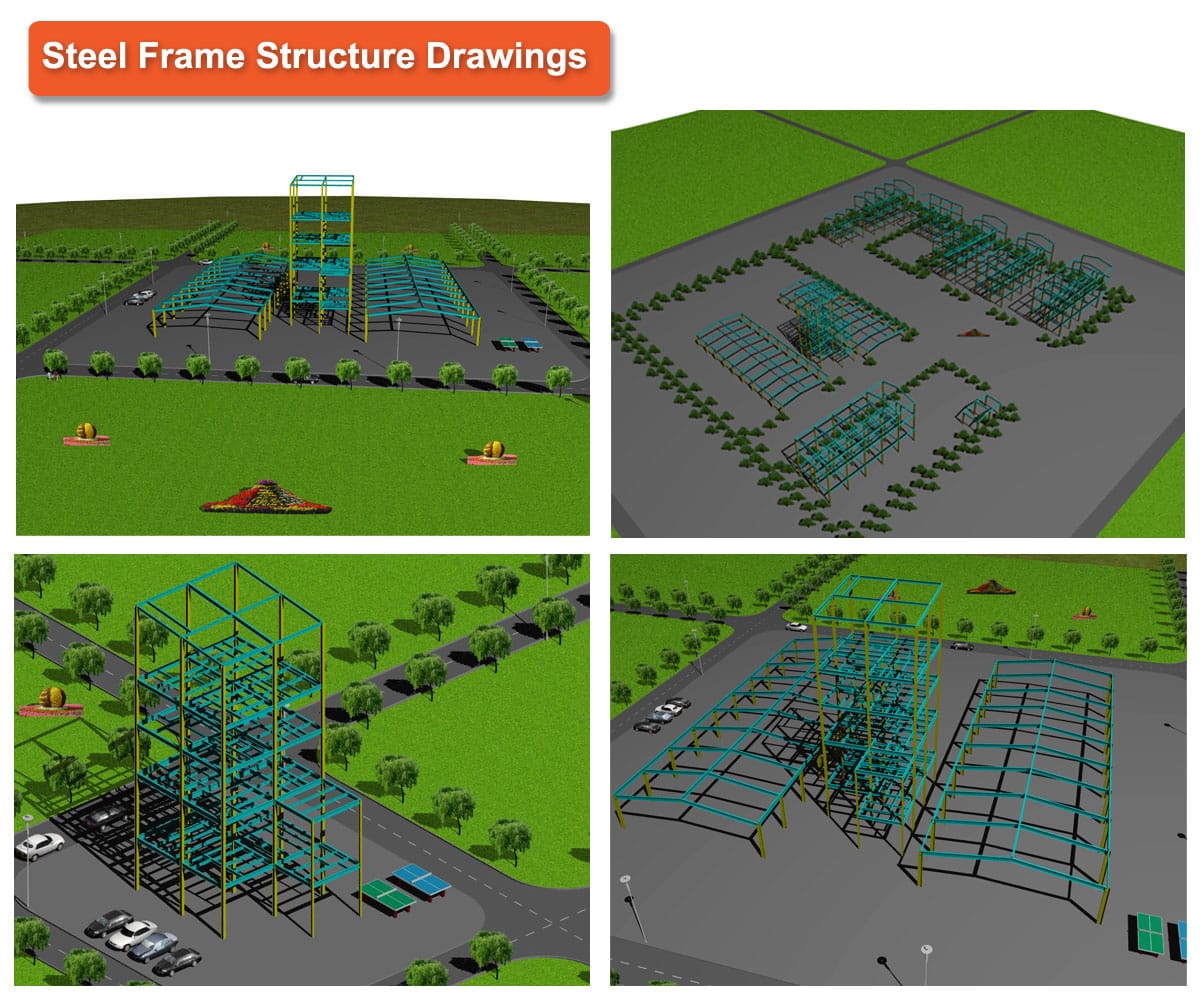 3. Complete chicken cattle feed production process in 20t/h animal feed processing plant
(1)Raw material receiving and cleaning section: In this section, the pellet feeding cleaning and powder feeding cleaning are separated independently, and the dust is removed separately, and the dust removal effect is good.
(2)Crushing section: This section uses two grinding machine for chicken cattle feed, each crusher is equipped with two smashing bins, which can crush different raw materials at the same time to improve production efficiency. Before the raw materials enter the warehouse, impurities are removed by a magnetic separator to ensure the safe operation of the crusher.
(3) Batching and mixing section: This section uses 16 batching bins, two batching scales are used for batching at the same time, controlled by the batching program independently developed by our company, to achieve accurate fast and slow feeding, fast batching speed and high precision.
(4) Pelletizing section: This section adopts two double-layer comditioner pellet making machines for poultry chicken cattle feeds, each animal cattle chicken feed pelletizer granulator machine is equipped with two silos to be granulated, and it is convenient to change the varieties. After granulation, it enters the cooler, the crumbler, and the elevator into the rotary grading sieve for screening. The finished product enters the packing bin, the powdered material is screened out and returned to granulation, and the large particles are screened out and returned to the crumbler for crumbling.
(5) Packing section: There are 4 finished product warehouses in this section, of which 3 warehouses are dedicated to storing finished pellets, and 1 powder and pellets can be stored. The powder finished product warehouse is designed with a unique anti-classification device. The pellets or powders are finally automatically weighed and packaged by the packaging scale.
(6) Auxiliary section: Dust removal system to improve the working environment of workers; grease addition system, which is commonly added at the mixer, to improve the palatability of feed.
4.Machine for making feeds for chicken and cattle in 20tph animal chicken cattle feed pellet produciton plant
How to start a 20 tons per hour chicken cattle feed production business?You need the following machines:
5. According to the needs of different customers, the scheme can be optimized for configuration:
(1) This customized scheme uses a single-point dust removal mode, that is, each rotary distributor (powder) and granular material cleaning screen is equipped with a pulse dust collector, which has a good dust removal effect. Single-point dust removal is a humanized design of RICHI, which provides a better working environment for the customer's feed factory, but the cost increases, and the customer can consider whether to adopt this configuration according to actual needs;
(2) The number of silos can also be adjusted according to the customer's feed formula, the characteristics of the raw materials and other factors to achieve the highest utilization rate and effectively control the production cost;
(3) The crumbler machine after the pellet cooler can be selected. If the crushing volume is not particularly large, you can consider the plan of reserving one for the previous one;
(4) The finished product can be equipped with bulk storage according to needs, and the finished product can also be equipped with mechanical palletizing.
6.If you want to customize your own poultry livestock animal feed pellet manufacturing plant,kindly advise the following questions so that we can supply you with the proper proposal:
(1)What kind of feed are you going to produce?
(2)What is your required capacity per hour?
(3)Do you only need the single pellet mill or one turn-key plant which includes all kinds of machiney?
(4)Do you need auto batching system or mixing different ingrident by manually?
(5)Do you need us to supply automatic scales and boiler or you'd like to buy from your local market by yourself?
(6)Your other requirement if any.
Since above information will make the price quite different, I am looking forward to hearing form you. Pls find enclosed the quotation as attachment.
Anything unclear pls don't hesitate to write to us.