How much does it cost to start a 15-30 ton per day (2-4 t/h) cattle sheep feed mill plants?
2021-03-19 Back to List
If you are looking for related products or have any other questions, please feel free to contact us.
Contact Us
How much does it cost to start a 15-30 ton per day (2-4 tons per hour) cattle sheep feed mills?Generally speaking, price of capacity of 15-30 ton per day cattle sheep feed pellet processing plant costing 15000-120000USD.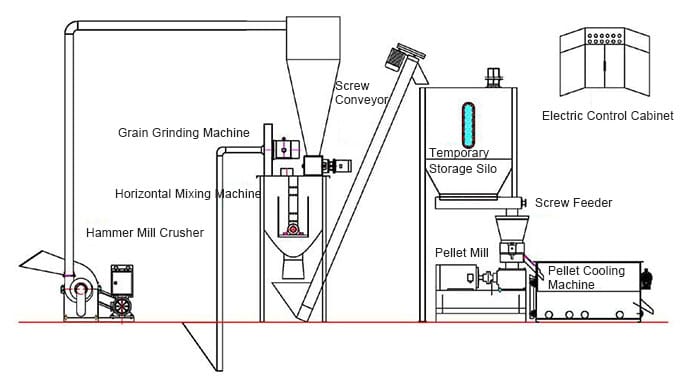 1.Stages of 15-30 ton per day cattle sheep feed production and its equipments
Richi Machinery supply turnkey solutions for 15-30 ton per day sheep and cattle feed production line: from design, project management, process engineering to procurement local manufacturing, installation, commissioning, after sales service, and financing (price & cost control). We study every details of the pelleting solution, so that to ensure you get the best ruminant sheep cattle feed milling equipment, best service and best plan.
The major operations involved in the cattle feed plant are: raw materials preparation,crushing,mixing,pelleting and packaging.
(1)Raw and auxiliary materials are first charged into silos and tanks where they are made ready for further processing. They are then processed by primary crusher. Crushed materials are further separated by means of a sieve, and then stored in the assorting tanks according to the kind of raw materials.
(2)The raw materials are then mixed by means of an animal feed mixer. In this process, fatty ingredients are added to the materials in order to raise the nutritional value of the feed. The feed obtained from the mixer is blended with molasses
(3)Assorted animal feed that is crushed into fine particles is further formed into pellets by a ring die type cattle sheep feed pellet milling machine.
(4)Cooling is a process of removing heat. As we know during conditioning we add heat and moisture and also through palleting process heat generates by extrusion process.
(5)The end of process in 15-30 ton per day small capacity cattle sheep feed making plant is bagging also called packing. After screening the finished products are filled in to bags.
2.Machinery for production of quality cattle sheep feed in 15-30 ton per day (2-4 t/h) animal feed production plant
Small size 15-30 ton per day cattle sheep feed pellet production plant makes 4-8 mm diameter cattle or sheep feed pellets. The last pellet length can be adjusted.