Constructing an animal feed manufacturing plant with 10t/h capacity for chicken feed production business
2021-03-17 Back to List
If you are looking for related products or have any other questions, please feel free to contact us.
Contact Us
Do you want to construct an animal feed manufacturing plant with 10t/h capacity for chicken feed production business?
1.Why to Choose RICHI 10T/H Animal Chicken Feed Production Line?
(1)RICHI 10t/h animal chicken feed making plant is a kind of multi functional animal feed plant with 10 ton hour capacity, can make feeds for poultry, cattle, chicken, duck, pig, livestock, and other animal.
(2)Chicken feed pellet making machine for 10t/h chicken animal feed plant , it make pellets for 2-12mm diameter, the pellet size is changeable with the RICHI ring die chicken poultry animal feed pelletizer machine by adjust ring die.
(3)Stable operation,high efficiency, high productivity 12t/h.
(4)The raw materials for chicken feed can be many kinds of grains, certain percentage grass & hay, straw and other trace elements for the animals.
(5)Whole 10t/h chicken feed processing line is automatic control.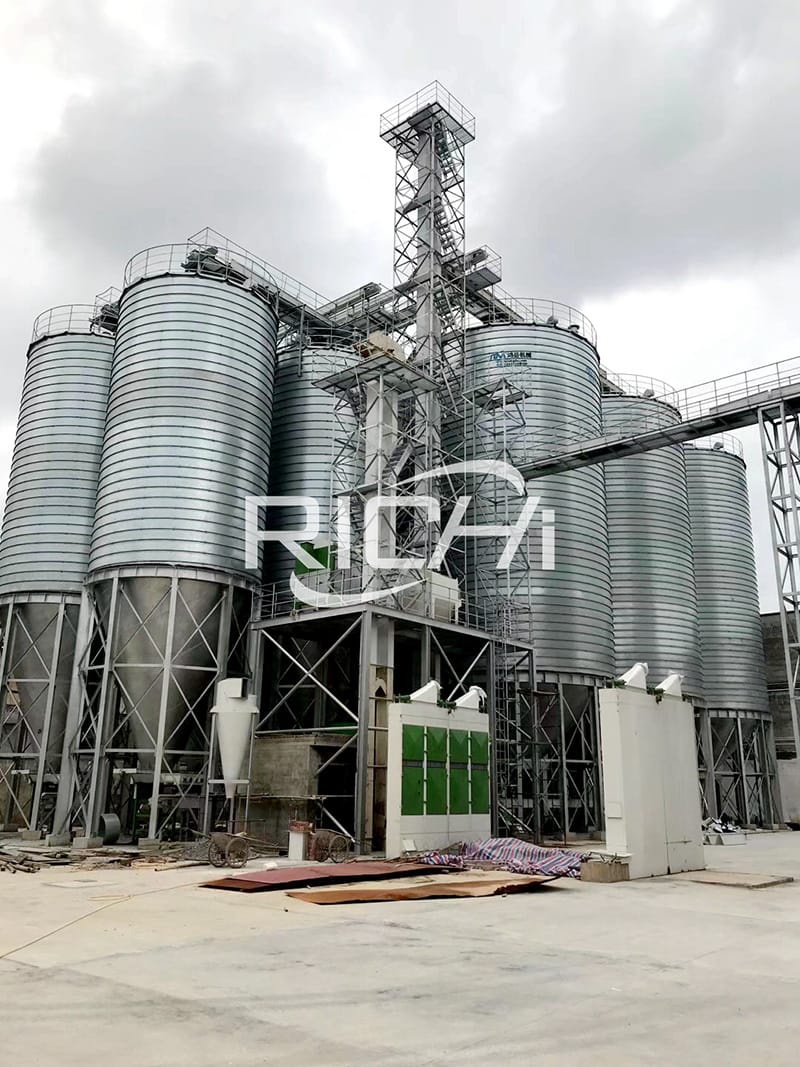 2.Complete 10t/h capacity of animal chicken feed processing methods
The characteristics of chicken poultry feed are moderate crushing fineness (sieve aperture 2-4mm), moderate maturation and conditioning requirements (granulators mostly use double-layer conditioners), and the finished particle diameter is large (particle diameter is about 2.5-4mm) . The designed output of SZLH420 poultry chicken pellet feed pellet maker is 10T/H. It adopts one crushing line, double-scale automatic batching, one mixing line, one granulating line and one packing line. The total power of the equipment is approximately: 390KW; the construction area of ​​the production area is approximately: 16×11×26m; it is equipped with a 1T boiler. The whole line has compact design, reasonable structure, meets environmental protection requirements, and can be oriented design according to customer requirements.
Most common methods for chicekn animal feed processing 10 tons per hour:
(1) Raw material receiving and cleaning section: In this section, the pellet feeding and powder feeding cleaning are separated independently, and the dust is removed separately, and the dust removal effect is good.
Cleaning equipment: pellet screener SCY80, designed output 20-30T/H; powder screener SQLZ60×50×100, designed output 10-15T/H.
(2) Crushing section: This section adopts one chicken poultry feed grinder crusher and three smashing bins, which can alternately replace crushed varieties. Before the raw materials enter the warehouse, impurities are removed by a magnetic separator to ensure the safe operation of the chicken animal feed hammer mill.
Crushing equipment: chicken animal feed crusher machine SFSP66×80, 110KW, designed output 10-15T/H.
(3) Batching mixing section: This section adopts 15 batching bins, and two batching scales are used for batching at the same time. It is controlled by the batching program independently developed by our company to realize accurate fast and slow feeding, fast batching speed and high precision.
Weighing equipment: batching scale PCS10/PCS05, batching accuracy: dynamic ≤ 3‰, static ≤ 1‰. Mixing equipment: chicken feed mixer SHSJ2, (18.5KW, 1000kg/batch), with a design output of 10-15T/H. Mixing uniformity CV≤5%.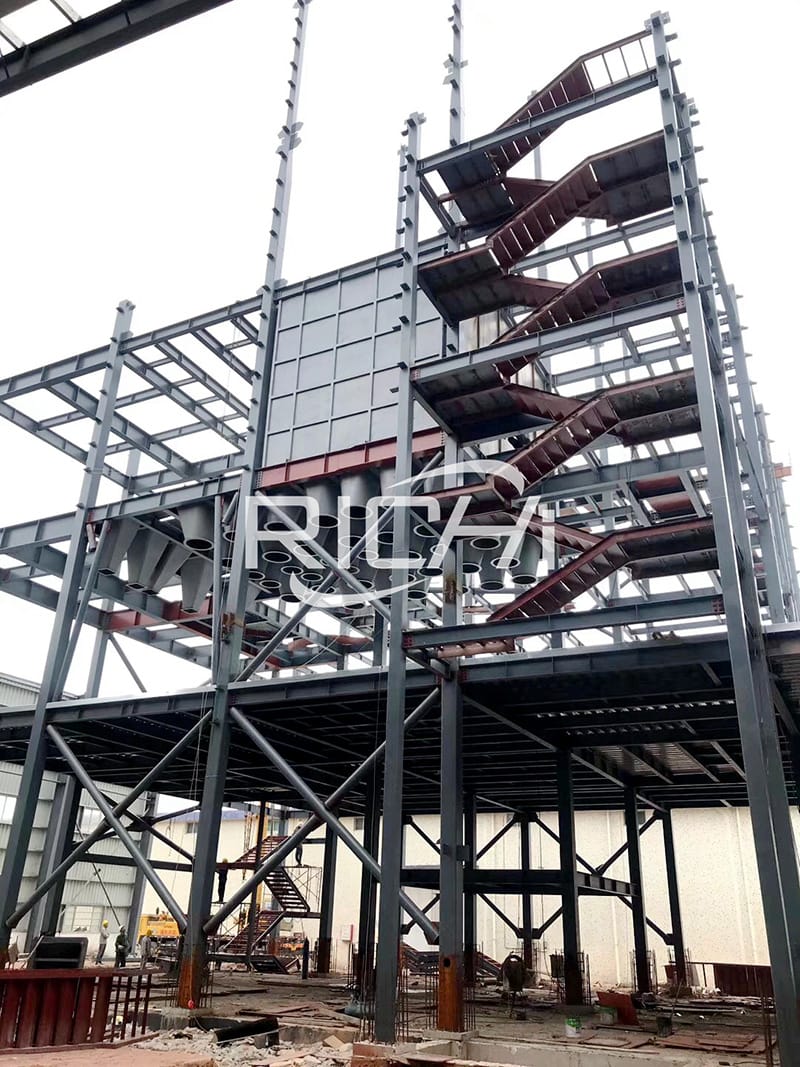 (4) Pelletizing section: This section adopts a double-layer conditioner chicken feed pelletizing equipment and two silos to be granulated. It is convenient to change the varieties. After granulation, it enters into the chicken pellet cooler and the elevator to enter the rotary grading sieve for screening. The finished products enter the packing warehouse, and the rest are returned to the granulation or bag receiving.
Pelleting equipment (1 set): SZLH420 (110KW) factory price chicken feed pellet making machine, with a design output of 10-12 T/H. Cooling equipment: SKLN6, designed output 10-15T/H. The pellet crumbler SSLG20x140 (11+1.1KW) has a design output of 6-10 T/H.
Packing equipment: belt scale (both powder and pellet feed), packing range 20-50kg/bag, 6-8 bags/min.
(5) Auxiliary section: Dust removal system to improve the working environment of workers; grease addition system, which is commonly added at the mixer, to improve the palatability of feed.
Note: According to the needs of different customers, the solution can be optimized for configuration:
① This scheme adopts the single-point dust removal mode, that is, each rotary distributor (powder) and granular material cleaning screen is equipped with a pulse dust collector, which has a good dust removal effect. Single-point dust removal is a humanized design for our company and provides a better working environment, but the cost increases. Customers can consider whether to adopt this configuration according to actual needs;
②The number of silos can also be adjusted according to the customer's formula, the characteristics of the raw materials and other factors to achieve the highest utilization rate and effectively control the production cost;
③The finished poultry pellets can be sprayed with grease after adding grease to improve the quality of finished chicken pellets.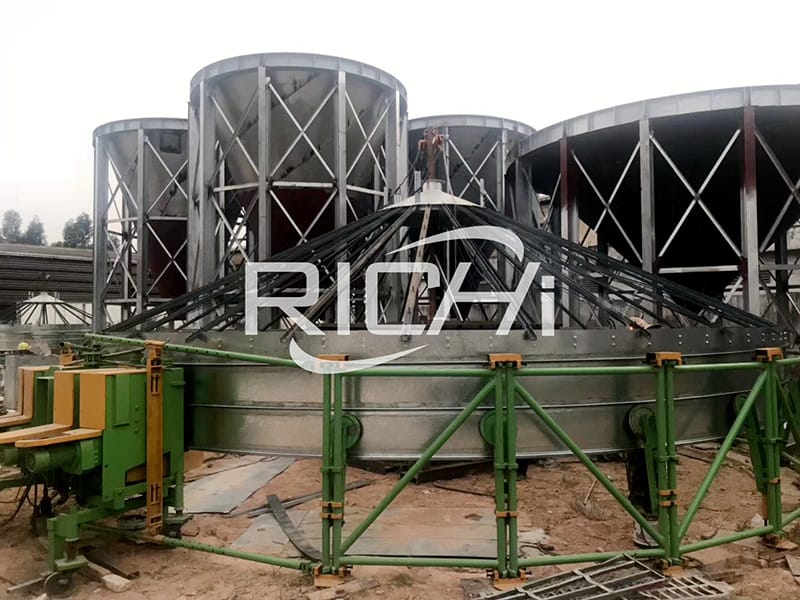 3.Types of low cost chicken animal feed production line machines
Tools for 10tph conplete chicken animal feed plant include:
4.Cost of setting up an animal feed making plant for 10t/h chicken feed production
Costs of setting up 10t/h chicken feed making plant is usually between 150000-300000USD.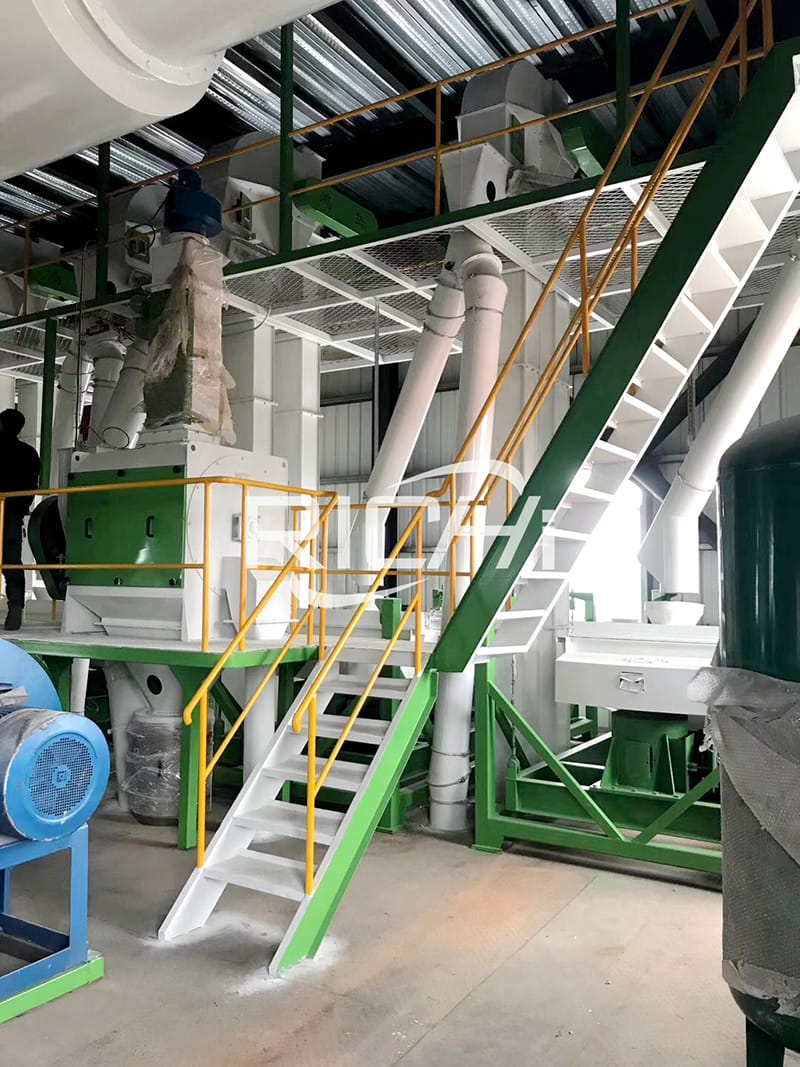 5.Richi Machinery——leading supplier of poultry chicken animal feed mills with 10 tons per hour capacity
(1)Turnkey project of 10t/h chicken pellet feed production line in Fergana
This project uses common chicken feed raw materials such as corn and soybean meal.The whole set of chicken feed equipment has made greater breakthroughs in function, material quality and service life of vulnerable parts, with advanced structure, stable operation and high degree of automation.Main machine in this project:machine for grinding chicken feeds*110kw; batching scale*1000kg/batch;Chinese chicken feed mixer machine*1000kg/batch;10TPH chicken feed pellet preparing machine*110KW;large capacity cooling machine for chicken feed*SKLN20*20;Crumbler Machine*SSLG15*150;Vibrating Sereen;1000kg/h oil boiler,Automatic Bagging Machine and other auxiliary equipment.
(2)Latest 10t/h chicken poultry feed mill machinery in making chicken feeds in Urgench
This is a customized factory sale 10 ton per hour automatic chicken feed plant, used to produce mash feed and 2-6mm chicken feed pellets, the raw materials are corn, wheat,soybean meal, sunflower seed meal, oil, premix,prime technology equipment include galvanized silo*500T, ce chicken feed grinding machine*110KW,batching scale*1000KG/Batch,mixer machine for chicken feeds*1000KG/Batch,ring die pelletizer system for poultry feed*110KW,chicken feed pellet cooling machine*SKLN20*20,chicken feed pellet crumbler*SSLG15*150,pellet screening machine and bagging machine,oil burning boiler*1000kg/h,1t/h gas type boiler,etc.The drawings we provide to our customers include:foundation drawings, installation drawings of steel structure, installation drawings of equipment
(3)Best poultry feed technology machine for processing 10t/h chicken feed in Afghanistan
This is a 10tph compound animal chicken feed manufacturing plant, used to produce 2-6mm chicken feed pellets, the raw materials are corn, wheat,soybean meal, and other grain,prime technology equipment include machinery for grinding poultry feeds*110KW,batching scale*1000KG/Batch,chicken feed mixer*1000KG/Batch,chicken feeds miil pellets machine*110KW,chicken feed pellet cooling machine*SKLN20*20,chicken feed pellet crumbler*SSLG15*150,pellet screening machine and bagging machine,oil burning boiler*1000kg/h,etc.