How to build a complete 4-5 tons per hour poultry chicken feed pellet making plant?
2021-03-09 Back to List
If you are looking for related products or have any other questions, please feel free to contact us.
Contact Us
The complete 4-5 tons per hour poultry chicken feed pellet making plant is the abbreviation of the artificial ingredient small feed unit, and the output is usually not more than 5 tons. It adopts building block modular design, which is convenient for disassembly, transportation and installation; it has low investment, quick effect, compact structure, small floor space, low plant requirements, low capital investment, and it can also be designed according to needs. It is especially suitable for small chicken feed mill factories and chicken farms.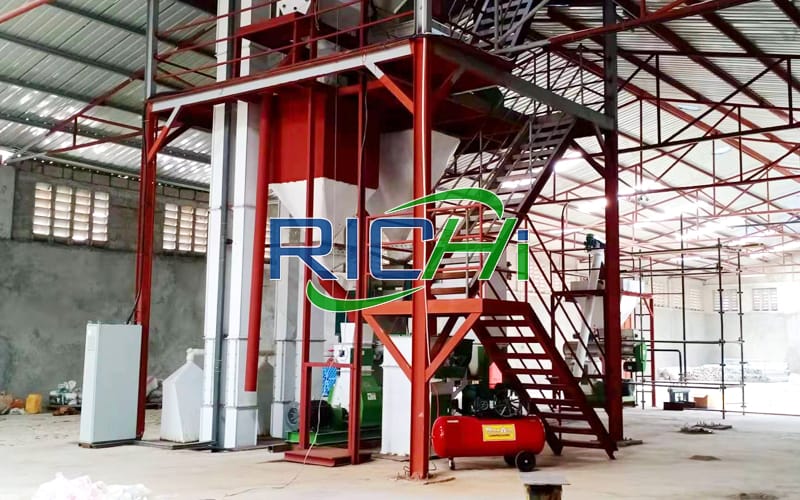 1. Introduction of 4-5tph complete animal chicken feed pellet production plant process flow:
The 4-5 ton per hour poultry animal chicken feed production line adopts manual weighing ingredients, and the designed total production capacity is 5-6T/H for chicken powder feed products and 4-5T/H for chicken pellet feed products. The chicken feed making raw materials need to be pre-weighed, and then fed into the chicken feed mill plant from two different feeding ports. The raw materials for poultry chicken feed that need to be crushed are fed from the pellet feeding port to the chicken feed hammer mill grinder in batches. The animal feed crushing machine for chicken feed is fed by a screw conveyor and does not need to be crushed.
The chicken feed powder is pre-weighed and enters the 4-5tph chicken feed manufacturing plant from the powder feeding port, and then is mixed by the chicken feed mixer. The mixed material can directly enter the finished product warehouse as a powder product, or enter the pelleting section for granulation cooling processing, and finally Use manual weighing and packing. The total equipment power of the unit is about 172KW; the size of the unit is about 13×6×11m; it needs to be equipped with a 0.5T boiler. The whole unit adopts a spliced ​​frame, with compact design, reasonable structure, meeting environmental protection requirements, and directional design according to customer requirements.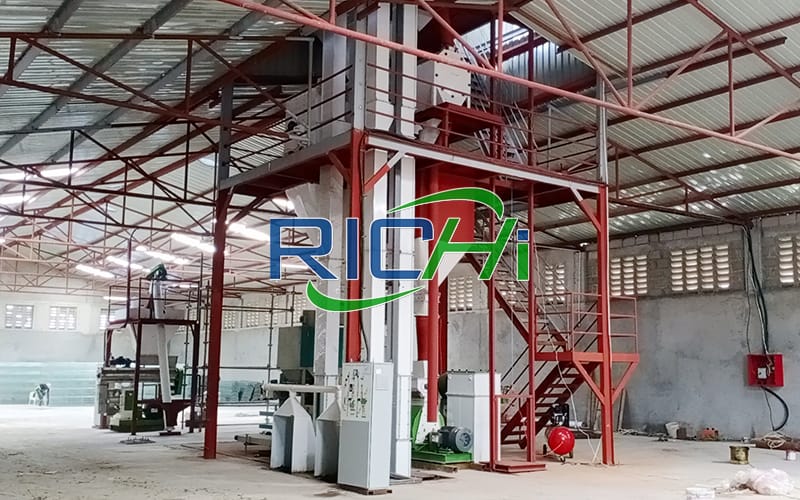 2. Process characteristics and section introduction:
(1) Raw material receiving and cleaning section: granular and powdered raw materials enter the production line through two feeding ports respectively, among which the granular raw materials are cleaned by a special granular cleaning screen, and then iron is removed and enters the warehouse to be crushed; The raw materials need to be cleaned in advance.
(2) Crushing section: RICHI high efficient chicken feed hammer mill crusher is used, which can be used for coarse crushing or fine crushing. Horizontal screw conveyor frequency conversion feeding, frequency control, uniform feeding, equipped with pulse dust collector, mechanical sedimentation The process is simple and the cost is low, and it is suitable for the pulverization of small-volume and multi-variety poultry chicken feed raw materials.
Crushing equipment: chicken poultry fodder grinder crop crusher machine SFSP60, 37KW, designed to produce 5-6T/H per hour.
(3) Mixing section: there is a mixing chamber above the powder feed mixing machine for chicken feed, which can make the mixing machine work, the feeding can continue, to achieve the effect of continuous uninterrupted production, the mixed materials can be separately entered into the granulation bin and powder product bin meets the demand for the simultaneous production of powder and granular finished products.
Mixing equipment: adopt double-shaft paddle chicken feed mixer SHSJ1, 11KW, 500kg/batch, mixing uniformity CV ≤ 5%.
(4) Granulation section: a ring die hicken feed pellet making machine with a single-layer conditioner, suitable for the production of ordinary poultry chicken broiler layer feed; after granulation, it directly enters the chicken pellet cooler, and then is lifted by the elevator into the crushing and screening System, and finally manual bagging and packing.
Granulation equipment: With Longlife guarantee poultry chicken feed pelletizer machine SZLH350, 55KW, designed capacity 3-7T/H (¢3.5 conventional broiler feed formula);
Cooling equipment: Counter-flow cooler SKLN2.5, designed capacity 5-6T/H;
Crumbler: SSLG15×100, with a design capacity of 3-5T/H, it can crush large particles of finished products into small particles to produce chicken nursery material. The crusher is equipped with a bypass system. The bypass enters the rotary screen directly;
Screening equipment: plane rotary grading screen SFJH80×2C, designed capacity 4-6T.
(5) Auxiliary section: Liquid adding system, which can add grease to the poultry chicken feed mixing machine to improve the palatability of feed. The pneumatic system provides compressed air for the pneumatic components in the system.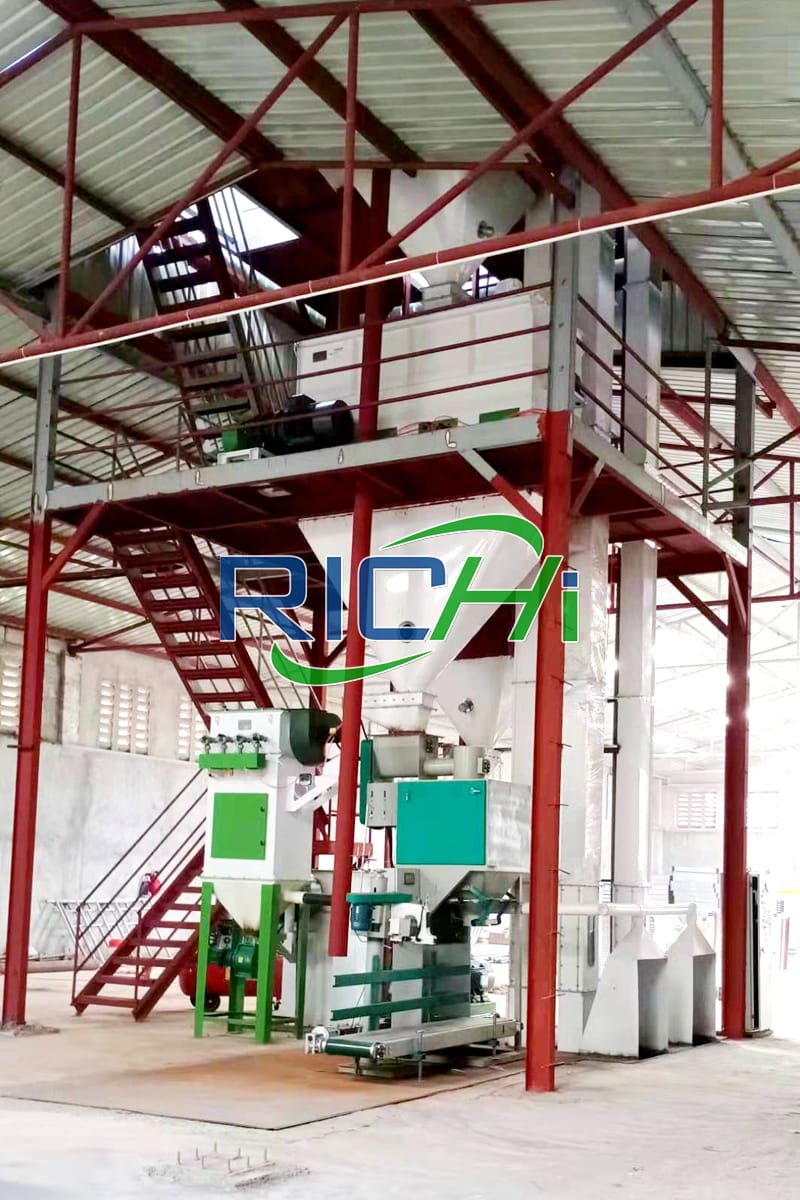 3. According to the needs of different customers, the plan can be optimized for configuration:
(1) Taking full account of the low output, this 4-5t/h poultry chicken animal feed pellet making plant unit is not equipped with a powder cleaning system, and manual pre-cleaning is used. Customers can add a powder cleaning system according to their needs;
(2) There are powder and granular product warehouses in the small unit. If customers do not need powder products, they can remove the powder product warehouse.
4.Complete set of 4-5 tons per hour chicken broiler layer feed manufacturing plant price
The price of 4-5tph complete chicken poultry feed line for pellet is usually 60000-250000USD.
5.Latest faqs about setting up chicken feed plant:
(1) What machines and formulas are used to open chicken feed mill factories?
This is determined according to the process requirements of the product: now it is generally a complete set of equipment, from the initial cleaning of the raw materials to the packaging of the finished products. Generally speaking, it is: removing impurities---lifting---mixing---weighing---packing, and pelleting is needed to make pellets.
The formula is mainly prepared according to the breeding standards of laying hens (or broilers). With the diversification of raw materials, the formulas are also diversified and flexible. For example, the price of the raw materials has increased during this period, which can be considered. Replace it, find its cheaper alternative raw materials, or add proportionally, etc.
(2) I want to open a chicken feed processing plant. What equipment is needed and how much money is needed?
Chicken feed is generally pelletized, which requires a pellet machine, followed by ancillary equipment, such as mixers, grinders, grading screens, etc. Generally, the investment in a production line is between 1 and 2 million U.S. dollars, mainly pellet machines. The price is expensive, you can consult the manufacturer for details. RICHI can provide single feed equipment, or the entire production line equipment, and provide installation and after-sales service. In addition, the feed is mainly a formula, and there must be a good formula to ensure the growth rate and immunity of the chicken.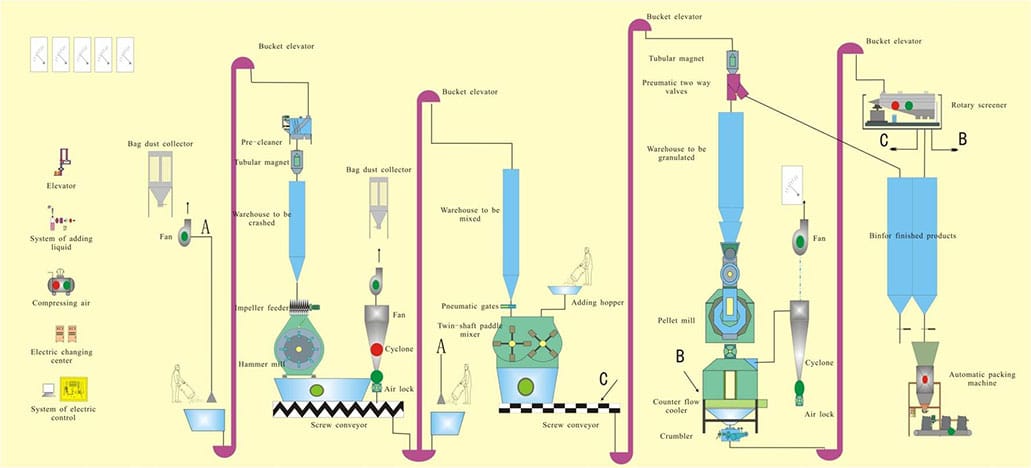 (3) I don't know what chicken feed I want to feed broilers. Do you know?
Generally, the local feed store will do. If you want chickens to grow faster and lay more eggs, you must feed them the full price feed produced by the feed factory. If your scale is large enough to be worthy of a piece of equipment, you can buy premixes, corn, soybean meal, etc. and process them yourself. In this way, the feed cost will be reduced.
(4) How to make local chicken feed manually?
①Brooding period (0-4 weeks old), unit%:
Corn 55.5, crude protein 19.5, 4th flour 7.0, bran 3.0, soybean meal 21.0, fish meal 3.0, corn gluten meal 5.0, yeast meal 2.0, calcium hydrogen phosphate 1.2, stone powder 1.0, salt 0.3, premix 1.0. The nutrient composition is 11.83 MJ/kg of metabolizable energy.
②Growth period (5-8 weeks old), unit%:
Corn 58.5, crude protein 17.4, 4th flour 10.0, bran 3.0, soybean meal 17.0, fish meal 2.0, corn gluten meal 4.0, yeast meal 2.0, calcium hydrogen phosphate 1.2, stone powder 1.0, salt 0.3, pre-mix料1.0. The nutrient composition is 11.94 MJ/kg of metabolizable energy.
③Fattening period (9 weeks old to the market), unit%:
Corn 61, crude protein 16.3, 4th flour 10.0, bran 4.5, soybean meal 11.0, fish meal 1.0, corn gluten meal 4.0, yeast powder 2.5, calcium hydrogen phosphate 1.2, stone powder 1.0, salt 0.3, premix 1.0. The nutrient composition is metabolizable energy 12.25 MJ/kg.
(5) To build a chicken feed mill line with an annual output of 20,000 tons, including kueh pellets and agricultural shrinkage feed, what equipment is required for setting up a high quality chicken poultry feed making plant?
A chicken feed processing plant with an annual output of 20,000 tons, which mainly includes batching, feeding, lifting, storage, mixing, batching, lifting, granulating, cooling, lifting, screening and other processes. For specific equipment, you can click to browse for details: https://www.cn-pellet.com/solution/feed-production-line/chicken-feed-equipment.html
(6) What kind of chicken feed corn maize grinder hammer mill does the chicken feed prodcution factory use?
At present, the most common application in chicken feed factories is the hammer mill. It is welded with high-quality materials. The feed port is on the top of the crusher, which can be matched with various feed structures. The hammers are arranged symmetrically. When the pulverizer is working, the material enters the pulverizing chamber. Under the action of the high-speed rotating hammer and the friction of the sieve plate, the material is gradually pulverized, and under the action of centrifugal force and airflow. Discharge through the bottom outlet.