Hot selling 1-5 ton per hour ce certified ring die biomass wood sawdust pellet press machine line price
2021-01-01 Back to List
If you are looking for related products or have any other questions, please feel free to contact us.
Contact Us
How expensive is 1-5 ton per hour hot selling good quality wood pellet mill sawdust pellet machine? How to buy a ce qualified 1-5 ton per hour wood sawdust pellet prress machine to produce quality biomass pellet fuel? What's your criterion on the quality of 1-5t/h wood waste sawdust pellet making machines? Will you trust and choose a CE certified new designed 1-5tph biomass fuel pelletizing machine for wood sawdust? This article will talk to you in detail today.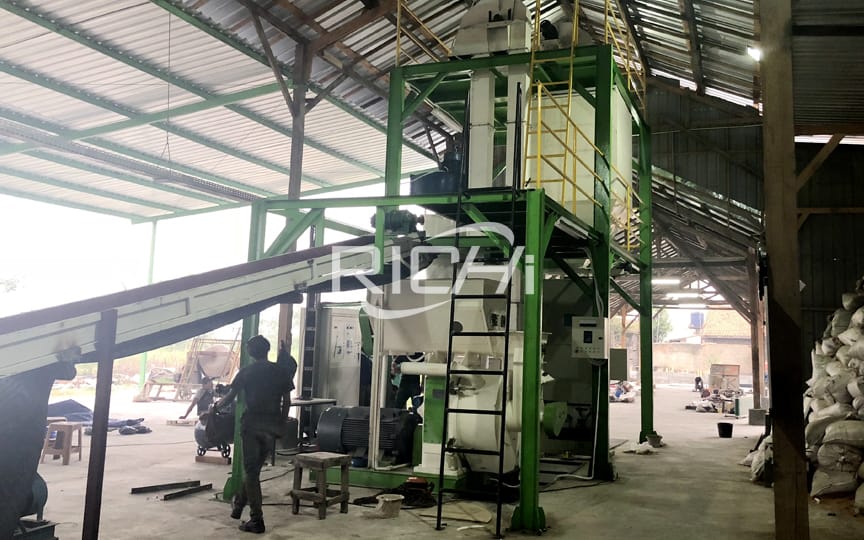 1.What's CE marking?
The CE mark is a mandatory European marking for machinery to indicate conformity with the essential health and safety requirements set out in European Directives. The CE mark (officially CE marking) is a mandatory safety mark on many products placed on the single market in the European Economic Area (EEA).
2.What does the CE mark mean for 1-5t/h good quality wood sawdust pellet mill?
By affixing the CE marking, the manufacturer, or its representative, or the importer assures that the machinery meets all the essential requirements of all applicable EU directives. The CE mark on a machine indicates that the 1-5t/h machine meets the relevant requirements must be documented.
3.How to achieve the CE mark by the wood sawdust pellet machinery manufacturer?
For most biomass wood fuel pellet mill machine suppliers, ally gained by a company-internal self-certification process. The biomass pellet mill factory has to issue a EC-Declaration of Conformity (EC-DoC) indicating his identity (location, etc.), the list of European Directives the manufacturer declares compliance with, a list of standards the product complies with, and a legally binding signature on behalf of the organization. The EC-DoC underlines the sole responsibility of the biomass pellet making machine manufacturer.
Confronted with the various China factory offered sawdust wood pellet machines for sales in the market, will you trust and choose a CE certified 1-5 ton capacity wood pellet machine for sawdust? The biomass pellet machines are applied to produce pellet fuel by households and industry for cooking, heating and power generating. With a CE mark, the biomass energy sawdust pellet machines are certified and can be trusted.
The high quality biomass pellet mills of RICHI meet the western standards and have been awarded with the CE certificates. What's more, the quality of each single product is warranted by the responsible manufacturer, who highlights the inspection of the orders processed strengthening customers purchasing confidence. NOW, we're welcoming you to check with us the details for our ce certificated hot products ring die sawdust pellet machine.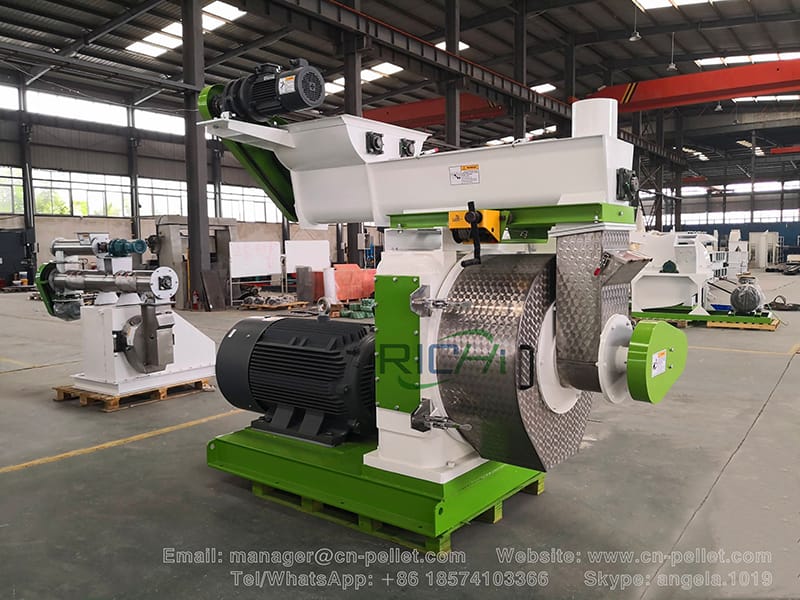 4.Introduction of RICHI 1-5 ton capacity high performance ce wood pelleting machine for sawdust
What are the 1-5 tons wood sawdust pellet pressing equipment you can think of? 1-5T/H ce beech wood sawdust pellet machine? 1-5T/H ce certificated pine sawdust pelleting machine? Yes, these are all because RICHI hot selling good quality wood pellet mill sawdust pellet machine can be used to process all kinds of biomass pellets, not just all wood pellets, but also rice husk sawdust pellets, peanut husk pellets ,etc.The raw material of biomass pellet machine is some waste materials in daily production. The reuse of resources is realized through processing.
RICHI 1-5 ton per hour wood pellet production euqipment for sawdust is biomass new energy processing equipment, is biomass wood pellets manufacturing equipment. Taking eucalyptus, birch, poplar, fruit, bamboo chips and crop straw as raw materials, the finished wood pellets are made by crushing, drying, screening, pelleting, cooling and packaging. Its finished products are used in biomass power generation, boilers, fireplaces, household equipment, etc.
(1)1-5T/H capacity ce certification biomass wood sawdust pellet press machine price
Model:MZLH Series horizontal ring die pellet mill
Capacity:1-5 ton per hour
Pellet size:6-12mm
RICHI 1-5tph best price wood sawdust pellet machine price is reasonable, and is welcomed by all over the world customers.Price of 1-5t/h ce certification wood pellet machine for sawdust pellet making is usually between 30000USD-100000USD.
(2)1-5T/H new design high quality ring die biomass wood sawdust pelletizer machine characteristics
①The main engine of the 1-5tph good bio-fule wood sawdust pellet machine with ce is driven by high-precision gear, the ring die is of quick-release type, and the feeding is of frequency conversion and speed regulation to ensure even feeding.
②The new generation of professional design biomass wood sawdust pellet machine adopts the international advanced manufacturing technology, which can customize the high quality dies for various raw materials, extending the service life of the wood pelletizing equipment, improving the product quality and reducing the consumption cost.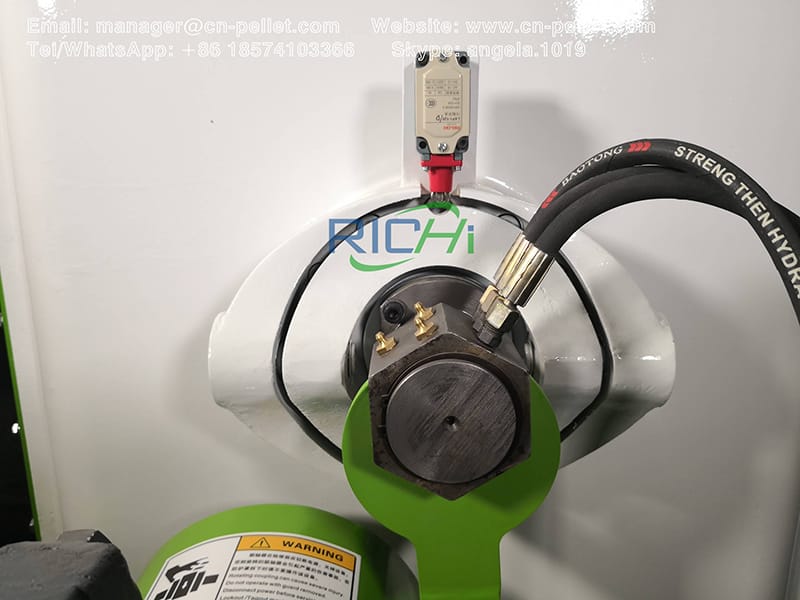 (3)1-5T/H competitive price wood sawdust pellet processing machine advantages
①The 1-5 ton per hour wood sawdust biomass pellet granulator machine adopts the screw center pressure regulating mechanism, the gap of the die can adjust, suitable for different materials, to ensure the pressing effect. 1-5TPH wood sawdust pellet machine for biomass energy industry using the body large groove wide, pressure and wear resistance. Wood chips, straw compression molding needs a lot of pressure, in the same pelletizing, pressing, rod making equipment, the pressure wheel part is the center of the whole equipment. 1-5T/H hot sale easy operation ce wood sawdust pellet pressing machine equipment can arbitrarily increase the pressure wheel, the advantage is the other equipment cannot compare.
②The hot sale 1-5 ton per hour ce ring die sawdust pellet maker machine press wheel increase, make the bearing increase, enhance the ability to withstand pressure.
③After increase the press wheel of the 1-5t/h ce high quality vertical ring die sawdust pellet machine, the temperature generated by the extrusion friction is not easy to be transmitted to the bearing room, so as to ensure that the bearing works at low temperature and the grease is not easy to overflow.
④After increase the press wheel of high performance 1-5 ton sawdust pellet machine for biomass fuel pellets, the press wheel can be repaired for 2-3 times, which extends the service life, reduces the production cost and increases the profit margin of the project.
(4)Why Choose 1-5T/H Automatic Wood Sawdust Pelletizing Euqipment For Wood Pellet Plant?
Nowadays, the emergence of solar energy and photovoltaic energy is mainly to alleviate the current energy shortage. Because in the continuous development, it needs to use a lot of energy, so once the energy problem, it will directly affect people's real life, affect the development of the whole society. However, many people do not know is, now the emergence of the wood pellet machine, also became a good equipment, can generate new energy for people. This wood pellet making machine, is a kind of biomass pretreatment equipment, mainly is like some sawdust.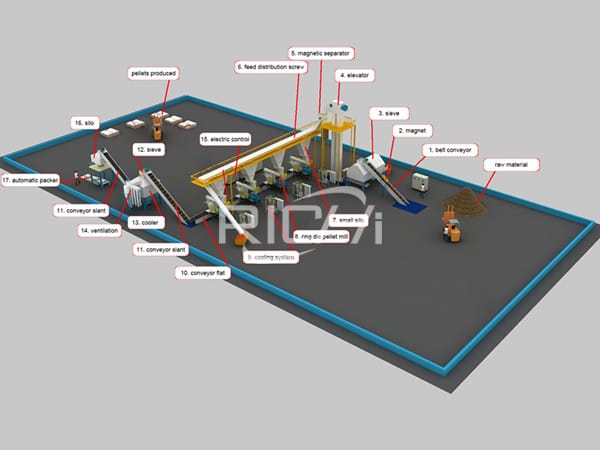 5.Factory supply 1-5 ton per hour customized biomass wood sawdust pellet processing line for sale
RICHI supply complete China professional wood pellet line for biomass sawdust. The raw material to make wood pellets are sawdust, wood chips, wood shavings, etc. The main equipment of wood production is wood pellet machine, wood chipper machine, Wood Chip Grinder, Rotary Drum Dryer, SKLN-Series Counter-Flow Cooler, Packing Machine,Belt conveyors and electrical control equipment,etc.In order to meet the requirement of customers.
(1)1-5TPH Complete Wood Sawdust Pellet Plant Production Process
①Crushing System
Wood crusher machine for making sawdust may be used to reduce the size, or change the form, of waste materials so they can be more easily disposed of or recycled, or to reduce the size of a solid mix of raw materials.If your sawdust material meets the requirements of the wood pelletizer equipment, there is no need to crush it.
②Drying System
CE wood sawdust drying equipment is mainly used for drying the wood sawdust with a certain degree of humidity and particle size.
③Pelletizing System
Dual motor driving system, low noise and no need for lubrication, screw feeder adopts frequency converter; Start current is half of single motor gear commercial wood sawdust pellet maker,low working voltage. SKF bearing and Siemens motor;Automatic oil adding device for main shaft and roller.
④Cooling System
Advanced theory of countercurrent cooling, widely applied in pellet cooler, such as Granulation, Expansion, extruder, expanded and so on.
⑤Packing system
Belt feed scale is suitable for powder and granular materials, spiral feed scale applies only to powder material.
(2)1-5 Ton per hour wood sawdust pellet making plant investment cost
Cost to build a complete wood sawdust pellet manufacturing plant with 1-5 ton per hour capacity is usually between 80000USD-700000USD.