China factory supply 10 ton per hour poultry chicken feed production line price in South Africa
2021-01-02 Back to List
If you are looking for related products or have any other questions, please feel free to contact us.
Contact Us
How to make 10 ton per hour poultry chicken feed for business in south africa? The answer is definitely:Build a ce good quality 10 ton per hour poultry chicken feed production plant.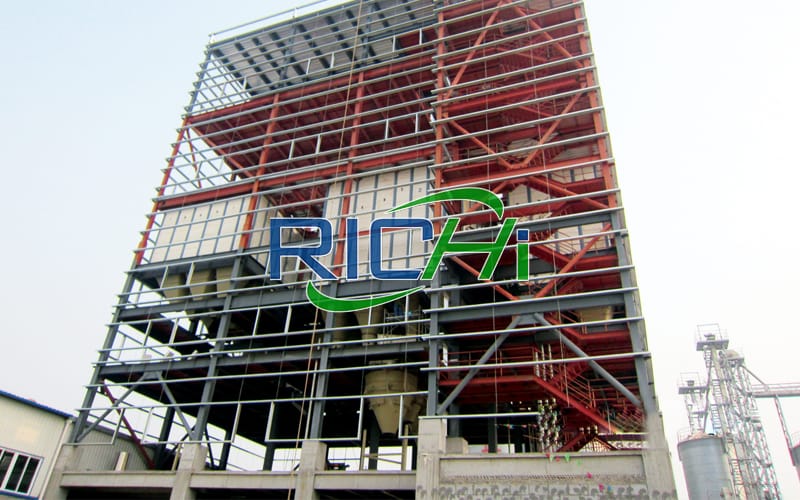 1. Current Status and Prospects of Poultry Farming in South Africa
According to the website of South Africa's Ministry of Trade and Industry, executives of the poultry industry met with Minister of Trade and Industry Patel and Minister of Agriculture, Land Reform and Rural Development Didiza. The three parties jointly reviewed the "Poultry Industry" signed in November 2019. Implementation of the Master Plan. The meeting affirmed the progress made in the past twelve months, including:
(1) Impose new tariffs on imported poultry meat to provide more protection for local producers. Since the implementation of the new tariffs, the amount of locally produced chicken meat has increased by 1 million tons per week. Now, the monthly output of local enterprises totals 145,300 tons.
(2) Increase investment and expand industry production capacity. An additional investment of 1.1 billion rand is used to upgrade and improve facility efficiency.
(3) Create 930 new jobs in the industry.
(4) The production capacity of exported cooked poultry meat will increase by 65 tons per week.
(5) In line with the support plan for black farmers, new employment contracts were signed with 13 black farmers.
(6) Compared with the same period last year, poultry imports fell by 17% in the first 10 months of this year.
Industry stakeholders pledged to increase industry support in 2021 on the basis of the progress made in the past year. The meeting agreed to launch the "Buy Local Chicken and Eat South African Poultry" campaign during Christmas. The poultry industry prioritizes the European Union, Saudi Arabia, the United Arab Emirates, Qatar and other African countries in its development strategy to take advantage of the African Continental Free Trade Area (ACFTA).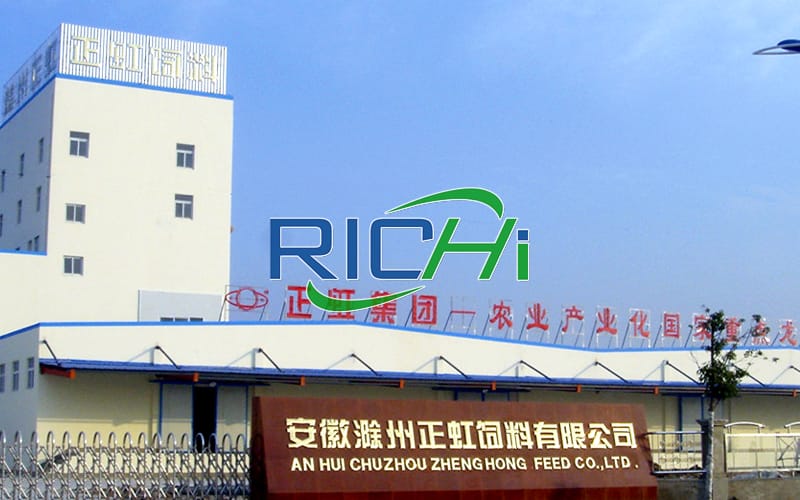 2.Introduction of "how much to start 10t/h poultry feed mill in South Africa"
Capacity:10t/h
Type:Automatic
Application:For producing chicken broiler layer feed ,also can be used to produce feed for duck,goose,bird,rabbit,pig,cattle sheep,fish,etc.
Motor:Siemens
Application:can make 2-8 mm diameter animal feed pellets. Such as 2-4mm diameter chick feed pellets and pig feed pellets.2-5mm rabbit feed pellet, 4-8mm cattle or sheep feed pellets. The last pellet length can be adjusted.
(1)Main machine for making chicken feeds in 10t/h poultry feed mill factory
The followings are complete chicken poultry feed production process and main machines in 10tph poultry feed making plant
①Curshing Machine
The chicken feed hammer mill geinding machine is an important chicken feed manufacturing equipment for the raw material grinding process. The corn grinder for chicken feed can grind the raw materials ingredients into the required size. It is suitable for small or medium sized feedstuff pellet mill plant. While if you manage a large scale poultry feedstuff pelletizing factory, the water drop hammer mill is an ideal choice.
②Mixing Machine
Mixing is one of necessary processing in 10t/h poultry feed production plant. Proper mixing will lead to increase diet uniformity and improve the feedstuff quality. We will provide two kinds of high efficiency chicken feed mixers: twin shaft mixer for particle materials and screw belt mixer for powdered materials. Both of them are equipped with atomizing spraying system to add needed liquids which can improve feed pellets quality.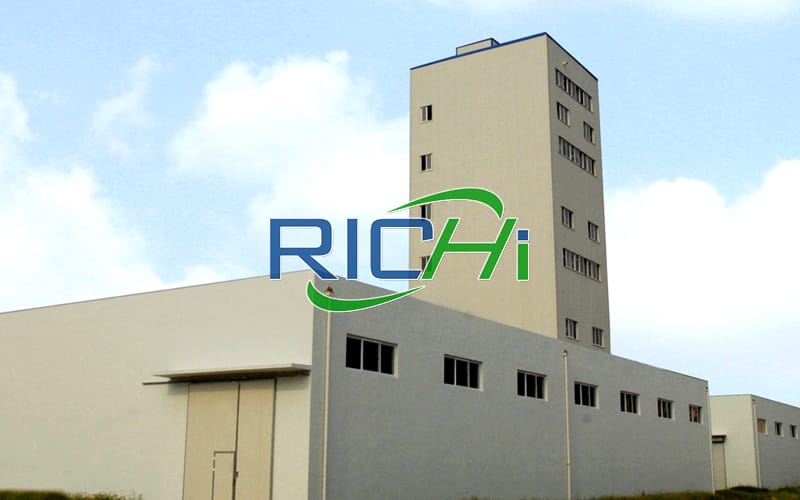 ③Chicken Feed Pellet Making Machine
Chicken Feed pelleting machine is the key chicken feed production equipment for 10t/h automatic animal poultry chicken feed pellet manufacturing line. The pelletizer machine for chicken feed is the ring die design which is broadly used to large capacity chicken poultry feed pellets production. If you have another questions about feed pellets production requirements like capacity or scale, please send e-mail to us for more support and guidance.
④Cooler
Getting out of the poultry chicken feed pellet press machine, the chicken feed pellets with high temperature and large moist need cooling by counterflow cooler. The these feed pellets can be crushed, screened or packed. Through the cooler, the feed pellets are decreased the temperature and moisture for next processing.
⑤Crumbler
Because different period chicken feed pellets are with different sizes. Some big feed pellets should be crushed into small particles. The chicken feed pellet crumbler is the right equipment for the feed pellets crushing.
⑥Rotary grading sieve
Screener is used to screen and grade the chicken feed pellets. After this processing, you can get qualified feedstuff pellets without powder.
⑦Packing
In order to pack for storing, transporting and selling, automatic packing machine can weigh and pack the chicken feedstuff pellets automatically with high accuracy.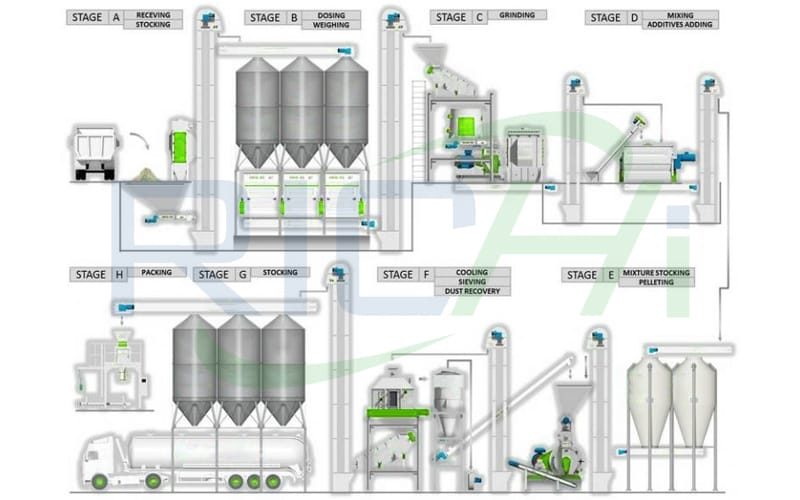 (2)Equipment model parameters for 10tph complete poultry chicken feed production plant in South Africa
Technical Parameters of 10 T/H Automatic Chicken Poultry Feed Pellet Production Factory
No.
Product name
Model
Power(kw)
1. material receiving section
(1)
pulse dust collector
TBLFa.18
(2)
granule material clean sieve
SCY80
0.75
2. material grinding section
(1)
Impeller feeder
SYLW3
1.5
(2)
chicken poultry feed hammer mill crusher
SDH-ZW50C
132
3. batching and mixing section
(1)
double shaft high efficient chicken feed mixer
SSHJ.2
18.5
(2)
powder material clean sieve
SCQZ75×65×1 40
7.5
(3)
permanent magnetic drum
TXCT30
4. pelletizing section
(1)
10tph electric chicken feed pellet production euqipment
SZLH420
110.
(2)
chicken feed peilet cooling machine
SKLN6
1.5
(3)
crumbler
SSLG20×170
15
(4)
classic sieve
SFJH125
3
5. packing section
(1)
Finished product bin
(2)
automatic packing scale
SDBY-P
(3)
seal conveyor machine
TFKB40
3
6.auxiliary system
(1)
liquid adding machine
SYTV32
3
(2)
boiler system
Price
(3)RICHI 10 ton per hour capacity chicken poultry feed mill plant prices in South Africa
Cost of setting up a 10 ton per hour full automatic poultry feed manufacturing plant for chicken feed is usually between 300000USD-1000000USD.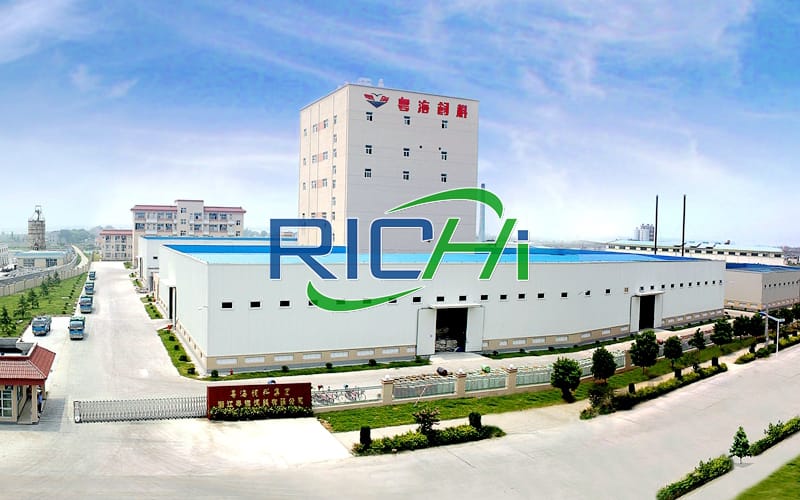 4.Why to Choose RICHI China supplier 10t/h customized animal poulry chicken feed production line?
①RICHI chicken poultry feed pelletizer machine can make feeds for poultry,cattle,chicken,duck, pig, livestock, and other animal.
②Chiken Feed pellet milling machine with ring die, it make pellets for 2-12mm diameter, the pellet size is changeable with the RICHI 10t/h chicken poultry feed pellet production machine by adjust die.
③Stable operation,high efficiency,high productivity 12t/hour.
④The chicken feed raw materials can be many kinds of grains, certain percentage grass & hay, straw and other trace elements for the animals.
⑤Whole chicken feed processing line with 10 ton per hour capacity is automatic control.
5.What can RICHI provide for 10t/h poultry chicken animal feed pellet making plant in South Africa?
①After installation and adjust,we will training our customer's work how to operate.
②Training worker how to maintain and protect.
③According features,RICHI will make a complete maintain rules for you, contains how to maintain,when to maintain,who maintain.
④Richi Machinery after-sale department will call you at regular intervals,ask if maintain and give advice.