How much the price of introducing tilapia fish feed pelleting machine of business non fish farmer?
2020-12-31 Back to List
If you are looking for related products or have any other questions, please feel free to contact us.
Contact Us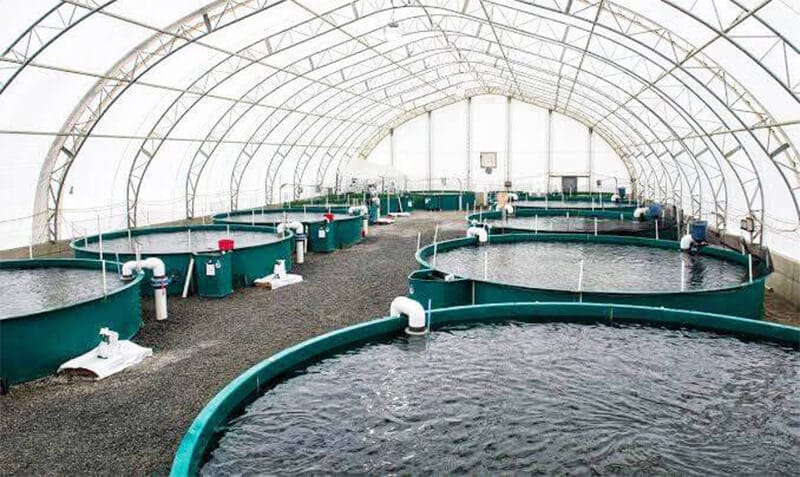 1. Tilapia farming in Nigeria
The Food and Agriculture Organization of the United Nations (FAO) predicts that with the growth of population and income, the consumption of aquatic products in Africa will increase by 30% between 2010 and 2030. In order to solve the problem of high-quality animal protein supply, the development of aquaculture industry is the only choice for African countries, and the most suitable species for Africa is the non-Tilapia.
With a population of 191 million, Nigeria is the most populous country in Africa. About half of the animal protein consumed by Nigerians is aquatic products. In 2018, Nigeria imported aquatic products worth 700 million U.S. dollars, most of which were pelagic fish. In the past, the import of aquatic products in this African country once exceeded US$1 billion. In recent years, the government has adopted various measures to restrict imports in order to encourage the development of aquaculture. Between 2009 and 2013, Nigeria's tilapia production increased from 10,000 tons to 20,000 tons. The demand for tilapia in Niliria is growing at a rate of 10% per year, and all tilapia farmed in Niliria will eventually be digested by the local market.
2.How To Raise Tilapia In Nigeria?
Tilapia has a wide range of feeding capabilities and can digest feed made of pure plants. This attribute greatly reduces the cost of breeding. As long as the water temperature is between 24-32 degrees Celsius, tilapia can survive in almost any freshwater body. Most African countries are eager to establish a local tilapia farming industry. Due to the lack of certain production factors, many African entrepreneurs are queuing for government assistance.
Tilapia is a freshwater fish that is now selling well. It is also very simple in the usual breeding. As long as the fish feed pellets feeding regularly and quantitatively every day, change the water in time. The tilapia feed pelleting machine is the main fish feed manufacturing equipment to make tilapia fish feed pellets.
(1)Basic Conditions Of The Pond
Choose a place with good water source, freshwater, no industrial pollution, good soil quality, and convenient transportation. The bottom of the pool is flat, the pond base is strong, the water retention performance is good, and there is no high damper in the surrounding air. After nuisance treatment, it should be properly placed at the appropriate time.
(2)The Selection Of Pond Tilapia Fish Farming
①The choice of fish. Choose childhood tilapia with a smooth surface, no damage, good health, full-body, neat specifications, high male rate, size of about 5 cm. After 5% salt solution or 5-10 mg/L potassium permanganate solution dipping, put it in the fish pond.
②Stocking density. After the pond water has been tested to be non-toxic, the tilapia fry is placed on the principle of 1 tail/m³ of water. The pond of the main tilapia can increase the income of the breeding by matching other fish. In addition to herring, and grass carp, such as carp and catfish can also be properly mixed.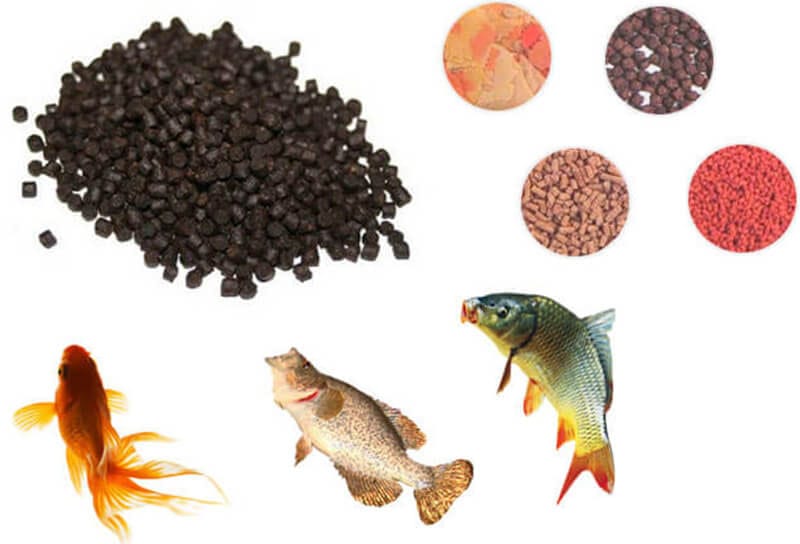 (3)Feeding management Of Tilapia
①Equipped with aeration facilities. In order to ensure high-density culture conditions, the cultured tilapia does not appear to float. Ensure high yield and stability.
②Feeding. In the process of breeding, in order to save costs, also in line with the principle of pollution-free. Before the tilapia reaches 150g, the use of fertilizer water culture, relying on animal manure fertilizer ponds to cultivate biological feed fish. In general, fertilize once a week. After 2 to 3 months, when the tilapia raised reaches the specification of 250 g/tail. It enters the medium-term breeding, changes the breeding method, and puts the tilapia feed culture. At this time, many farmers are feeding the fish feed pellets. As long as the fish can feed, on the principle of not wasting the feed, how much the fish can feed, the tilapia grows faster, about 7-8 months can be raised to 1 kg/tail or more. In the middle and late stages. It is necessary to keep the water fresh and ensure that the fish have a good appetite to achieve rapid growth.
③Choose good Tilapia feed. Scientific feeding, when selected fish feed pellets, fishermen should choose regular manufacturers to produce quality-assured feed. Fish feed pellets also can be made by using tilapia fish feed extruder machine if conditions permit. A small amount of meals helps to promote the digestion and absorption of fish, and 70% of the fish feed pellets are fed during the highest oxygen in the pond during the day. Which is beneficial to digestion and absorption, increase feed conversion rate and reduce feed cost.
(4)Water Quality Management in Nigeria Tilapia Farm
Maintaining good water quality can stimulate the appetite of tilapia, reduce the feed coefficient, and increase the growth rate of fish. In the early stage of breeding, in order to save costs, the use of fertilizer and water culture. However, in the medium term, it is necessary to add new water at the right time to adjust the water quality. Changing the water regularly, adding new water, and mechanical oxygenation are important means to regulate water quality. Therefore, every 3 to 4 days, freshwater should be added to the pond, 20 to 30 cm each time. When the water quality deteriorates, you should change the water quickly. First, drain the pond water by 1/3 to 1/2, then add new water until the water quality is good.
Tilapia is a tropical fish native to Africa and one of the world's cultured species. Tilapia is one of the fine breeds recommended by the Food and Agriculture Organization of the United Nations. Which has the advantages of miscellaneous food, fast growth, strong adaptability, low disease, high population yield, and good meat quality. The good market prospects of tilapia are the main aquaculture species in current aquaculture, especially in freshwater aquaculture.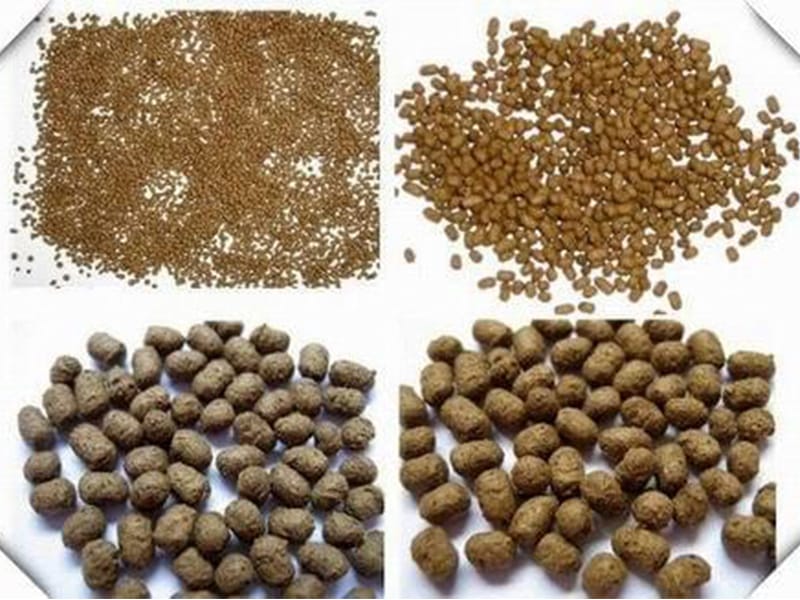 2.Common Tilapia Feed Raw Material
(1)Rice Dust: contain about 10-14% of protein and also contain vitamin B1, B2, B6 and small quantity of enzyme.
(2)Mustard Cake: Mix maximum 40% of cake in the fish feed. But don't use dry cake more than 20%. Mustard cake contain 30-32% protein. It also contain a high rate of fat.
(3)Wheat Chaff: contain fiber, control many types of fish diseases.
(4)Maize: contain protein, carbohydrate, fat, vitamin A and E.
(5)Cotton Seeds: contain about 54% protein. It is a better ingredients for supplementary fish feed.
(6)Fish Powder: easily digestible to fish. Fishmeal contain about 55-60% protein.
(7)Bone Powder: very necessary for building fish-bone. The ratio of calcium and magnesium in the bone dust is 2 : 1.
(8)Innards : very suitable and ideal feed for catfish. It contain 52% protein.
3.Fish Feed Making Machine For Tilapia In Nigeria
Tilapia feed processing equipment also called tilapia feed pelletizer machine to produce fish feed, is widely used for making feedstuff for all kinds of fish, install tilapia fish feed production line. And this fish feed pellet maker can produce different size from 2mm to 20mm and fit for different fishes.
Choosing a suitable fish feed pellet making machine for tilapia and using it properly will significantly improve the quality of tilapia feed. It will soon reflect a benign effect in the tilapia feed production process. If you can further master the technology of making tilapia feed pellets, you can also greatly reduce the cost of materials, thereby increasing profits.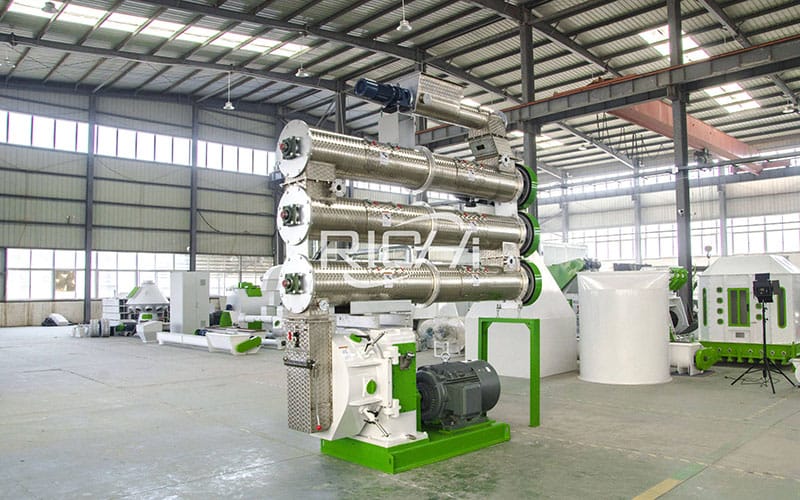 (1)RICHI tilapia fish feed pelleting machine for sale
◆ Our tilapia fish feed pelleting equipment is of three-comditioners design.
◆ We provide technical formula for making fish feed pellets after placing order.
◆ We send extra easy wear parts for free including two sleeves, one screw, one cutting knife and three die moulds.
(2)Technical Features of tilapia feed pellet mill machine
①This tilapia feed pelletizing machine adopts the auto-controlling speed feeding tool to produce the feed material evenly.
②Electric heating device is adopted which can improve the tilapia feed expansion rate and pellets floating time.
③High temperature and high pressure cooking process can kill the salmonellosis and bacterial infections and also makes the tilapia pellets easily to digest.
④The cutting knife adopts the frequency controlling speed in order to change the material size.
⑤The floating time can be controlled by the puffing degree adjustment.
⑥Auto-temperature control system makes the temperature controlling more direct viewing and the parameter more precise.
(3)Cost of tilapia fish feed pelleting machine in Nigeria
What's the price of tilapia pelleting machine for fish feed?How much the price of introducing tilapia fish feed machine of business non fish farmer?Richi tilapia fish feed pallet making machine cost is usually between 2000USD-90000USD,capacity from 30kg/h-4t/h.
Richi Machinery specializes in the production of pelleting machine for fish feed and fish tilapia feed pelleting productions line.
We are glad to inform you that the machines in our company are produced according to countries or areas. In order to provide better service and products with you, it is our great honor to have the flowing information about you:
•Where will the project locate?
•What is your raw materials?And their size and mositure percent?
•Do you need the fish feed pellet processing equipment/fish feed extruder machine only or a complete fish feed pellet processing line?
•What is the capacity you need?
•What's your use about the pellet, for burning or feeding animals?
Any requirements , just let RICHI know.