China professional factory offer 2-3t/h complete wood pellet production line wood pellet machine price
2020-12-30 Back to List
If you are looking for related products or have any other questions, please feel free to contact us.
Contact Us
RICHI is a China wood pellet processing equipment supplier,today we will talk about "China professional factory offer 2-3t/h complete wood pellet production line wood pellet machine price".
Wood pellet machine for China professional factory offer 2-3t/h complete wood pellet production line, also known as wood pelet press machine, wood pellet mill machine, it is popular in the world. With the development of biomass energy, there are several different production technologies to convert the biomass into heat and electricity. The 2-3t/h biomass wood fuel pelletizing machine is the typical wood pelletizer machine to do that. Biomass wood pelleting machine turns the raw materials into the high-efficient biomass fuel. What's more, the conversion of raw material into more energy-dense forms facilitates transport, storage and use through the rest of the value chain. The future of the biomass is on continuous developing. The biomass fuel would like to replace the traditional fuel gradually. Besides, the stable performance 2-3 ton per hour wood pellet processing equipment also provides chance to start business. So the wood pellet machine is more and more crucial for our life and industry.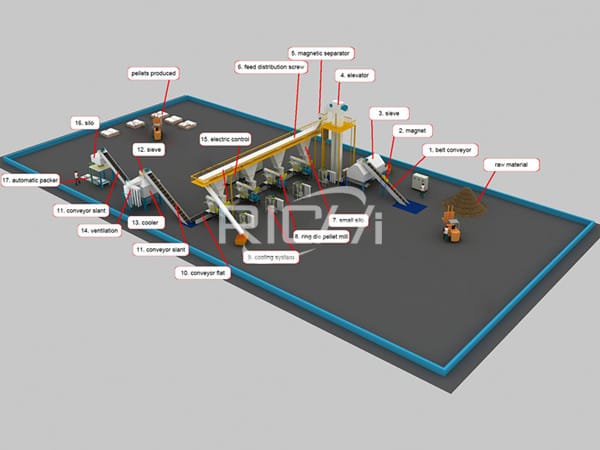 1.China 2-3 Ton Per hour industrial wood pellet machine price
China factory directly offered 2-3 ton per hour wood pellet machine is a kind of pellet machine for processing the raw materials like sawdust, wood, peanut shell, straw, leaves and so on. Nowadays, there are various different types of biomass pellet mill in the market. The 2-3tph China hot sell good quality wood pellet machine can process many raw materials whatever the size is big or not, and the pellet size also can be customized by the hammer mill. How does a 2-3t/h factory offer good quality wood pellet machine work? RICHI will introduce the process of making wood pellets from ring die low consumption 2-3t/h wood pellet mill and best design complete 2-3tph wood pellet production line for energy pellets.
2.Introduction of 2-3tph new type wood pellet mill
For the different applications, there are MZLH series reasonable design ce wood pellet machine and 2-3t/h customized complete wood pelleting plant to choose. The horizontal ring die wood pellet mill is easy to handle and can meet the requirements of Various use. While, the 2-3 ton per hour complete low investment high return wood pellet line is usually used in the wood pellet production factory.
(1)The main shaft system uses double support structure without shake to offer more extrusion force from ring die.
(2)Control device of ring die and roller is external to realize gap adjustment without stop-working.
(3)Rollers use circulating water cooling, realizing lower temperature and longer service time of bearings, and lower oil consumption.
(4)The bearings of main shaft and roller with temperature measuring device, which can monitor the working status of bearings.
(5)Key components like main shaft, driving wheels and gears are made of high strength forged alloy steel. Gears are processed by high precision gear grinding machine.
(6)Driving system uses imported bearings to ensure the reliability and long service time of the equipment.
(7)Ring die and roller use high strength forgings, automatic gun-drill drilling and vacuum heat treatment. The ring die service time﹥500 hours.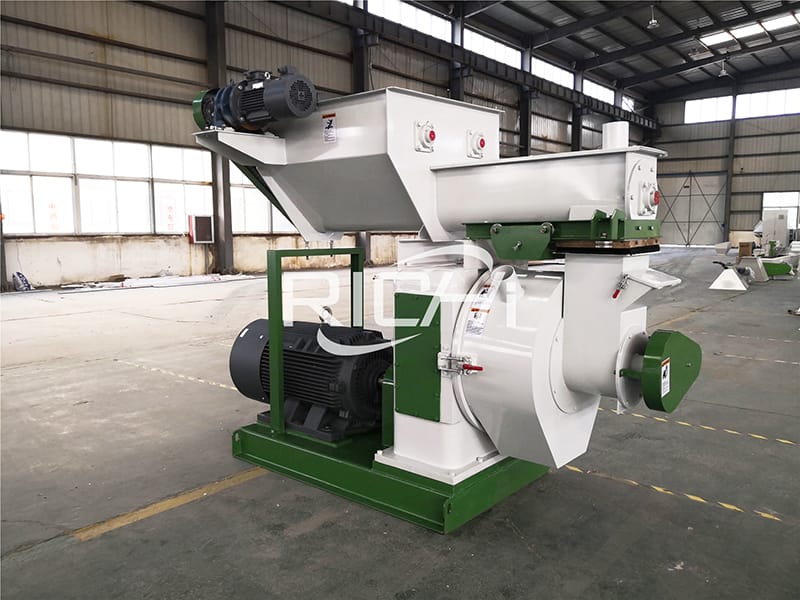 3.CE good stability 2-3 ton per hour wood pellet mill for sale
Model:MZLH520 CE Certificate Ring Die Wood Pellet Mill
Capacity of wood sawdust pellet:2000-3000 KG/H
Size of Pellet Machine: 3000*1260*1860 MM
Anti-caking Feeder Power:2.2KW
Forced Feed Power :0.75 KW
Pellet Machine Power: 160KW
Final Pellet :6-12mm
Weight : 4500KG
China professional factory offered high quality 2-3tph wood pellet machine price is usually between 40000USD-50000USD.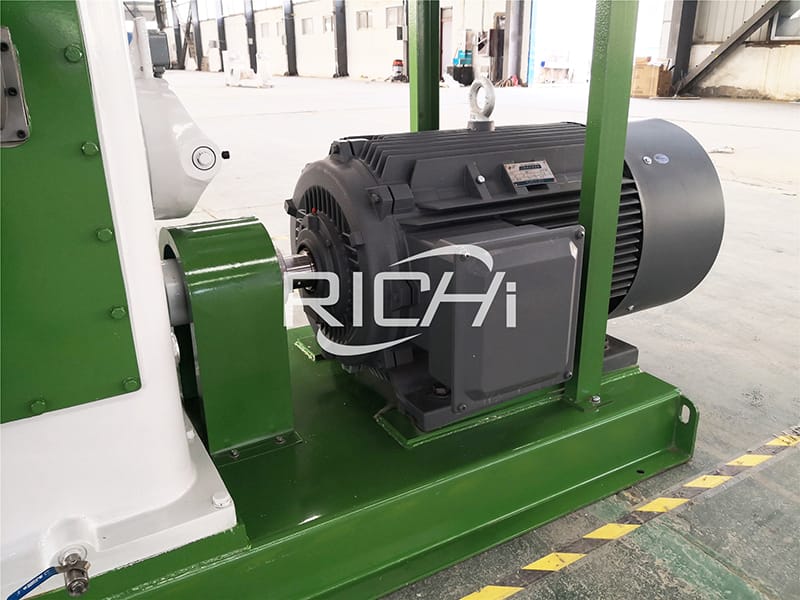 4.2-3TPH new design completely biomass wood pellet production line for sale
Compared with the 2-3t/h wood pelletizing equpment, we provide different and customized wood pellet making plant for sale. Build a complete wood pellet production line for biomass fuel making pellet is better to manufacture the plenty of wood pellets for sale. The ce completely wood pellet production line is a guarantee for the high quality.
★How does a complete pellet plant work? we sum a basic steps as follows:
The raw materials will be preprocessed at first.
The hammer mill cut the raw materials into smaller pieces with same sizes.
These raw materials convey to the large dryer through the conveying belt.
Through the elevator, these raw materials convey to the pellet mills to be ground from the silo.
These pellets will be cooled and be put into the storage.
★RICHI 2-3tph good completely biomass wood pellet production line price
China good selling 2-3 ton per hour completely wood pellet production line price is ususlly between 80000USD-500000USD.
You can choose the suitable 2-3TPH biomass wood waste pellet production machines and 2-3tph new design completely biomass wood pellet production line according to your actual demand. If you are confused about what you need or curious about the wood pellet line machine, RICHI is pleased to help you!
5.Why Replace Burning Coal with Wood Pellet?
With the climate change and environmental degradation, people pay more and more attention to environmental issue. Among other reasons, burning coal is a major source of air pollution. As a kind of non-renewable resources, burning coal always brings serious environment pollution and destruction of ecosystem. It is significant for us to seek more types of clean energy. Biomass energy is a new clean fuel, which can not only protect the environment, but also save energy.
Wood pellet fuel is one of typical biofuel, it is usually made of waste wood chip, saw dust, crop straw, etc. Considering cost saving and environmental protection, more and more people start to use the wood pellets instead of coal fuel.

6.Applications of wood pellets
(1)Domestic energy. Wood pellet is an ideal fuel for residents. Not only because wood pellets have high combustion use ratio, easy to store, but also because it is cost-effective. What is more important is that wood pellets are very safe and clean. Wood pellet can be applied in every aspect of our lives like heating, cooking, washing, and etc.
(2)Biomass industrial boilers. As the main fuel of industrial boilers, wood pellet replace coal, heavy oil and natural gas, which can reduce the air pollution. In addition to, wood pellet doesn't contain sulfur and phosphorus that will reduce corrosion and prolong service life of boilers.
(3)Power generation. Wood pellet is also used as the fuel of thermal power generation and biomass gasification power generation.
7.Advantages of wood pellet
(1)Space-saving. Compared to traditional fuel, wood pellet fuel greatly save the storage space, and easy to transport.
(2)Safe. Wood pellet is the natural biomass fuel; it has no chemical substances, which mostly avoid the accident like poisoning and explosion.
(3)Sustainable utilization. After burning, the stove ash can be used as high quality organic fertilizer for promoting the growth of new plants. The use of wood pellet enters a virtuous cycle.
(4)Clean and environmental protection. Wood pellet fuel contains no sulphur and phosphorous, and reduce emission of air pollutants.
8.Types of wood pellets
According to the raw materials, wood pellet can be classified hardwood pellet and softwood pellet.
(1) Hardwood
Hardwood has higher density, like birch, poplar, hard maple and etc. Usually, hardwood has lower moisture, and burns for longer periods of time than softwood.
(2)Softwood
Softwood is the gymnosperm, such as the pine, rosewood, and fir. Comparatively speaking, the softwood pellet burns more fully.
There are so many people felt that hardwood pellets produce little smoke and ash, and more friendly than softwood pellets. However, the content of ash depend on the wood pellets' cleanliness, not the raw material. In addition, the quality of the wood pellet mill has a great influence on the content of ash. Compared to the raw material, the wood pellet processing machine's quality can really decides the pellets' quality.In brief, no matter the hardwood or softwood, a high quality biomass wood energy pellet making machine will turn them into high quality wood pellets.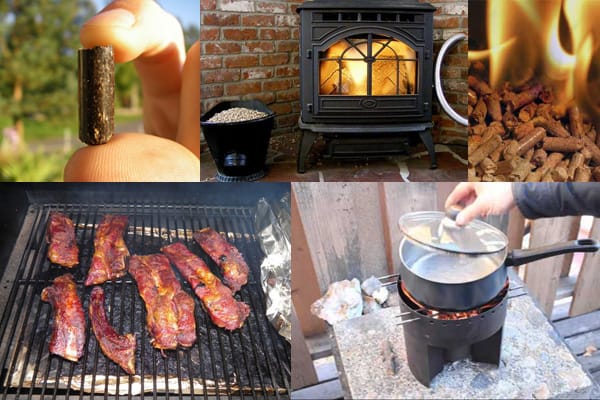 9.Note the fllowing tips
Wood pelletizer equipment is strict with the raw material's moisture. No matter what kind of wood, the moisture is better to keep in the range 14%--20%. It cant take shape if the material is too dry, while if it has high moisture, the pellet always easy to loose.
Don't add the adhesive when you make pellets. Sawdust is a kind of coarse fiber material, and itself has the adhesiveness. After the compress by wood pellet machine, the pellet will be taken shape, and very firm.
10.Wood Pellet stove
How to use wood pellet in our daily life? Pellet stove is a kind of new kitchen stove, it can be used for cooking, heating up water, bathing and so on. What's more, one pellet stove can be used for two different things at the same time. Pellet stove has advantages of low cost, clean, safety. Because of the small working pressure, and no waste gas, pellet stove don't have danger like explosion. The pellet stove has wide applications without seasonal limitation. With the rise of biofuel, more and more people start to use pellet stove now.
(1)Check out the stove before use, ensure all the parts can work safely.
(2)Give the pellet fuel in moderate amounts according to the pellet stove's consumption of fuel, ensure the effect of uses.
(3)Don't stop the operation of the fan until the pellet fuel after flaming.
(4)Clean the impurity witch in the pellet stove regular.