How to make straw pellets by best selling ce complete 5 tons per hour straw pellet production line?
2020-11-21 Back to List
If you are looking for related products or have any other questions, please feel free to contact us.
Contact Us
How to make straw pellets in best selling ce complete 5 tons per hour straw pellet production line?Perhaps the first thing you think of is the straw pellet press machine. This equipment has many names, such as ring die straw wood pellet press machine,wheat straw wood pellet making machine,corn straw pellet making machine,peanut straw pelletizing machine,2020 hot products bamboo straw pellet machine,best price rice straw pellet machine,alfalfa lucerne grass straw hay pellet mill, etc.

1.Why turn straw into straw pellets?
Straw is the general term for the stems and leaves of mature crops. Usually refers to the remaining part of wheat, rice, corn, potatoes, rape, cotton, sugar cane and other crops (usually coarse grains) after harvesting the seeds. (Therefore, there are many types of straw, and customers call straw pelletizers differently.) More than half of the photosynthesis products of crops exist in the straw, which is rich in nitrogen, phosphorus, potassium, calcium, magnesium and organic matter. It is a multi-purpose renewable biological resource, and straw is also a kind of roughage. It is characterized by high crude fiber content (30%-40%) and lignin. Although lignocellulose cannot be used by pigs and chickens, it can be absorbed and used by ruminant cattle, sheep and other livestock.
This important agricultural residue is quite popular in Europe where an estimated 23 million tones of straw is produced each year across the 15 states. Straw pellets are special products produced from straw and has applications ranging from heat production to animal feeds and animal bedding among others. In order to make the pellets from raw straw, a number of procedures must be performed. This is because the original residue is composed of different compounds that include cell (80-90%) and lumen (10-20%). The internal composition includes silica and extractives all which are water soluble. Here is a detailed step-by-step description of how to make straw pellets.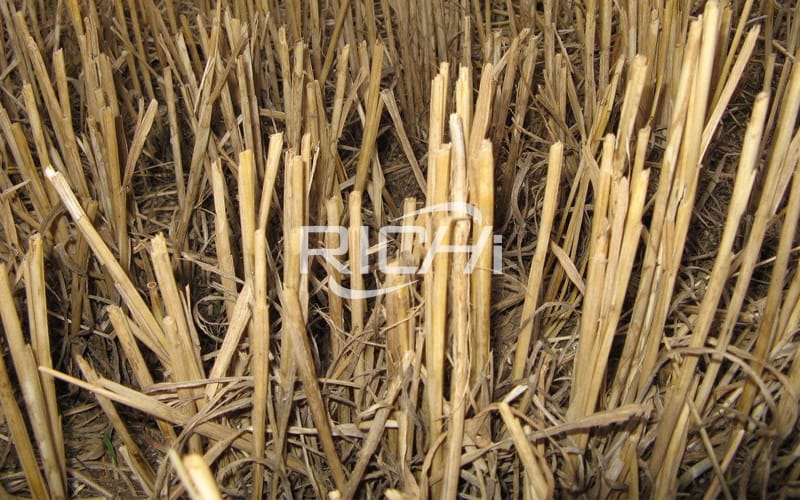 2.How to Build A Complete 5TPH Straw Pellet Making Plant?How to make straw pellets by 5t/h best price straw pellet production processing line?
(1)Preparation of raw materials
The harvesting process leaves straws mixed with dusts and other alien materials like stones, metals and plastics. These foreign components have the potential to damage pelleting mills and also lower the quality of the pellets. They must therefore be removed.
(2)Grinding
Straw biomass is basically a tube-like material that needs to be crushed to the required size that can then be used in the aforementioned applications. Grinding mainly involves cutting and chopping the straw the appropriate dimensions usable in pelleting machines.
(3) Drying
This process is often bypassed yet is still worth mentioning as part of straw pellet formation. Straw is delivered containing about 15% moisture content which is ideal for producing pellets. When saw dust is also used, then drying is added to the process.
(4)Conditioning
This is basically the process of increasing straw hardness to the desired state. It involves application of steam or water as well as binding agents and additives. Conditioning is necessary for achieving right temperature that allows malleability and melting of the lignin (which is found in raw straw) to act as the binding agent. Increasing hardness prevents excessive abrasion when pelletizing.
(5)Pelletizing
Straw ring die pellet press is the main phase of producing straw pellets. During this proves, consider aspects of moisture content in the straw,fibre strength, particle size and natural binders. All these influence the pellet quality. It is also important to prevent pellet breakage, overheating and pellet die blocking. These challenges may lead to increased energy costs, damaging the pellet mill and poor pellet quality. It is thus important to use high quality straw and also use thicker pellet die to increase compression length and yield favourable quality.
(6)Cooling and Screening
After pelletizing, the straws will generally be hot and soft. They should then be cooled down to attain desirable hardness while refining fine particles. The final straw pellet product will have reduced moisture content yet depicting increased bulk density. The moisture is often reduced from the 15-20% to below 10% while density rises from 130 to about 600 kg/m³.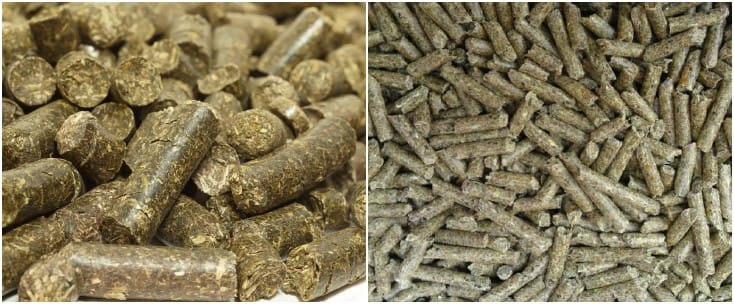 3.Main machines of factory supply 5 ton per hour customized biomass wood pellet line project for making straw pellets
straw cutter
straw pellet rotary dryer for pellet plant
...
4.China professional machinery 5t/h complete straw pellet production line price
5TPH good completely biomass wood pellet production line price is usually between 100000USD-400000USD.
Production of straw pellets is a popular activity in Europe and the end product has high demand from those raring animals. It is also burnt to produce heat during cold seasons. When producing straw pellets, it is important to use high quality moist biomass harvested from the firms. It is also very crucial to eliminate any threat to the mill which usually costs a lot to run and maintain when exposed to foreign materials and low quality straw.