Effect of feed processing sections on feed quality for 30tph computer control chicken feed plant
2020-11-08 Back to List
If you are looking for related products or have any other questions, please feel free to contact us.
Contact Us
1.30 Ton per hour fully automatic poultry chicken feed mill plant design and its functions
RICHI 30tph large scale turn-key poultry chickenl feed production line is mainly suitable for processing poultry, livestock, ruminant feed for meat chicken, broilers, laying hens, small baby chicken, pig, cow, sheep, duck, goose, quail, rabbit, pet, camel, horse,etc.It is also suitable for processing various pre-mixed feeds such as pig premix feed, chicken premix feed, duck premix feed, cattle premix feed, additive premix.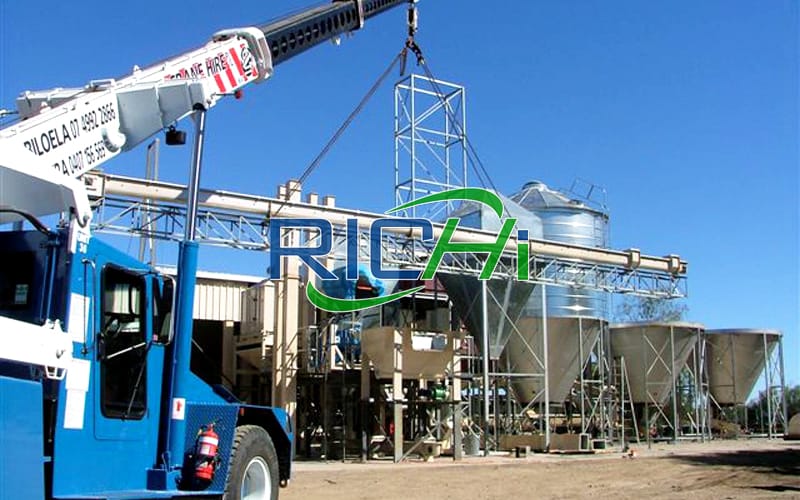 (1)30t/h automatic complete poultry chicken feed pellet line manufacturing process
Feed processing technology can be simply summarized as: raw material receiving and cleaning, crushing, batching, mixing, pelletizing, cooling and packaging.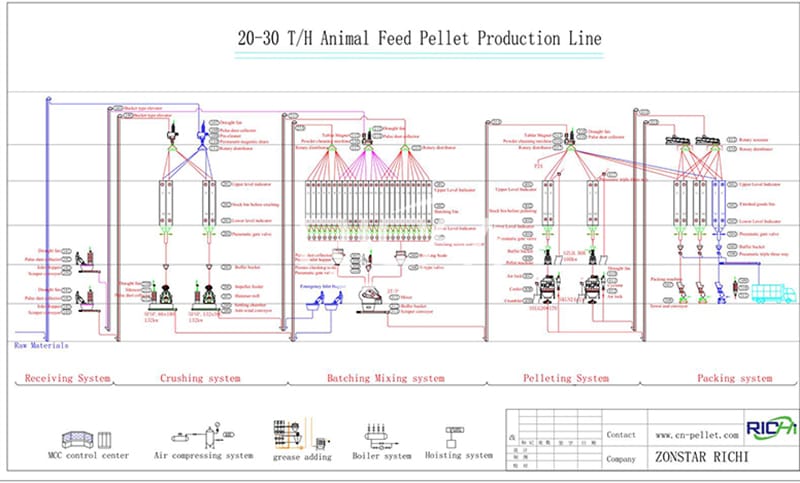 (2)30TPH poultry feed line equitment for making chicken feed pellet
Required feed processing equipments are: chicken feed grinder hammer mill, chicken feed mixing machine, 10t/h ring die chicken feed pellet mill, pellet cooler machine,packaging scale. Feed processing technology looks pretty simple, but there are still many practical and complex problems in actual chicken feed production.
2.Effect of 30t/h poultry chicken feed production processing sections on chicken feed quality
(1)Raw material receiving and cleaning is the first production process to ensure the quality of chicken feed. The installation of receiving equipment and process should ensure the safe storage of raw material, and the cleaning equipment should be reasonably assembled in the process of receiving. If impurities in raw materials cannot be cleaned up in advance, it will affect the product quality, even affect the growth of animals, damage equipment in the process and affect production. Usually, the method of raw materials' cleaning is screening first and magnetic separation afterwards, supplemented by dust suction facilities. In the process of raw material treatment, in addition to strengthening the impurity removal method, another big change is to preprocess the raw materials, which has two functions: removing bad factors in raw materials and improving the nutritional potency of active ingredients in raw materials.
(2)Crushing process is one of the main sections in chicken feed processing. Crushing quality directly affects comprehensive costs like the quality, output and power consumption of chicken feed production, and affects the inherent quality of feed and feeding effect. Choosing the corresponding mesh to control the pellets size for chicken feed hammer mill. The main factors affecting the performance of corn grinder for chicken feed are: physical properties of raw materials; the feeding system, the rotor turning and feeding direction; sieve aperture selection; the selection of chicken feed grinding machine; the negative pressure suction.
(3)Batching is the core part of chicken feed processing technology; the correct chicken feed formula is guaranteed by batching process. The change of batching system is mainly to adapt to the increasing of varieties added, reducing of the adding amount, improving of the weighing accuracy, shortening the weighing cycle, and improving the production per unit time meanwhile.
(4)The key of mixing process is how to ensure the mixing uniformity. Three main aspects are considered: mixing time, mixer gate and prevent classifying after mixing. The mixing time is usually designed according to the batching time of the balance and the time recommended by the chicken feed mixer manufacturer. The horizontal animal feed mixer is divided into two types: big door structure and small door structure. The animal poultry chicken food mixer with big door structure discharges fast, and no residue will be produced. But there will be leakage due to lax closure, affecting the quality of mixed materials, which should be paid attention to. In order to reduce the material classifying after mixing, the conveying distance should be shortened after mixing unloading, especially the pneumatic conveying method is not allowed, and the speed of material entering the warehouse should not be too fast.
(5)The traditional pelleting process includes: pelleting, cooling, crushing, classifying. First, control the quality of feed conditioning, namely the control of temperature, time, and moisture adding and starch gelatinization degree, to ensure the tempering state is the best suited to pelleting. Second, control powder rate of particle feed, cooling temperature and moisture, particle uniformity, water-resistance. To achieve these requirements, reasonable steam supply, control system and conditioning,CE ring die poultry chicken feed pellet making machine, cooling machine and screening equipment must be equipped, and the parameters should be scientifically adjusted and controlled according to different requirements of products.
(6)In the process of measurement and packaging, it is necessary to choose the right packaging materials, to achieve accurate packaging measurement, and to match the correct product description.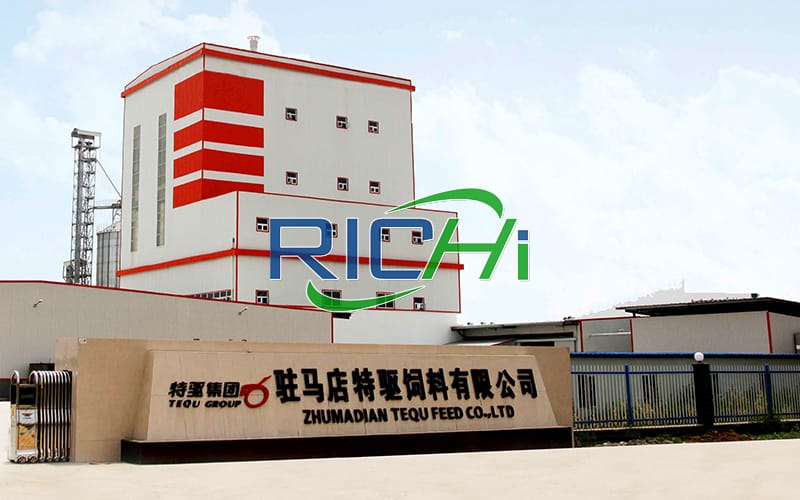 3.Cost of setting up a high capacity 30t/h poultry chicken feed pellet making plant
China professional supply 30t/h poultry chicken feed mill plant price is usually between 300000USD-1500000USD.
The large poultry chicken feed mill factories that Richi Machinery has constructed adopt module design to realize customized poultry feed requirement. Meanwhile,RICHI's deep processing and innovative machines provide quality and safe feed for feed mills efficiently. The advanced technology used in RICHI's feed processing technology and our engineers'professional and rich processing technology ensure the most strict hygiene standard in chicken feed milling and reduce pollution and cross contamination.