China Factory Price Low Cost 5T/H Animal Cattle Feed Manufacturing Plant For Sale
2020-10-31 Back to List
If you are looking for related products or have any other questions, please feel free to contact us.
Contact Us
The low cost high return series 5tph cattle feed mill machinery is a relatively small cattle feed pellet making plant that manufactures around 5~7t/h ruminant animal cattle feed pellets. The 5 ton per hour cattle cows feed pellet production line can be used to make feed pellets for both livestock and poultry, including chicken, goats, pigs, goats and other livestock or domesticated animals.
Application: Start feed making business or built 5t/h cattle feed processing plant for pellet feed manufacturing.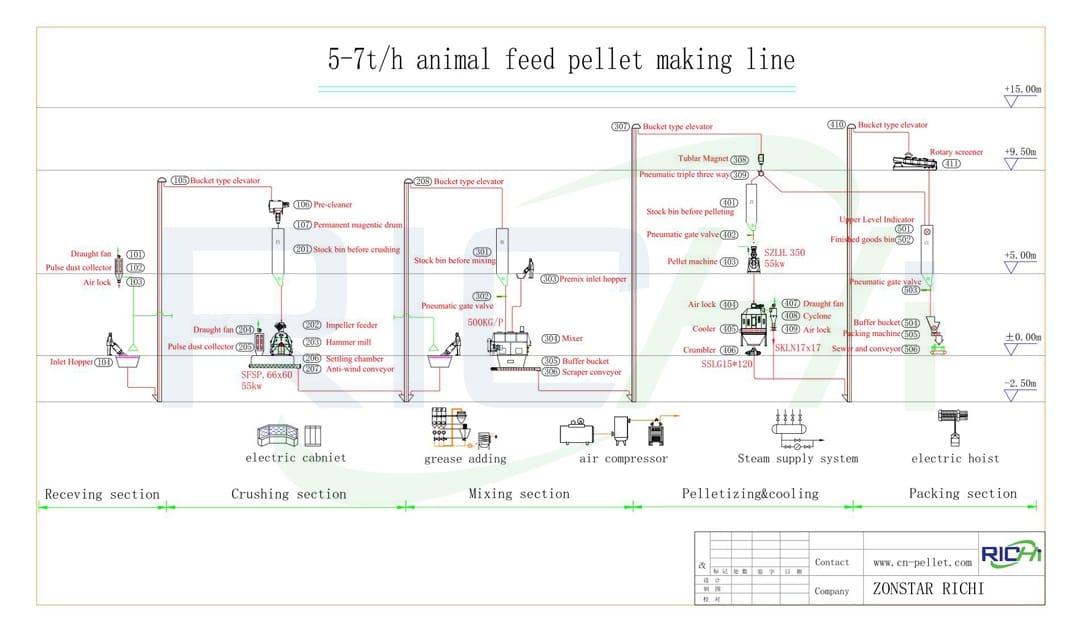 1.5T/H cattle animal pellet feed production plant layout design and required equipment
Now let's talk about the 5tph cattle feed mill layout design and cattle feed equipment included. The main components of this cattle feed plant with capacity of 5 ton per hour include a horizontal cattlel feed mixer, cattle feed grinding machine, storage silo, screw conveyor belt, 5t/h cattle feed pellet mill machine, cattle pellet cooler and cattle pellet packing machines. However, all these machines are not a must when designing your customized 5 ton per hour cattle feed manufacturing plant. The machines are optional and depend with your needs and requirements. So don't hesitate to contact Richi Machinery if you are willing to get a detailed cattle feed production business plan or quotation of this 5t/h factory price cattle feed pellet processing line plant.
(1)How to make cattle feed process with details?
①Crushing Process
The cattle feed manufacturing process begins at the cattle feed hammer mill. The oil cake and other hard or heavy fodder materials are first put inside the cattle feed grinding hammer mill or grain corn maize grinding hammer mill. This ensures the materials are in livestock feed crusher into small sizes, which are easy to mix with other materials. Maize and other straight feed ground materials, for example, wheat, bone meal, vitamin, microelement and so on do not get into the cattle feed grinder.
②Mixing Process
They expressly sustain themselves into the level blending machine through the channel of feed grinding machine. All powder are then mixed consistently in horizontal cattle feed mixing machine.
③Pelletizing Process
The mixed fodder materials are then discharged into the hopper of the screw conveyor and discharged to the temporary storage silo. With the help of the screw feeder, the mixed materials are then feed into the cattle feed pellet making machine,which finally produces the cattle feed pellets (which is the final product).
④Cttle Feed Pellets Cooling
The cattle feed pellets can either be stored on open air or be directed to the cooling machine to allow it to cool. Having cooled down to a temperature of about 5 degrees Celsius or to room temperature, the feed pellets are now ready for packaging and stored.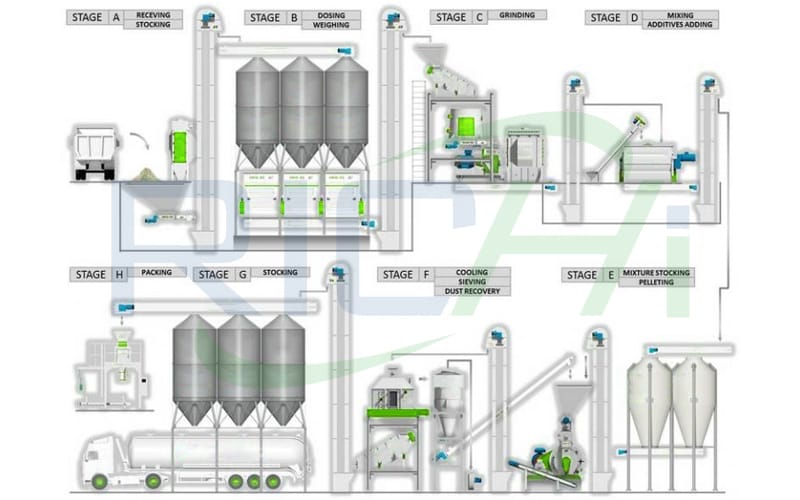 (2)Main Machines In The 5TPH Cattle Feed Pellet Producing Plant
The following are the main machines which are included in the 5t/h cattle feeding plant:
①Grain corn maize grinding hammer mill for cattle feed
This electric corn animal feed grinder for cattle feed can be used to crush a wide range of hard raw materials such as soya beans, stalk, straw, drylfresh grass, alfalfa and so on. With this grain corn hammer mill, you can crush these raw materials to a diameter of 3-5mm, which is best suited for the presiding mixing and pelleting process.
②Cattle powder feed mixing machine
Both the vertical and horizontal mixing machines are perfect for mixing the animal cattle feed raw materials. These mixers ensure a satisfactory job is done and guarantees high quality pellets are manufactured.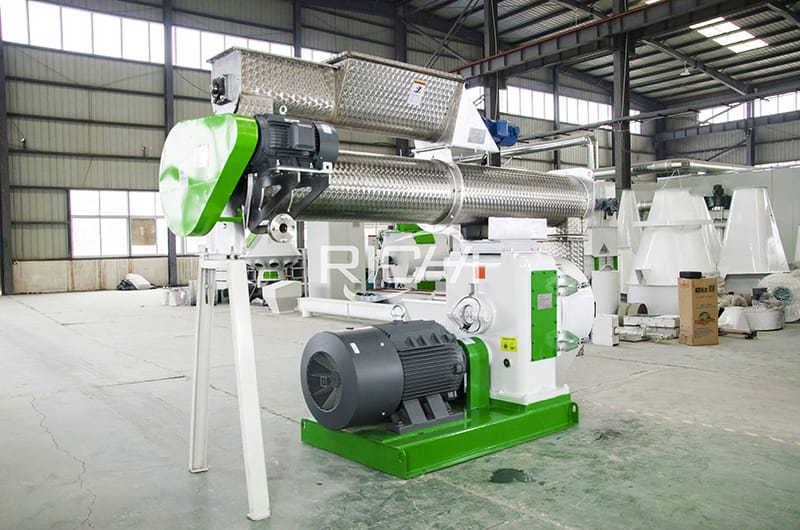 ③China factory price cattle food for making pellet mill
5T/H cattle feed pelletizing production line adopts model SZLH350 ring die cattle feed pellet mill. This 5 ton per hour pelletizer of ring die to making cattle feed is broadly utilized in 5 ton/hour scale feed pellet creation for cattle feed producing plants, domesticated animals, poultry, angle ranches and furthermore for people. In addition, the 3 rollers configuration significantly enhances the working productivity of cattle feed pellet production. Furthermore, all parts of 5t/h cattle granule feed pellet mill machine are produced using excellent materials to maximize its lifespan.
④Feed Pellet Cooler
The single purpose of the SKLN series cattle pellet cooler is to cool the fresh, hot produced pellets to a temperature that it can be stored and packaged.
⑤Packaging Machine
This is a great machine to include in the 5t/h cattle feed processing plant, especially if it's for commercial purposes. In addition, the packing machine also allows its user to choose the bag capacity he or she desires to use.
3.5 Ton per hour cattle feed plant equipment cost
The cost of the complete set of 5 ton cattle feed processing machinery is between $100000~$250000. (To offer the best project plan, we customize the feed pellet plant according to each clients' situation and requirments. So just get in touch with us and tell us your main feedstuff material, capacity needs, requirements on final cattle feed products, then we can offer the detailed equipment quotation with exact price list.)
4.Raw materials for cattle feed production
There are thousands of raw materials for cattle feed. The most common ones are soybean meal, cornmeal, bran, cotton cake, rapeseed cake, soybean cake, bone meal, baking soda, premix, salt, corn stalk, wheat stalk, soybean stalk, peanut Seedlings, sweet potato seedlings, pasture, weeds, straw, distiller's grains, tofu residue, etc. Under modern breeding conditions, the food structure of cattle is generally based on two types of forage and concentrated feed, which are appropriately matched with other roughage. Forages are generally based on fresh grass, hay, and tree stems and leaves. Common coarse materials include distiller's grains and tofu residue. So, forage or roughage is generally easy to find, and you can buy it directly from a raw material supplier.
5.Common fattening cattle feed pellets formula
Then, how to mix cattle concentrate, these may be unknown to some farmers. Next, we will share some formulas for fattening cattle feed.
(1) Corn 65%, wheat bran 10%, soybean meal 18%, baking soda 1%, vegetable oil 1%, cattle premixed feed 5%.
(2) Corn 64%, wheat bran 10%, soybean meal 10%, rapeseed cake 9%, baking soda 1%, vegetable oil 1%, cattle premix feed 5%.
(3) Corn 62%, wheat bran 10%, soybean meal 6%, cottonseed cake 15%, baking soda 1%, vegetable oil 1%, cattle premix feed 5%.
(4) Corn 60%, wheat bran 10%, soybean meal 8%, flax cake 15%, baking soda 1%, vegetable oil 1%, cattle premix feed 5%.
(5) Corn 60%, wheat bran 10%, cottonseed cake 15%, rapeseed cake 8%, baking soda 1%, vegetable oil 1%, cattle premix feed 5%.