Farm used 80-1000kg/h small chicken pellet making machine for processing pellet in home
2020-09-16 Back to List
If you are looking for related products or have any other questions, please feel free to contact us.
Contact Us
Today,we will talk about farm used 80-1000kg/h small flat die chicken pellet making machine for processing pellet in home.
In poultry chicken industry, in order to meet the nutrition requirements that needed for animals and grow animal well, the breeder always mix various of feed materials together to feed them, which causes series of problems, for instance, some animals eat the food that they like only, becoming more picky; some kinds of feed can not be digested by poultry chicken animals well, resulting dyspepsia; the feed mixed with kinds of raw materials is difficult to store and easy to go mould which cause diseases for animals.
With great development in feed making equipment and the higher requirements for feed, chicken feed pellets produced by 80-1000kg/h home small poultry chicken feed pellet mill solves these problems mentioned above well. Made from raw materials like corn, wheat, maize, soybean, oil cake, rice husk, potato and other necessary vitamins agents, under high pressure and high temperature, finished feed pellet is easy to digest and store with a long quality keeping period, and most importantly, feed pellet with kinds of nutrition involved instead of simply mixing can meet the daily requirements that poultry chicken need.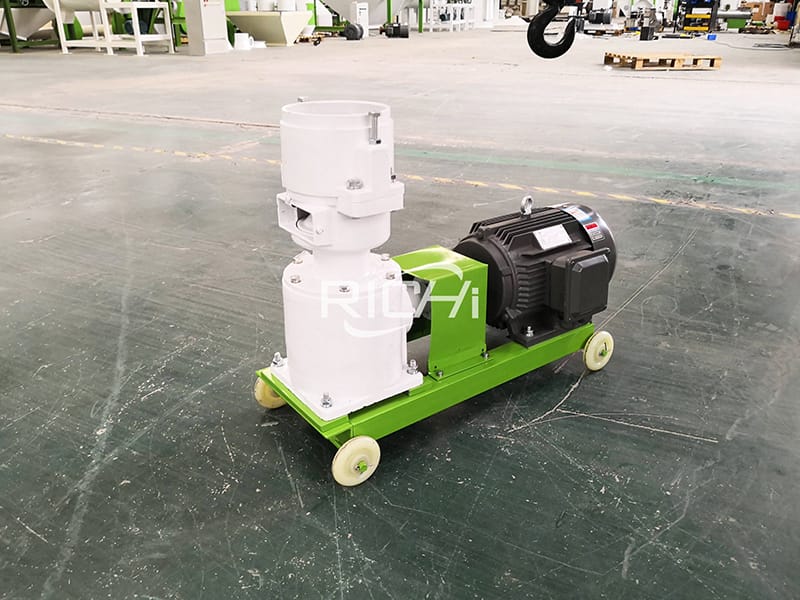 1.How to make pellet feed for chicken by home use chicken feed pellet equipment?
Home use 80-1000kg/h chicken feed pellet manufacturing machine for small farm is the most popular type among our clients which is used for making feed by themselves. Here is how to make chicken feed with our homemade chicken feed machine.
Before starting making feed, you should make sure the raw materials which is decided by the nutrition the animals need. As we all know, different kinds of animal requires different nutrition, and even the same type animal requires differently, for its different growing stages. In the first stage, you need to prepare the raw materials well. Mixing well all the raw materials that you prepared. Home made chicken feed pellet milling machine requires the raw materials should be in proper moisture content and size strictly. The moisture content should be in 12%-15%, and the size can not larger than the pellet die hole. We can provide you the feed dryer and chicken feed hammer mill grinder machine for you in order to save your time.
Pelleting is the core section of 80-1000kg/h chicken feed pellet production for farm home use, choosing a suitable home use chicken feed processing machine matters. Our home use series small poultry chicken feed pellet making machine with CE is designed and manufactured according to flat die feed pellet mill technology. When the prepared raw material is placed in feeding hopper of home feed mill, they will fall into the pelleting chamber under their own weight where are the die and roller. With large pressing between die and roller and high temperature in the chamber, the raw material is form into uniform pellet through die hole. The fresh finished feed pellet from home made chicken feed pellet mill is in high temperature should be cooled in order to pack into bags for storing and later use.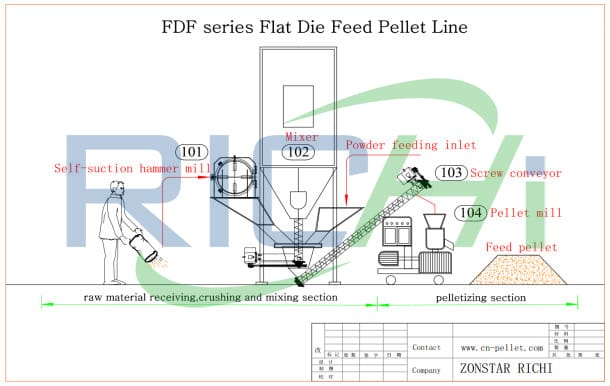 2.Why Choose 80-1000kg/h DIY Home Use Chicken Pellet Feed Manufacturing Machine for Your Small Farm?
(1)Wide production range. Using this homemade chicken feed pellet mill machine, you can make various animal feeds, including grasses, rice husk, soybean, sorghum, straw meal, bean pulp, oil cake, field peas, rice bran, potato, pasture etc, used for cattle, sheep, goat, horse, deer, lamb, swine, duck, even fish etc.
(2)Chicken feed pellet machine for home is designed and developed with small weight and size, simple structure, convenient to install, operate and move to any place that you like.
(3)The core components, die and roller, are adopts high quality wear-resisting alloy steel, serving fro longer time.
(4)Changed the traditional China supplier poultry chicken farming feed pellet mill structure, our home feed pellet mill machine for chicken feed is equipped with reinforcing rib in the shell and thickness has been increased, enhancing the machinery strength, avoiding the shell breaking.
By changing the arrangement of die hole, the touching area between die and roller has been enlarged, reducing the wearing rate and prolonging the lifetime of the die.
Home ce approved poultry chicken feed compress pellet making machine is suitable for small scale chicken feed production processing line for small farm. If you want to produce on a large scale chicken feed pellet production, you can choose a 1-70 ton per hour chicken feed production manufacturing plant or 1-15 ton per hour hot sale ring die chicken feed pellet mill machine.