Small homemade simple feed pellet machine for pig cattle sheep rabbit chicken goose feed
2020-09-11 Back to List
If you are looking for related products or have any other questions, please feel free to contact us.
Contact Us
Yesterday I received feedback from a user. He said, "I used to buy complete feed to raise poultry. At the end of each year, I calculate the cost of feed, labor and other expenses. After a hard year, I didn't make a lot of money." It is undeniable that buying complete feed is really easy for farmers, but as prices have been rising, in order to reduce the cost of breeding and ensure the nutritional needs of poultry, the user finally decided to use the small pellet machine for making poultry feed pellet in home process nutritious feed Particles can save feed costs and increase the economic income of farmers.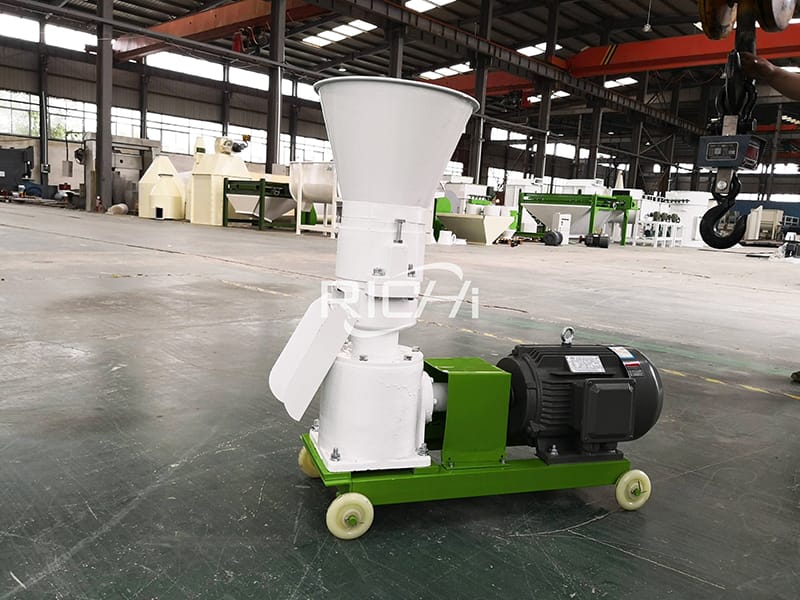 1. What are the benefits of animal feed pellet machine diy home use?
(1) Reduce breeding costs and increase economic income.
(2) The nutrition is comprehensive, which can increase the feed intake of poultry and livestock, promote the growth of poultry and livestock, avoid picky eaters, reduce feed waste, and have strong disease resistance.
(3) Feed pellets are convenient to store and transport, and it can be stored for half a year without a problem.
(4) It belongs to dry feed processing, no need to add water, the produced feed pellets have high hardness, smooth surface and good internal maturation, which is more conducive to the digestion and absorption of livestock.
2. Wide applicability of pellet machine for home
Raise pigs, rabbits, cattle, sheep, chickens, ducks, geese, pigeons, fish, etc.
3. Wide use of simple home use poultry chicken feed pellet making line machine
It is suitable for large, medium and small aquaculture, food and feed processing plants, livestock farms, poultry farms, individual farmers and small and medium-sized farms, farmers or large, medium and small feed processing plants.
4. The choice of small homemade feed pelletizer grinding disc
According to the different breeding poultry, the corresponding die plate aperture should be selected. Under normal circumstances, the regular small homemade feed pelletizer machine manufacturers will provide 2.5-10mm die plate aperture to choose, which can be applied to processing cattle, sheep, pig, rabbit, chicken, duck, goose, fish and other livestock feed. The following is the applicable range of different die plate apertures ,for reference only:
(1) The 6-8mm particles are suitable for larger cattle, horses and donkeys, and the corresponding 6-8mm grinding discs.
(2) The 2.5-4mm particles are generally suitable for feeding chickens, ducks, geese, and fish, and the corresponding 2.5-4mm grinding discs.
(3) 2.0mm millstones are breeding: parrots, thrushes, finches, and other birds. The corresponding is 2.0mm grinding disc.
(4) 4-6mm particles are usually suitable for feeding pigs, sheep, rabbits, and the corresponding 4-6mm grinding discs.
5.Some cases of small homemade flat die feed granulators of Richi Machienry
Bahrain 100-150kg/h Small flat plate feed pellet making machine to make animal feed
Bolivia 400-500kg/h small flat die pellet machine home use with CE
Gambia 800-1000kg/h China factory supply small feed pellet machine for home
Uganda 500kg small homemade simple feed pellet machine for poultry feed
German small sized farms animal cattle pig fodder pellet making machine with ce certificate
Philippines 500kg/h small chicken cattle fish pet food poultry feed manufacturing machine
Sri Lanka flat die small fodder pellet manufacturing machine from China
Oman 150B small chick goose duck birds feed pellet mill with factory price
Cyprus high quality flat plate drive mechanism of feed pellet making machine for small farm
Lebanon farm feed pellet machinery used small pellet machine for to make the pellet in home
Pakistan China factory price household min feed pellet mill machine
UAE China supply small flat die feed pellet making machine with CE
Qatar FDF260 small flat die animal grain feed pellet mill with reasonable price