The price of small poultry chicken feed pellet machine and chicken feed grinder for chicken poultry
2020-09-06 Back to List
If you are looking for related products or have any other questions, please feel free to contact us.
Contact Us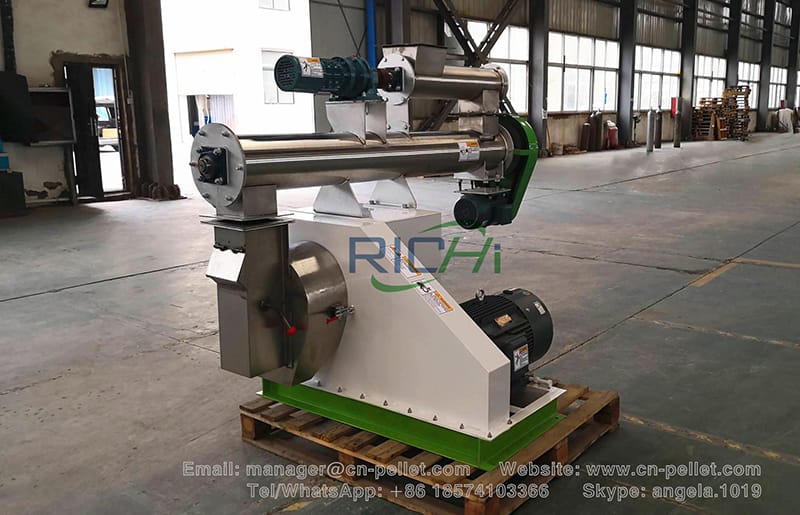 1. Small poultry chicken feed pellet machine for chicken poultry farms
The small poultry chicken feed pellet making machine used in chicken poultry farms is specially designed for small chicken farms and family farmers. It can produce feed pellets for pigs, cattle, sheep, rabbits, chickens, ducks, geese, fish, etc. The small poultry farming feed pellet mill machine has a reasonable appearance design, "small size, powerful function", small footprint, low power consumption, the pressed pellets have a smooth surface, moderate hardness, dry material processing, convenient storage and convenient transportation. It can also process grass industry, straw particles and inorganic fertilizer particles. Users can add various additives according to their own feed formulas, with minimal nutritional loss, good internal maturation, and comprehensive nutrition, which can increase the feed intake of poultry and livestock and avoid picky eating by animals.
2. Small poultry chicken feed grinder for chicken farms
The small poultry chicken feed crusher used in chicken farms is a new type of feed crushing machine. The machine is suitable for the concentrated feed of agriculture, animal husbandry and fishery and can crush various feeds and various coarse feeds, such as grain, maize, corn, soybean, and wheat. And other materials. If the raw material is wood, such as wood chips, branches, tree trunks, etc., you can choose a wood shredder. If the raw material is grass, you can choose a forage grinder. It mainly depends on what raw materials the user uses to crush, and the specific output required can be selected according to different types of crushing equipment.
Working principle of small chicken feed hammer mill grinder:
The small chicken feed hammer mill grinder beats and crushes the material entering the crushing chamber through the high-speed hammer. Under the action of centrifugal force, the crushed powder is sent out of the machine through the sieve under the centrifugal pressure of the rotor and the suction of the fan. Repeat the above process for the sieve powder until it can be sent out of the machine through the sieve.
3. Some customers will consider whether to buy a chicken feed crusher when choosing a small chicken poultry feed pellet mill?
Don't worry about it! In fact, there is no need for a small corn grinder machine for chicken feed.For small poultry chicken farms, a chicken feed pellet milling machine can also process poultry chicken feed pellets! However, the output will be lower and the efficiency will be lower. But so far, many small farm customers accept this, because they do not need high yields to meet their daily needs.
Attention! As long as the size of the raw materials of the chicken farm customers does not exceed the size of the rice, they can use the poultry chicken feed compress pellet making machine to directly process chicken feed pellets.
4. How much is the small chicken feed pellet making machine and animal poultry chicken food mammer mill machine for small chicken farm?
Many customers will directly ask the of small chicken feed pellet machine price and small chicken feed grinder machine peice. For example, if the user chooses the smallest chicken feed pellet making machine, it is enough to equip the chicken feed hammer mill machine with the smallest output. The price of these two chicken feed equipment is about several thousand dollars.