[RICHI In Uzbekistan]1T/H floating fish feed and 1-2t/h chicken feed pellet combined line in Nukus
2020-12-21 Back to List
If you are looking for related products or have any other questions, please feel free to contact us.
Contact Us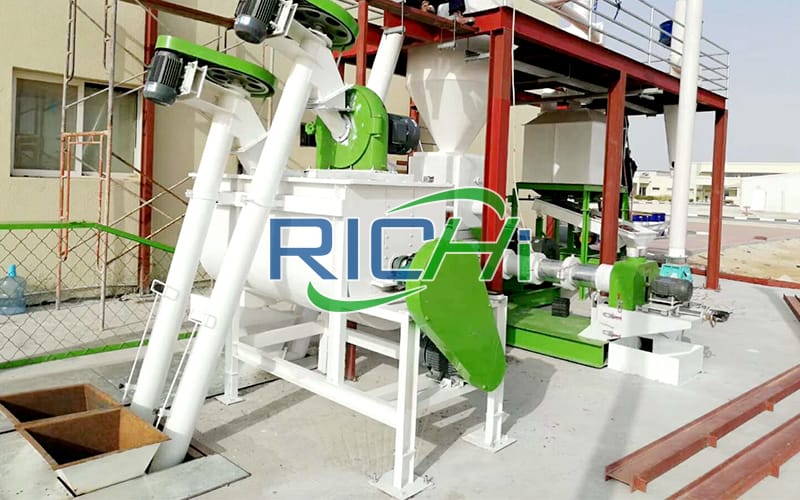 This is a customized animal feed combined line project for making 1-2 ton per hour floating fish feed and 2 ton chicken pellet feed. The configuration of this feed production line is exactly the same as our project in Gizak, main equipment of the project includes: 37KW feed grinder machine, 500kg/batch horizontal feed mixer, 90KW floating fish feed extruder machine, 22kw animal feed pelletizer, SKLN11*11 pellet cooling machine, vibrating shifter, automatic packing machine, 1t/h steam boiler, etc
There was only half a year between the signing of the two projects, but this project only needs one type of ring die, because this customer from Nukus did not need to produce cattle feed and goat feed, so he only needs to buy the pellet mill machine ring die that can produce 3.5mm chicken feed.
During the installation process of this project, in line with customer's production needs, Richi Machinery team patiently trained the customer's operators. Under the condition that the local installation team was not good enough, the team took the lead in guiding the construction and rectification work of the whole workshop, and communicated with the company designer to provide design rectification plan. In addition, RICHI team attached great importance to the commission work and solved the problems at the first time to ensure the smooth progress of production.
Throughout the project, RICHI team was always meticulous, serious and responsible, and finally won the high recognition from customer with standardized project design, high-quality installation technology and strict installation standards.
Richi Machinery has always listed "Create Value for the Customers" as the first priority. From such angles as research, development and design, integrated solutions, services, channels, etc., we aim at providing long-term, stable, competitive assurance and we are dedicated to becoming the most trustworthy cooperative partner of our customers.