How to remove Salmonella in chicken poultry feed?
2020-06-25 Back to List
If you are looking for related products or have any other questions, please feel free to contact us.
Contact Us
What can we do to prevent the feed from being contaminated by Salmonella, improve the egg production rate of laying hens, improve the quality of eggs, and eat raw eggs will not cause human food-borne Salmonella infection? Today Richi Machinery will give you a knowledge popularization.
1. The effect of salmonella on laying hen breeding and egg production
Salmonellosis is a common disease of livestock and poultry, with a high incidence and great harm. For example: Salmonella gallinarum. Mainly invading chicks, causing sepsis, which can cause a large number of deaths? In adult hens, it mainly causes ovarian inflammation, which can be carried in the yolk and passed to the young chicks, which in turn affects the quality and egg production rate of eggs. Eating eggs with Salmonella is more likely to cause food poisoning, diarrhea, vomiting, and fever.
Only by starting from the food source and accelerating the upgrading of feed processing equipment can we eliminate the scourge of Salmonella to the greatest extent, reduce the cost of raising chickens from the source, and improve the quality of laying hens.
After consuming full-price feed, laying hens use bio-chain transformation to collect various nutrients into eggs. All the substances in eggs come from feed conversion. In turn, changes in feed composition will inevitably affect the quality of eggs directly or indirectly. How can we remove Salmonella from feed and improve egg quality?
Richi Machinery layer feed processing equipment has brought the gospel to the layer breeding industry! Equipped with special pulverizer for laying hen feed, granulation machine for laying hen feed, grading screen, high-efficiency mixer and counter-flow cooler, it can ensure cooking and sterilization, processing high-quality feed, with an output of 1 to 45 tons per hour.
Here are some suggestions for laying hen poultry feed enterprises and breeding plants.
1. Update processing technology:
The processing technology of Richi chicken feed pellets adopts the method of adding small stones to the silo feed, granulating after crushing and grading sieve screening, to ensure that each chicken can eat a sufficient amount of stones, because the chicken has no teeth. Chew up the food, the fodder mixed with stones is in the gizzard, through the creeping action of the gizzard, the feed and the small stones rub against each other, and the feed is broken, so as to facilitate the absorption and digestion of the chicken, while maintaining a certain amount of stones in the gizzard, Continuous digestion causes the calcium carbonate component of the stone to be continuously decomposed, which can increase the calcium absorption rate of chickens, which is beneficial to the growth of chickens, especially for eggs. Sufficient calcium absorption can ensure the thickness of the eggshell and reduce the egg breaking rate.
2. Replaced ripeness system:
Richi's ripeness process uses a multi-layer conditioner for aging treatment. Theconditioner can add a large amount of steam, the material can be kept for a long time, the pressure is high, and the ripeness temperature can reach 100-110 degrees Celsius. At the same time, it can also kill harmful bacteria such as salmonella in the raw materials. Adopt high temperature and high humidity conditioning and curing + drying and cooling process technology to ensure the quality of poultry feed.
3. Replace the poultry chicken feed pellet machine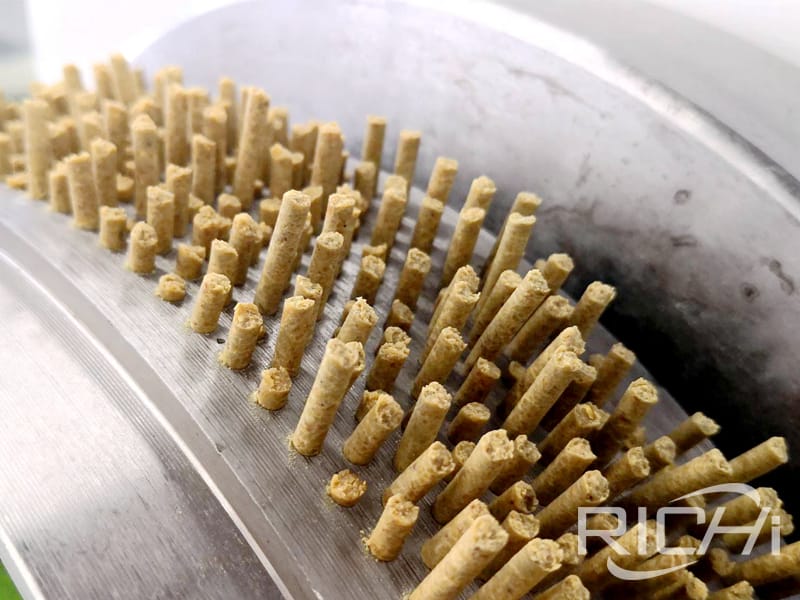 The feeds created by different feed technologies and design concepts are not only low in price, but also of high quality, which can promote the healthy growth of laying hens, reduce mortality, increase egg production rate, and make eggs more nutritious and have edible value, which greatly improves economic benefits. And competitiveness. Therefore, through the feed processed by the Ruiqi chicken feed pelletizer, the quality of laying hens is good, the egg yolk is larger, the taste is more flexible, and the chewing is more aftertaste. Greatly improved the nutritional value and taste experience of eggs, making it a favorite in the high-quality egg market.
In addition, the various nutrients required for laying hen feed, such as: water, protein, amino acids, vitamins, minerals and various trace elements required by the laying hens during the growth process Feed processing technology equipment can be realized.
4. Layer chicken poultry feed pellet processing line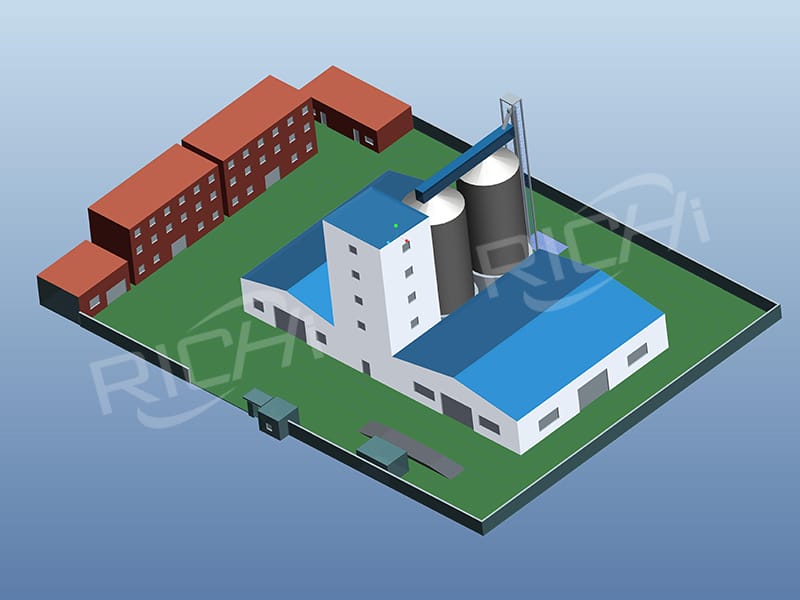 (1)Material Receive System
Easy to operate,every inlet has one impulse dust collector,keep environment clean,protect workers healthy.
(2)Crushing System
Pre-cleaner clean raw material ,then after magnet separator,storage bin and feeder,material goes into crusher to become powder.
(3)Batching & Mixing System
After crushing,original powder and some premix will be weighed in batching scale according to proportional,then go down to mixer to reach uniformity.
(4)Pelleting&Cooling System
After using high temperature steam to make raw material curing, the materials will be made to pellet through pellet press machine. Then the pellet will be cooled down by cooler.
(5)Packing System
The finish product contain pellet of normal size,smaller size and bigger size.By use grading sieve,we can get normal size pellet.
(6)Plant Control system
PLC is designed as per the requirement of the customer. It can also control automation level.
5.Animal feed machine in animal livestock horse goat duck dog cow prawn pig feed pellet making plant
(1)Cleaning Machine
To ensure GMP cleaning is an important aspect. Different type of cleaner used for this purpose.
(2)Conveying machine
All transportations like bucket elevator, screw & chain conveyor etc. for conveying RM & Finished goods.
Raw materials need to be grinded as 225 m/microne perticle size for different type of feed.
Different R/M are mixed here with additives, oil/fat, medicines, etc. Good mixer ensure good quality.
(5)Poultry animal feed pellet making machine
Produce final pellet feed. A good pellet means "A complete feed" and a good mill can ensure that.
(6)Cooling machine
Extruded feeds are about 70-90° C. Cooler bring down it at normal temperature (+4° max).
(7)Screening machine
To ensure supply of quality and perfect size feed, screener plays a vital role. Uneven sizes screaned-out.
(8)Bagging machine
Ready feed need to be packed. It can be manual or automatic bagging depends on requirement.
As a well-known comprehensive solution supplier in China's agriculture and feed industry, Richi uses technology to ensure the quality of poultry feed for laying hens, which can maximize feed value and egg value for feed enterprises and farmers!
You can directly consult Richi Machinery for more questions about "full automatic chicken feed pellet production line with CE""high capacity automatic chicken animal feed pellet production line machine"" poultry animal feed pellet production line with factory price",etc.Please feel free to contact Richi Machinery!
enquiry@richi-machine.com
Whatsapp/Cel: +86 185 7410 3366