Animal boiler cattel chiken poltry live stock feed pellet machine for sale
2020-01-11 Back to List
If you are looking for related products or have any other questions, please feel free to contact us.
Contact Us
Richi machinery manufacturing pellet machine series products can bring great value to customers and higher economic benefits, mainly reflected in the following points: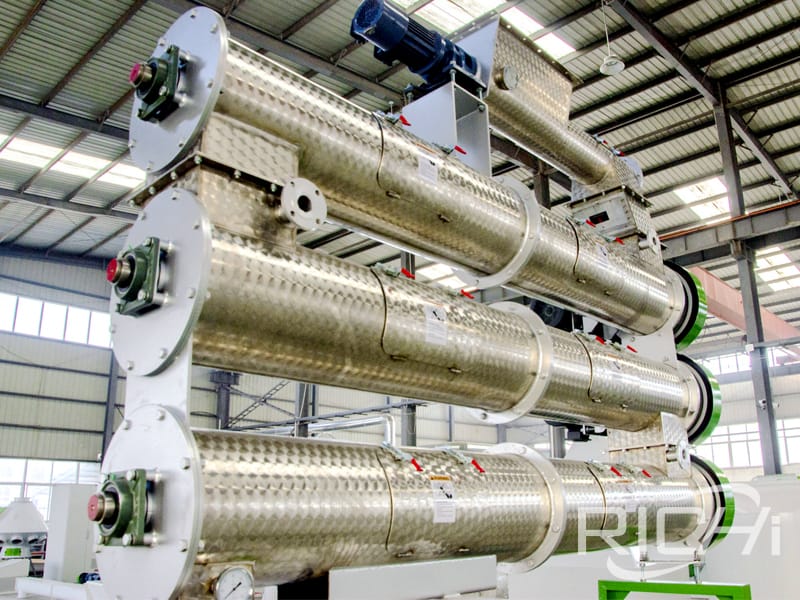 1. Innovative design of the pelletizer conditioner, which increases the conditioning time of a single ordinary conditioner by more than 50%, reaching 50-80 seconds. The temperature-regulating temperature of livestock and poultry feed, fish feed and shrimp feed can reach 85 -90 ℃, 90-95 ℃ and 100-110 ℃ respectively, ensuring the curing degree and feeding effect of all kinds of feed;
2. Innovative design of the drive system of pelletizer, which can increase the capacity of processing the same raw materials by 15% compared with the same power pellet mill, and the feed quality is better;
3. The configuration of pelletizer feeding quantity, temperature-adjusting temperature, automatic control system of working current and fault alarm system can improve pelletizing efficiency by 10%, and ensure the stability and reliability of animal feed pellet machine operation;
4. The configuration of the online moisture detection system in the mixed main granulation and cooling processes not only improves the benefit of the feed mill, but also ensures the quality of feed processing and feeding effect.
Related Animal boiler cattel chiken poltry live stock feed pellet machine recommendation:
Pellet machine SZLH.508 www.cn-pellet.com/product/animal-feed-pellet-mill.html
Pellet Making Machine SZLH420 www.cn-pellet.com/product/feed-pellet-making-machine.html
Feed Pellet Machine SZLH320 www.cn-pellet.com/product/livestock-feed-pellet-machine.html
Pellet machine SZLH250www.cn-pellet.com/product/animal-feed-pellet-machine.html