Complete 300-400 kg/h biomass wood pellet production line price
2021-04-11 Back to List
If you are looking for related products or have any other questions, please feel free to contact us.
Contact Us
Complete 300-400 kg/h biomass wood pellet production line, you can understand it as a 300-400 kg/h wood pellet making plant, can also be understood as a 300-400 kg/h wood pellet factory.
Complete 300-400 kg/h biomass wood pellet production line price refers not only to the price of establishing a wood pellet production line equipment, but also according to different customer needs. Including different investment costs such as civil works. Cost to build a 300-400 kg/h small wood pellet manufacturing line: 20,000-100,000 USD.
Biomass wood pellets are mainly used to replace traditional petrochemical energy sources (oil, coal, natural gas), greatly reduce the value of PM2.5 in the air, and reduce haze weather. The production of wood fuel pellets can make the rational use of wood wastes and reduce direct combustion emissions. Air pollution is conducive to improving the environment. It is an ideal environmental treatment technology that follows the three principles of innocuous, resource-based, and reduced biomass raw materials. The environmental and social benefits are very significant.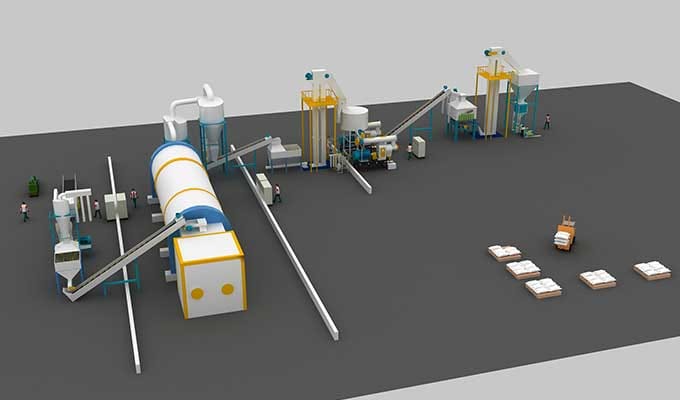 1.Complete 300-400kg/h wood pellet production process
(1)Wood Crushing
Biomass wood pellet making machine requires the size of raw materials to be less than 5mm, so before further processing, wood waste materials should be crushed into standard dimension first. Biomass material wood hammer mill is available. Driven by a motor, electric wood sawdust hammer mill can be used to process wood waste as well as other biomass materials. For example, wood chip, wood bark, wood branch, corn stalk and wheat straw etc.
(2)Wood Drying
Size is not the only factor affecting the operation of biomass wood pellet mill machine, because raw materials can be so dry or so wet that produced biofuel pellets should be prone to breakage and looseness. No matter which category the materials belong to, their moisture content should be controlled within 12%-18%.
The rotary dryer for biomass wood pellet production line used for 300-400kg/h wood fuel pellet line is airflow wood dryer which consists of heater, feeder, drying tube, cyclone separator and blower. The following information shows its working steps for drying wood wastes:
* Use wood feeder to feed wood into drying tube.
* Use air heater to heat airflow.
* Use blower to deliver the heated airflow into drying tube where it will produce impulse. As a result, the touch area between coconut shells and airflow will be enlarged and the drying speed will be accelerated.
* After enough touch time, the dried wood sawdust will be separated by cyclone and discharged for further wood pellets processing.

(3)Wood Pelletizing
As the soul part of biofuel wood pellet production line, horizontal ring die biomass wood pellet maker machine is mainly composed of roller and die which will produce extrusion and friction to wood and change their shapes. The reshaped wood are then squeezed out through the holes designed on ring die.
(4)Wood Cooling
The finished products of 300-400kg/h capacity wood waste pellet manufacturing line can reach to 90-95℃, so a biomass wood pellet cooler is required for fear that malfunction should happen to subsequent equipment. From bottom to top, dry air with room temperature is sent into the cooling chamber where produced wood pellets have been spread evenly. After enough touch between the two of them, heat transfer is realized and wood pellets are cooled to 3 ~ 5℃.
*Adopting counter flow cooling principle, preventing cracking of wood pellets and speeding up working efficiency.
*Wide range of large capacity, ranging from 3t/h to 30t/h.
*Advanced rotating structure, spreading wood pellets evenly.
(5)Packing
After all the above procedures, end products made from 300-400 kg/h small wood pellet produciton line should be properly packed in order to fast and convenient storage and transportation can be realized. The biofuel wood pellet packing machine adopted here works under full vacuum atmosphere which prevents dust and moisture from entering. Besides, equipped weighing devices can make the package reach standard level.
2.Machinery for building 300-400 kg/h on selling good complete wood pellet line
3. Set Up a 300-400KG Small Wood Pellet Production Line For You
Our small 300-400kg/h biomass wood pellet making line can be used to product premium pellets from various biomass materials. To do this, you need biomass materials. One of the advantages of buying a small pelletizing plant for wood pellets fuel is that it is easy to operate and low cost. This means that it can save you a lot of money because you will not need to hire anyone to help you with the same. In addition, it will not be an uphill task to transfer the machine from one point to another because of the small size and lightweight nature. The key biomass pelletizing equipment of the 300-400kg/h small wood pellet production plant is MZLH320 ring die ring die wood pellet machine.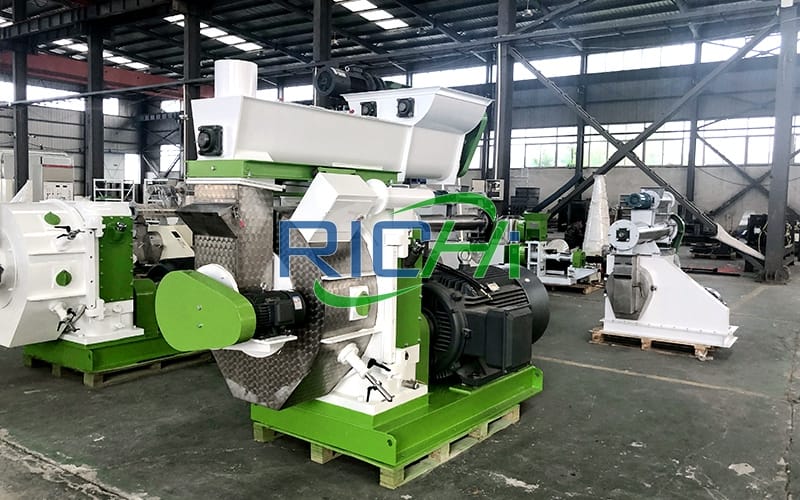 4.RICHI MZLH320 Small Cpacity 300-400KG/H Ring Die Wood Pellet Machine Advantages
At present, MZLH320 series 300-400kg/h ring die wood pellet mill is very popular, because it has many advantages.
(1)Firstly, its raw material is rich and cheap. That is biomass wood. In the eyes of people, biomass wood materials may be considered useless because it is neither efficient for buring, nor useful for other application. However, at present, this situation is changed. As a newly developing type of pellet mills, wood waste pellet mill machine is popular in the world. With such a pelletizing equipment, we can produce biomass wood pellets with various biofuel raw materials.
(2)Secondly, the value of its production is high. Wood pellets made from wood waste are of high caloriffic value when buring. So they can be used as an optional energy for family heating or for producing industrial eletricity. That is to say, we can greatly benefit from producing pellets with low cost. Besides, this wood pellets is harmless to environment and renewable for increasingly resource demand.ring die wood pellet mill
Besides, different models have different output and specification, which need you to make decision based on our demand.
Generally speaking, ring die wood pellet press machine is an ideal equipment for making wood pellet. Although it has many advantages, it is not easy to produce the high-quality wood pellet. We must recognize the moisture content. When compressing the wood waste into a solid wood pellet, the good quality wood pellet making machine ought to have a fairly low moisture content of around 15%. If the sawdust contains far more moisture than this drying need, it will be unavailable.
RICHI 300-400kg/h small size wood pelleting plant, as the experienced manufacturer of good bio-fule wood pellet machine with ce, promises you the professional guidance and intimate service.