20t/h turnkey poultry livestock feed production line machinery
2019-12-10 Back to List
If you are looking for related products or have any other questions, please feel free to contact us.
Contact Us
With the development of technology, the production line will become larger and larger.But currently,20t/h turnkey poultry livestock feed production line Is relatively common.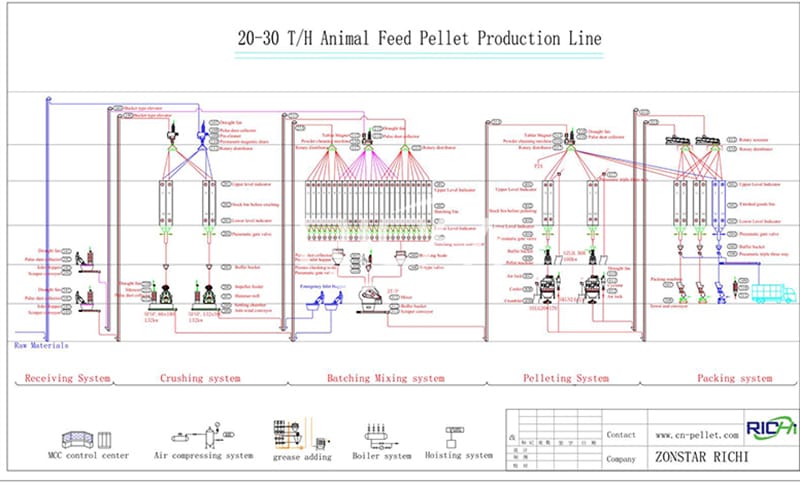 20T/H turnkey project refers to the project contracting enterprises in accordance with the stipulations of the contract for project design, budget, equipment, material purchase, construction, commissioning and acceptance and so on all the stages of the work, finally submitted to the customer a meet use function, the using conditions of project, and pay the project quality, progress, cost and safety of all the responsibilities.
Poultry & livestock feed is generally refers to the food for farmed poultry and livestock , it is the conventional feed in the feed classification.The conventional raw material of poultry& livestock feed includes corn, wheat, barley, oats, sorghum, soybeans, soybean meal, fish meal, amino acids, mixed meals, whey powder, oil, meat and bone meal, grain, feed additives and so on more than 10 varieties of feed raw materials.
The features of poultry & livestock feed are moderate grinding fineness(screen hole diameter 2-4mm),moderate curing and conditioning requirments(pellet mill adopts two layers conditioners),finished products with big pellet diameter(pellet diameter is around 2.5-4mm). Double SZLH420 poultry & livestock feed process is with 20tph capacity, it adopts two grinding section, one batching & mixing section, two pelleting section and two packing section. The total equipment power is around 725kw. The construction area of the production area is about 21*17.5*28m, it equipped with 2T boiler. The whole line of the 20TPH double SZLH420 poultry & livestock feed line is compact in design, reasonable in structure, meeting the requirement of environmental protection, and can be customized designed according to the requirements of customers.
If you want to know more about the poultry feed production line and livestock feed production line, please contact RICHI machinery!