What are the components of China 5tph compound animal poultry chicken pellet feed production line?
2021-03-10
What are the components of China 5tph compound animal poultry chicken pellet feed production line?Agricultural and animal feeding is the foundation of economy and the main source of income for over 60% of the population of Uzbekistan and therefore remains an important sector which cannot be ignored. Feed manufacturing or processing is the process of producing animal feed or "fodder" from raw agricultural products such as hay, straw, silage, compressed and pelleted feeds, oils, sprouted grains and legumes etc.Fodder produced by manufacturing is formulated in order to meet the specific animal nutrition required for different species of poultry animals at different life stages depending on their gender, breed and environment.
Recently, a set of 5tph poultry pellet feed manufacturing plant machinery has been exported to Uzbekistan.This 5 tons capacity poultry feed making linr for pellet was designed for making feed pellets for poultry chicken broiler layer animal which has the capacity of 5 ton per hour. The quality of this 5t/h poultry chicken feed making plant equipment was inspected by experts before the delivery. The formulated feeds produced on this 5t/h easy to operate poultry animal feed mill plant meet the standards for safe feeding which will ensure the sanitization leading to a better health of the chicken broiler animals.
The idea was to have a plant that could produce 25t of feed per day; 10t per day for poultry which will include protein, carbohydrates, vitamins and minerals.The feed would be made of the following ingredients: Corn, Barley, Feed and Meal Flax, Wheat flour, Wheat Bran, Powdered Bones, Salt, Powdered Fish, Rice Straw, Lentils Straw, beet Pulp, Clover, alfalfa, vitamin mixes and bread. These various ingredients will be blended smoothly and efficiently to ensure that every bite of the finished product has balanced nutrients.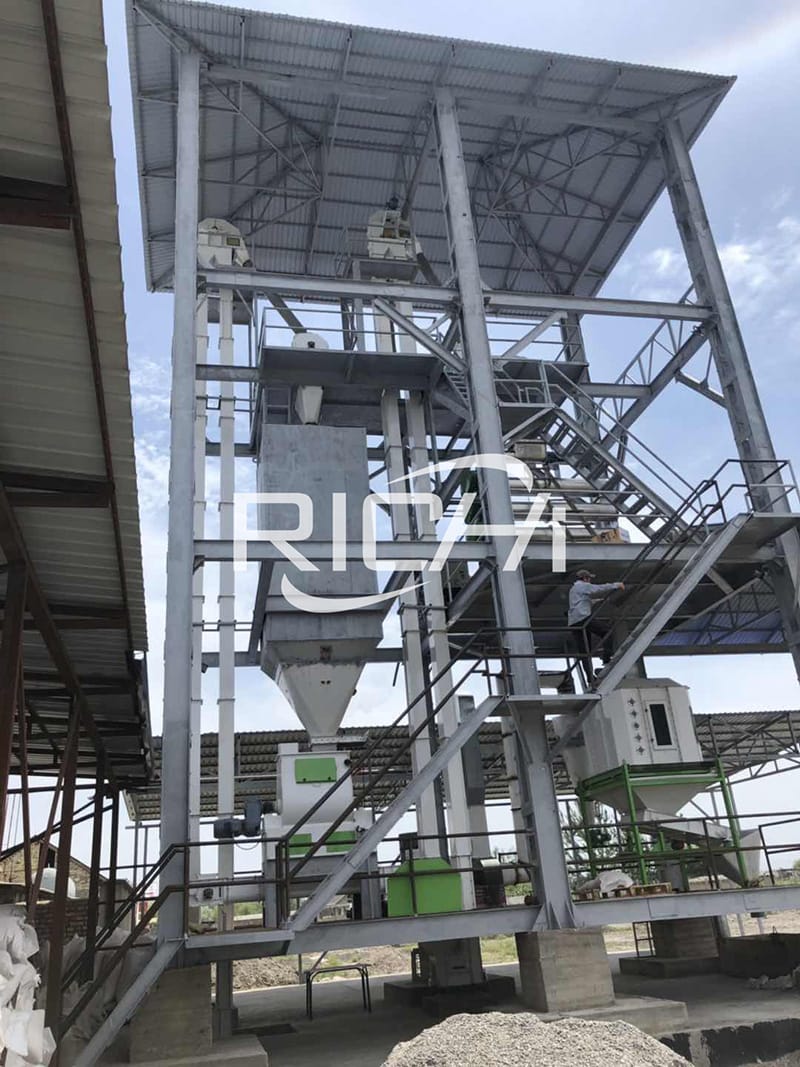 1.Main machinery for 5tph compound animal poultry chicken pellet feed processing plant
The main equipment of the 5tph China factory offer customized poultry animal feed pellet plant includes: 2 units of elevator, 2 units of poultry feed hammer mill grinding machine, 1 unit of poultry chicken animal feed pellet milling machine, 1 unit of mixer, 1 unit of screw conveyor and 1 unit of pellets cooler while other equipment include: draught fans, air lock, cyclone dust collectors, electronic control devices, electric wires etc.
Richi Machinery is a reliable and experienced feed pellet mill manufacturer and supplier. We are can offer customized poultry animal feed processing solutions of different capacity (mini, small, medium and large scale). We are also capable of taking over turnkey project design and construction. The flowings are a 5 Ton per hour poultry feed pellet manufacturing business plan designed for one of our old customer, including equipment schedule and costs. Hope these are helpfull to those who are planing for the same project.
2.Components of a 5t/h complete chicken poultry feed pellet production plant
(1)Materials Receiving and Crushing System
Equipments related in the raw material receiving and crushing system of animal feed pellet production line is listed below.
(2)Mixing System
Equipments related in the fodder raw materials mixing system of feed pellet production is listed below.
(3)Pelletizing System and Packing System
This followings are related equipments in poultry animal feed pelletizing and final pellets packaging system.
3.Cost to build a new medium scale China animal poultry chicken feed mill plant with 5 tons per hour production capacity
5T/H complete poultry feed manufacturing plant cost is usually between 70000-250000USD.
The 5 tons poultry feed production plant design is based on an easy to use design which can also be customized so fit different and special requirements. Repairing and training opportunity ensure the production of high quality animal feed for the poultry.