Large scale commercial 100t/h capacity of poultry chicken animal feed mill plant project report
2021-03-07 Back to List
If you are looking for related products or have any other questions, please feel free to contact us.
Contact Us
On the afternoon of December 23, 2020, the customer company-Kunming Junmou Feed Sales Co., Ltd. held a signing ceremony for the construction of a large scale commercial 100t/h capacity of poultry chicken animal feed mill plant project in Mouding County. The 100tph animal poultry feed project for chicken feed production is located in the former Jisheng Middle School of Jisheng Village Committee, Gonghe Town, Mouding County. It covers an area of ​​about 25 acres and a total construction area of ​​about 10,000 square meters.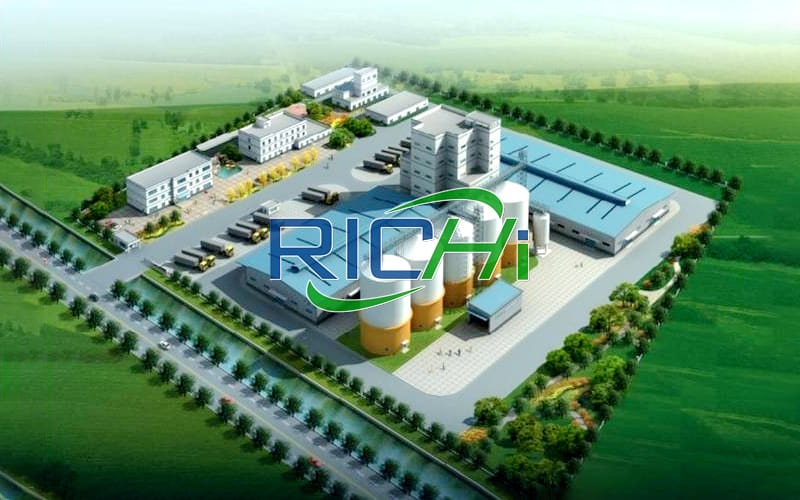 The 100 tons large poultry feed manufacturing project plans to build 2 automated poultry chicken feed production lines, which can achieve an annual output of 240,000 (100 tons per hour)after completion. The annual production value of poultry and chicken feed per ton is expected to reach 680 million yuan, and the profit and tax will be about 12 million yuan, which can provide 100 local jobs. After the project is completed and put into production, it can meet the broad market demand of large-scale breeding in Mouding County for poultry chicken feed, further extend the poultry breeding industry chain, promote the development, transformation and upgrading of the breeding industry in Mouding County, and will increase tax revenue and provide jobs. , Stimulating economic growth, driving the prosperity of surrounding animal husbandry, etc., inject new vitality into Mouding's economic development.
All chicken poultry feed processing equipment for this project will be provided by Richi Machinery, that is to say, this is a turnkey commercial 100t/h capacity poultry chicken feed production factory project, and what we signed with our customers is an EPC project contract. The following are some aspects of the project:
1. Construction engineering in this large 100t/h capacity of poultry chicken animal feed mill plant project
Engineering category
Single project name
Engineering Content
Project scale
Structural work
Main production workshop

A chicken poultry feed line with an annual output of 180,000 tons of mixed pellet feed;

A chicken poultry powder feed line with an annual output of 60,000 tons

Building area 4221.36m2
Spare workshop 1
/
Building area 4221.36m2
Spare workshop 2
/
Building area 8460m2
Storage and Transportation Engineering
Raw material processing workshop 1
Raw materials precleaning
Building area 8773.92m2
Finished product packaging workshop 1
Product packaging
Building area 3983.2m2
Big silo
Used to store corn
3, each silo has a storage capacity of 200t
Small silo
Used to store soybean meal
4, each silo has a storage capacity of 1000t
Spare warehouse 1
/
Building area 3828m2
Spare warehouse 2
/
Building area 3983.2m2
Unloading shed
Raw material receiving
Building area 3983.2m
Auxiliary engineering
Comprehensive office building
Office and living
Building area 1425.6 m2
Dormitory
Staff accommodation
Building area 1200 m2
Doorman
/
Building area 71.92 m2
Toilet
/
Building area 180 m2
Public works
Water supply
Supplied by the park's water supply pipe network, water supply capacity is 100m3/h
Powered by
Quoted from the park power supply system
Boiler Room
1 set of 4t/h boiler to supply steam for granulation
Environmental Engineering
Waste gas treatment facility
Bag dust collector, the treated dust is discharged from 15m high exhaust pipe; boiler gas flue gas is discharged from 15m high exhaust pipe
Wastewater treatment facility
One buried sewage treatment station (if the park sewage treatment plant was not in operation when the project was completed)
Noise prevention
Sound insulation and shock absorption measures
Greening
Plant greening
2. Product plan of commercial chicken poultry feed mill factory with 100 tons per hour capacity
| | |
| --- | --- |
| Product name | Shape |
| Compound poultry feed | Chicken pellet feed for broiler |
| Compound poultry feed | Chicken powder feed for layer |
3. Working days and labor quota for this 100t/h poultry feed plant
①Working days: 300 working days throughout the year, 12 hours a day.
②Labor quota: a total of 100 people, including 24 management personnel and 76 production personnel.
4.Public works in the big capacity 100t/h commercial chicken poultry feed making plant
①Water supply and drainage:
Domestic water is supplied by the park's water supply pipe network. There is no production wastewater generated in the project. The drainage in the area is divided into rain and sewage, and the rainwater in the station is discharged into the surrounding ditches. Before the operation of the sewage treatment plant in the Bengbu Modern Industrial Park, the sewage generated by the project was collected to the buried sewage treatment facility and discharged into the nearby ditches after the treatment reached the standard; after the sewage treatment plant in the Bengbu Modern Industrial Park was operated, the sewage generated by the project was discharged The sewage pipe network of the park enters the sewage treatment plant of Bengbu Modern Industrial Park for treatment.
②Power supply: The electricity used for this project is agreed to be distributed by the power grid of Bengbu Tongling Industrial Park. There is a power distribution room in the station building with 2 transformers.
5. Poultry chicken feed making process and equipments needed for large automatic 100 tons per hour chicken feed making plant
(1) Complete 100t/h poultry chicken feed factory production process
This large 100t/h turnkey poultry chicken feed processing plant project mainly produces feed for broilers and layers. The raw materials (corn, soybean meal, fish meal, etc.) that meet the production requirements are purchased, and they are directly transported and stored in a vertical silo by conveying equipment in a sealed manner. The conveying device is used for feeding; It is sent to the bucket elevator by the scraper conveyor and lifted to the top of the main car, and iron is removed from the permanent magnet cylinder, and then sent to the silo for standby. The raw materials such as corn, soybean meal and other granular items are crushed by a chicken feed grinding machine in the crushing section, and then sent to the respective intermediate storage bins after crushing. According to the ratio of the feed formula, all powdered raw materials (including feed additives, fish meal) are electronically metered from their respective intermediate bins and then sent to the double-shaft high-efficiency chicken feed mixer for sufficient mixing, and the mixed powdered materials enter the pellets. Warehouse spare. The powdered material is fed into the high quality ce chicken poultry feed making machine to pass steam for chicken feed pelleting. After chicken feed pelletizing, it is cooled to room temperature by a countercurrent chicken pellet cooler. The finished product is sieved and then packaged. The sieved material is put into the raw material feeding port together with the raw material. Dust removal facilities are installed above the chicken feed production equipment in the feeding, crushing, mixing, and screening sections of this project, and the collected dust is returned to the feeding stage for recycling.
(2) Main chicken feed machines for 100tph large scale full automatic poultry chicken feed manufacturing factory
(3) Raw and auxiliary materials and energy consumption
①Raw and auxiliary materials consumption
| | | |
| --- | --- | --- |
| Serial number | Name | Annual consumption (t/a) |
| 1 | Corn | 16 |
| 2 | Soybean meal | 2.2 |
| 3 | Fish meal | 0.02 |
| 4 | Rice bran meal | 0.8 |
| 5 | Corn distillers grains (DDGS) | 1.0 |
| 6 | Minerals | 3.06 |
| 7 | Amino acids | 0.5 |
②Energy consumption
| | | |
| --- | --- | --- |
| Serial number | Name | Annual consumption |
| 1 | Electricity | 8 million kWh/a |
| 2 | Water | 16000 m3/a |
| 3 | Gas | 900,000 m3/a |