Business proposal of 10 tons per hour new design biomass fuel wood straw pellet production line for 6-8mm pellets
2021-03-06 Back to List
If you are looking for related products or have any other questions, please feel free to contact us.
Contact Us
This is a professional business plan for complete 10 tons per hour automatic biomass wood straw fuel pellet production factory,which is provided by Richi Machinery in November 2019.
1. Project source
Biomass energy is the energy form of solar energy stored in biomass in the form of chemical energy, that is, energy with biomass as a carrier. At present, biomass used as energy mainly refers to wastes such as crop straw, forestry and wood processing. Biomass can be converted into high-efficiency solid, liquid and gaseous fuels, which can be used to replace non-renewable energy sources such as coal, oil, and natural gas. Biomass energy is an important renewable energy source.
The client invested US$2.8 million (approximately RMB 20 million) to carry out the "Project with an annual output of 20,000 tons of wood pellets and 5,000 tons of straw pellets" on the west side of the Central Road, Binhuai Town, Binhuai Town, Binhai County, Yancheng City. The project covers an area of ​​5333m2 , Lease the existing industrial plant in the park, with a construction area of ​​3000m2. This project has been declared by the construction unit on the "Jiangsu Provincial Investment Project Online Approval and Supervision Platform", and has passed the approval of the Development and Reform Commission of Binhai County. The project code is: 2018-320922-42-03-554356, and the project is agreed.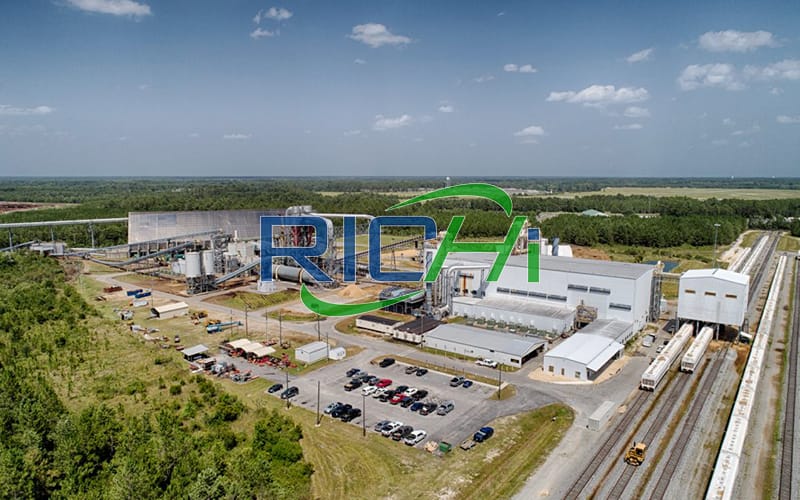 2. The main product plan of the new automatic 10t/h biomass wood straw pellet production line for pellets
| | | | |
| --- | --- | --- | --- |
| Number | Name | Annual production capacity (t/a) | Annual operating hours |
| 1 | Wood pellets | 20000 | 4800h/a |
| 2 | Straw pellets | 5000 | 4800h/a |
3. Product quality indicators in 10tph automatic biomass fuel wood straw pellet production line
| | | | |
| --- | --- | --- | --- |
| Item | Symbol | Unit | Index |
| Total moisture | Mt | % | ≤15 |
| Ash | Ad | % | ≤15 |
| Volatile | Vd | % | ≥63 |
| Total sulfur | St,d | % | ≤0.05 |
| Calorific value | Qnet.v.a | MJ/k | ≥14 |
4. Consumption of main raw and auxiliary materials of the 10t/h factory sale new design automatic biomass fuel straw wood sawdust pellet production line project
| | | | |
| --- | --- | --- | --- |
| Number | Name | Annual consumption (t/a) | Source and transportation |
| 1 | Wood | 10000 | Local and surrounding, automobile transportation |
| 2 | Wood sawdust | 12500 | Local and surrounding, automobile transportation |
| 3 | Straw | 5500 | Local and surrounding, automobile transportation |
5. Water and energy consumption in this factory offered automatic running straw wood pellet production line 10 tons per hour
| | | | |
| --- | --- | --- | --- |
| Name | Annual consumption | Name | Annual consumption |
| Water (tons/year) | 780 | Coal (tons/year) | - |
| Electricity (10,000 degrees/year) | 150 | Gas (standard cubic meter/year) | - |
| Steam (tons/year) | - | Formed biomass pellets (tons/year) | 72 |
6. The main equipment of the reasonable design new 10t/h automatic wood straw pellet production line project
Number
Equipment name
QTY
Crushing system
1
Feeding belt conveyor
1
2
Wood hammer mill for sawdust
1
3
Stable performance wood chipper shredder machine
1
4
Wind road, conveying pipeline
1
5
Cyclone separator
1
6
Air lock
1
7
Draft fan
1
8
Bag filter
1
9
Discharge belt conveyor
1
Dying system
1
Buffer bin
1
2
Hand burner
1
3
Belt conveyors
1
4
Feeding screw conveyor
1
5
High heat efficiency large rotary drum sawdust dryer
1
6
Cyclone separator
1
7
Air lock
1
8
Fan
1
Pelletizing system
1
Feeding pit
1
2
Belt conveyor
1
3
Primary cleaning of raw materials
1
4
Feeding screw conveyor
1
5
Bucket elevator
1
6
Feeding screw conveyor
1
7
Ring die biomass straw wood pellet mill
1
8
Dust collector
1
9
Rotary grading screen
1
10
Finished product warehouse
1
Electric control system
1
Electric control cabinet for crushing section
1
2
Electric control cabinet for drying section
1
3
Electric control cabinet for granulating, cooling and packing section
1
7. Engineering content for automatic new biomass straw wood pellet production line 10 tons capacity
The good selling 10tph completely wood pellet production line project covers an area of ​​5333m² and the main building area is 3000m². The details are as follows:
Category
Building name
Designing ability
Remarks
Structural work
Manufacturing plant
Set up a pelletizing production line, the main production equipment includes biomass wood crushers, biomass dryers, biomass wood pelletizers, packaging machines, etc., with an annual output of 20,000 tons of wood pellets and 5,000 tons of straw pellets
Building area of ​​2479m2, leased
Auxiliary engineering
Office
Daily administrative office
Building area of ​​200m2, leased
Canteen
For employee meals
Building area of ​​150m2, leased
Public works
Powered by
Annual electricity consumption 1.5 million kWh
Provided by the local power grid
Water supply
Annual water consumption 780m3
Provided by the local water pipe network
Drain
Mainly domestic sewage, the amount of wastewater generated is 624m3/a
Rainwater and sewage diversion, rainwater from the factory area enters the rainwater pipe network of the park, and domestic sewage is regularly cleaned out after treatment in the septic tank and used as agricultural fertilizer.
Heating
Build a new manual furnace
Use biomass pellets as fuel
Storage and Transportation Engineering
Warehouse
For storage of raw materials and finished products, located in the production workshop
-
Off-site transportation
Entrust social vehicles for transportation
-
In-plant transportation
Forklift
-
Environmental Engineering
Waste gas treatment

•Crushing dust (cyclone + bag filter+15m high exhaust tube)

•Furnace flue gas, drying dust (cyclone + bag filter + 15m high exhaust pipe)

•Granulation dust (discharged without organization after being treated by bag filter)

Emission value up to standard
Wastewater treatment
Septic tank
Used as agricultural fertilizer, not discharged
Solid waste treatment
General solid waste temporary storage
Effective collection, zero emission
Noise processing
Choose low-noise equipment and reasonable layout; local muffling and sound insulation; sound insulation of workshops, etc.
-
8. The rationality of the plane layout of this 10t/h latest technology high quality automatic straw wood pellet production line
The layout of this China professional machinery complete 10t/h straw wood pellet production line project is based on the characteristics of the project, combined with the current situation around the project, economical, practical and beautiful, and the general layout of the project is carried out. The project site is basically irregular in shape, and the terrain of the site is relatively flat. The entrance of the project is located on the north side of the road adjacent to the factory area. The production workshop of the project utilizes the existing factory buildings in the factory area to be located on the west side, the east side is open space, and the north side is the raw material storage area. The office and living area utilizes the existing factory buildings in the factory area to the southeast. The general solid waste collection room uses the existing factory buildings in the factory area and is set in the north of the production workshop. The boundary of the factory area is set up with drainage ditches. From the perspective of environmental protection, the overall layout is reasonable and feasible.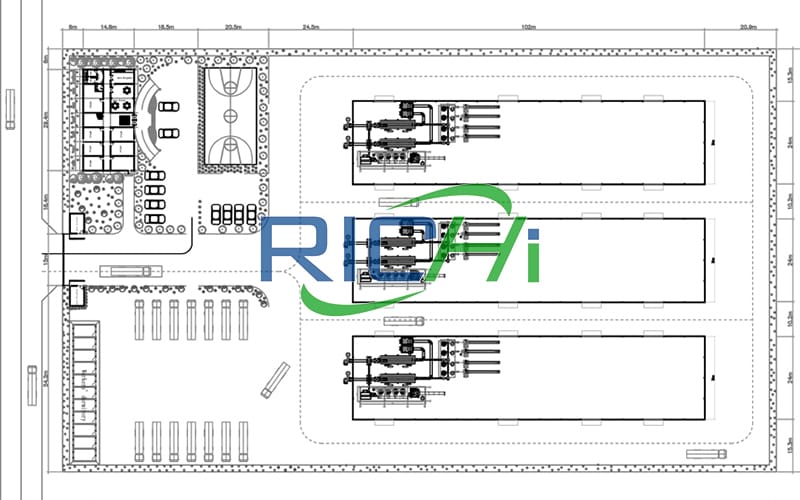 9. Public works in this professional factory directly offered straw 10tph wood pellet production line
①Water supply and drainage
Water supply: The water for this project is mainly domestic water. The water for the project is provided by the local tap water pipe network, and the water consumption is 2.6m3/d (780m3/a).
Drainage: The wastewater of the project is mainly domestic sewage with a production volume of 2.08m3/d (624m3/a). After treatment in a septic tank, it is used as agricultural fertilizer and is not discharged.
②Power supply
The electricity used for the project is drawn from the power supply network of the park. The annual electricity consumption of the project is 1.5 million kWh, which can meet the electricity demand of the project.
③Storage and transportation engineering
Raw materials and finished products are stored in the production workshop, and no separate new warehouse is built.
The transportation within the factory relies on manual handling or forklift, and the transportation outside the factory is entrusted to social vehicles.
④Heating project
The 10t/h automatic completely biomass wood pellet production line project uses a hand-burning furnace as the heat source for the drying process of the project, and uses straw pellets produced in the factory as the fuel, and the annual consumption is 920t/a.
10. Work system and labor quota
Working system: This good selling new design 10tph pellets machine line wood pellet production line project adopts a two-shift system with 8 hours per shift, 300 days of work per year, and 4,800 hours per year.
Labor quota: The project's labor quota is 26, including 3 administrative and management personnel.
11. Brief description of good quality 10tph wood pellet production line process flow
(1) Chipping: chipping the raw wood and straw, that is, processing the raw materials into flakes or blocks.
(2) Crushing: The shredded materials are crushed by a crusher, and the crushed materials are discharged by Shakron.
(3) Drying: Due to the high moisture content in the raw materials, the moisture in the raw materials needs to be removed. The drying of this project uses hot air from a manual oven as the heat source, and the drying temperature is set to 400°C. To prevent materials from catching fire, set up flame arresters and alarm devices. The dried materials are transported by augers and temporarily stored in the workshop.
(4) Screening: In order to ensure that the biomass particles produced in the granulation process are qualified products, the dried materials are screened and removed.
(5) Granulation: Use a forklift to shovel the dried material into the silo of the granulation system, and then use the auger to transport it to the granulation hopper for granulation. The granulation is made into finished products by extrusion. The extrusion process is a physical process, no adhesive is added, and no chemical reaction occurs. The granulator adopts electric heating and the set temperature is about 80°C.
(7) Cooling and packaging: The pelletized products are lifted to an automatic weighing and packaging machine through a hoist, and are naturally cooled during the lifting and conveying process. This project uses an automatic weighing and packaging machine for packaging.
12. Environmental protection investment estimate
Category
Pollutants
Governance measures
Treatment effect
Investment
Complete time
Exhaust

Dust in the crushing section
Furnace flue gas, drying section dust
Dust in granulation section
Canteen lampblack


Cyclone + Bag Dust Collector + 15m High Exhaust Tube
Cyclone + Bag Dust Collector + 15m High Exhaust Tube
Bag filter
Oil fume purifier


Emission compliance
USD30,000
Simultaneous design, simultaneous construction, and simultaneous operation of the main project
Waste water
COD, SS, ammonia nitrogen, TP
Septic tank
Used as agricultural fertilizer, not discharged
USD 3,000
Noise
Noise
Vibration and sound insulation, reasonable layout
Emission compliance
USD 8,000
Solid waste
Employee domestic waste, screening impurities
General solid waste yard and garbage bin
No secondary pollution
USD 3,500