Business plan for new technology 4 tons per hour orange peel wood waste pellet production plant
2021-03-04 Back to List
If you are looking for related products or have any other questions, please feel free to contact us.
Contact Us
This is a proposal for processing orange peel and wood pellets with an output of 4 tons per hour that we provided to our customers in 2015.
1. Basic situation of customer
The client company was established in October 2012. It is a private enterprise engaged in biological extraction, processing and sales; biological extract technology promotion services; and agricultural and sideline products primary processing and sales. The company is currently mainly engaged in orange peel biological refining and processing business. The company relocated as a whole to the new agricultural science and technology park, invested 10 million US dollars in orange peel biological high-tech development, and invested 1.7 million US dollars in a new 4 ton per hour easy to handle biomass pellet processing production line from wood waste and orange peel.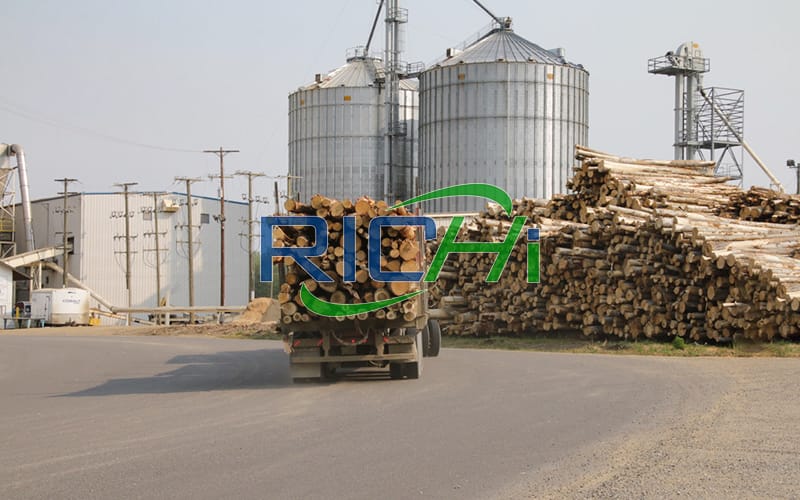 2. Basic situation of the project
(1) Product plan: adopt and introduce the most advanced domestic equipment and technology to pre-treat and process woody residues (waste) such as orange peel and forest trees, and solidify them into high-density particles fuel.
(2) Technical plan: The 4 t/h biomass pellet production process is orange peel, forest wood and other residual raw materials → slicing → crushing → impurity removal → fine powder → screening → mixing → softening → tempering → pressurizing → drying → cooling → quality Inspection→Packing→Warehousing→Leaving.
(3) Equipment plan: In terms of 4 ton per hour wood and orange peel pellet manufacturing equipment selection, follow the principle of "advanced, applicable, mature, and energy-saving", based on domestic procurement of equipment, taking into account convenient maintenance, main equipment and auxiliary equipment:
3. Main equipment and auxiliary equipment configuration
4. Construction content and scale
Planned land area of ​​the factory area is 18 mu, newly built factory buildings of 1242 square meters, finished product warehouse of 1620 square meters, raw material storage yard of 6000 cubic meters, office, living facilities, electrical distribution room, sewage treatment pool, factory roads and other supporting facilities, purchase and production More than 50 units (sets) of equipment assemble a biological pellet processing production line to achieve the goal of achieving an annual production capacity of 10,000 tons.
| | | | | | |
| --- | --- | --- | --- | --- | --- |
| Engineering name | Construction nature | Area | Building structure | Number of layers | Fire-resistant level |
| Plant | New build | 1242㎡ | Steel structure | 1 | 2 |
| Warehouse | New build | 1620㎡ | Steel structure | 1 | 2 |
| Office room | New build | 200㎡ | Brick and concrete | 1 | 2 |
| Staff cafeteria | New build | 200㎡ | Brick and concrete | 1 | 2 |
| Staff dorm | New build | 1000㎡ | Brick and concrete | 1 | 2 |
| Electrical distribution room | New build | 60㎡ | Brick and concrete | 1 | 2 |
| Raw material storage yard | New build | 6000㎡ | Concrete | 1 | 2 |
| Factory road | New build | 1000m | Concrete | 1 | 2 |
| Sewage treatment tank | New build | 100m³ | Brick and concrete | 1 | 2 |
5. Construction period and construction progress:
The construction period of the project is 14 months, from May 2015 to June 2016
(1) May-June 2015: Project implementation preparation stage, mainly completes the preparation of project feasibility report, project establishment, project planning, project land acquisition, construction application and other procedures.
(2) July 2015-February 2016: Construction of production plants, warehouses, electrical distribution rooms and other projects.
(3) October 2015-April 2016: Construction of office buildings, staff canteens, staff dormitories, sewage treatment tanks, plant roads, landscaping and other projects.
(4) From March 2016 to May 2016: Purchase equipment to install production lines and production auxiliary equipment, and conduct debugging, purchase transport vehicles and product testing equipment, office supplies, living utensils, etc.
(5) June 2016: The project was completed and officially put into operation.
6. 4T/H biomass wood pellet plant project investment cost estimation and funding sources
(1) Investment estimation basis
①"Construction Project Economic Evaluation Methods and Parameters" issued by the National Development and Reform Commission and the Ministry of Construction (3rd edition);
②The "Provisions for the Depth of the Contents of the Preparation of the Feasibility Study Report for Light Industry Construction Projects" issued by the National Development and Reform Commission of China and the "Methods for the Preparation of Light Industry Engineering Design Estimates" (QBJS10-2005);
③The mechanical equipment required for the project shall be estimated according to the manufacturer's quotation;
④The project construction cost is estimated according to the current construction cost index of the local government;
⑤The project equipment installation fee is estimated at 4-6% of the total equipment investment;
⑥Civil engineering costs are estimated with reference to the 2001 edition of "Hunan Construction Engineering Estimates and Quotas" and similar engineering costs, combined with unit budget prices;
⑦Other fees are calculated and charged according to the relevant regulations of the state and Hunan Province, and the basic reserve fee is calculated at 9%.
(2) Estimated total project investment
The total investment of the project is 1.7 million U.S. dollars, which is composed of construction investment and working capital. Among them: the construction investment is 730,000 yuan, and the main apportionment projects are: the project land investment is 140,000 US dollars, the civil engineering and supporting engineering investment is 590,000 US dollars; the production equipment (including auxiliary equipment) investment is 680,000 US dollars; the circulating fund is 290,000 US dollars.
Fund source: The total investment of the project construction is 1.79 million US dollars, which is raised by the enterprise itself.
7. Project benefits:
(1) Economic benefits: After the project is completed and put into production, the company will increase its annual income by 600,000 US dollars, and its annual net profit will be 400,000 US dollars.
(2) Social benefits: The project directly provides 30 jobs, with an average annual income increase of more than 20,000 yuan per capita, and can indirectly drive more than 500 farmers to participate in the industry's income generation.
(3) Environmental benefits: Comprehensive utilization of large amounts of citrus peels and other production waste generated by many large canned citrus manufacturers in the production process, greatly eliminating secondary pollution caused by garbage, and obvious environmental benefits .
8. Comprehensive evaluation of project feasibility
(1) This 4t/h wood pellet processing plant project complies with the national industrial policy and industry development plan. It is an emerging project in the project area to adjust the industrial structure, adopt new technologies, new processes, and develop new energy and environmental protection products. This project can promote the transformation and upgrading of small, medium and micro enterprises. It is an entry point for corporate income generation, industrial efficiency enhancement, and fiscal tax increase. It is a new industry strongly supported by the local government and vigorously cultivated. Can promote the sustainable development of agriculture and forestry industries.
(2) After the project is implemented, it can improve the production capacity and technical level of the enterprise, improve the product structure, and enhance the competitiveness of the enterprise. At the same time, through scientific and technological innovation, the technological content of the products will be improved, which has played a demonstrative and leading role in the development of the industry.
(3) The project has low investment risk, quick results, mature technology, and broad product sales market. After the project is completed and put into production, through economic benefit analysis, it can be seen that the profitability of the company is greater than the industry average. Therefore, the project has a certain profitability and Anti-risk ability can be invested and constructed.
9. Project background and construction necessity
(1) Project background
The city where the client company is located is a major agricultural city. At present, the city's fruit planting area has reached 1.215 million mu, and the total fruit output has reached 361,500 tons, of which the annual output of oranges is more than 260,000 tons. The city has many large-scale canned citrus production enterprises, which produce a large amount of production waste such as citrus peels during the production process. Orange peel is rich in "hesperidin", hesperidin, orange flavonoids, vitamins B1, B2, C, sugar, protein and other substances. According to "Compendium of Materia Medica", orange has the functions of resolving phlegm, relieving cough, and clearing boredom. Modern pharmacological studies have found that the flavonoid glycosides and limonoid substances contained in orange peel have antibacterial, analgesic, anti-inflammatory, anti-tumor, anti-leukemia, insecticidal, and anti-cancer effects. It is the extraction of orange peel essential oil, Premium raw materials such as orange extract, pectin, fruit fiber, fruit juice, etc. Orange peels are all treasures, biological development, whole fruit utilization, economic benefits are significant and market prospects are very broad.
The company has a good cooperative relationship with these large-scale canned citrus manufacturers. It uses orange peel and other production wastes for bio-high-tech development and utilization. The tailings can be used as raw materials for bio-pellet fuels, and the raw materials of the companies are fully guaranteed.
(2) Necessity of project construction
①The implementation of the project is the need for energy conservation, emission reduction, pollution control, and environmental beautification.
②The implementation of the project is an important measure to develop the agricultural and forestry economy and solve the "three rural" issues.
③Project implementation is the need to improve the industry's product supply capacity.
④The implementation of the project is to optimize the product structure of the enterprise, promote industrial upgrading, and increase the added value of agricultural and forestry products.
⑤Project implementation is the need to build product brand, enhance corporate image, and enhance market competitiveness.
10. Product market prospect forecast
(1) Bio-particle fuel is a green energy, clean and environmentally friendly, burns smokeless and tasteless, its sulfur content, ash content, nitrogen content, etc. are far lower than coal, petroleum, etc., zero carbon dioxide emissions, is an environmentally friendly clean energy , Enjoy the reputation of "green coal".
(2) Low cost and high added value. It has a high calorific value, and its use cost is much lower than that of petroleum energy. It is a clean oil-substitution energy strongly advocated by the country and has a broad market space.
(3) The density is increased and the storage and transportation are convenient. The formed pellet fuel has small volume, high specific gravity and high density, which is convenient for processing replacement, storage, transportation and continuous use.
(4) High efficiency and energy saving. It has high volatile content and high carbon activity. The ash content is only 1/20 of that of coal. The residual heat in the ash is extremely low, and the combustion rate can reach more than 98%.
(5) Widely used and strong applicability. Pellet fuel can be widely used in industrial and agricultural production, power generation, heating, boiler burning, cooking, etc. It is suitable for units and households, and it is worthy of vigorous promotion and application.
11. Labor Safety
In order to create a good production and working environment, and protect the physical and mental health of employees, labor protection, safety and health protection measures have been formulated for key departments such as production workshops, warehouses, testing rooms, power distribution rooms, and boiler rooms. The "Design Sanitary Standards for Industrial Enterprises", "Fire Protection Regulations for Construction Design", "Notice on Doing a Good Job in Labor Protection Work", "Decisions on Implementing Dust Prevention and Anti-virus Work" and other documents formulated by relevant departments shall be implemented in spirit and specifically As follows:
(1) Safety production education shall be provided to personnel in positions with fast equipment running speed, high temperature of machinery and equipment, and prone to accidents, strictly requiring operation in accordance with regulations.
(2) The process design selects safe and reliable equipment with complete protection functions to reduce potential accidents and lay the foundation for safe production.
(3) Protective covers are provided for rotating equipment, and covers must be provided for equipment and lines installed in ground troughs.
(4) Grounding protection is adopted for the motor, and the power line is laid with hidden wires to prevent accidents of electric shock and injury.
(5) Personnel of special types of work, such as electric welding, must undergo technical training and obtain a certificate issued by the competent authority before they can work.
(6) Strengthen safety production inspection and education, formulate safety production operating procedures and protective measures, print warning signs and post key departments and positions.
(7) Strengthen fire prevention measures, and prohibit smoking and electric stove heating in production workshops, warehouses and places prone to fire.
(8) For production workshops, boiler rooms and other jobs with relatively high temperature and poor environment, adopt forced ventilation and cooling measures.
(9) Distribute relevant protective supplies, such as masks, glasses, earplugs, etc., to personnel working in dusty and noisy positions.
(10) Reduce the labor intensity of employees as much as possible, and use mechanical operations as much as possible for the handling, loading and unloading of raw materials, semi-finished products and finished products.
12. Hygiene protection measures
(1) In this project, with reference to the standards of industrial product manufacturers, changing rooms, bathing rooms, toilets and special lanes for people and goods will be set up in the production workshops.
(2) Paving granite on the floors of production sites and storage facilities to facilitate the diversion and cleaning of incoming and outgoing materials. Indoor walls are tiled to avoid dust shedding and fire prevention. White water-based mildew-proof paint is applied to untiled walls and ceilings.
(3) In the warehouses of raw materials and finished products, it is necessary to strengthen the ventilation, rainproof, moisture-proof, mold-proof and other protective facilities, and the production workshops and other places should pay attention to ventilation and improve the working environment as much as possible.
13. Fire fighting equipment and measures
(1) Set up fire hydrants, the number and installation spacing of fire hydrants shall be implemented according to the requirements of the fire department of XX city. Fire-fighting water source and water pressure also meet the fire-fighting requirements.
(2) Fire-fighting passages shall be set up strictly in accordance with the requirements of the fire-fighting department in the production workshops and warehouses.
(3) Electrical design, selection and installation of electrical wires should strictly follow the fire protection JDJ/T16-92 standard.
(4) Equipped with the number of cart-type and portable dry powder fire extinguishers in accordance with the regulations.
(5) Develop a safety inspection system and establish safety production guarantee measures, conduct fire safety education for employees, and set up an enterprise amateur fire emergency team.
14. Environmental impact caused by 4 ton capacity biomass wood pellet plant project implementation
(1) Factors affecting the environment during the construction of the project:
①Dust, exhaust gas and noise generated by construction machinery
②Water discharge during construction process
③Construction waste generated by engineering construction
(2) Factors affecting the environment during the project's commissioning and operation
①Dust and other harmful substances generated by the cutting, crushing and screening of raw materials
②Waste water discharge from cleaning the filth in the production workshop
③In the production process, vibration waves, noise and heat generated by machinery
④ Discharge of domestic sewage and human excrement
15. Energy saving and emission reduction measures
(1) Build a 2-meter high fence on the construction site to reduce dust and air pollution;
(2) The project construction unit is prohibited from working at midnight to reduce the impact of noise on nearby residents;
(3) Clean and transport construction waste in time, Nissan Nissan, no dead ends;
(4) Sewage and human feces and urine are treated in septic tanks and biogas tanks and converted into domestic gas;
(5) Build sewage treatment ponds and install equipment to centrally filter and purify sewage discharged from production and life for production, greening, etc., to achieve zero discharge of sewage.
(6) Centralized collection and classified treatment of domestic solid waste;
(7) Install a closed shell cover for the noisy mechanical equipment to reduce and reduce the noise intensity;
(8) Strict management of water and electricity for production and production, installation of meters and advanced energy-saving equipment to minimize energy consumption.
16. Economic benefit analysis
The price of the project product shall be determined by reference to the current market price of similar products in combination with the company's product cost, output and other factors.
(1) Economic benefits brought by the project to production enterprises
① The market price of bio pellet fuel is 170 US dollars/ton, the annual production volume is 10,000 tons, and the annual sales revenue is 1.7 million US dollars.
②The normal annual full-load production capacity is 10,000 tons, but the actual situation of the project is fully considered, the actual production of the project is calculated at 80%, the annual production of biomass pellet fuel is 8,000 tons, and the annual sales income is 1.2 million US dollars.
③The annual sales revenue will be 1.2 million USD when it is put into production.
④The after-tax profit of the enterprise is USD 400,000.
(2) Estimated expenditure on annual economic indicators
①The raw material of the product is 520,000 US dollars.
②The auxiliary materials are 70,000 US dollars.
③The product packaging bag is USD 25,000.
④The depreciation and maintenance of machinery is USD 7,000.
⑤The utility bill is 7.12 million US dollars.
⑥ The salary is 200,000 US dollars.
⑦Sales and management expenses are 50,000 US dollars.
⑧ Other expenses are USD 23,000.
17. Project Suggestions
The city where the client company is located is a demonstration zone approved by the State Council of China to undertake industrial transfer from coastal areas. It has obvious geographical advantages. In addition, as a traditional agricultural and fruit city, the city is rich in resources and unique conditions. Therefore, the investment and construction unit of this project should seize this opportunity, and while fully enjoying the government's various preferential policies, it must accelerate the speed of project construction and commissioning.
After the project is completed and put into production, it should actively expand its business, establish a scientific and complete product production guarantee system and product sales network, strictly control project construction overload investment, strengthen the management and accounting of production and operation costs, and ensure the normal and stable production and operation of the enterprise Operate, maximize benefits, and make due contributions to the promotion of comprehensive utilization of renewable energy and the rapid development of local economy.