Large automatic 50 tons per hour animal cattle sheep livestock grass feed manufacturing plant project poultry feed manufacturing project report
2021-03-02 Back to List
If you are looking for related products or have any other questions, please feel free to contact us.
Contact Us
This is a large scale complete automatic cattle sheep livestock grass feed manufacturing plant project with 50 tons per hour capacity(an annual output of 120,000 tons). The client's company has been expanding its scale, increasing its production capacity, and investing nearly 100 million yuan to build a cattle sheep feed production project with an annual output of 120,000 tons is about to be completed and put into production. The project adopts the feed equipment from Richi Machinery, which has high technology content and strong automation performance. Through the realization of fully enclosed production, the working environment of the workshop is improved and the labor intensity of the workers is reduced.
Relying on its subsidiary companies, the customer's original production lines of premix, livestock and poultry feed, pig concentrate, broiler concentrate, compound feed and other feed production lines have a production capacity of 250,000 tons per year, and high-quality products are selling well in China. At present, the main project of the 50 tons per hour cattle and sheep feed production plant has been completed, and the installation of auxiliary facilities is underway. After the production is put into operation at the end of July, the production capacity of high-quality feed will increase by 200%, and dozens of laborers can also be employed.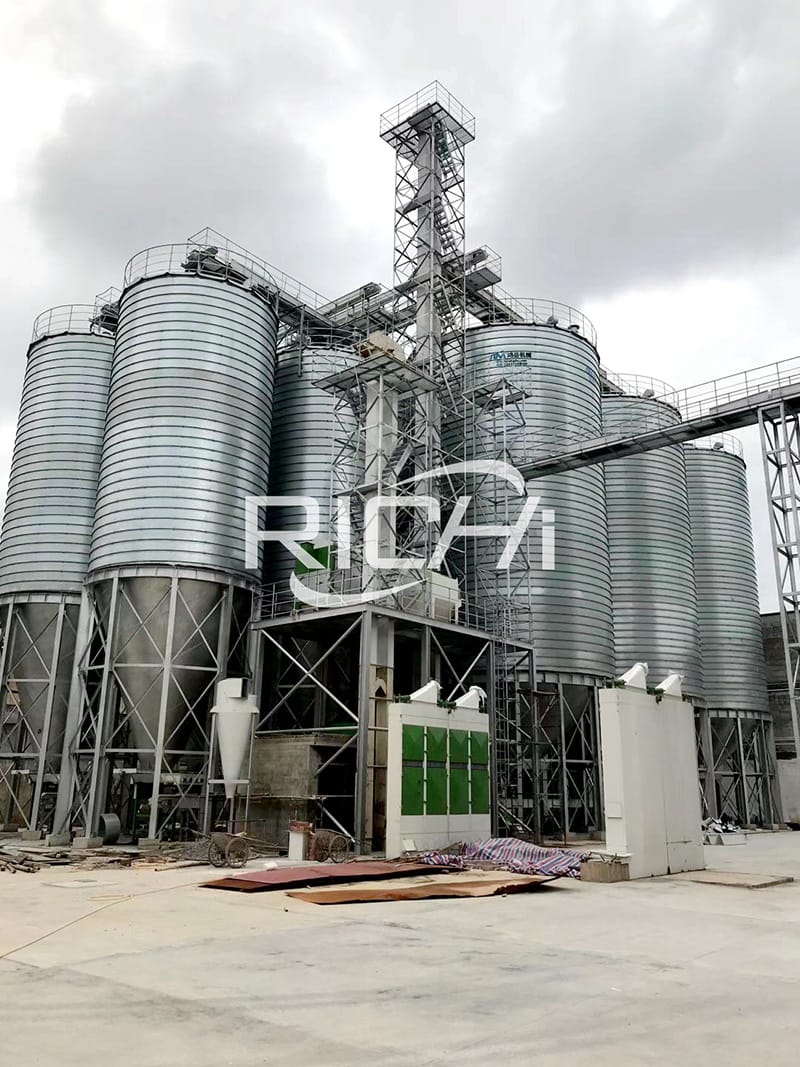 1. Construction site: Zhijin County Economic Development Zone
2. Construction nature: new construction
3. Project introduction: Zhijin County is located in the central and western part of Guizhou, southeast of Bijie Prefecture, 97 kilometers east of the provincial capital Guiyang City, 99 kilometers south of Anshun City, 178 kilometers west of Liupanshui City, and north of Bijie City where the administrative office is located. 144 kilometers. The terrain of the territory is high in the west and low in the east, with the highest elevation of 2264 meters in the west and the lowest elevation of 860 meters in the east. The county's annual average temperature is 14.1°C, the frost-free period is 286 days, the annual rainfall is 1,441 mm, and the annual sunshine hours are 1172.2 hours. It has the characteristics of no severe cold in winter, no cool summer, abundant rainfall, and sufficient sunshine. It is suitable for all kinds of livestock and poultry. Pastures thrive and there are no feed processing companies in the county. The project area belongs to the county-level Zhijin County Industrial Park, with roads, water, electricity, communications, etc. covered; it enjoys county-level policy preferences.
4. Construction content: annual production of 120,000 tons of cattle sheep grass compound feed,400 tons per day,50 tons per hour
5. Investment estimate: 100 million yuan.
6. Preferential policies: In addition to relevant national, provincial, and municipal support policies, they also enjoy "Zhijin County Investment Promotion Preferential Policies (Interim)", etc.
7. Cooperation method: sole proprietorship, joint venture, cooperation
8. Benefit analysis: The animal cattle sheep grass hay feed manufacturing project uses green manure grass powder, alfalfa, perennial black selling grass and other grass powder raw materials, and high-quality forage grass processing. It is planned to achieve an annual production of 120,000 tons of cattle sheep compound feed, an annual output value of 50 million yuan, an annual profit of 20 million yuan, and an annual return on investment of 8-15% through 2-3 years of publicity and demonstration.
9. Anticipated poverty alleviation benefits: Encourage the surrounding 4000 farmers to participate in the project for planting grass, forage and straw processing and utilization, and the average income of farmers will increase by more than 5,000 yuan. At the same time, it will increase the stock of herds and broaden the ways for farmers to increase income.
10.Advanced animal cattle sheep grass feed processing technology and processing equipment
The planned investment in this 50tph large scale turnkey animal ruminant cattle sheep feed mill plant equipment is 1 million yuan. The project's cattle sheep grass feed pellet production line adopts the technological methods of cleaning, crushing, electronic weighing of ingredients, and batch mixing. The entire 50tph livestock feed line production process is controlled by a computer and is a complete sheep and cattle feed processing line. The design features are: excavate a T-shaped basement with a depth of 7m on the ground, and place the animal feed hammer mill grinder, animal feed mixer, and the primary cleaning equipment for pellets and powder materials in the basement, so as to reduce the impact of the grinder, mixer, and primary cleaning screen. Noise makes it easy for workers to operate, reduces the height of the frame, and reduces the cost; the use of split-point ventilation and dust removal can improve the utilization rate of equipment and save energy consumption. The design, manufacture, installation and commissioning of this multi purposes animal feed line equipment are all undertaken by Richi Machinery.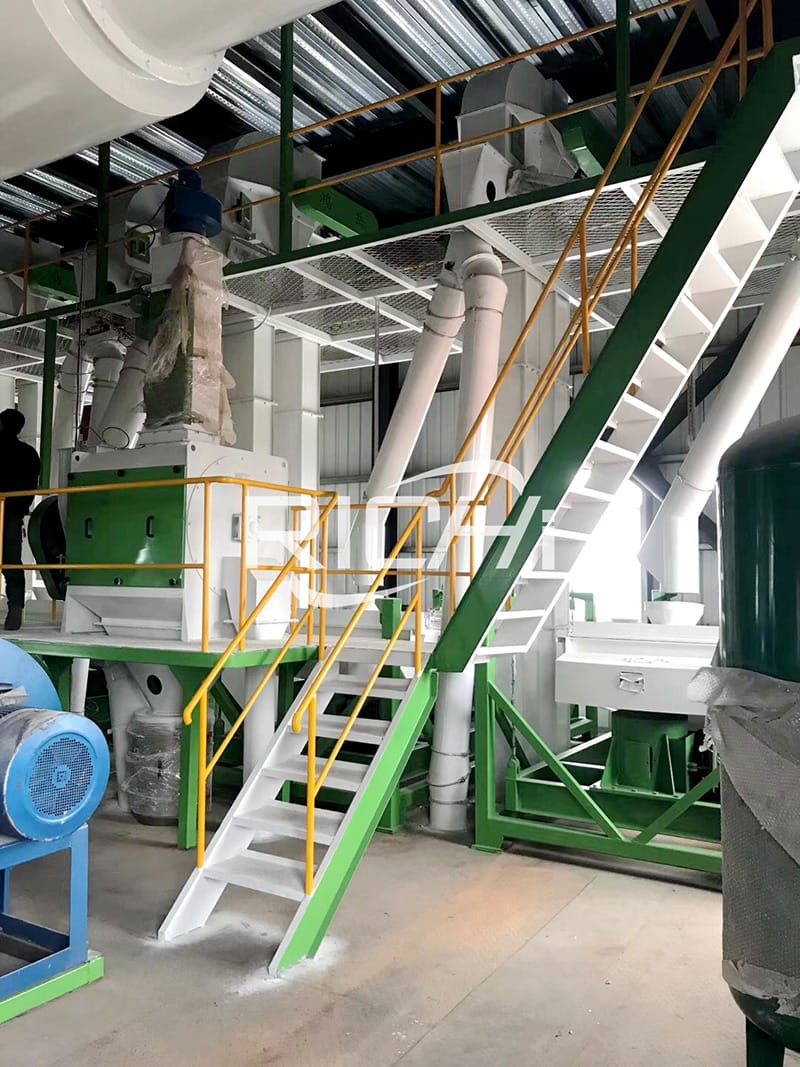 ①Complete 50tph sheep and cattle grass feed manufacturing process
Corn receiving system-corn silo system-raw material receiving system-crushing system-ingredient mixing system-pelleting system-finished product packaging system;
②Complete 50 tons/hour animal livestock cattle cow sheep feed mill factory plan design(with cattle sheep feed processing plant euqipments)
•2 lines for receipt of raw materials from trucks, potential 80 tons/h each.
•Raw material storage and batching systems, total capacity approximately 96,500 tons, consisting of 80 silos of a capacity from 10 to 200 tons. 9 tanks for liquids, total capacity 250 tons.
•3 grinding lines consisting of 3 animal feed hammer mill crushers for ruminant cattle and sheep and 1 roller mill. Livestock cattle sheep feed grinding mill capacity 30 tons/h each, roller mill capacity 35 tons/h.
•1 feed crumbling line with above double-roller mill, 8t/h.
•2 mixing lines: 1 cattle feed mixer of a capacity of 10,000 liters and 1 sheep feed mixing machine of a capacity of 5,000 liters for medicated products.
•3 pelleting lines with 4 feed granulator machine for cattle and sheep(2 cattle feed pellet manufacturing machine and 2 sheep feed pellet making machine). Total pelleting capacity approximately 30 tons/h.1 flaking line, capacity 8 tons/h.
•Finished products storage in 84 silos of a total capacity of 1,640 tons.
•2 finished product bulk loading lanes, potential 90 tons/h each, with fast conveyor belt and weighing system.
•2 bagging lines and 1 automatic big bag bagging line.
•Totally automatic management and supervision of the plant via PC-PLC using state-of-the-art technologies, lot traceability, remote assistance for remote control
11.Raw materials for 50 tons per hour cattle sheep feed production
Main raw materials: soybean meal, rapeseed meal, cotton meal, flax cake, corn, Chinese herbal medicine, mineral elements, vitamins, etc. Bulk raw materials: flax cake is purchased from Gansu Province, China; soybean meal is purchased from Shandong and Northeast, the main producing areas; rape meal is purchased from Sichuan and Shaanxi, China; cotton meal is purchased from Xinjiang and Shandong, China; corn is purchased from Jilin Province, China; Chinese herbal medicine Purchased in Hebei Province, China; other raw materials: purchased around the project site.
Estimation table of raw material consumption (50 tons per hour)
| | | |
| --- | --- | --- |
| Name | Unit | Annual Demand |
| Soybean meal | Ton | 24000 |
| Rapeseed meal | Ton | 12000 |
| Cotton meal | Ton | 36000 |
| Corn | Ton | 24000 |
| Flax cake | Ton | 6000 |
| Trace elements | Ton | 3600 |
| Vitamins | Ton | 1800 |
| Chinese herbal medicine | Ton | 5400 |
| Stone powder | Ton | 4800 |
| Salt | Ton | 2400 |