RICHI turnkey plant 80 tons per hour (200,000 tons per year) poultry chicken feed manufacturing project report
2021-02-28 Back to List
If you are looking for related products or have any other questions, please feel free to contact us.
Contact Us
Today, I will share with you a large-scale poultry chicken feed manufacturing project with 80 tons per hour capacity completed by Richi Machinery in 2016. The following is the poultry feed manufacturing project report of this large capacity 80tph fully automatic chicken feed factory project.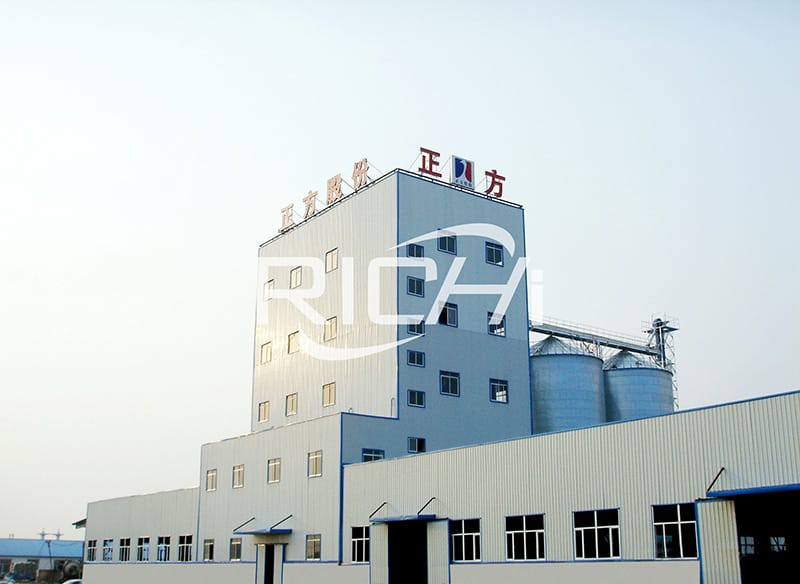 1.Situation analysis of 80 tons per hour (200,000 tons per year) poultry chicken feed project
This customer's 80tph full automatic poultry chicken feed mill plant is located in the Economic and Technological Development Zone of Korla City. With the rapid development of the city, its geographical location has been in the center of the city. There have been many commercial residential areas around the chicken feed making plant, which no longer meets the local urban planning. At the same time, it is also facing huge environmental pressure. Therefore, the customer plans to relocate the poultry feed factory. The client intends to raise about 50 million yuan by itself to invest in the construction of a 200,000 tons per year animal poultry feed production project in the Development Zone of Korla City, Xinjiang.
(1) Project name: Poultry chicken feed production project with an annual output of 200,000 tons(80 tons per hour)
(2) Project construction site: Located on the east side of Xingmin Road, Korla Development Zone, west side of Donghuan Road, north side of Keda Pioneer Park, south side of Lutian Construction.
(3) Project scale: Construction of 2 poultry feed production lines (one poultry chicken pellet feed line for broilers with an annual output of 160,000 tons and one chicken powder feed line for laying hens with an annual output of 40,000 tons).
(4) Project construction scale and content: The total construction area is 13,700 square meters, and the main construction is production workshop, raw material warehouse, finished product warehouse, office quality inspection building, staff canteen and dormitory, boiler room, auxiliary room, raw material silo and Grouped equipment.
(5) Total investment of the project: The total investment of the project is 50 million yuan, of which: the construction cost is 25.26 million yuan, the equipment purchase and installation fee is 22.84 million yuan, the reserve cost is 1.5 million yuan, and the others are 400,000 yuan.
(6) Source of funds: The project construction funds are raised by the company itself.
(7) Project construction period: 1 year
(8) Economic benefit calculation: After the project is put into production, it will realize annual operating income of RMB 472 million and net profit of RMB 25,805,900.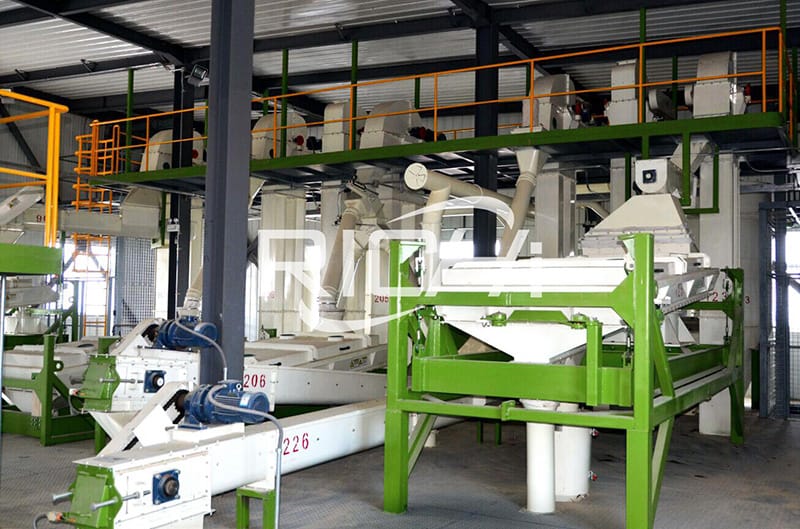 2. Investment purpose & impact on customers and existing risks
(1) Korla is an important poultry product area in Xinjiang, as well as an important market area for the company's poultry feed business. Since the customer's existing feed processing plant is located in the commercial logistics area of ​​the Korla Development Zone, which does not meet the urban function positioning of the area, the company plans to relocate the feed processing plant and invest in the construction of this project.
(2) According to the "13th Five-Year Plan of Korla City", during the "13th Five-Year Plan" period, Korla City will accelerate the development of animal husbandry, focusing on the development of the four major industries of live pigs, beef cattle, eggs and poultry, and create green product production and supply Base, vigorously guide the development of animal products processing industry, thereby driving the development of animal husbandry in Korla City. It can be seen that during the "13th Five-Year Plan" period, the demand for industrial feed in Korla will continue to grow. Therefore, the construction of this project is important for the company to further expand its market share in the southern Xinjiang feed market and improve its competitiveness in the southern Xinjiang market. Meaning.
3. Main risks in the heavy duty large size China chicken poultry feed mill factory 80 tons
(1) The risk of raw material price fluctuations
The main raw materials of the project include corn, soybean meal, etc. The price fluctuations of bulk agricultural products will adversely affect the project's income.
(2) The risk of price fluctuations of poultry products
At that time, the prices of domestic poultry products in China showed cyclical fluctuations, and the decline in breeding efficiency would have an adverse effect on the project's income.
Raw material, fuel and public facilities situation:
①Supply of raw materials and auxiliary materials
The main supply channels for the processing materials of the large scale poultry feed production line project are divided into two parts: local and outside the province. The province is the main source. The source of goods (corn) in the province is supplied by Guangyuan City for more than half a year. Corn is supplied in the northeast, and the goods are inspected and paid by the poultry livestock feed mill company inside and outside the province, and the processing raw materials can be guaranteed.
②Fuel and power supply
Sufficient fuel and power supply. State grid power supply, self-built coal-saving boiler for 200,000 ton/year feed production.
③Water for production and domestic use
After the project is put into production, its municipal water supply facilities can guarantee the supply.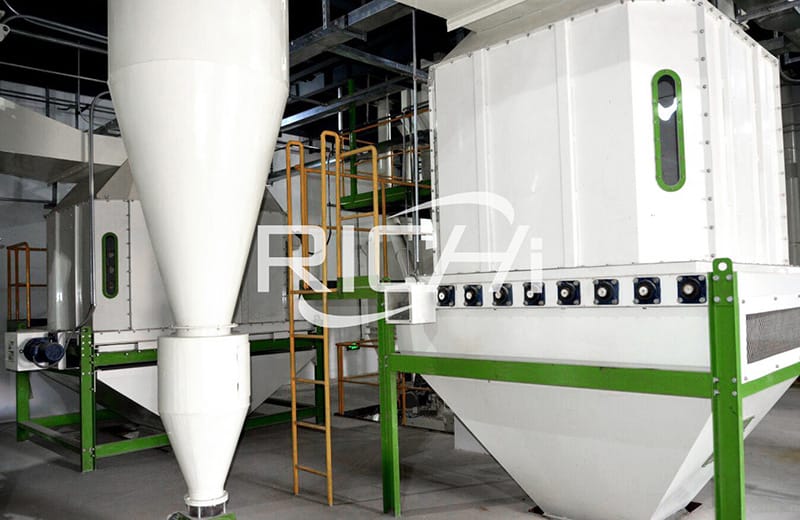 4. Engineering technical solutions and equipment selection
(1) How poultry chicken feeds is produced in the full automatic 80tph commercial poultry chicken feed manufacturing factory project?
Feeding-cleaning-crushing-batching-mixing-pelleting-cooling-screening-weighing-packaging-into the finished product warehouse
(2) Technical indicators of poultry feed technology
Accuracy of batching: static ≤1‰, dynamic ≤3‰)
Uniform mixing: coefficient of variation CV≤7%
Dust concentration: workshop≤10mg/M3, feeding port and discharge place≤150mg/M3
Workshop noise: ≤8SdB(A)
(3) Main chicken feed machinery for large commercial 80 tons per hour poultry chicken feed manufacturing lines
The main chicken animal feed processing equipment of the 200,000 ton/year capacity poultry feed processing plant project includes animal poultry chicken feed grinder equipment, automatic mixing machine for animal feed,large sized heavy duty ring die animal chicken feed pellet making machines, balers, microcomputer batching systems and other equipment. The project unit has initially selected equipment specifications and models through inspections of different equipment manufacturers at home and abroad.
| | | | |
| --- | --- | --- | --- |
| Number | Poulty chciekn feed making equipment | Model | Quantity |
| 1 | Double shaft chicken feed mixing machine | Crushed corn (Ф3 mesh)>20 tons/hour, 75*2KW | 1 |
| 2 | Machine for grinding chicken feed | Crushed corn (Ф3 mesh)>10 tons/hour, 75KW | 1 |
| 3 | Paddle mixer for poultry feed | V=4m horizontal, mixing uniformity <5%, 30KW | 1 |
| 4 | Hot sale ce ring die chicken poultry animal feed pelleting equipment | 15 tons/hour (Ф4 ring die), 150KW | 2 |
| 5 | pellet crumbler machine | 20 tons/hour, three-kun structure, 15KW | 2 |
| 6 | Counter flow pellet cooler | 15-20 tons/hour, (2.2+1.5) KW | 2 |
| 7 | Particle grading screen | 20 tons/hour, two-layer screen surface, 3KW | 2 |
| 8 | Electronic packaging machine | 25-50Kg/bag, 300-600 bags/hour, error ≤50g | 2 |
| 9 | Air compressor | The displacement is 3 cubic meters per minute, the pressure is 0.7PA, 22KW | 1 |
| 10 | Rotary distributor | Flow rate of 50 tons/hour, automatic positioning and locking structure | 7 |
| 11 | Liquid adding equipment | Adding speed 100L/min, adding accuracy 1% | 2 |
| 12 | Microcomputer batching system | Double scale, single scale, can weigh 12 varieties, dynamic accuracy 0.2% | 1 |
| 13 | Silo | Can hold 3000 tons of corn | 2 |
| 14 | Coal boiler | 4 Ton | 1 |
(4) Main equipment sources
The main equipment of the 80 tons poultry chicken animal mash feed and pellet feed production line includes poultry chicken feed hammer mill crushers, poultry chicken feed mixers, broiler chicken feed pellet making machines, and chicken feed pellet crumblers. The main poultry chicken feed equipment for complete poultry line feeds for layers and broilers in this project are all provided by Richi Machinery. Compared with foreign products, these hot sale high quality poultry chicken feed production equipment have basically the same production performance and quality of the products produced. The complete set of 80t/h whole set of poultry feed making equipment has high degree of automation and mechanization, low labor intensity of workers, low power consumption, and continuous production.