What is needed to invest in a 1-20tph best solution good ce complete biomass wood pellet manufacturing plant?
2021-02-20 Back to List
If you are looking for related products or have any other questions, please feel free to contact us.
Contact Us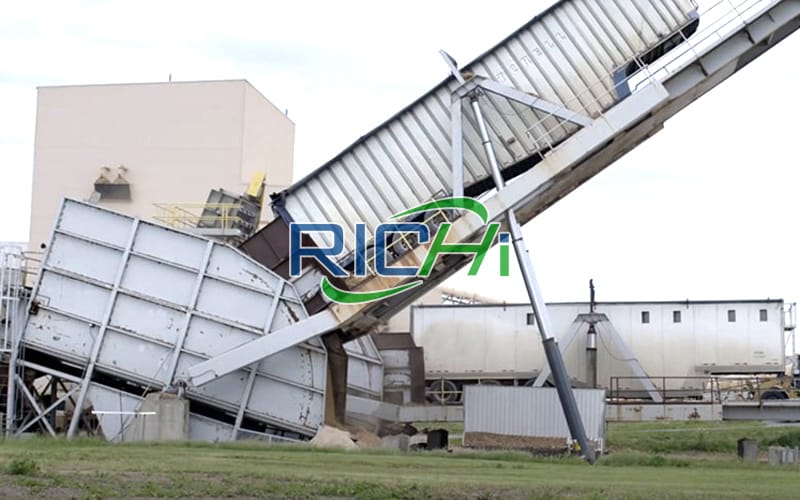 1. What is needed to invest in the construction of a 1-20tph biomass wood pellet making plant?
The biomass wood pellet energy industry has developed rapidly in recent years. It is a good choice to invest in a customized biomass wood pellet plant 1-20 ton per hour. As a China biomass wood pellet production line equipment manufacturer with more than 20 years of experience, today we will share some information.
(1) The first thing to do is to conduct a survey of the local market. Is there a big demand for wood pellets? How is the competition? Is the plant ready? When the preliminary preparations are done, I don't think I need to say more about this, because the investment in this industry is relatively large, and it is necessary to have sufficient funds to enter the biomass wood pellet industry.
(2) If the preparations are done, the next step is to choose professional factory good biomass wood pellet machinery. To invest in the construction of a biomass pellet plant with 1-20tph production capacity, the first thing we need is a reliable biomass wood equipment manufacturing enterprise. There are two options here:One is to find a biomass wood pellet making equipment manufacturer to customize a new design completely biomass wood pellet production line, which saves time, effort, and guarantees, but the 1-20t/h wood pellet plant investment cost is relatively large. The other is to purchase core equipment, wood chipper with ce certification, good quality wood hammer mill for sawdust, hot selling good quality wood pellet mills. Then the other equipment is equipped by itself, so that the investment is less, but the requirements are higher, and you must have a good understanding of biomass pellet processing machinery. As for which method is better, you should choose according to your actual situation.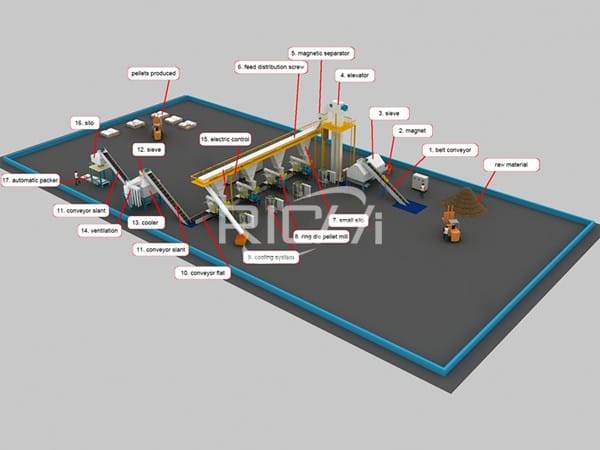 2.Brief Introduction of 1-20TPH Wood Pellets Manufacturing Process
It is necessary to know what steps are included in the 1-20tph complete wood pellet production so that you can hire the labour accordingly. Following are the main steps:
(1)The raw materials are cut by a CE good quality biomass hammer mill equipment in to small sizes.
(2)Then these small pieces are passed by a large rotary dryer for biomass wood pellet production line.
(3)Then they are pelletized in the 1-20tph high quality biomass wood pellet line pelletizer equipment.
(4)Lastly, they are cooled down and packed to be sold.
Generally, a 1-20tph biomass wood pellet production line includes equipment: granulator, wood crushing machine hammer mill, commercial drum wood chipper, screening equipment, cooling equipment, environmental protection dust removal equipment, packaging equipment, and if necessary, a drying equipment . Various auxiliary equipment, fans, Shakron, belt conveyors. According to different production capacity, the size and model of production equipment are different, and the price is also very different. The specifics should be determined according to actual demand and investment costs.
As for the installation of the 1-20t/h wood pellet manufacturing line, we will send engineers and workers to perform the current installation. There will be continuous after-sales service in the later period, please rest assured. In time, customers do not need us to send someone to install, and we will also conduct various instructions. The content of the instruction also includes later equipment operation, maintenance, and maintenance.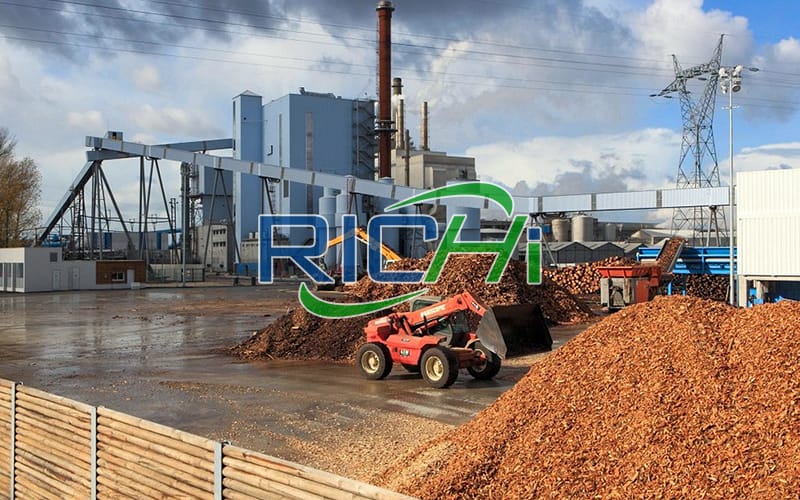 3. Matters needing attention when developing biomass wood pellet processing business
To setup a high effecient wood pellet mill or start profitable 1-20tph professional complete wood pellet production line business, it is necessary to know about many things which includes the local market of wood pellets, local or peripheral raw material resources, recent wood pelletizing technology, the wood pellet plant setup cost and how to make a customzied business plan based on your own needs and situation. Here we give some tips for those who plan to start wood pellets making business. Any questions or problems on establishing a complete wood pellet plant or biomass pellet production, feel free to contact us for help!
(1) The raw materials should be sufficient.
If you are starting a wood pellets business make sure your biomass or woody materials are in abundance. Wood pellets business is usually run by people who have a large amount of wood waste such as sawdust, wood shavings, or biomass wastes such as peanut shells, cotton stalk or other kinds of agricultural residues. If you want to produce a large amount of wood pellets, you will need to buy the raw materials to keep the quality intact. But if you have decided to keep this business as a side business, then waste materials of wood products and furniture are good to be used. The raw materials should have the least amount of moisture i.e. less than 15%. The quality of raw materials determines the quality of the wood pellets. Therefore, if you don't have good raw materials, starting a wood pellets business is useless.
Therefore, compared with the market, customers should consider the issue of raw materials more. Raw materials cannot keep up with the output of a few tons per hour. Like straw, it is very seasonal, although it is cheap and nobody wants it, without government subsidies, the profit will not be very high. Because of the low calorific value of straw, the price of straw pellets is much lower than that of wood pellets.
(2) The problem of electricity.
The power of a large pellet machine is relatively large. If your local electricity is not enough, it is not suitable for the processing business of wood pellets.
(3) Equipment selection.
Stability is the first priority, but the output is second. Because even if your output is high and you work for two days and rest for two days, it will not be profitable.
(4)Choose Suitable Location to Build the Wood Pellet Manufacturing Factory
The location where you put the plant should be clean. If you have a small space, choose a small plant. Don't put large pellet plants in small spaces and make everything suffocated. Make sure that your location is near to the raw materials so that you can be saved from the cost of transportation.
4. Investment prospects of biomass wood fuel pellets
(1) Market sales. The supply exceeds demand and the market is huge. The global wood pellet market has grown significantly in the past ten years, with an average annual growth rate of 11.6%.
(2) Market competition. It is definitely more intense than in the past few years, but due to the huge market space, it is still a good time to enter the biomass pellet market.
(3) Investment size. A single machine requires several thousand to tens of thousands of dollars, and a simple wood pellet processing line also costs nearly 100,000 dollars, not counting the cost of raw materials, so investing in the biomass pellet industry is not a small-cost business.
(4) Rate of return. The biomass pellet industry is not considered a profitable industry, but it must be an objectively profitable industry. Although saying this may affect RICHI's own business.
(5) Profit calculation. We also want to give a profit formula like online. How much is the raw material, the product, the worker, and the equipment. This is very attractive, but it is really hard to give. Because each customer has different raw materials, different electricity prices, different labor costs, and different prices for pellets, this can only be calculated for you after we know your specific needs and actual conditions.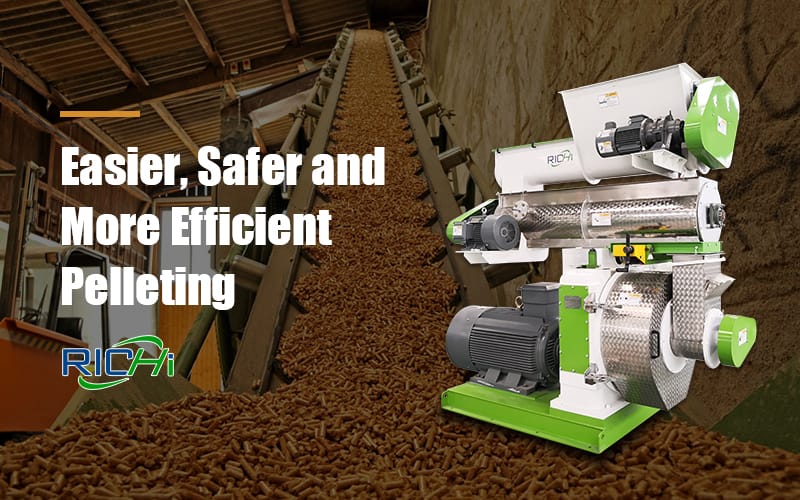 5.Setup a China professional 1-20tph wood pellet line for biomass waste-good biomass pellet mill for wood pellet plant
Wood pellets are made in a 1-20tph professional wood pelleting line, where all the commercial wood pellet machinery are organized together. It is necessary to understand the process of producing wood pellets. Buying the best type of ce good quality biomass wood pelleting machinery is important. Don't buy wood pelletizing equipment only because it is cheap. Buy a plant which is effective, produces tons of wood pellets in least amount of time and has a good working efficiency. It should have less fuel consumption as well. Good wood pellet is made with clean and bark free sawdust and it has low moisture content. So, buy the high quality wood pellet machine which can provide you with all of these qualities.
Types of Wood Pellet Plant Machinery
Richi Machinery-ring die wood pellet mill manufacturer from China.Using the right type of machine is necessary for producing the best kind of wood pellets. Knowing which machine is used for which purpose is vital for starting a wood pellet business. Small Scale or Industrial Use? All RICHI China supplier offer wood pellet machine are also Europe use super quality wood pellet machinery,passed the CE certification,equipment quality is very guaranteed.
Ring die type biomass energy wood pellet making machine: It is generally used for small sized wood pellet line and large scale wood pellet processing plant. Ring die wood pellet mill for wood pellets is recommended for big industries which produce a large amount of wood pellets. It is quite expensive but have high production output, production efficiency and works for a long time. Therefore, it is best for industrial and commercial use.
| | | | | | | |
| --- | --- | --- | --- | --- | --- | --- |
| Model | MZLH320 Wood Pellet Mill | MZLH350 Wood Pelletizer | MZLH420 Wood Pelleting Mill | MZLH520 Wood Pellet Machine | MZLH768 Wood Pellet Press | MZLH858 Wood Pellet Maker |
| Anti-caking Feeder Power | 1.5KW | 1.5KW | 1.5KW | 2.2KW | 3KW | 3KW |
| Forced Feeder Power | 0.55KW | 0.55KW | 0.55KW | 0.75KW | 1KW | 1KW |
| Pellet Machine Power | 37KW | 55KW | 90KW | 132KW | 250KW | 280KW |
| Capacity(wood sawdust,biomass) | 300-400KG/H | 500-700KG/H | 1.0-1.2 T/H | 2.0-2.5 T/H | 2.5-4 T/H | 3-4.5 T/H |
| Capacity(grass,straw) | 600-800KG/H | 800-1000KG/H | 1.5-2 T/H | 3-4 T/H | 5-7 T/H | 8-10 T/H |
| Capacity(organic fertilizer) | 1-2 T/H | 3-4 T/H | 5-6 T/H | 7-8 T/H | 9-10 T/H | 10-12 T/H |
| Final Pellet | 6-12mm | 6-12mm | 6-12mm | 6-12mm | 6-12mm | 6-12mm |
| Weight(KG) | 2500 | 3500 | 4000 | 4500 | 5000 | 5500 |
| Dimension(mm) | 2200*900*1300 | 2500*1100*1600 | 2800*1150*1730 | 3000*1260*1860 | 3300*1500*2000 | 3500*1600*2180 |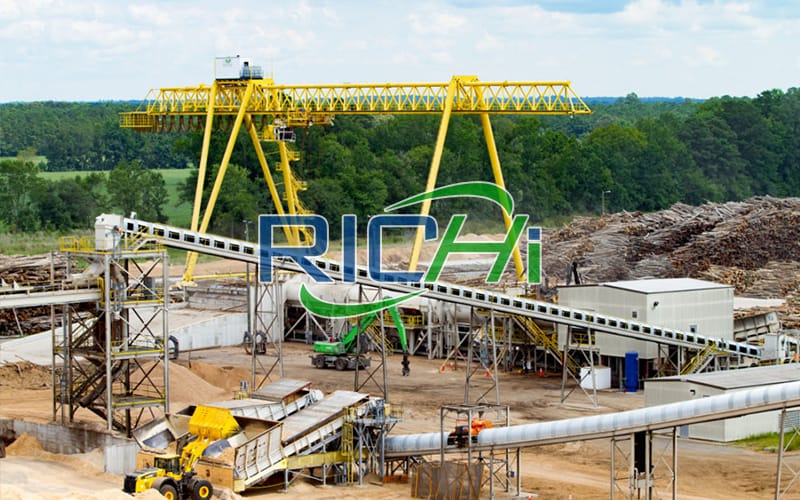 6.RICHI 1-20tph complete wood pellet production line plant project for biomass fuel making pellet
Customized 10tph automatic completely biomass wood fuel pellet production plant in United States
Australia 2-2.5tph full automatic biomass wood pellet production machine line project
Customized complete 2-2.5tph high quality ce wood pellet production line in Germany
1-2 Ton per hour easy to operate biomass wood pelleting line project in Brazil
10 Ton per hour large capacity heavy duty wood pellet manufacturing plant in Mexico
Austria complete good 5tph ce certificate ce wood pellet production plant project
Netherlands 2TPH CE Certificate Biomass Wood Pellet Pressing Plant
The 1-2t/h low cost biomass wood pellet making line in TAIWAN
The 2-3T/H Full Automatic Biomass Wood Pelletizing Plant In Canada