How to start small cattle & poultry feed processing plant with 1-4 ton per hor production capacity?
2021-02-17 Back to List
If you are looking for related products or have any other questions, please feel free to contact us.
Contact Us
More and more farmers tend to make feed pellets for their own chicken, cattle, cows and more to reduce the feeding cost, which is definitely a great idea. In order to meet more customer's demands, Richi Machinery not only offer 5-100 ton per hour complete large scale feed processing plant for cattle & poultry, but also provides the 1-4t/h small scale cattle & poultry feed processing plant that is in compact size and is very much suitable for large poultry farm,large cattle farm and small poultry and cattle feed plant. In addition, we also offer customized cattle and poultry feed production business plan to help our customer know the animal feed pelletizing industry quickly.
1. Richi Machinery CE Hot Sale 1-4 Ton Per Hour Complete Small Animal Feed Pellet Production Line For Cattle And Poultry
(1)Production Output: 1~4 ton per hour
(2)Diameter of Feed Pellets: φ1.5~φ12mm
(3)Diameter of Pellet Die: φ250mm-φ508mm
(4)Main Equipment: Ring Die Feed Pellet Mill, Animal Food Mixer and Conveyors
(5)Application: Make feed pellets for chicken, cattle (cow), sheep (goat), horse, pig, geese, pigeon, ostrich, camel, and so on.
(6)Raw Materials Can Process: Corn, wheat bran, alfalfa, oilseed meal (soybean oil meal, sunflower seed oil meal, cotton seed oil meal, etc.), wheat straw, fish meal, corn meal and rice husk, etc.
2.Why choose RICHI ce 1-4 ton per hour customized poultry and cattle feed production plant
(1)The complete set of 1-4tph complete easy to operate feed processing plant for cattle & poultry is designed with transmission, mixing and pelletizing, so it is easy to operate it due to its simple and complete structure.
(2)The 1-4 ton per hour ring die cattle and poultry feed pelletizer machine adopts SPB powerful and narrow belt transmission system, which has ideal transmission efficiency, stable rotation, high output, low noise, no oil leakage and pollution, and lower maintenance cost of components.
(3)This model has 1.5-12mm between a variety of aperture and thickness of the ring touch, users can choose according to different needs, in oder to obtain the best technical and economic benefits.
(4)The unit is suitable for use in small and medium-sized breading plants, poultry raising plants, individual professionals and contractors.

3.Cost to start a small scale 1-4 ton per hour poultry cattle feed pellet production plant
Low cost small 1-4tph poultry cattle feed pellet production line price is usually between 15000-200000USD.
Generally, there are several factors that decides the cost of 1-4t/h ce high quality poultry livestock animal feed pellet production, including raw materials cost, equipmen price or equipment modernization and reinvestment, depreciation and energy consumption. For most of animal feed pellet mill company, the top priority is to improve the equipment performance and lower energy consumption to reduce the cost. That's why it's very important to choose an reliable and powerful animal feed production line supplier and manufacturer.
RICHI advanced 1-4 ton per hour new design poultry and cattle feed pellet mill plant not only can improve the production capacity, but also can help to lower the maintenance and energy cost. RICHI Machinery provides various models of 1-4 ton per hour customized cattle & poultry feed mill factory equipment to meet customers' different demands for efficient 1-4tph complete animal feed pellet plant, including 1-4t/h cattle feed plant, 1-4tph poultry feed plant, etc. Our 1-4 ton capacity poultry cow feed pellet maker is designed with efficient transmission and pelletizing system and updated technology. All of our 1-4 ton per hour cattle and poultry feed manufacturing plant equipment can achieve automatic production and can ensure the flexibility and quality of final pellets. In addition, it can also save the maintenance cost on the cattle and poultry feed production equipment and reduce the downtime.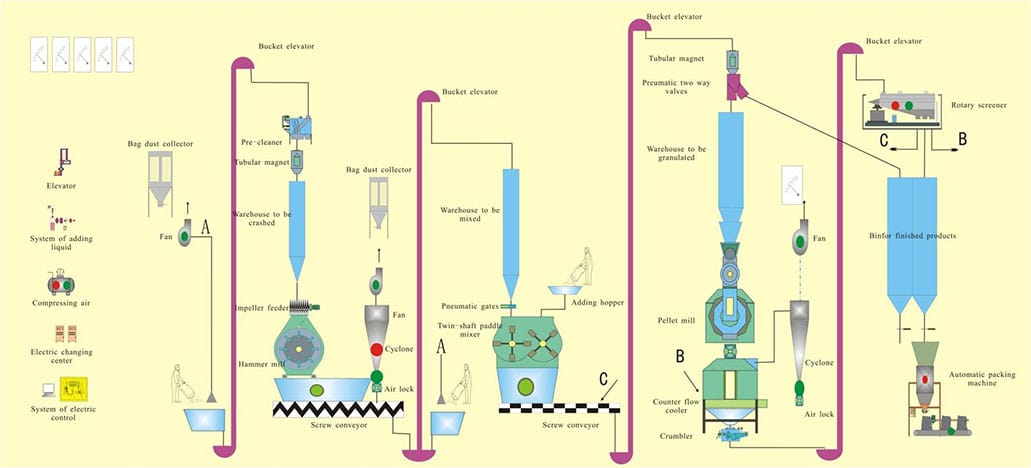 4.Machine for making cow feed and poultry by widely used 1-4tph cattle & poultry feed mill plant
The main cow and poultry feed equipment for establishing a complete 1-4tph small sized poultry and cattle feed pellet making plant includes poultry cattle feed hammer mill, poultry cattle feed mixing machine, poultry cattle feed pellet making machine, cooling equipment, poultry cattle feed packaging machine and other auxiliary equipment. Our animal feed processing technical team can help you on customized poultry cattle feed mill project plan and cost details of any capacity.
(1)Poultry And Cattle Feed Crushing Process(need poultry cattle feed grinding hammer mill equipment)
Crushing is the process of making the poultry feed making raw material and cattle feed making raw material into smaller particles by mechanical external forces (such as impact, shearing, grinding, etc). For grain, crushing is to smash the shell of the grain and expose the internal nutrients. At the same time, the surface area of the seeds increases sharply, so that the material has more opportunities to contact the digestive juice in the poultry's digestive tract and improve the digestion of feed, reduce poultry excretion, nutrient loss and environmental impact. A study by Kansas State University showed that feeding broiler chicken with crushed corn increases the meat ratio by 1.3% for each 0.1 mm decrease in average particle size.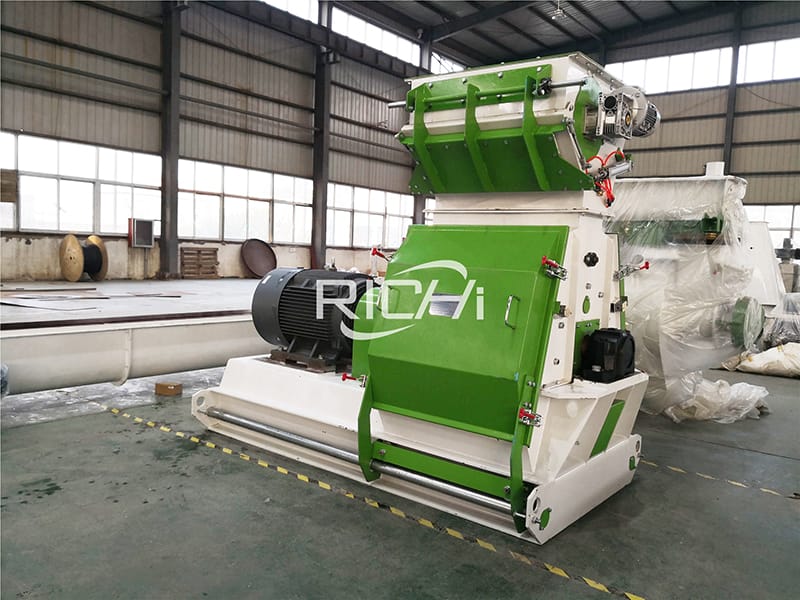 (2)Poultry And Cattle Feed Batching Process(need batch scale)
On the premise of ensuring the accuracy of the electronic scale ingredients, weigh the large materials first, and then the small materials;
When batching, the raw materials with small bulk density should be poured first, and then the bulky raw materials should be poured to prevent the raw materials from splashing out of the warehouse and causing unnecessary injuries to workers;
The material distributor located on the top of the batching warehouse uses a rotary distributor for batching, which improves the accuracy of batching and quality of feed processing, and reduces feed loss.
(3)Poultry And Cattle Feed Mixing Process(need poultry cattle feed mixing equipment)
Mixing is to cattle poultry feed the prepared materials into a mixer with good processing performance to fully mix them, so that the various components of the materials are evenly distributed, which prevents the nutritional imbalance and the inconsistent bulk density, and get better feeding effects.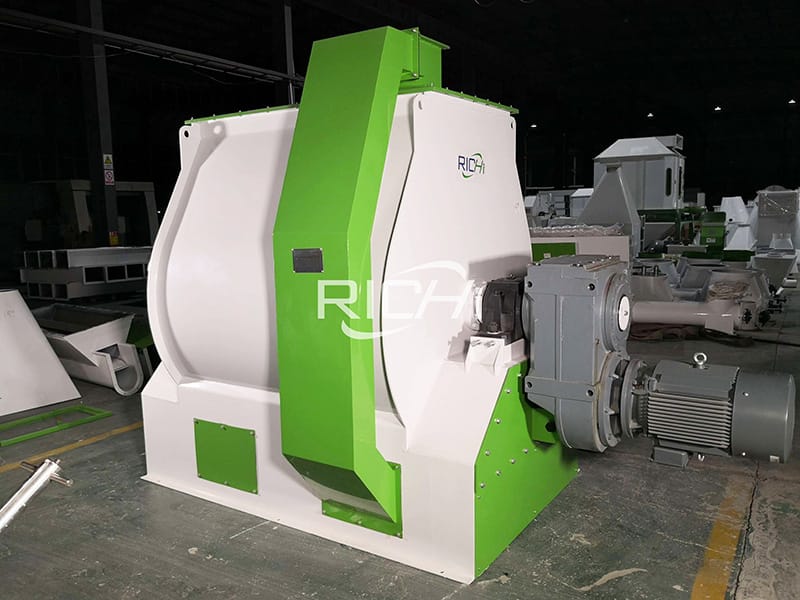 (4)Poultry And Cattle Feed Pelletizing Process(need ring die ce cattle and poultry feed pelletizer machine)
Conditioning is to pass the feed through a conditioner with high temperature and high pressure steam to promote the denaturation of protein contained in the feed, increase the degree of starch gelatinization, promote the conversion of starch into soluble carbohydrates, and change the physical and chemical properties of the feed to make it more conducive to animal breeding. After conditioning, the feed mixture will fed into animal feed pellet milling machine to be extruded into uniform pellets of desired size.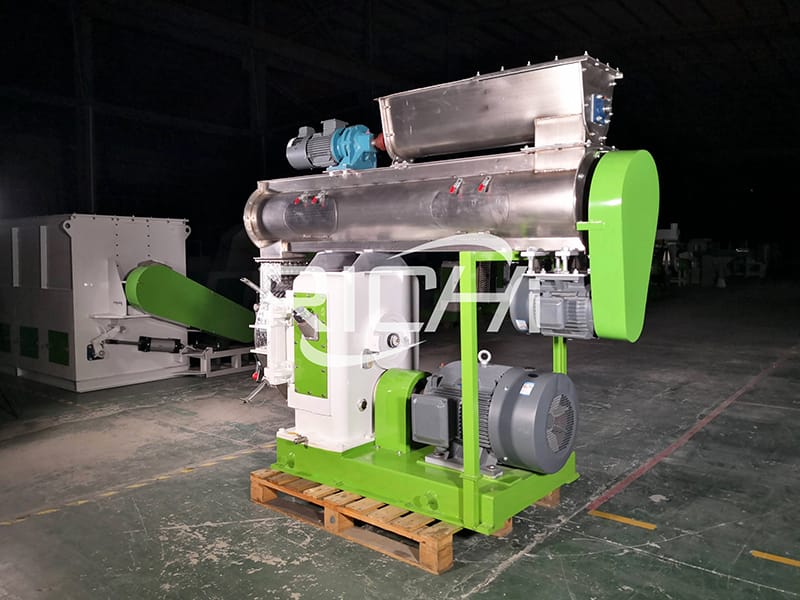 (5)Particle Size of Final Feed Pellets
Bigger pellets can increase the feeding speed, but bad for the digestion. Smaller pellets can less efficiency of foraging, but good for animal digestion. Suitable feed size can significantly improve the nutritional value of the feed, reduce the production cost, but also can improve the animal feed intake and nutrient digestibility, reduce the amount of animal feces.
(6)Poultry And Cattle Feed Pellets Cooling Process(need pellet cooler)
The cooling effect is related to ventilation, time, temperature and speed. If the time is too short, the cooling will be insufficient and will not achieve the desired effect. If the temperature is too high, the cooling rate will be slowed down and production efficiency will be reduced.
The quality of cattle and poultry feed pellets is directly related to the reputation and benefits of your chicken feed pellet mill plant. It is one of the important indicators for the progress and development of feed science and technology, and it is also the main aspect that farmers care about feed.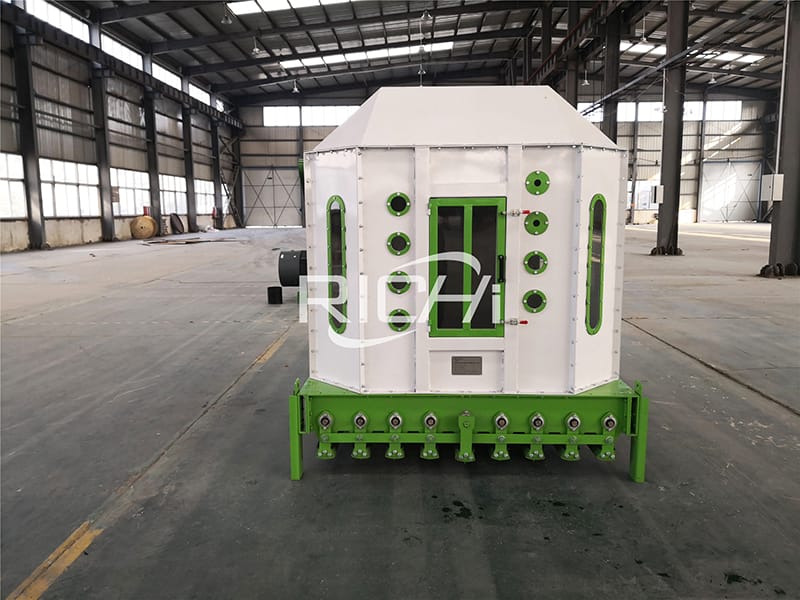 5.Importance of Pelletizing for Animal Raisers and Farmers
Pelleting is an everyday process in complete 1-4 ton per hour poultry and cattle feed production. The changing of animal feeds into pellets has its advantages about the nutritional value and the final product handling. Every single pellet contains specified nutrients by the nutritionist as it is made by combining the ingredients. In this way, every animal will eat a balanced diet and selective eating behavior will be avoided.
A lot of time is wasted in the production of feed mash due to mill blockage. These problems are significantly reduced due to advanced machinery in pellet production. Transportation of the compounded feed is also improved through pelleting. The pellets are denser hence less in size compared to the feed mash. Therefore more pellets can be transported per unit transit. Another advantage is that pellets have less dust after packaging and therefore cross-contamination is highly reduced during transportation.
There are several factors to consider in the pelleting process from the cattle poultry feed formula to the controlling limits, rolling gap, and the cattle chicken feed pelleting machine die provisions. The main factor is to govern the best accommodation between the quality of pellets and energy utilization, while producing the intended amount.
Condensation is improved by the addition of steam hence making better the pelleting process. This yields in producing more quality pellets per unit time and use of less energy. More pressure are added to the die by adjusting the roller gap giving a higher quality of the pellets. This will impact negatively on energy utilization because more energy will be used to push the feed via the die. This may be fixed by replacing the present die with a thicker one. The addition of steam has its limitations. Adding excess steam might cause the roller to slide and the results of the roller slide are dire. The workers are always careful because replacing the die is time-consuming and the damaged die cannot function again.
In conclusion, making pellets to feed poultry and cattle animal is absolutely helpful both from cost and animal growth. Now, more and more small scale farmer owners have realized this problem, they are trying to seek more suitable cattle poultry animal feed making machine for their own use. If you are also the same, please contact us. We can help you solve all the questions and problems about the 1-4t/h small size cattle and poultry feed line production.