How many tons of biomass pellets can be produced by 1 ton per hour low cost reasonable layout new technology wood sawdust pellet line?
2021-02-11 Back to List
If you are looking for related products or have any other questions, please feel free to contact us.
Contact Us
1.How many tons of biomass pellets can be produced by the 1 ton/hour wood pellet producing line?
How many pellets can be produced from a ton of wood chips depends on the moisture content of the wood chips. The moisture content of the finished pellets is below 10%. The main water consumption during the pelletizing process is very small. Before the sawdust enters the ring die wood pellet pressing machine, the moisture content is required to be below 15%. Take 15% as an example. One ton of 15% moisture in the sawdust contains 0.15 tons of water. After being pressed into pellets, it will become 10%. By calculation, it is about 5% reduction. , There is 950kg left.
Therefore, it is no problem to produce more than 0.9 tons of pellets per ton of wood chips. Of course, if your sawdust moisture is 30%, it will be less, and you need to add a sawdust dryer in pellet production line to use it, and the cost is high, so receiving good raw materials is the basis for making money.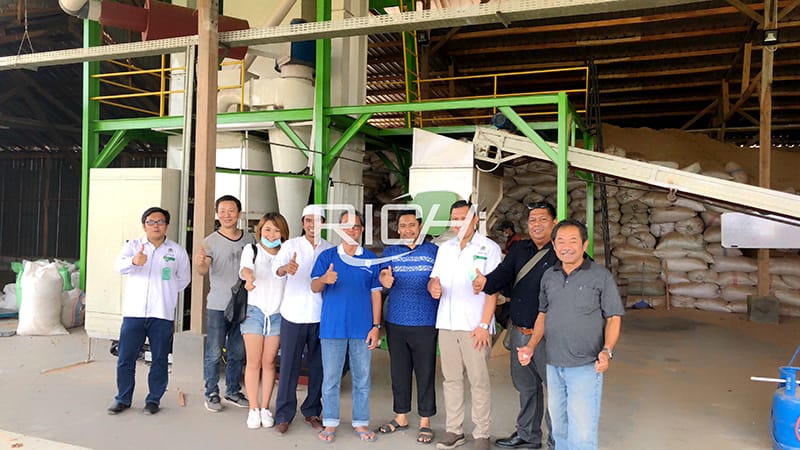 2.The profit point of the hot selling 1 ton per hour complete wood pellet line
(1) Price and investment of 1 ton per hour complete biomass sawdust pellet fuel production line
The scope of this question is too broad, it can be said that it ranges from $50,000 to $200,000. There are many factors that determine the price, let's talk about it in detail below.
①Output: It is the first factor that determines the price. Large output means large machinery and equipment, and the corresponding price is high. It can be said to be directly proportional, that is, for example, a hot selling in turnkey wood pellet line with an output of 1 ton per hour requires 80,000 US dollars, then a 2 ton production line needs 160,000 US dollars.
②Raw material: The raw material requirement for biomass wood pellet fuel is 2-6mm, and the moisture content is 10-15%. If the raw material does not meet this condition, it must be processed. For example, if you use tree branches or scraps, then you have to use crushing equipment. If the water content is large, you have to use drying equipment, then the price of the 1 ton small wood pellet plant will be higher.
③Process: The so-called process refers to the degree of automation of the production line, as well as the mode of operation, which involves a relatively large degree of automation and high price. If the operating mode and conveying mode are highly enclosed, the dust will be much less and the price will be higher. The process is simple, the price is cheaper.
④Quality: Nowadays, the wood pellet processing industry is very popular. Many people have taken a fancy to the prospect of wood pellet fuel industry. Therefore, there are many manufacturers of equipment. The quality is uneven, all kinds, large and small. Then the price will vary greatly. The old manufacturers have high technology, high equipment assembly precision and high stability, but the price will be high. As the saying goes, you get what you pay for. It is recommended to build a factory, a production-type factory, and an industry that relies on quantity to make money. The equipment must be selected from good, stable, and technically supported manufacturers and equipment.
(2) The price of biomass pellet fuel
Take China as an example. There are many kinds of biomass pellets on the market today: wood pellet fuel, straw pellets, cotton and firewood pellets, peanut shell pellets, pure wood, straw blended, soil-containing, and so on. There are many types and prices, the most mainstream ones are as follows:
Pure wood pellets (miscellaneous wood): The calorific value is about 4000-4500 kcal, and the price is 800-1200 yuan per ton, by region.
Straw pellets: corn or wheat stalks, the calorific value is about 3500-3800 kcal, and the price is 600-900 yuan per ton.
Cotton wood pellets: The calorific value is about 3500-4000 kcal, and the price is 700-900 yuan per ton.
3.RICHI 1tph good quality hot selling wood sawdust pellet manufacturing line for sale
1 Ton per hour small wood sawdust pelletizing line just one simple biomass pellet production line. In fact, the solution might be different even for the cases with the same output requirment. Your budget, available space for the production, raw material size, water content...can all affect the final solution. So you are suggested to tell us your basic situation and needs, then we can work out the best solution for you!
Main Equipment Included in Complete Pellet Plant: electric cabinet, packing machine, dust collector, cooler, hot selling 1 ton good quality wood sawdust pellet mill machine, conveyor, rotary dryer for drying wood sawdust and Wood crusher machine for making sawdust,wood chipper shredder mulcher.
4.Highlights of RICHI Pellet Plant For Wood Sawdust
(1)Low energy consumption;
(2)Low maintenance cost;
(3)Reliable continuous operation;
(4)Capable of processing different kinds of wood materials such as sawdust, wood shavings, wood chips, twigs, etc.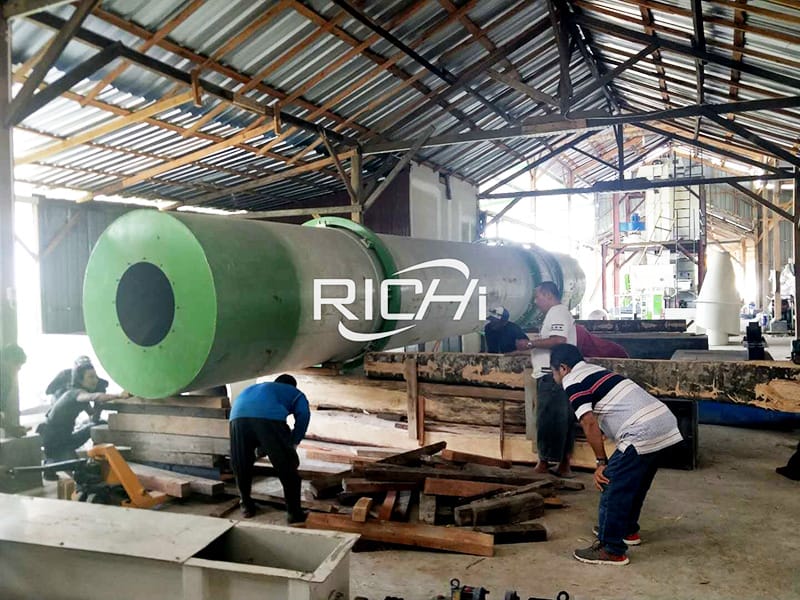 5.China factory sale new design 1tph wood sawdust pellet production line manufacturing process
Generally speaking, small capacity 1 per hour wood pellet production line for sawdust pellets can be divided into several parts: crushing system, drying system, pelletizing system, cooling and sifting system, packaging system and electrical cabinet system. The details of each production process are listed as follows:
(1)Crushing System
Equipment needed: high efficiency wood chipper, good quality wood hammer mill for sawdust.
Crush your raw materials into appropriate small pieces with wood chipper and hammer mill. Crushing is quite necessary especially when the raw material is log. Generally, the final crushed size should be 3-6mm which is required by most pellet making machines.
(2)Drying System
Equipment needed: good quality ce rotary dryer for wood chips
In this process, the crushed materials will be dried to appropriate moisture content. To make premium wood fuel pellets, drying is one of the most important parts you should pay attention to. 12-16% is suitable in most wood pellet production process. High moisture raw materials could result in easy split pellets and low moisture materials could cause pelletizing difficulty problem. If you plan to build a large integrated wood pellet line, ce industrial rotary drum sawdust dryer is the best choice. Due to its big drum and structure, the price might be relatively higher than normal dryer. If your budget is limited, air flow dryer is also a good choice.
(3)Pelleting System
Equipment needed: ring die 1 ton capacity wood pellet mill
Pelletizing is the key process of pellet production plant. The ring die of RICHI hot selling 90kw 1 ton per hour biomass wood pellet mill machine is designed with different compression ratios. Ring die with multiple compression ratios make our ring die biomass energy sawdust pellet machine capable of processing various kinds of biomass materials.
(4)Cooling and Sifting System
Equipment needed: Wood pellet cooling equipment
Cooling system helps to cool down the final pellets. Sieving system is for removing the powder in the pellets.
(5)Packing System
Equipment needed: automatic packing machine
Packing is the last one process of wood sawdust pellet production. You can choose to pack the pellets with bulk bag or small bag. Bulk bag is 1Ton/Bag. Small bag is about 15-30kg/Bag.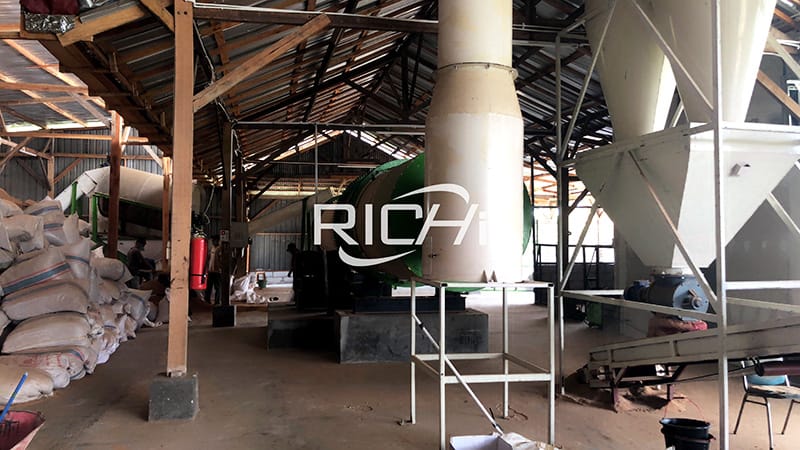 6.Successful Projects of 1 ton per hour best price professional complete wood sawdust fuel pellet production line for sale
Complete 1 ton per hour biomass fuel sawdust pellet production line or ce completely wood pellet production line is especially designed for those who want to run a large scale and automatic pellets production for commercial and industrial purposes. Feel free to send us an inquiry to get detailed information about RICHI wood sawdust pellet processing plant.
(1)1-1.5t/h good quality wood pellet production line In Indonesia
Project Intro: This 1 ton per hour wood wastes pelleting system is constructed in Indonesia. The main raw materials are wood wastes, wood offcuts and grass wastes.
Equipment List: wood chipper and crusher all-in-one machine, sawdust rotary drying equipment, 1t/h wood pellet manufacturing equipment, cooler and pellets bagging machine. (The wood chipper and crusher all-in-one can process wood chips and wood bars at the same time. This machine is small in size and can reduce initial investment.)
The pellet machine is based on gear-driven system which is more convenient to operate and much safer. The integrated machine including cooler and vibrating sifter greatly saves floor space. On top of it, the electronic scale with mimicked computer system works together with the thermo-hemming machine for weighing and sealing packages efficiently and swiftly.
(2)The 1T/H complete wood pellet production line biomass fuel making pellet in Iceland
Raw Materials: Beech.
Granulating Process: Chipping, crushing, drying, fine pulverizing, pelleting, cooling, sifting and packing.
This pellet production project is build in Iceland. The capacity is 1 ton per hour. This is a high automatic wood pellet making line with delicate arrangement and compact design. Twice-pulverizing is good for the extruding of pellets. The connection of cooler and back-fed cyclone can largely reduce pollution.Equipment needed in this line:China hot selling tree branch wood chipper machine,hammer mill shredder,good performance biomass wood pellet machine,wood saw dust rotary dryer,etc.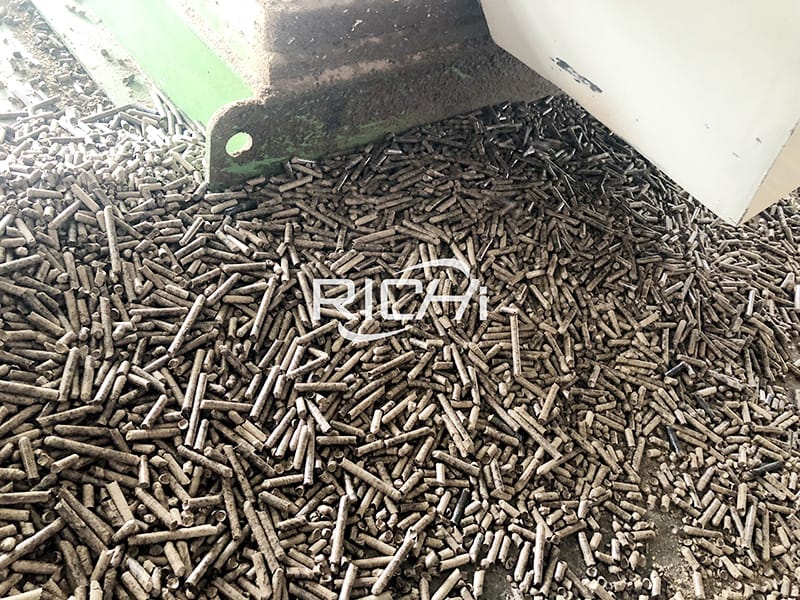 (3)The 1-2t/h new hot wood pellet production line with factory price in Congo
Raw Materials: Wood Shavings.
The whole wood pelleting line include new technology 1t/h wood pellet maker, conveyor, cooler, sieving machine,biomass industry drying machine,super quality wood hammer mill for wood sawdust,etc.
(4)The 1-2t/h pellet production line for fuels energy plant in TAIWAN
Located In: TAIWAN,CHINA
Raw Material: Sawdust
This wood sawdust pellet manufacturing line is composed by storage bin, good quality wood hammer mill, sieving machine, stove, high drying efficiency biomass rotary dryer for wood chips, 1tph wood pellet manufacturing machines, cooler, packing scale.
Our client plan to build a complete wood pellets making line for producing fuel pellets from sawdust. Our engineers conduct on-site investigation and provide on-site construction, so that to provide the most suitable production scheme for our client.
(5)1-2 Ton per hour biomass pellet line for wood log in Brazil
Raw Material: wood logs
Our client is a biomass pellets supplier. The main raw material is wood log 1-1.2 tons per hour capacity whole wood waste pellet making line, including lie splitter, commercial drum wood chipper, sieving machine, stove, wood chip hammer mill, rotary dryer, separator bin, 2 set of reasonable design ce wood pellet press machine, cooler, packing scale.