How to build easy to operate 1-4tph capacity small scale poultry chicken feed pellet plant in South Africa?
2021-01-13 Back to List
If you are looking for related products or have any other questions, please feel free to contact us.
Contact Us
How to make chicken feed pellets of your own in South Africa?How to start 1-4t/h chicken poultry feed mill palnt business in South Africa?Build an easy to operate low cost 1-4tph capacity small scale poultry chicken feed pellet plant is a better choice.
With the continuous development of the breeding industry, many professional breeding households and professional villages have appeared in rural areas, which has increased the demand for feed. Today, Richi Machinery will share with you some knowledge on how to build a 1-4 ton per hour customizable easy to use small chicken poultry feed manufacturing plant to meet your needs.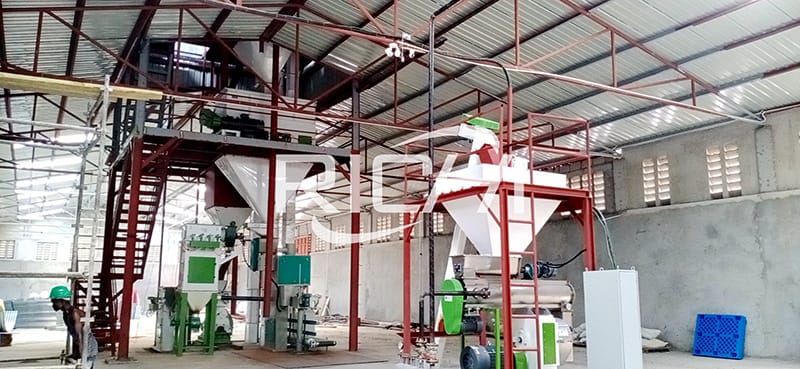 1. How to build a 1-4tph capacity chicken feed pellet line factory in South Africa?
(1) To carry out feasibility analysis
To establish a 1-4TPH small poultry chicken feed pellet processing plant in South Africa, we must first conduct a thorough investigation, and then conduct economic analysis and technical demonstration on this basis. Only after the breeding industry needs, the economic benefits are good, the advanced feed processing and compounding technology is mastered, and the local spirit of "comprehensive planning, overall arrangement, adapting to local conditions, and reasonable layout" can be invested and built.
(2) Scientifically determine the scale of plant construction
The scale of 1-4t/h small capacity chicken feed line production is the basis for the design of chicken feed processing plants. The scale of production should be determined according to the demand for feed in the supply area. The daily demand for feed can generally be calculated based on 0.15 kg per day for laying hens and 1.75 kg per day for pigs. Then, according to the total number of livestock and poultry raised in the supply area, the annual feed demand is calculated to determine the amount of plant construction production scale. For example, a single-shift equipment with an annual output of 1,000 tons can raise 20,000 laying hens or 1,500 pigs.
According to the local power supply situation, it should first be determined whether it is one-shift production or two-shift production. For example, for a compound animal feed processing factory with an annual output of 4,000 tons, if it is produced in one shift, only equipment with a productivity of 2 tons/hour is required, and if it is produced in two shifts, only equipment with a productivity of 1 ton/hour is selected. In order to give full play to the production capacity of the equipment. To improve economic efficiency, it is generally appropriate to use two-shift production when power is guaranteed.
In addition, the annual time base of the chicken feed processing equipment, the current domestic saying is: if the feed equipment productivity is 1 ton/hour, the annual production capacity is 2000 tons, this is a shift system, and the annual time base of the animal feed equipment is based on 2000 hours. Therefore, according to the production capacity of the 1-4t/h chicken feed production equipment and further consideration of the development plan of the local aquaculture industry or the current aquaculture scale, the tonnage of the equipment can be selected according to local conditions, thereby scientifically determining the scale of feed line for chicken.
(3) Choose the site correctly
The 1-4tph small chicken feed production factory site should follow the principle of "processing nearby", and give priority to building in towns with sufficient feed resources, developed animal husbandry, convenient transportation, guaranteed electricity, and markets, or villages with a certain scale of professional breeding households. If the small scale 1-4t/h poultry chicken feed manufacturing factory is built near the grain depot, or integrated with the grain depot, the housing facilities and corresponding costs for raw grain storage can be omitted. Feed processing plants should not be built in toxic, harmful, pathogenic gas or dust-contaminated places, and should not be built near or out of the limelight in livestock and poultry farms, pesticide factories, and sewage treatment plants.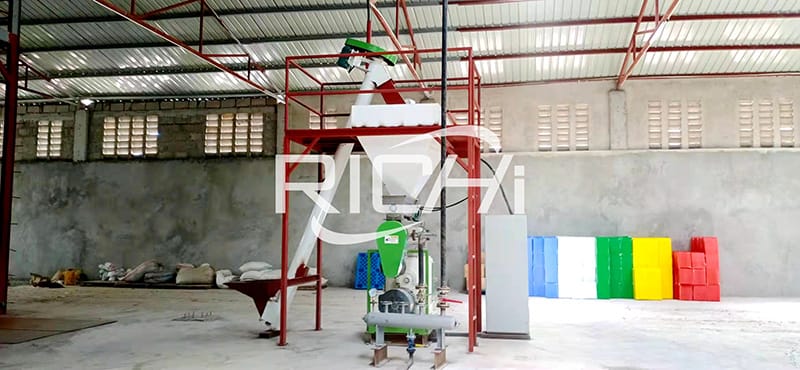 (4) Choose equipment carefully
Before the establishment of the factory, the corresponding complete set of feed processing equipment should be selected according to the determined production scale. The following questions should be considered when choosing: 
The selection of the process flow of 1-4 ton capacity small chicken feed line unit. Whether the selection of the process flow of the unit is reasonable or not is closely related to the investment, energy consumption, use and maintenance convenience of the equipment and the plant. For small-scale chicken feed pellet making plants, the equipment strives to be simple, which requires reasonable, simple and suitable process selection. Small-scale feed factories generally choose the following three forms. ①Continuously measure in proportion-crush  -mix; ② measure in batches-crush-mix; ③ crush-measure in batches- mix.
(5)Choice of unit measurement form 
There are two measurement forms: volumetric measurement and weight measurement. The advantage of volumetric metering is labor-saving, but it is not easy to change the formula; the weight-based metering accuracy is higher, and it is more convenient to change the formula. Therefore, it is more accurate and convenient to measure by manual weighing in general 1-4t/hr small-scale animal feed processing plants for chicken feed.
(6) Selection of unit  
The unit suitable for 1-4t/h small chicken feed pelleting plants should have the following characteristics:
①The chicken feed formulation is easy to change, the proportioning is accurate, the mixing uniformity is good, and the feed particle size is adjustable. 
②The unit has reasonable process flow, simple structure, convenient operation and easy maintenance, and the overall layout is compact, and the floor space is small.
③Low noise and dust, and the unit must have safety control devices. 
④Low energy consumption, low price, and easy to buy accessories.
2.How to start a best price small poultry chicken feed mill factory with 1-4 ton per hour capacity in South Africa?
(1)Good quality 1-4tph small sized chicken feed production process in South Africa
A complete 1-4 ton per hour small chicken feed pellet manufacturing plant generally includes silos for raw material storage, raw material receiving system, first batching system, mixing system, second batching, crushing system, pelletizing system, cooling system and bagging system.
(2)1-4TPH poultry chicken feed manufacturing process flow chart in South Africa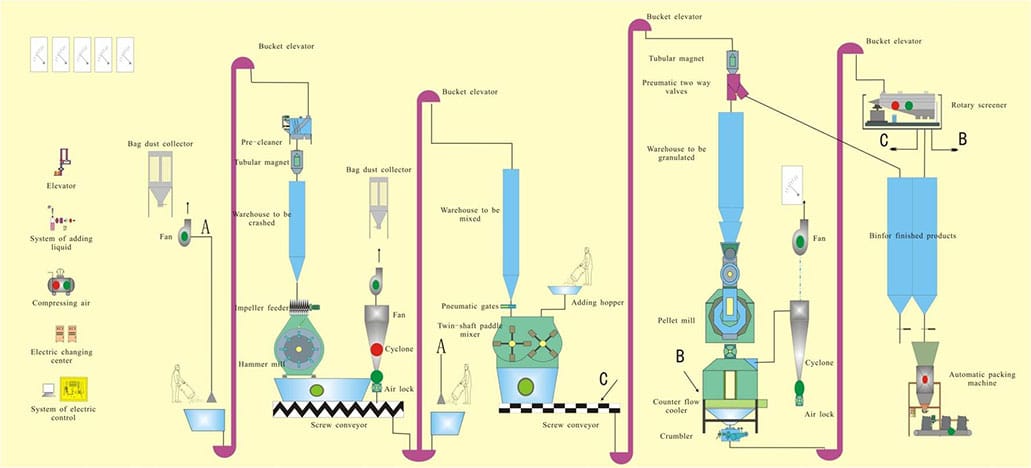 (3)Machine to make chicken feed in chicken poultry feed pellet production line with 1-4tph small production capacity for South Africa market
(4)Cost of small scale 1-4 ton per hour easy to use chicken poultry pellet feed processing line in South Africa
Costs of setting up a 1-4t/h simple process small chicken feed making plant in South Africa is usually between 15000USD-150000USD.
3.How to make 1-4tph chicken feed for broilers in South Africa?
Please visit:https://www.cn-pellet.com/faq/937.html
4.How to make 1-4tph chicken feed for layers in South Africa?
Please visit:https://www.cn-pellet.com/faq/800.html