High quality ce iso approved wholesale 8tph capacity poultry chicken feed pelleting machine's moisture control
2020-12-27 Back to List
If you are looking for related products or have any other questions, please feel free to contact us.
Contact Us
During the operation of 8tph capacity poultry chicken feed pelleting machine, workers must not only pay close attention to the operating status of the 8 ton per hour chicken poultry feed pelletizing equipment, but also pay attention to controlling the moisture content of chicken feed pellets. This is because the chicken feed moisture index is often directly related to the quality level and uniformity of the feed pellets, and further affects the economic benefits of the production enterprise.Today,we will talk about "High quality ce iso approved wholesale 8tph capacity poultry chicken feed pelleting machine's moisture control" in details.
In the process of operating the ce good quality 8 ton per hour capacity chicken feed pellet mill machine, on the one hand, we must pay attention to maintaining its normal operation. And on the other hand, we must strengthen the level of moisture control technology. At the same time, the moisture index is also one of the keys to ensure the quality and safety of 8t/h poultry chicken feed plant products.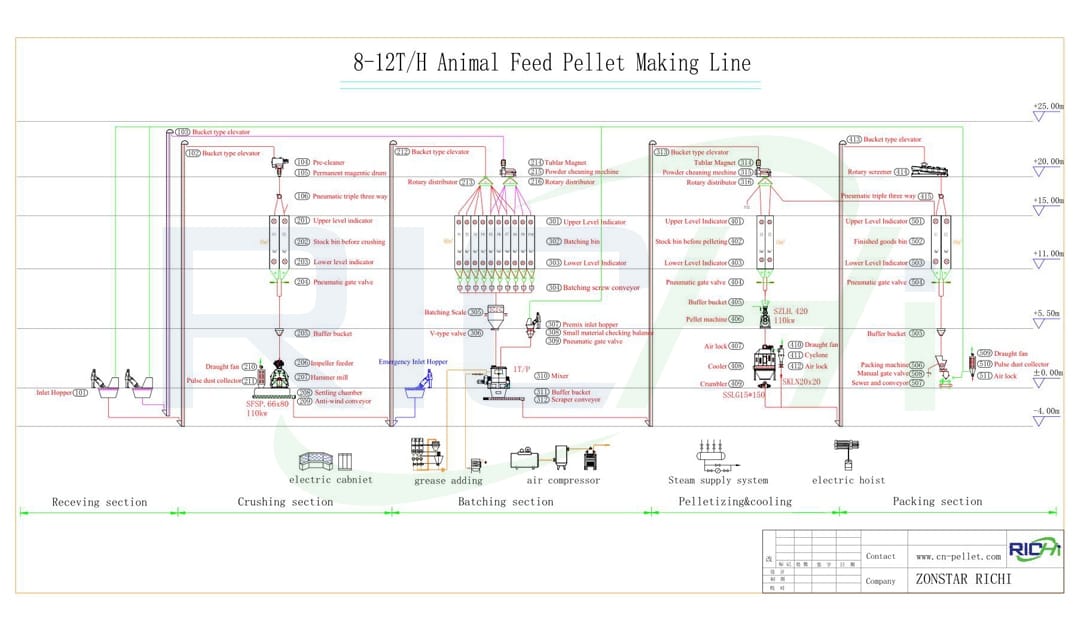 1.The Control Of Moisture
If there is too much water and exceeds the specified value, the obtained feed particles will be easily moldy. Which will increase the difficulty in the preservation and other aspects, and will also cause the nutrient content of the feed pellets to decrease and reduce the energy of poultry chcken feed.
Conversely, if the moisture content is too small, it will affect the taste of the chicken feed pellets, leading to a decline in economic benefits. And on the other hand, it will affect the operating status of 8t/h chicken feed making machine, leading to increased wear, increased production costs, and reduced output. Therefore, for 8tph poultry chicken feed mill plants, it has obviously become a common concern of how to control the moisture content of feed pellets to an appropriate level.
2.During CE ISO Certificate 8t/h chicken poultry feed pelleting line pellet machine production
From the perspective of the actual high quality 8 ton per hour capacity chicken poultry feed pellet production line, due to different poultry chicken feed production processes, raw material sources, and different proportioning schemes, the control of the moisture content of intermediate products and final products will often change during the operation of ce iso approved wholesale 8t/h chicken feed pellet processing equipment. Generally, it is reasonable to control the moisture change of the semi-finished powder after mixing within the range of 9% to 14%.
In addition, when entering the quenching and tempering process, the moisture content of the powder should generally maintain at about 12.5%. Later, in the process of pressing into the 8t/h chicken feed pellet making machine ring die for pressing, it is usually required to control the smooth moisture content between 15.0% and 16.5%. In this way, a more uniform and quality-compliant chicken feed pellet can obtain.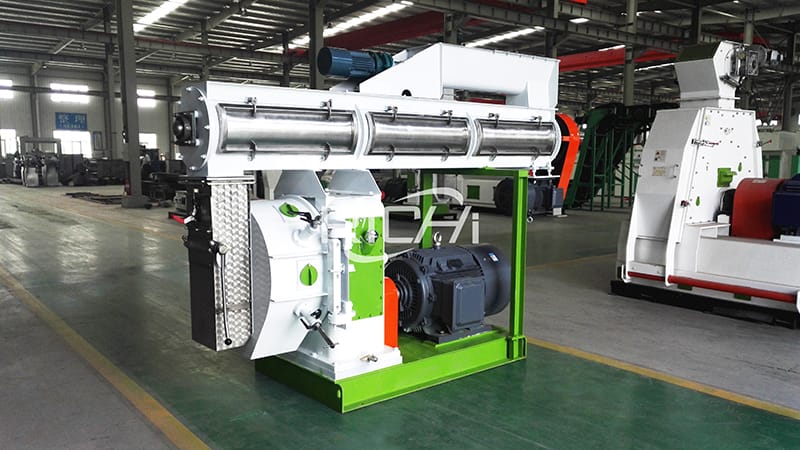 3.Introduction of 8 ton per hour ce iso approved ring die chicken granule feed pellet mill
Capacity: 8-12Ton/Hour
With on-site electric control cabinet, oiling machine
Siemens motor, SKF bearing
Feature: Feeder, conditioner, ring die, door are made by stainless steel.
Size of Conditioner: Length 3000mm* Diameter 380mm
Rang of Final pellet: 1.0-12mm
Ring die inter diameter: 420mm
China factory supply ce iso 8 Ton/hour chicken poultry feed mill pelletizer equipment price:31000USD-40000USD.
If you are interested in our products and projects, please send me a message directly online. RICHI will always be online during business hours. (If it is not during business hours, please also send a message directly to RICHI, and we will reply as soon as see your information) Looking forward to our future cooperation!