How does 1-20tph poultry feed plant improve production efficiency of poultry chicken feed pelletizer
2020-12-16 Back to List
If you are looking for related products or have any other questions, please feel free to contact us.
Contact Us
With the development of livestock and poultry and aquaculture industries and the advancement of feed industry technology. Pellet feed production has gained popularity in 1-20t/h poultry chicken feed mill plants. The primary feed processing equipment in the 1-20 ton capacity poultry feed pellets production process is the 1-20 ton per hour ce verified poultry animal feed pellet machine. The production efficiency of the 1-20tph pellet mill for poultry chicken feed seriously affects the economic benefits of the 1-20tph chicken poultry feed mill production line.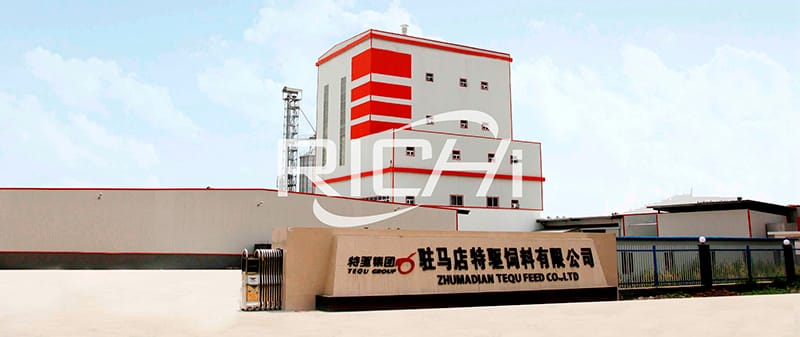 1. Design a reasonable 1-20t/h poultry pellet feed making plant production process
The more common 1-20 ton per hour poultry animal pellet feed line manufacturing process now consists of three parts: pre-processing (feeding, tempering, magnetic separation), pelleting and post-processing (cooling, crushing, classification, etc.). These three parts restrict each other and determine the processing quality and economy of pellet feed. It should also be noted when selecting the 1-20t/h poultry feed pellet manufacturing plant process flow:
①At least two bins to be granulated should be equipped to meet the needs of formula replacement;
②Before the feed enters the pelletizer, it must pass through a high-efficiency iron removal device to ensure that the feed entering the pelletizer does not contain iron impurities;
③The cooler should be placed directly behind the granulator. This can prevent the damp and hot particles from breaking;
④The crusher is best installed under the cooler. The crushed particles and particles are sent to the grading screen above the finished product warehouse by the elevator, which is conducive to the backflow of the fine powder and the on-screen material, and it is convenient to enter the warehouse.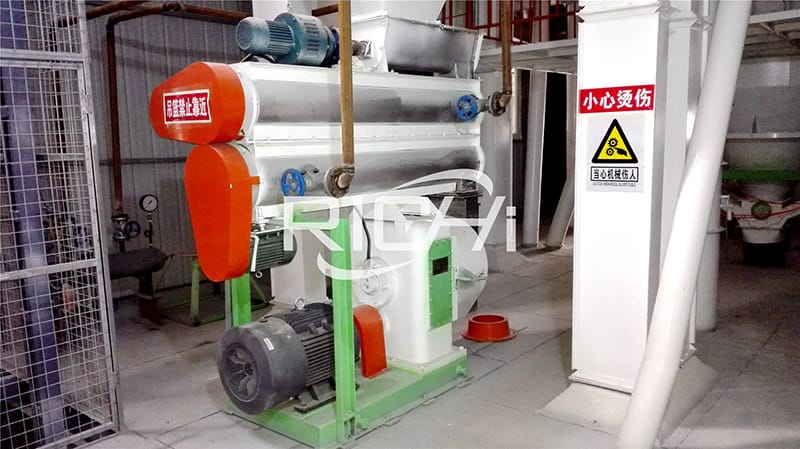 2. Operate the 1-20t/h poultry feed granulator correctly according to the procedure
(1) Turn on the device
①Air compressor → fan → Shakelong air shutoff device;
②Classification screen→bucket elevator→horizontal conveyor→crusher→cooler→cooler air shutter;
③The main motor of granulator→conditioner motor→feeder motor (minimum speed);
④First open the material and granulate, then gradually open the steam valve, while adjusting the feeder speed;
⑤Further adjust the feeder speed to make the working current close to the rated value, and adjust the steam flow accordingly to make the material temperature and humidity suitable after quenching and tempering;
⑥Adjust the cutter to make the particle length suitable;
⑦The pellets at the beginning do not enter the pellet cooler machine, and then enter the cooler after they are basically normal.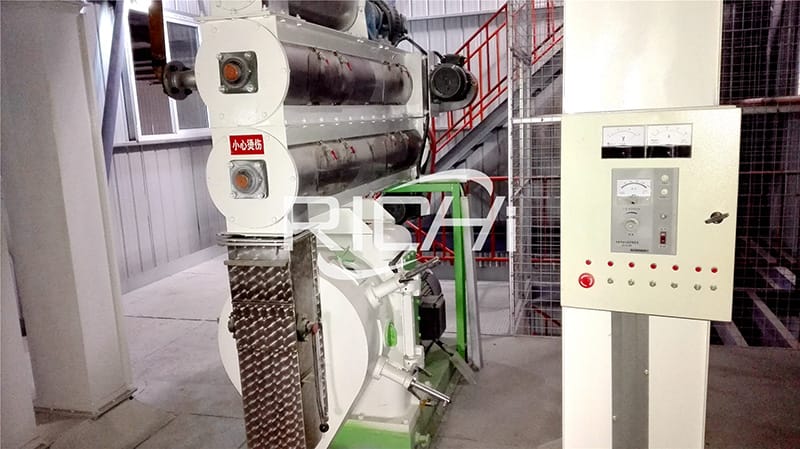 (2) Shutdown procedure
①Inform the boiler workers to stop steam 20-30 minutes before shutdown, and use the remaining steam to produce the remaining pellets;
② Observe the reflux and determine the downtime according to the reflux;
③When there is no material in the granulating bin and the buffer hopper, it can be shut down, and the sequence is opposite to that when it is turned on;
④Close the steam valve first, then gradually close the feeder and conditioner;
⑤ Feed oily materials from the observation door (stop for more than 24 hours) to fill the ring die hole;
⑥Turn off the main motor;
⑦After shutting down the host, ensure that the pellets in the cooler have enough cooling time to avoid hot materials;
⑧After the particles in the cooler are discharged, gradually turn off the crusher, bucket elevator, and grading screen in order, and delay each other for about 2- 5 minutes;
⑨Turn off the hydraulic system (if equipped).
(3) Three essentials must be mastered in the production process: first grasp, second look, and third adjustment
① Grab the material from the observation port of the granulator door by hand and test the temperature and moisture. When just granulating, take the material from the outlet of the granulator to observe the uniformity of the granule length;
②Always observe the readings of the thermometer and ammeter to understand the actual situation of granulation;
③Adjust the distance of the cutter, the speed of the feeder and the opening of the steam valve (adjustment of the amount of steam).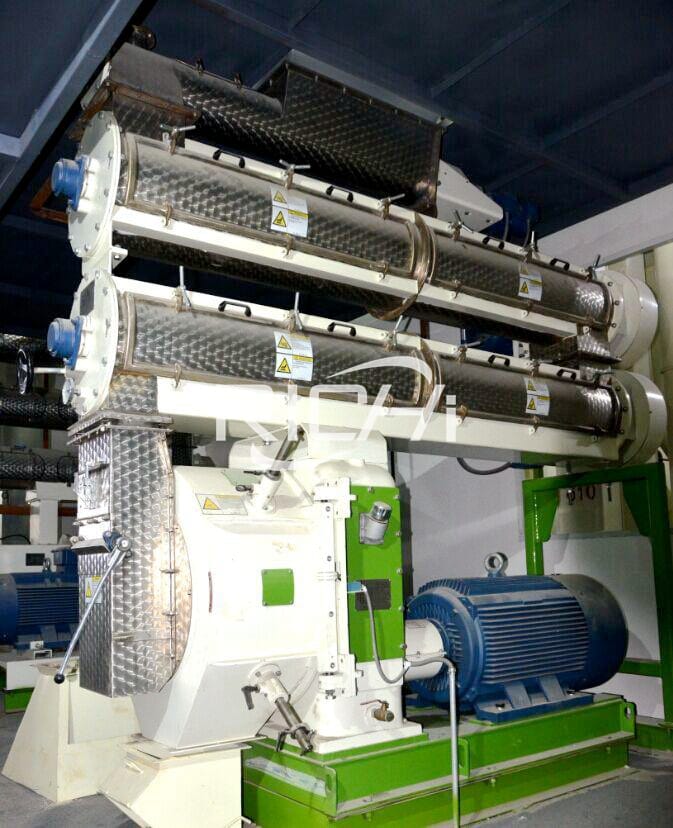 3. Strictly abide by the inspection principles, requirements and content
The inspection work is one of the essential tasks of the granulator. Its purpose is to discover problems in time, reduce downtime, protect equipment, and ensure production. During the inspection, you should not go through the scene, fully understand the requirements and content of the inspection, and pay attention to highlighting the key points of the inspection of various equipment. The problems found during the inspection should be filled out in relevant forms or recorded accordingly. Major problems should be reported immediately, and no concealment, avoidance of major issues, concealment of major issues, or exaggeration of major issues should be allowed. Because the pelletizing line runs through the entire workshop longitudinally, and there are many types of equipment, it is necessary for people from multiple work types to collaborate and complete inspection tasks in sections.
4.Introduction of RICHI SZLH Series Ring Die Poultry Chicken Feed Pellet Mill Equipmnet For 1-20T/H Poultry Chicken Feed Mill Factories
Choosing a suitable pelleting machine for poultry chicken feed and using it properly will significantly improve the quality of the poultry chicken feed pellets. It will soon reflect a benign effect in the 1-20 ton per hour capacity feed line poultry feed pellets production process. If you can further master the technology of making chicken poultry feed pellets, you can also greatly reduce the cost of materials, thereby increasing profits.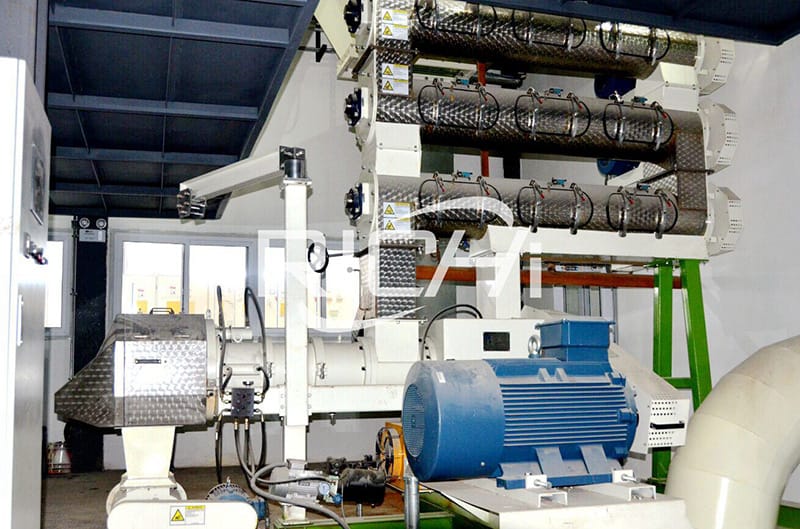 (1)Advantages of 1-20t/h szlh type high efficiency animal feed pellet making machine for poultry chicken feed
①Distinguished pelleting stability
Unique double-timing belt driving and cooling system for motors output same torque simultaneously, sectional ring die clamper for fixing ring die onto rotor firmly, widened supporting area of main shaft as well as wearing reduction designed working parts, are all enabling long-time stable production.
②Superior pellet quality
Conditioning system (optional) DDC Conditioner and/or STZW Hygienizer for longer retention time and more beneficial to gelatinization and sterilization of feed, contributing to consistent top quality products. Pellet size ranging from Φ2.0mm to Φ12.0mm.
③High output
Optimized feed-to-pellet deflector structure, widened ring die working area (+15~25%) to enable consistent high output and low energy consumption.
④User-friendly
Hydraulic system for die change and roller adjustment, quick and precise operation; auto-lubrication system and die & roller lifting device, saved labor; overload protection and door protection for human and machine safety.
⑤Customized solution
Optional of different conditioners and different ring die mounting patterns to meet different poultry feed production demands.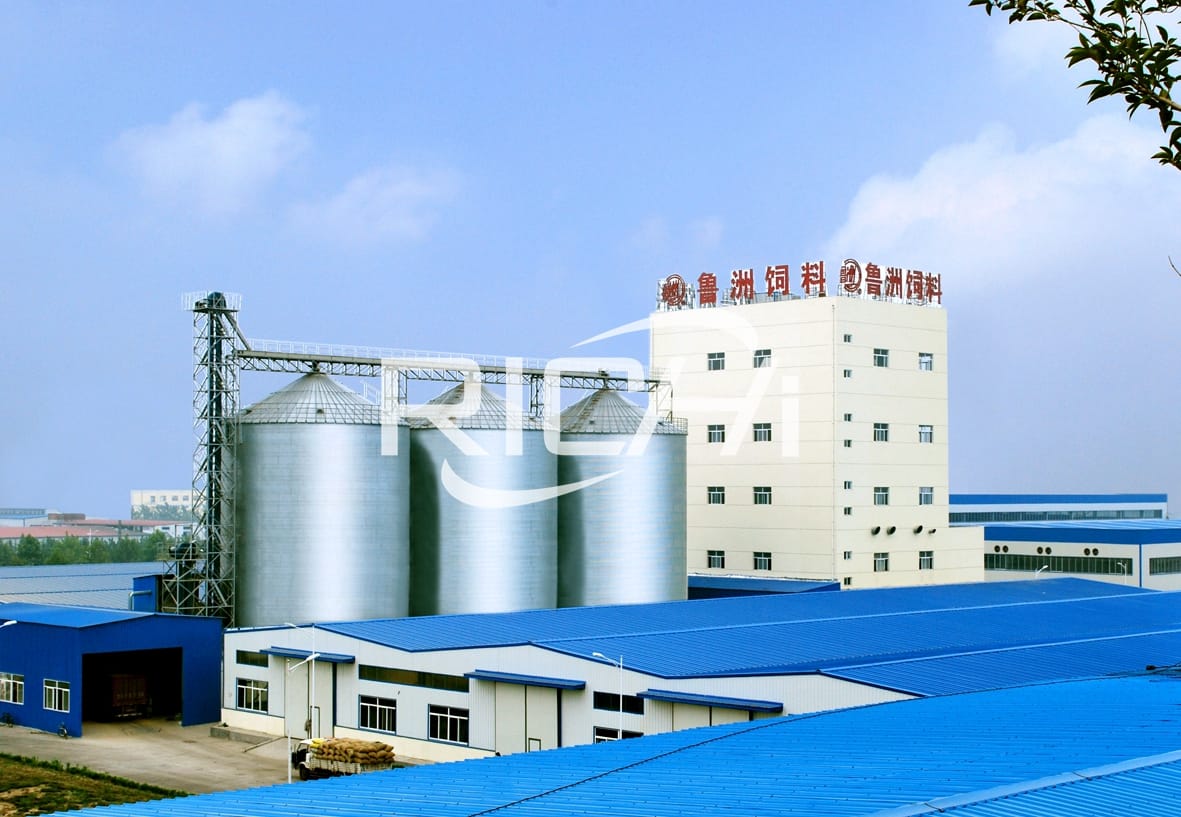 (2)Choosing A Suitable 1-20TPH Poultry Animal Feed Pelletizer Machine For Your Own Poultry Chicken Feed Manufacturing Line
①CE ring die 1-2 ton per hour animal poultry chicken feed pellet milling machine for sale
Capacity: 1-2Ton/Hour
With on-site electric control cabinet
Siemens motor, SKF bearing
Size of Conditioner: Length 1800mm* Diameter 220mm
Rang of Final pellet: 2-8mm
Ring die inter diameter: 250mm
1-2TPH China supplier poultry animal pellet mill price: 7000USD-10000USD
(2)CE 3-4 ton per hour animal poultry feed pellet manufacturing machine for sale
Capacity: 3-4Ton/Hour
With on-site electric control cabinet
Siemens motor, SKF bearing
Size of Conditioner: Length 2000mm* Diameter 273mm
Rang of Final pellet: 2.0-10m
Ring die inter diameter: 320mm
3-4TPH Poultry animal feed processing pellet machine price:16000USD-20000USD.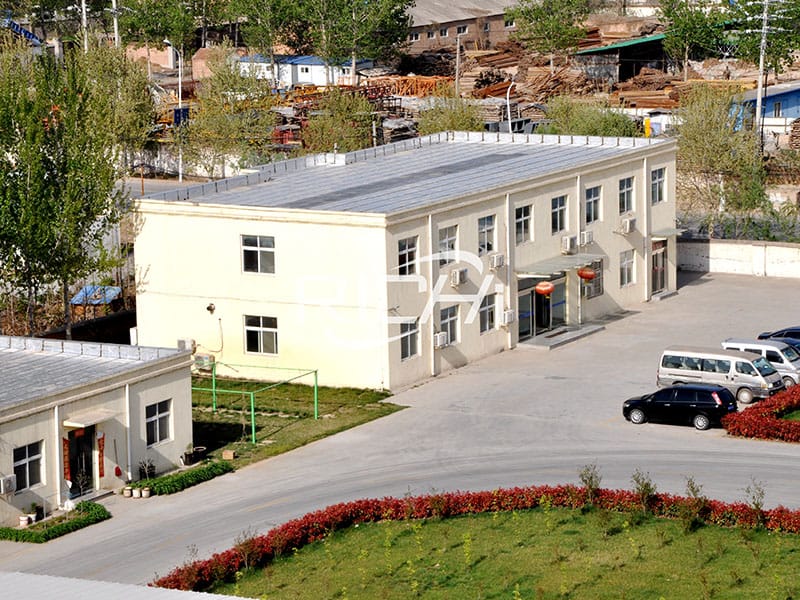 (3)CE certificate 5-7 ton per hour boiler chicken poultry granule feed pellet mill machine for sale
Capacity: 5-7Ton/Hour
With on-site electric control cabinet, oilding machine
Siemens motor, SKF bearing
Size of Conditioner: Length 2000mm* Diameter 350mm
Rang of Final pellet: 1.5-12mm
Ring die inter diameter: 350mm
5-7T/H pellet mills for poultry animal feed production price:22000USD-30000USD.
(4)CE ISO approved 8-12 ton per hour pelletizer of ring die to make animal poultry feed for sale
Capacity: 8-12Ton/Hour
With on-site electric control cabinet, oiling machine
Siemens motor, SKF bearing
Size of Conditioner: Length 3000mm* Diameter 380mm
Rang of Final pellet: 1.0-12mm
Ring die inter diameter: 420mm
8-12TPH chicken poultry feed mill equipment of pelletization price:31000USD-40000USD.
(5)CE good performance 15-20 ton per hour good performance animal poultry chicken feed pelleting machine for sale
Capacity: 15-20Ton/Hour
With on-site electric control cabinet, oilding machine
Siemens motor, SKF bearing
Size of Conditioner: Length 3000mm* Diameter 380mm
Rang of Final pellet: 1.0-12mm
Ring die inter diameter: 520mm
15-20T/H poultry chicken feed pellet press maker price:44000USD-50000USD.