How To Design Complete 1-10 Ton Per Hour Poultry Chicken Feed Pellet Production Line For Feed Mill?
2020-12-16 Back to List
If you are looking for related products or have any other questions, please feel free to contact us.
Contact Us
The complete 1-10 ton per hour poultry chicken animal feed processing plant refers to the equipment of the processing from the material initial state until the finished product of the feed pellets, composed of poultry feed pellet production device. Richi Machinery is a professional poultry animal feed making machine plant manufacturer, this article will introduce how to design a 1-10tph poultry chicken broiler animal feed pellet making plant in detail.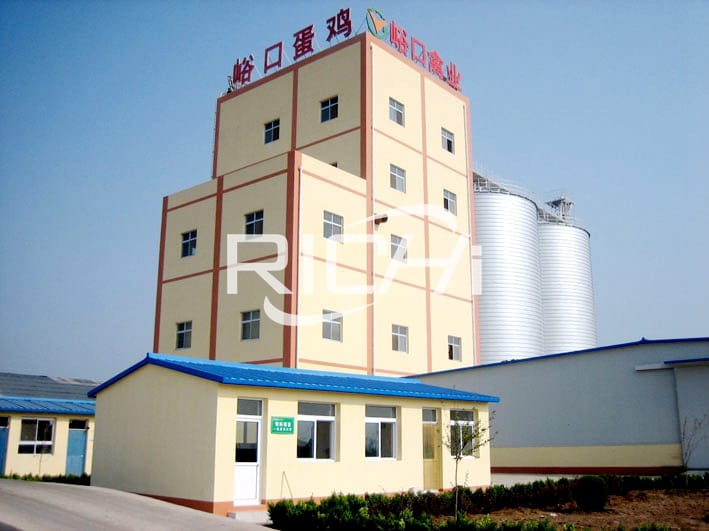 1.Introduction of 1-10tph computer control poultry chicken feed plant for processing animal feed
Generally, all aspects of the 1-10 ton per hour fully automatic poultry feed plant are clear. Chicken poultry feed manufacturing machine usually include poultry feed grinding equipment, poultry feed pelletizer equipment, conveying equipment, cooling equipment, screening equipment, packaging equipment, other auxiliary equipment, and so on. It is mainly designed according to the customer's raw material conditions, chicken poultry feed mill plant size, and customer requirements, thus forming a reasonable and practical poultry feed production line with 1-10 ton production capacity. Generally, before the customer prepares to invest in the poultry feed line project and design poultry pellet production line. The design plan will base on the information such as the poultry feed plant area and the time production volume of the poultry chicken feed production line, thereby giving certain technical guidance.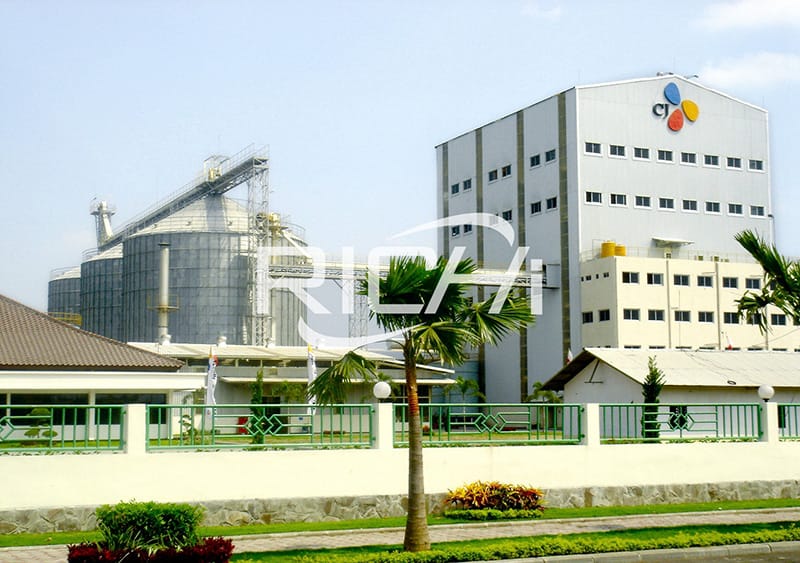 2.How to design a 1-10t/h chicken feed pellet production machine line for poultry feed?
(1)Determine the processing scale of the complete poultry feed pelletizing production line.
(2)Determine the feed processing technology and select related animal feed manufacturing machine of poultry feed plant 1-10tph capacity.
(3)The choice of control mode.
(4)The choice of poultry feed pelletizing plant structure form.
(5)Plan the general plane of the poultry feeds line.
3.How To Make Poultry Chicken Feed Pellets In 1-10T/H Animal Poultry Feed Processing Plant?
Animal performance and feed efficiency benefit from good quality poultry feed pellets. The better the pellet, the better the performance. Reduced waste, less segregation in the feed, improved palatability, and shorter eating periods-all of these feed pellet merits are brought by 1-10tph poultry chicken feed pellet mill for poultry feed plant.
Richi Machinery is a reliable animal feed pellet making machine manufacturer and supplier from China, which is offering a wide range of low cost animal feed production line machines. We also supply complete multi functional animal feed plant with 1-100 ton per hour capacity and have many successful animal feed manufacturing plant projects around the world. Feel free to contact Richi Machinery if you would like to know more about constructing a ce good quality animal feed manufacturing plant.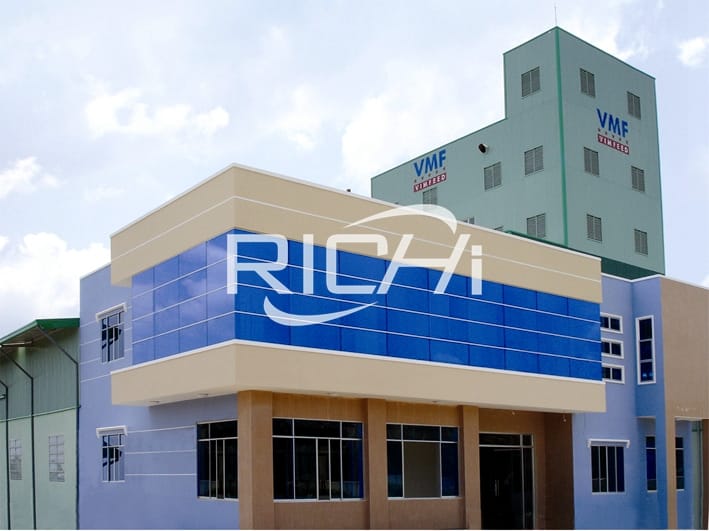 (1)Poultry Chicken Feed Pellets Raw Materials
①Cereals: maize, barley, oat, wheat, triticale, rye, and sorghum.
②Seed from oleaginous crops: soy, flax, and sunflower.
③Seed from legumes: broad beans, field bean, and protein pea.
④Forage: flours of permitted forage essences.
⑤Dried beet pulp.
Furthermore, the following substances can be used as appetizers in feed pellets:
①Carob-bean, up to a maximum of 3%.
②Molasses, up to a maximum of 3%.
Note: for animals in lactation, dry animals, and heifers from the sixth month of pregnancy, the maximum daily amount of feed pellets is 2 kg/head/day.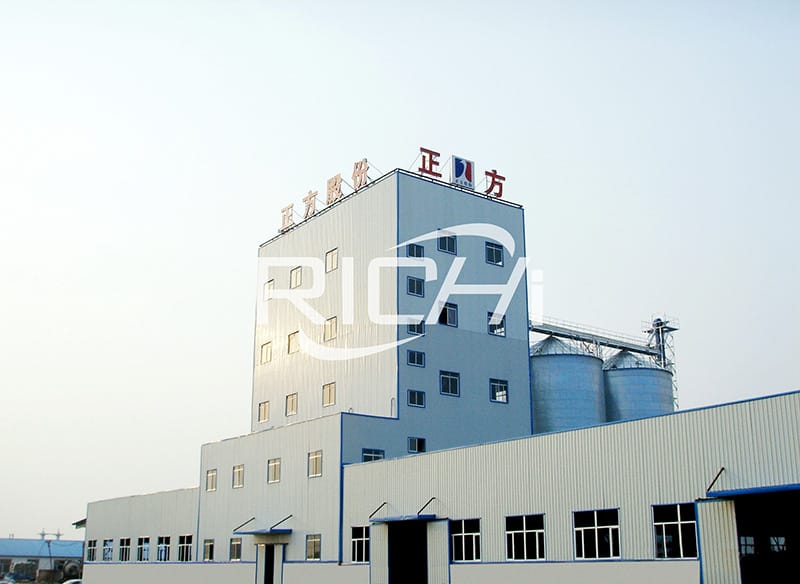 (2)1-10 Ton per hour animal feed pellet making line machine to make poultry chicken feed
Poultry feed mill equipment required in the 1-10t/h poultry chicken feed pellet producing line are as following:
①Tank (or other containers) for raw and auxiliary materials storage.
②The poultry feed hammer mill crusher(corn grinder machine for poultry chicken feed) for grinding the raw materials to feed powder.
③Poultry feed mixing machine used to mix powdered materials to improve the uniformity of the ingredients.
④Poultry feed pellet milling machine (poultry feed pelletizer) is the main equipment for making the poultry chicken duck goose feed pellets. For 1-10 ton per hour capacity poultry animal feed mill factory, we supply ce high quality ring die poultry feed pellet making machine design for poultry feed factory and big poultry farms. If you plan to buy a poultry animal feed pellet production machine, you can tell us your capacity requirement, then our salesman will give you a good recommendation.
⑤ Feed pellet cooler is used to cool the hot and moisture feed pellets, if your poultry feed production capacity per day is not so much, you will not need this poultry pellet cooler, just dry the pellets in the sun is OK.
⑥ Feed pellets screening and grading machine is used to remove the fines and grade the pellets, which is the preparation for packaging.
⑦Feed pellet weighing and automatic packaging machine are used to weigh and pack the pellets in the uniformity. If making cpoultry chicken feed pellets for your own farm, you can choose to store the pellets in a dry container instead of buying a packing machine, while for an automatic poultry feed pelletizing plant, the weight and packing machine is necessary.
⑧Other auxiliary machines (conveyor, lifter, etc.). Usually used in an automatic 1-10tph poultry animal feed pellet production line.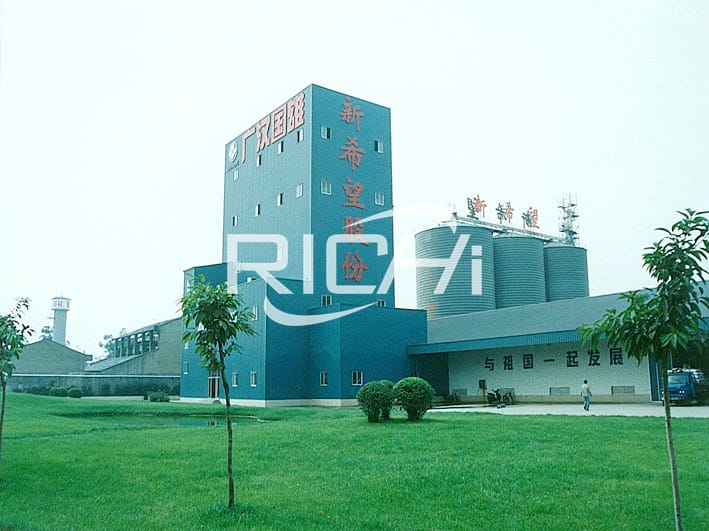 (3)Two Points That Should Pay Attention To Complete 1-10TPH Poultry Feed Pellet Making Plant
①Mixing uniformity. The premix feed requires high uniformity because most of the active ingredients are trace elements and vitamins, and some of the ingredients in the feed account for only one in 100,000. Therefore, the uniformity of the premixed feed is required to avoid excessive or too little intake of trace components. When the mixed unevenly feed processed through the poultry feeding plant, the trace components of the processed compound feed are not evenly distributed, which does not meet the growing needs of poultry.
②Residual amount. It causes unevenness between each batch of feed. The premixed feed spirally conveyed to the bottom of the package through the auxiliary box to participate in the mixing. On the one hand, the spiral rotates at a high speed, so that the components with a large specific gravity such as minerals thrown away from the axis and cannot mix. Because of the large centrifugal force. On the other hand, the side gap of the spiral is larger. Therefore, each batch of feed will not completely remove, and there will be a large residue.
Due to the inaccurate operation procedure, the residual amount of each batch of feed is different, therefore, it directly affects the content of each component in the next batch of materials. If the animals are found to lack trace elements or vitamins in the farm, in addition to checking the reasonableness of the feed formula and the quality of the various raw materials. Whether the choice of the feed production line is reasonable that should pay special attention.
Choosing a suitable 1-10 ton per hour ring die poultry feed pelletizing production line and using it properly will significantly improve the quality of the poultry feed. It will soon reflect a benign effect in the poultry feed pelleting line production process. If you can further master the technology of making feed pellets, you can also greatly reduce the cost of materials, thereby increasing profits.