How To Choose A Suitable CE 1-10 Ton Per Hour Chicken Poultry Feed Pellet Making Machine?
2020-12-08 Back to List
If you are looking for related products or have any other questions, please feel free to contact us.
Contact Us
CE 1-10 ton per hour good performance poultry chicken feed pellet mill machine widely used in large, medium and small aquaculture, big livestock farms, large scale poultry farms,large, medium and small feed processing plants.
Richi Machinery mainly produces 1-10t/h commercial poultry feed pellet mills such as 5t/h feed pelletizer of ring die to making animal chicken feed, chicken poultry feed pellet milling machine 1-3 ton per hour, 10 ton capacity pellet mills for poultry chicken feed production. As well as supporting corn grinder for chicken feed, conveyor, cooler machine, and other equipment. If you want to build your own 1-10t/h chicken poultry feed pellet production line, please feed free to contact Richi Machinery.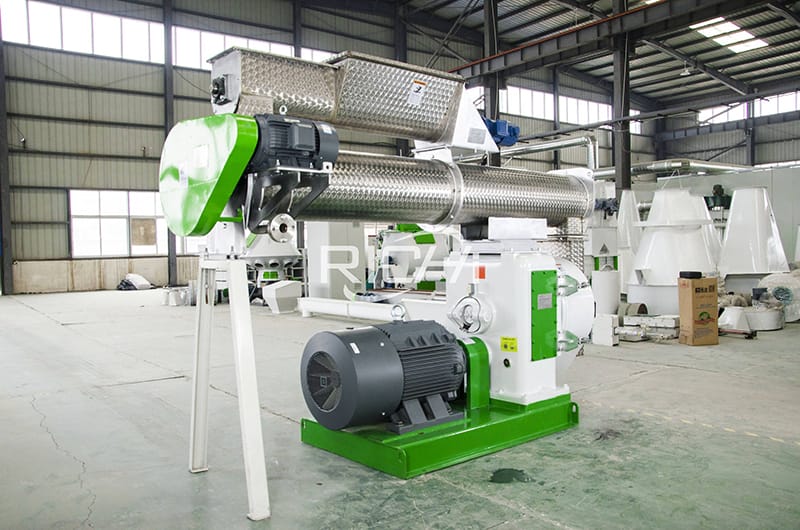 1.Main performance characteristics of 1-10tph ce good quality poultry chicken feed making machine
(1)Simple structure, wide adaptability, cover small area, and low noise.
(2)Powder feed or grass powder can be pelleted without adding or adding a little liquid, so the moisture content of the pelleted feed is basically the moisture content of the material before pelleting, which is more conducive to storage.
(3)Dry material processing.The feed pellets have high hardness, smooth surface, and mature inside, which can improve the digestion and absorption of nutrients.
(4)Feeding chicken, duck, fish, etc. with pellet feed can get higher economic benefits than mixing powdere feed.
(5)The pellet formation process can denaturate trypsin resistance factors in grains and legumes, reduce the adverse effects on digestion, kill various parasitic worm eggs and other pathogenic microorganisms, and reduce a variety of insect and digestive system diseases. animal feed pellets
2.How To Choose A Suitable Chicken Poultry Feed Pelleting Machine 1-10 Ton Per Hour With CE
How to choose a fully automatic 1-10 ton per hour capacity chicken poultry feed making machine is a concern for each 1-10t/h poultry chicken feed mill factories. Now take the ring die chicken poultry feed pellet processing equipment as an example.
Select the 1-10 ton per hour electric poultry chicken feed maker machine according to the feeding object adopted different feed pellet formula. Such as broiler, layer,duck, goose, and so on. Among them, the feed pellets for broiler and laying hen contain more concentrates feed. When the diameter of the feed pellets same, a thicker "die plate" generally used, and a "thin" die plate is used for duck and goose feed pellets. This is because when there are more "fine" feed pellets, the pressing resistance is smaller and the power consumption is less.
(In general, when raising feed pellets for rabbits and sheep, the proportion of grass powder accounts for 50% -60% of the total feed. When grass powder pressed and extruded in the "die plate" hole, the resistance is large and the power consumed is also large.)
The pellets made through the animal feed mill have a smooth appearance, moderate hardness, a crushing rate of less than 4%, and a feed moisture content of less than 10%.
During the pressing process of the 1-10tph poultry chicken feed pelletizer, the temperature of the pellets exiting the machine should be about 60℃, which can be ripened deeply and should not exceed 80℃. Otherwise, various trace elements added during the pelletization process will suffer losses. Unable to guarantee the need for livestock feeding.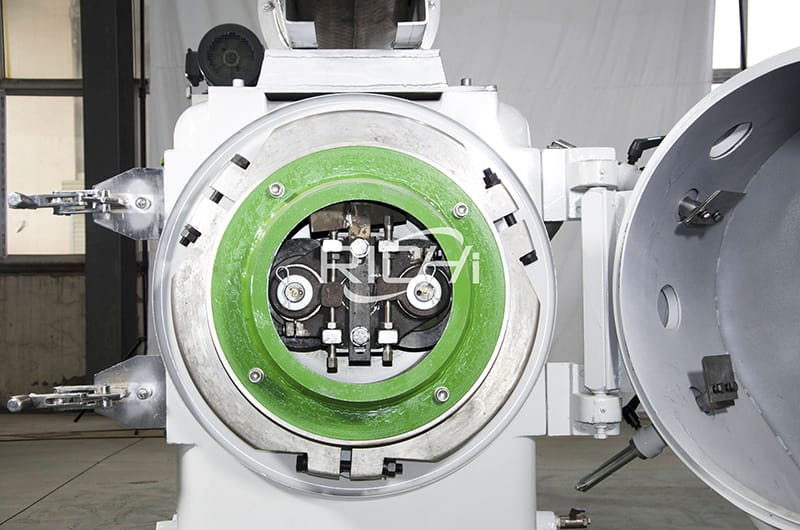 2.Talk about 1-10t/h best pellet machine to use for poultry chicken feed making
With the progress and development of the breeding industry, there are more and more poultry feed plants,poultry farms and chicken farms. However, no matter for small and medium-sized farms or large farms, feed pellet is the most important part of the poultry chicken feed manufacturing plants and farms. While many farmers purchase full-price feed, they also wonder whether their farms can save costs to make feed themselves, so poultry chicken feed pellet processing equipment has gradually become popular. Large-scale poultry chicken farms choose to use Industry Animal Feed Pellet Plant or powder machinery equipment, while small and medium-sized farms will also choose to use 100-1000kg/h animal poultry feed pellet making plant or a single poultry feed pellet milling machine. Among the many poultry chicken feed line equitments, the 1-10t/h pelletizer machine for making chicken food has a higher utilization rate.
Generally speaking, the 1-10 ton capacity poultry chicken feed pellet press divided into two categories, one is ring die poultry feed pelleting machine 1-10 ton per hour, the other is flat die poultry feed pelletizing machine 100-1000kg/h. Below introduce these ring die poultry chicken pellet machine and flat die chicken feed pellet maker machine.
(1)Ring die poultry chicken feed maker
Ring die feed pellet machine to manufacture chicken pellet feed generally used for large-scale farms and poultry chicken pellet production making line. Because of its large output and high internal maturity, it can press various feed materials that are difficult to form into pellets. For example, peanut shells, wood scraps, forage, bamboo scraps, sawdust, etc., after being crushed by the poultry chicken feed grinder machine, the crushed material pushed into the conditioner through the forced feeder of the ring die poultry animal feed processing pellet machine. And then fully integrated heating with steam, the pellet feed achieves a high degree of maturation. Generally, the output of the smaller ring die feed pellet machine is 1-2 tons per hour. Commonly used larger automatic ring die poultry feed pelletizing machine makes feed pellets between 3 tons and 10 tons per hour. The suitable CE certificate poultry food animal feed pellet mills type can be selected according to the needs of customers.
(2)Flat die poultry granule feed pellet mill machine
Flat die boiler chicken poultry feed making machinery is cheaper than ring die granulated poultry feed machine. It is favored by many family farms because of its small footprint, easy to use, feed pellet has high hardness, smooth surface, internal maturation, comprehensive nutrition, and easy storage and transportation. The output of the flat die feed pellet machine also varies from 80kg to 1000kg per hour.
From the perspective of the majority of farmers, the animal poultry chicken feed mill plants not only helps the farmers save the cost of breeding, but also increases the economic profit.