How Does 5TPH Multi-functional Animal Feed Pellet Mill Machine Make Straw Pellets For Cattle Cow She
2020-12-07 Back to List
If you are looking for related products or have any other questions, please feel free to contact us.
Contact Us
5TPH multi-functional animal feed pelletizing machines widely used in ruminant feed processing plants, livestock feed lines, poultry feed mill plants, individual farmers, and medium-sized farms,large scale farms. At present, the 5 ton per hour pellet machine for animal feed widely used in 5 ton per hour animal feed pellet manufacturing plants and big farms due to its unique advantages. It has brought huge economic benefits to many customers.
Those common crop wastes such as corn stalks will become ruminant cattle sheep feed pellets as long as they are properly used. Here's how to process straw into pellets for cattle, sheep, and rabbits.The straw hay forage feed pellet production machine has a simple operation process, easy to use, save material, and safety.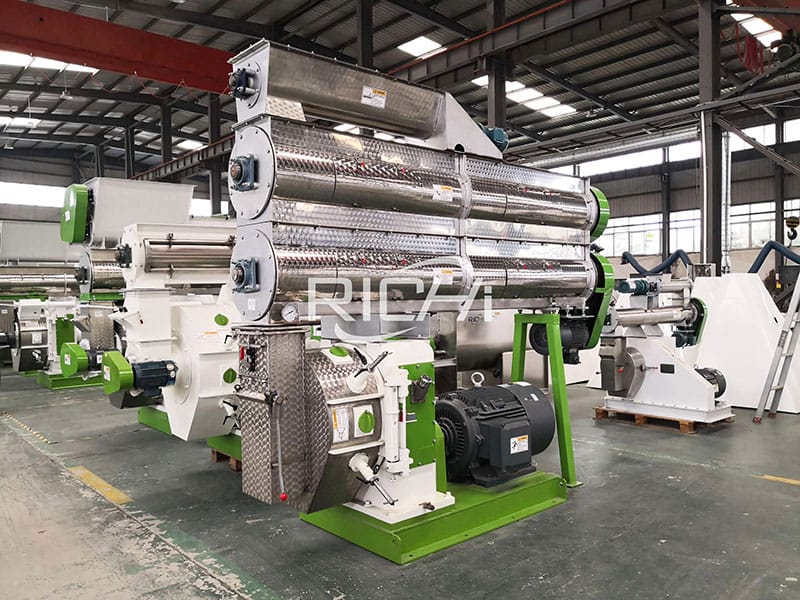 1.How to make straw pellet for ruminant animal cattle cow sheeps by 5t/h good performance cow sheep feed pellet mill?
(1)Collection Of Raw Materials
Corn, sorghum, and other crops contain a lot of moisture in the straw. If they are not dried, the fibers in the straw will have toughness because of the moisture, and it will be very difficult to crush them. The powder will stick into a paste and stick to the inside of the 5tph cattle feed pelletizer machine, affecting the operation of the device.
(2)Crushing Raw Materials
The most commonly used crushing equipment in the feed industry is a multi-functional straw feed crusher, but this crushing equipment is not suitable for crushing straw. Because its main crushing component is a hammer blade, and the fiber component in the straw is easily entangled on the hammer blade. Causing damage to the equipment, so it is recommended that use a professional high efficiency corn stalk hammer mill grinder.
(3)Mixing Of The Crushed Materials
The 5t/h cattle sheep feed pellet making line production process is relatively complicated and the feeding effect is good, generally, feed pellets will be made into the complete feed. Since it is a complete ruminant animal feed, some other nutrients need to add to the original straw powder and mixed uniformly. After pelleting, it can provide comprehensive nutrition for cattle,shee,rabbit,poultry and livestock. Speaking of straw powder feed gmixing machine for animal cattle sheep feed, small sized cattle sheep feed mill factories are suitable for economical vertical feed mixers. Larger cow cattle feed mill processing plants generally use big capacity animal feed mixer,like large-volume twin-shaft horizontal cattle feed mixers.
(4)Choosing a ring die cattle sheep feed pellet manufacturing machine 5 ton per hour to make staw pellets
The 5 ton per hour cattle sheep feed pelletizing equipment can heat the material, so that the ruminant animal pellet feed produced has a rich paste flavor. At the same time, the nutrients in the feed can be more easily absorbed. Of course, small farms can also choose this kind of pellet making machine for producing cattle feed, because the small models in this series are also suitable as flat die straw feed pelletizer machines. The straw is also rich in nutrients needed by many animals. As long as it is used reasonably, it will bring considerable economic benefits.
RICHI 5 ton per hour ring die straw grass pellet making machine equipment for animal cattle sheep feed has a variety of aperture molds to adapt to the pelletization of different materials to achieve the best results. We can also customize the multi-functional animal cattle sheep rabbit ruminant feed pelleting machine according to customer requirements. We hope this aritcle can help you to know more about pelletization, if you want to build your own animal feed pelleting line, please contact Richi Machinery—a China professional cattle sheep straw feed pellet mill supplier.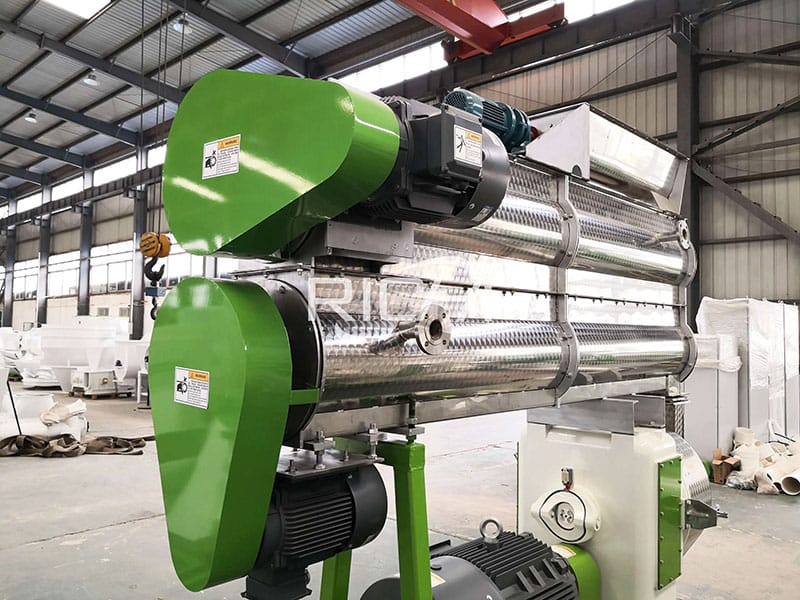 2.Introduction of RICHI 5t/h ce approved cattle sheep feed compress pellet making machine
(1)Parameters of high quality cattle sheep feed pellet mill machine 5 ton per hour
Model:SZLH350 ring die cattle feed pellet mill with CE
Capacity:5-7T/H
Main Power:55KW
Pellet size:5.0-8.0mm with straw grass in recipe
(2)RICHI with Longlife guarantee 5 tons per hour feed pellet milling machine for making cattle sheep feed has the following advantages:
①High production capacity, low price, and low power consumption.
②The raw material has wide adaptability, this machine is suitable for the molding of various biomass raw materials. Straw from powder to a few millimeters, moisture content 5- 30%, all can be processed.
③Electric heating function, fully automatic electric heating device. It can adjust the dryness and humidity of the raw material, solve the problems of blockage and non-forming.
④The auto-adjusting function of the pressing wheel automatically adjusts the pressure angle. Using the principle of two-way rotation of the thrust bearing. So that the material is not crowded and not stuffy, and the stability of the material forming is guaranteed.
⑤ Simple operation, convenience, a high degree of automation, less labor, manual feeding or automatic feeding by conveyor machine can be used.
⑥RICHI 5tph ce ring die straw fodder processing equipment has high hardness, smooth surface, and good internal maturity. Which can improve the nutritional digestion of poultry and kill pathogenic microorganisms parasites. It is suitable for raising rabbits, fish, ducks, goose, cow, sheep, and other animals. Higher economic benefits than mixed cattle sheep powder feed.
⑦RICHI 5t/h ce iso ring die cattle sheep straw food pellet maker machine has a variety of 2.5 ~ 8mm aperture mold. It can adapt to different materials for granulation and achieve customer satisfaction.
⑧ Richi Machinery ensures the pressing effect. Compression molding of corn straw and other materials requires a lot of pressure. In similar pelletizing equipment, the roller part is the center part of the entire equipment. Fusmar uses high-quality alloy steel, which not only improves work efficiency, but also extends service life.
⑨5 Ton per hour customized complete animal cattle cow sheep feed pellet production line processing flow: crushing-transport-pellet making machine forming-finished feed pellets.
Richi Machinery is a professional cattle sheep pellet feed processing equipment manufacturer, such as large straw feed pellet press machine for cattle sheep, medium straw feed pellet machine for cow sheep feed making, Our pelletizer equipment for animal feed can cover all customer needs, please feel free to contact us!