Cost of making 1 ton wood pellets on 1-1.5ton per hour complete wood pellet production line?
2020-12-01 Back to List
If you are looking for related products or have any other questions, please feel free to contact us.
Contact Us
How much does it cost to produce 1 ton of biomass wood fuel pellets? Today, we will explain in detail the cost of producing 1 ton biomass wood sawdust pellet through a 1-1.5 ton per hour high quality ce biomass wood pellet processing line from one of RICHI customers. (Calculated in Chinese electricity price,calculated in RMB)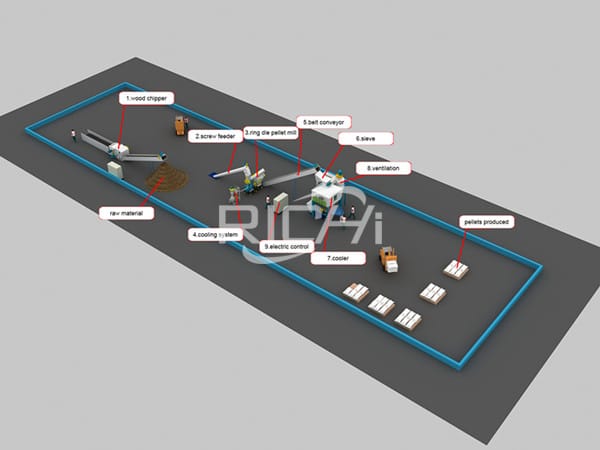 (1) Cost 1:
Total power of wood chipper shredder mulcher: feeding belt motor 1.5kw+ main motor 45kw+ discharge belt motor 1.5kw=48KW/H
Energy consumption calculation: 48KW*0.75=36 kWh/h, the electricity fee is 1 yuan, and the electricity consumption is 36 yuan,
As the commercial drum wood chipper machine produces 4-6 tons per hour, 5 tons of intermediate data are used for calculation.
So, the overall cost: electric energy consumption 80 yuan + abrasive tool loss 4.5 yuan + pressure roller loss 2.5 yuan = 87 yuan
Because the moisture content is 40%, the moisture needed to make biomass pellet fuel is 15%, so 5 tons of raw materials are equivalent to 3.3 tons of qualified moisture, 36 divided by 3.3 = 10.1 yuan/ton.
(2) Cost 2:
Good quality 55kw wood hammer mill for sawdust, feed belt conveyor 1.5KW+55+3+11=70.5KW
70.5*0.7=49 kilowatt-hours of electricity, the same 40% moisture raw material is converted into 15% raw material, which is equivalent to a ton of electricity consumption of 49 kilowatts * 1 yuan = 49 yuan.
(3) Cost 3:
Total power of the factory price ce wood sawdust drying equipment: 16.3kw*0.75=12.2*1 yuan=12.2 yuan power consumption.
The hot air stove needs to burn 50 kg wood per hour.
According to the raw material cost of 300 yuan per hour divided by 1000kg*50=15 yuan.
The overall cost of the drying stage is: 15+12.2=27.2 yuan.
(4) Cost 4:
Power of high performance 90 kw wood pellet machine for biomass fuel pellets: 90+1.5+1.5+1.5+0.37=94.87kw*0.9=85.3 kWh.
Since the output is 1-1.5 tons/hour, take a conservative value: energy consumption is 80 yuan.
The service life of abrasive tools: 1000 hours*1.2 tons/hour=1200, the price of abrasive tools is 5500 divided by 1200=4.5 yuan/hour
The pressure roller is based on two abrasive tools and three sets of pressure roller shells, 1200 tons*2 divided by 3=800 tons/set, and the pressure roller shell is 2000 yuan per set divided by 800=2.5 ​​yuan/ton.
(5) Cost 5:
Cooling section: Total power: 12.75KW*0.7=8.9 kWh*1=9 yuan.
(6) Cost 6:
Packaging cost. Packaging cost For bulk users, this cost can be omitted if a special tanker is used for bulk supply.
Usually, small and medium-sized users must be packaged to avoid loss and moisture during transportation. Tons of bags can be recycled, or you can ignore this cost.
In China, 25kg packaging bags are usually used, 40 packaging bags are needed per ton, and the unit price is RMB 0.55. The packaging cost is:40×0.55=22 yuan/t
(7) Cost 7:
Labor cost. This production line requires 4 laborers, based on 100 yuan a day/person (there is a difference if it is lower than that),
One day is 400 yuan, and the 10-hour output is 12 tons (conservative output) 400 yuan divided by 12=33.3 yuan/ton
Total cost: 10.1+49+27.2+87+9+22=204.3 yuan (excluding 1-1.5t/h wood fuel pelletizing plant lease and other costs)