New designed 1-1.5 ton per hour wood pellet mill with manufacturing price for sale
2020-09-25 Back to List
If you are looking for related products or have any other questions, please feel free to contact us.
Contact Us
Today,we'll talk about "New designed 1-1.5 ton per hour wood pellet mill with manufacturing price for sale".
More and more industries are discovering the advantages of pelleting. The application possibilities of wood pellet mills in today's process industries are virtually endless. In addition to animal feeds, other materials being pelleted by RICHI customers include woods, wood chips, wood shavings, hemp, sawdust, EFB, chicken manure, waste tire textile, rape straws, rice bran, peanut shell, coffee husk, organic fertilizer,cottonseed hull, bamboo,sunflower stalk, alfalfa grass, sugarcane bagasses,palm kernel shell,to name just a few.
As the largest wood pellet mill machine manufacturer in central and western China, RICHI has led the way in developing specialised 1-1.5 ton per hour biomass wood pellet mills and dies to make pelleting both practical and economical while enhancing product value and manageability.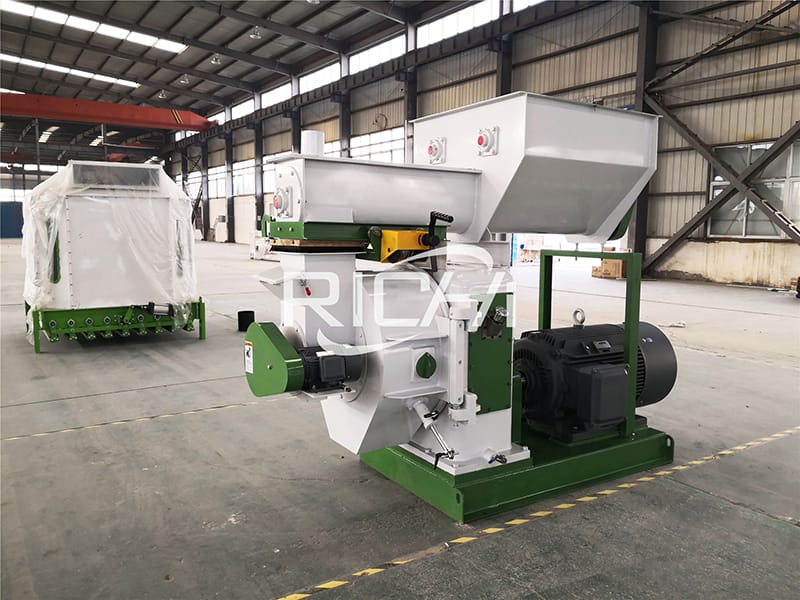 1.Parameter of 1-1.5 ton per hour hot selling ce wood pellet mill making machine
Model:MZLH420 ring die wood sawdust pellet mill
Capacity:1000-1200 KG/H
Size: 2800*1150*1730 MM
Anti-caking Feeder Power:1.5KW
Forced Feed Power :0.55 KW
Pellet Machine Power: 110KW
Final Pellet :6-12mm
Weight : 4000KG
2.High quality 1-1.5t/h wood pellet mill machine features
Many proven and innovative features can be found in RICHI hot sale 1-1.5 ton per hour biomass wood pellet mills including lineator remote roller adjustment, powered die and roller hoist, easy mountable segmented die clamps. All this features makes RICHI 1-1.5 ton per hour ring die wood pellet mill, one of the most user friendly ones, around.
(1)RICHI Lineator Remote Roll Adjustment
The development of the remote roller adjustment type RICHI Lineator has lifted pelleting technology to another level. The RICHI Lineator makes it possible to control the distance between roller and die surface. The compact and reliable design of the RICHI Lineator provides a swift, accurate and safe roller adjustment during the wood pelleting process.
(2)Pellet Durability
The RICHI Lineator makes it possible to change the roller gap distance during production. Controlling the product layer between rollers and die provides a precompression and can as such provide a better pellet quality.
(3)Quality
The no compromise design, robust efficient direct gear drive, constructed with the highest quality bearings, ensures long life trouble free low maintenance performance.
(4)Efficient
Most efficient feed distribution with dual rollers and ring die, makes the process less sensitive for moisture and increases user friendliness.
(5)Reliable
Shear pins are designed with a safety micro-switch for prompt shutdown, protecting machine from tramp metal damage. They can be easily and quickly changed.
(6)User Friendly
Changing of die is an easy job on a RICHI new technology 1-1.5 ton per hour wood pellet mill, as the die is accessible outside the gearbox and easily clamped. With the new designed "bearclaw" clamp, now the die can be de-mounted without removal of clamps from the quill flange.
(7)Robust and Up to Date
Anticipation of customer requirements and developments with the industry maintains a lively innovation process at RICHI. Because of this, RICHI 1-1.5t/h ce good stability wood pellet mill can nowadays also be supplied with pneumatic remote controlled knives, pneumatic die hoist and many other features.
3.Building a 1-1.5 ton per hour China professional wood pellet line for wood waste
This good feedbacke 1-1.5 ton per hour wood pellet mill often works with easy to operate high quality wood hammer mill, good quality rotary drum dryer, conveyor and other auxiliary machines as a whole biomass wood pellet making plant. The processing steps of the biomass wood pellet mill production line is like below:
Biomass raw materials → grinding → drying(also can in the sun)→ pelletizing → cooling → piling up(packing) → leaving factory.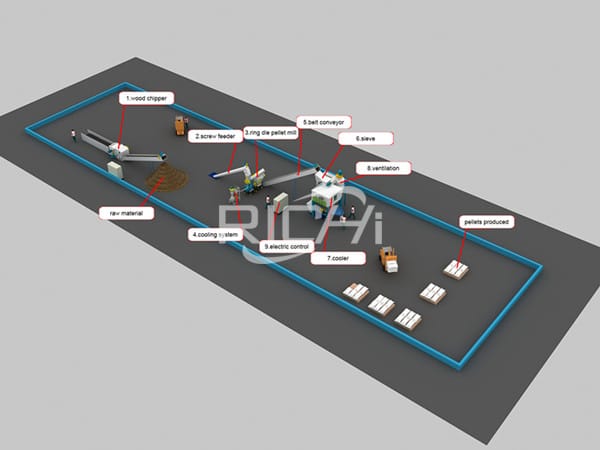 4.Why choose 1-1.5 ton per hour biomass wood pellet granulator machine from RICHI China?
The biomass fuel pellets produced by this 1-1.5tph wood pelletizer machine is a new kind of reproducible and environment-friendly fuel, which has the advantages of cleanness, high calorific value and high combustible rate, etc. It can be used in furnace, boiler, electric stove and so on. Besides, in many areas, it can be a substitute goods of coal and natural gas. The formed biomass fuels can be also carbonized into charcoal to meet the requirement to high standard energy of people.
(1)Innovative engineering and design have been combined with the latest manufacturing technology to provide the higest quality pellet mills in the world with the best wood pellet production levels ever achieved, along with excellent pellet quality.
(2)RICHI provides the best equipment, dies, rolls,parts and services which together represent the lowest operating cost solution to our customers.
(3)Simply stated, RICHI offers you the best value package. Your RICHI representative is a professional with thorough knowledge of your local conditions and processing methods. He will help you obtain maximum efficiency from your biomass wood pelleting line process.