Design of China high return 5-6 ton per hour customized biomass wood pellet manufacturing line
2020-11-30 Back to List
If you are looking for related products or have any other questions, please feel free to contact us.
Contact Us
Take our China factory supply 5-6 ton per hour customized biomass wood pellet manufacturing line project as an example, let's talk about the design and overall planning of the China factory offer new design 5-6 ton wood pellet manufacturing line. (This article is based on China's biomass pellet market and the price is estimated in RMB)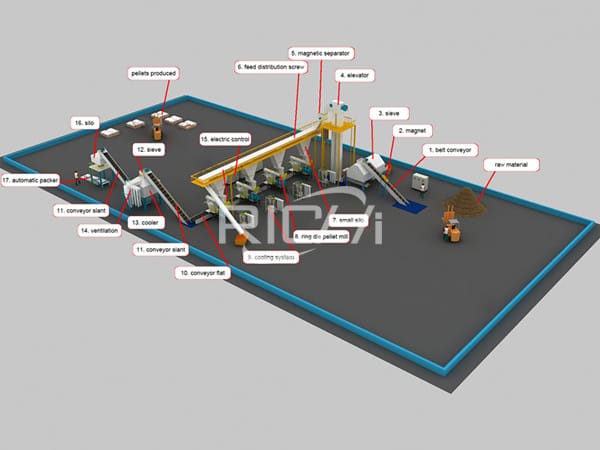 1.New type 5-6 ton per hour customized biomass wood manufacturing pellet production plant overall planning
This hot selling in turnkey wood pellet line 5-6 ton per hour covers an area of ​​5121 square meters and a building area of ​​2088 square meters, including a production workshop area of ​​1044 square meters, a raw material warehouse of 500 square meters, and a finished product warehouse of 500 square meters. It is planned to design a total of 2 sets of 768 ring die type biomass wood pelletizing machines. The total installed capacity is 620KW, using a 650KVA transformer for power supply, and the investment in mechanical equipment is about 2 million yuan.

2.Process flow of ce high quality automatic wood pelletizing line with 5-6tph capacity
In order to make full use of the raw materials in the customer's location, this on selling good complete 5-6tph wood pellet processing line is mainly divided into three parts:
(1) Raw material cleaning: The waste foam, wood chips, and bark produced by the furniture factory or wood factory pass through a special raw material conveyor to remove iron and enter the raw material cleaning screen to remove large chunks, rope ends, etc., Then the iron, steel, etc. are removed by strong magnet, and then lifted and transported to the broken arch warehouse for granulating.
(2) Granulation workshop: The raw materials that meet the moisture requirements are transported by the fan into a dedicated granulation warehouse for granulation.
(3) The granulated material passes through a skirt belt conveyor to the cooler. After the material is cooled, it is sent to the grading screen by the belt conveyor for screening. The biomass wood pellets that meet the requirements enter the finished product warehouse, and the powder enters the raw material warehouse from the recycling system to be re-granulated.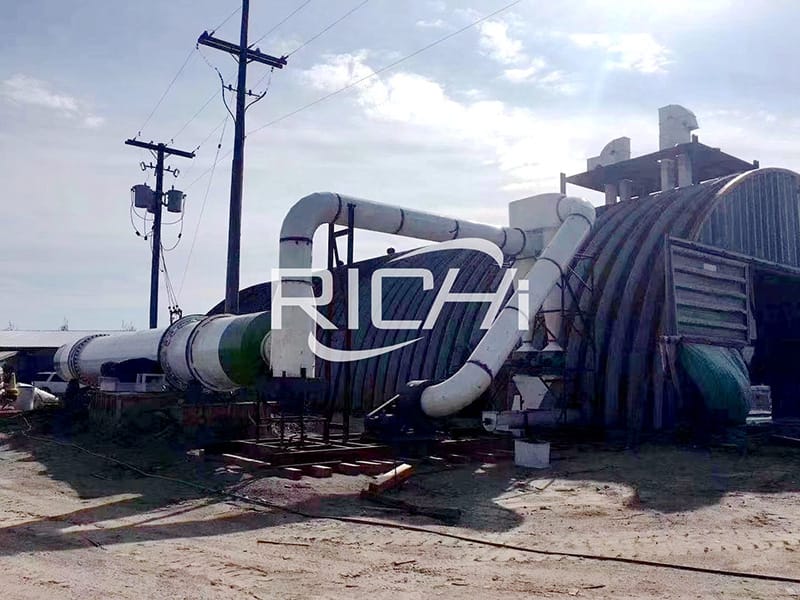 3.Advantages of China hot sell good quality ring die wood pellet press machine for high return 5-6tph biomass wood pellet making line
(1) The wood sawdust pellet making machine is the main machine for pressing biomass pellets. It is suitable for large and medium-sized factories and can produce 2.5-3 tons of wood pellets per hour;
(2) The wood pellet press making machine has the characteristics of compact structure, beautiful appearance, high output, low power consumption, convenient use, reliable work, etc.;
(3) The hollow shaft, main shaft and gear shaft use world-class SKF bearings;
(4) The ce certificate wood pellet mill is equipped with dies with various apertures of φ6, φ8 and φ10, which users can choose according to different needs;
(5) The ring die wood pellet pressing equipment adopts frequency conversion motor for feeding, with overload protection device and external discharge mechanism; the feeder and conditioner are separately configured to ensure the stable current of the host;
(6) Aiming at the characteristics of high temperature and humidity in the wood pellet granulating chamber, the good feedbacke ring die wood pellet mill is equipped with a special steam exhaust system.
(7) Equipped with an automatic lubricating oil filling machine to ensure to maximize the service life of the main shaft and roller bearings of the main machine. The stable performance wood pellet mill has a continuous 24-hour uninterrupted production capacity;
(8) The moisture absorption and cooling system with unique technology ensures that the host can play its production efficiency under any circumstances.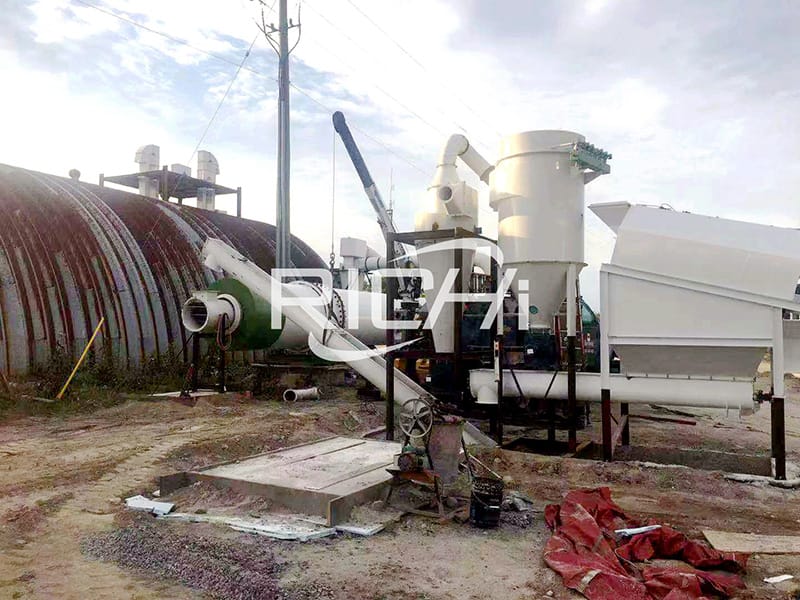 4.Advantages of easy to handle professional factory directly offered 5-6tph wood pellet production line solution design
Combining years of experience in wood pellet production and the characteristics of wood pellet raw materials, RICHI best selling ce complete wood pelletizing production line for fuels energy plant has the following advantages:
(1) The purity of the raw materials is screened by the drum screen and the iron-removing strong magnet is selected to ensure the purity of the raw materials and reduce or eliminate the harm to the granulator;
(2) A broken arch bin is used in the granulating system, and the feeding blade can feed the material into the granulator, reducing the arching phenomenon and ensuring the uniform production of the wood pellet granulator.
(3) The entire 5-6 ton biomass fuel pellet producing line for wood pellets basically realizes the packaging and sealing from raw materials to pellets, and basically realizes automation, which greatly reduces the labor input. The commissioning of this complete pellet machine production line designed by Richi Machinery will realize the production of 5-6 tons of wood pellets with a diameter of 8-10 mm per hour, and an annual double-shift production of 20,000 tons of high-quality wood pellets. The production staff will be 5 people per shift. Sales can reach 20 million yuan.
5.Main machinery needed for making wood pellets in 5-6 ton per hour factory sale new design biomass fuel wood sawdust pellet production line
Machine for wood pellet line 5-6 ton per hour include:
(1)good quality wood chipper shredder for 5-6tph wood pellet plant
(2)professional manufactured wood chip dryer for wood fuel pelleting plant
(3)biomass industrial wood pellet maker machine for bioenergy pellet plant project
(4)Biomass cooler machine for wood pellet production
(5)Bagging machine for packing wood pellets
(6)Sewing machine
(8)Screener
(9)Belt conveyor
(10)U-Screw conveyor
6.Best solution customized 5-6 Ton per hour wood pellet production plant investment cost
Manufacturing price of ce good quality complete wood pellet production line with 5-6 ton per hour capacity is usually between 200000USD-600000USD.
Are you still looking for 5 ton per hour wood pellet production line manufacturer in the us?Are you still in doubt that "were can i buy a wood pellet machine in ireland"?Comprehensive wood pelletizing plant product quality, service and freight and other factors, the cost-effectiveness of purchasing a China professional wood waste pellet production line is always the highest, even if the freight is included. For reference: Up to now, in the case of RICHI biomass wood pellet making line, the longest service life has reached 20 years. In addition, according to regular return visits and follow-up records, hundreds of RICHI pellet manufacturing lines that have been sold are in normal operation, and the profitability is significant.