How to run effectively a multi functional animal feed plant with 30 tons per hour capacity?
2020-11-24 Back to List
If you are looking for related products or have any other questions, please feel free to contact us.
Contact Us
How to run effectively a multi functional animal feed plant with 30 tons per hour capacity?what's is required to start an animal feed plant with 30 ton per hour capacity?Today we will talk about the methods of constructing a 30 tons per hour animal feed manufacturing plant with multi-purpose(business plan for 30t/h animal feed processing plant ).A multi functional animal feed plant means this animal feed factory can produce two kinds of feed at least,like poultry feed,chicken feed,livestock feed,fish feed,premixed feed,cattle feed,etc.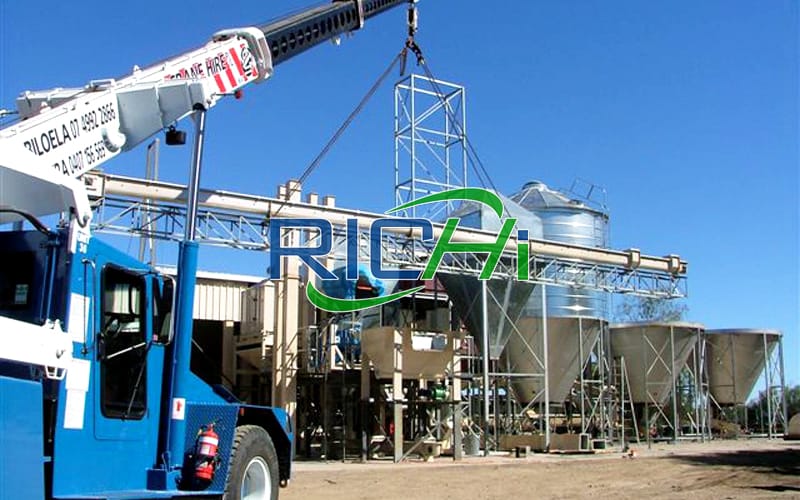 1.How to run effectively an animal feed pellet making plant?
(1) Determine the processing scale of the customized feed mill factory (it is currently known as a 30-ton feed roduction factory)
(2) Determine feed processing technology and select related equipment
● Product variety (poultry or others?), quality, and output requirements;
● Formula for feed processing;
●Production technology and equipment;
●The performance and quality of the equipment;
●Cleaning and maintenance of equipment;
●Production cost and usage cost;
●Standardization, serialization and generalization of parts;
●The construction space of the project;
●Environmental protection, fire protection and other local government requirements.
(3) Choice of 30t/h feed making plant structure
(4) Planning the general layout of the 30t/h feed making factory area
The overall layout of the feed mill varies according to the nature, scale and technological process of the feed mill. Usually: the building should account for 30-35% of the total area of ​​the factory, the roads of the factory account for 13% of the total area, and the green area should not be less than 10-15% of the total area of ​​the animal feed mill factory.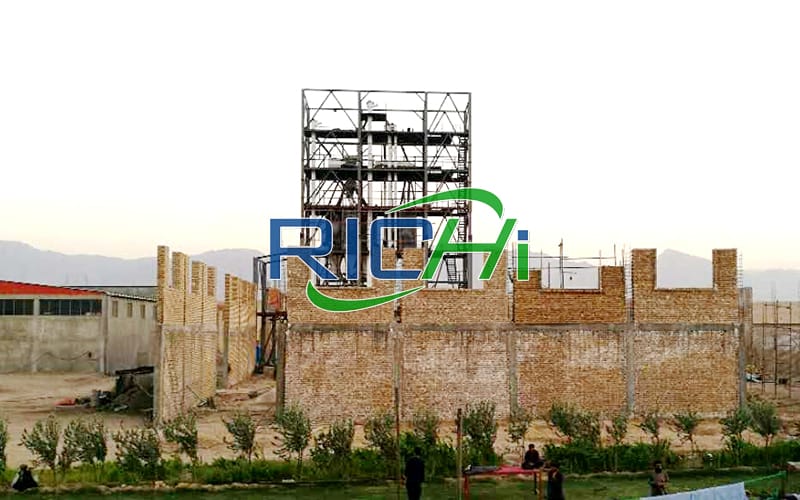 2.Best solution design 30t/h high capacity automatic complete animal feed pellet production plant and fodder processing equipment
The pellets made by the 30 ton large animal feed processing plant design and layout is of high hardness, smooth surface and sufficient internal ripening degree, which can improve the digestion and absorption of nutrition and kill the pathogenic microorganisms and other bacteria, and is suitable for raising rabbits, fish, ducks and experimental animals.
(1)Production process of Turnkey customized 30t/h automatic complete animal feed pellet line
The 30tph animal feed processing plant project manufacturing process is divided into crushing, mixing, puffing and pelletization, drying, cooling, seasoning, packaging.
①Crushing System: Raw materials are sorted and selected, and each raw material is selected in a separate cleaning system and picking system, and then crushed to the fineness required by expansion molding.(Need animal poultry cattle chicken fish pig feed hammer mill)
②Mixing System: After various raw materials are selected and crushed respectively, they are put into a mixing machine for centralized mixing, stirring evenly, and adjusting the moisture content and humidity required for expansion.(Need electric animal feed mixing equipment )
③Pelletizing: After procuring the powdery materials in the biaxial conditioning device, the feed pellets are formed by using the animal feed mill, with smooth and fine surfaces and even puffing.(Need ce verified animal feed pellet machine)
④Drying System: The expanded pellets need to be dried as soon as possible. The special continuous drying box for expanded pellets with a multi-layer mesh belt increases the drying effect with hot air circulation. The drying box can be divided into electric heating, oil and gas heating, steam boiler heating and so on. According to the customer's actual requirements for equipment configuration.(Need feed dyer)
⑤Cooling System: Initial cooling of the pellet surface.(Need pellet cooler equipment)
⑥Spraying System: Fully automatic seasoning system, integrated with oil and powder spraying. After drying the feed pellets in the drying box, the spraying system will spray grease on the surface of the pellets. After spraying, the following process is an automatic spraying (powder spraying) system.
⑦Packaging System: Automatic weighing, semi-automatic manual packaging.(Need automatic bagging machine)
The animal feed production unit has a compact structure and automatic transmission connection.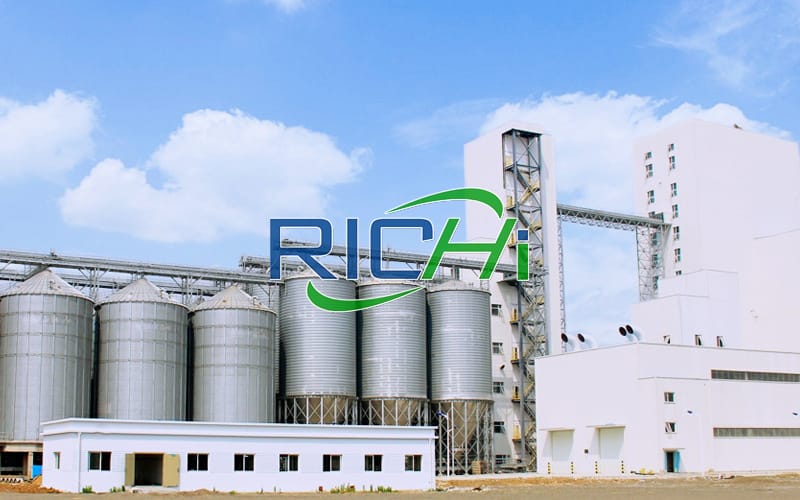 (2)Advantage of 30t/h animal feed pellet line with silo system
①The process flow is continuous and reasonable, and each feed making machine has good performance.
②The unit has a compact structure, small occupation area, low energy consumption, and high efficiency.
③Simple structure, easy maintenance, safe and reliable, less investment and quick effect.
(3)30T/H big capacity animal feed mill factory process flow chart(plant lay out for animal feed processing plant)
(4)Cost of establishing 30t/h animal feed manufacturing plant
RICHI 30t/h large capacity of turnkey animal feed mill plant cost is usually between 200000USD-2000000USD.
Richi Machinery is a professional animal feed processing plant manufacturer, in order to meet the requirement of the customer, we not only provide a full set of animal feed production line machines but also provide single machines in each feed production process.