2 Ton Per Hour Poultry Feed Mill Plant for Making Chicken Feed Pellets Shipping To Nigeria
2020-09-18 Back to List
If you are looking for related products or have any other questions, please feel free to contact us.
Contact Us
Recently, 2t/h poultry chicken feed pellet making plant purchased by Nigerian customers, has been manufactured successfully, waiting for shipping. This 2 tons poultry feed mill is mainly used for making chicken feed, later for producing cattle and sheep feed. This complete poultry chicken feed pellet line 2T per hour is equipped with chicken animal feed hammer mill, poulty feed mixer machine, 2 ton per hour chicken feed pellet mill, cooling machine. The client manages a farm by himself, and produces the feed pellets for feeding the poultry and livestock, thus the packing machine isn't equipped.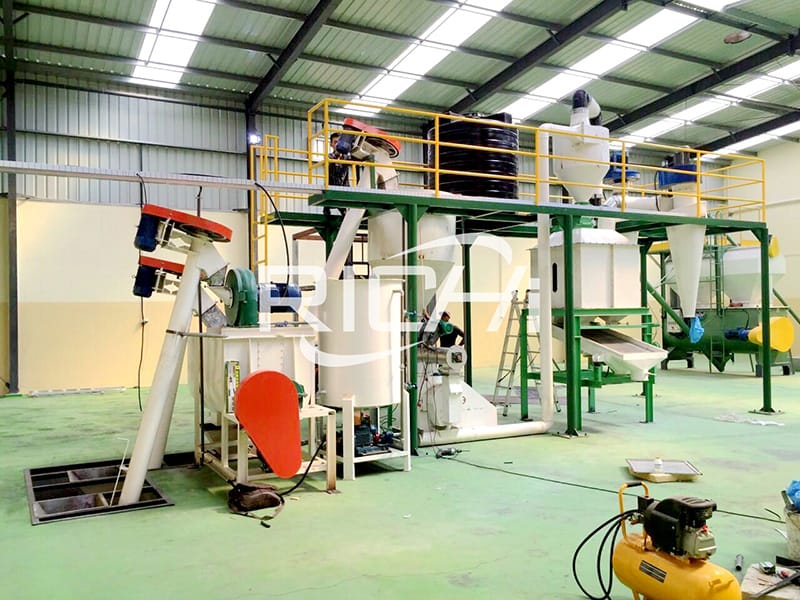 1.Features of 2 ton per hour pellet plant for manufacturing poultry chicken feed
This small chicken poultry feed line for pellet is designed specially for the clients who is the beginner of feed pellet industry or who have low requirement for self-use chicken feed production capacity. It has it own superiorities:
(1)The 2 ton per hour feed line for chicken can make many raw materials into chicken feed pellet, such as, soybean, potato, rice bran, corn, cereal etc. By mixing the several raw materials, the nutritional in-homogeneity of poultry can be solved well.
(2)Due to the high temperature during pelletizing processing, the finished poultry feed pellets with high degree of inner curing, are easy to absorb and digest for animals. Also, the common bacteria and microorganism in raw material can be killed through the high heat to keep the chicken and other livestock's health.
(3)The 2 tons poultry chicken feed mill plant, equipped with small and simple structured machines, is easy to install, operate and maintain.
(4)This 2t/h small scale poultry feed processing line plant can not only make feed pellets for chicken, but also make feed for other livestock like cattle, sheep, pig etc by changing the pelleting die.
(5)The finished feed pellets with uniform size and length, compact structure, are easy to store in bags or boxes.
2.Customized 2 ton per hour poultry livestock pellet feed line with CE
Richi Machinery can customize poultry feed pellet plant with different technological process on the base of the requirement of different clients. For the areas with relatively low automaticity and manual cost where requires low output capacity, one chicken feed pellets machine can produce feed pellets well. On the contrary, the 2 ton per hour full-automatic poultry feed pelleting plant can be equipped as well.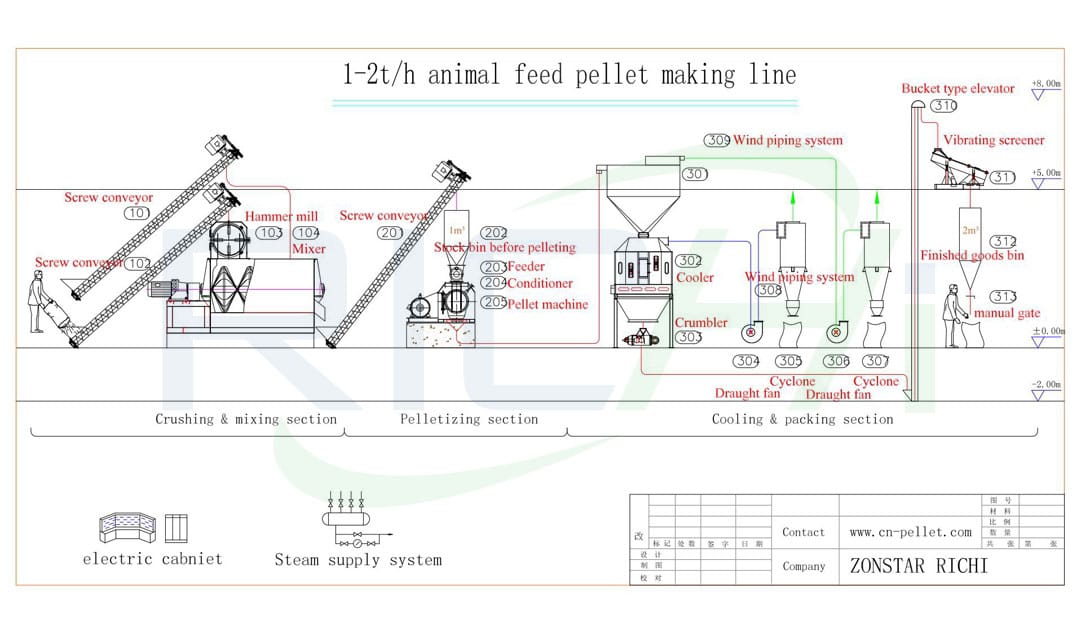 3.Chicken Pellet Mchine for Advanced Small Poultry Feed Mill 2 Ton Per Hour
Adopting two-grade transmission with belt and worm gear, 2 ton/hour chicken feed pellet making machine rotates with low noise and high stability. Feeding of material depends on the weight of raw material, avoiding the blocking in the processing. The main shaft rotates in 60rpm, while the roller rotates in 2.5 m/s, efficiently removing the air of the materials, and increasing the density of product. Additionally, 2t/h ring die chicken feed pellet mill machine is equipped with dies with different die hole diameters ranging in 2-12mm and different compressing ratios, thus is able to meet different requirement for feed pellet size and length of different people, to obtain best technological and economical effectiveness.
The above content is an easy way to make poultry feed for growing chickens.Do you want to set up your own 2 ton per hour poultry chicken feed pellet produciton processing plant? Feel free to contact Richi Machinery!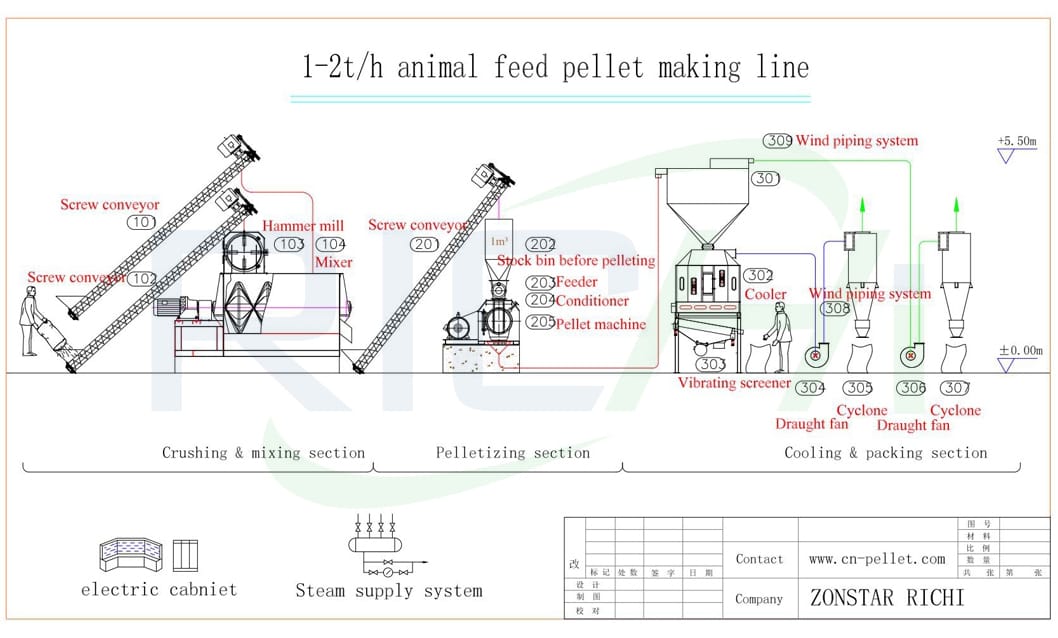 4.2t/h poultry chicken broiler layer feed production line we have done:
2t/h chicken feed pellet production machine line for poultry feed in Australian
2t/h simple home use poultry chicken feed pellet making line in Papua New Guinea
2t/h small scale chicken feed pellet processing plant in Peru
2t/h automatic small plant poultry pellet feed production plant in Sudan
2t/h poultry chicken broiler animal feed pellet making plant in Tanzania
2T/H poultry feeding plant in Cape Verde
2t/h poultry feedstuff powder feed processing unit line in Tanzania