RICHI large 200 tons capacity multifunctional animal feed manufacturing plant project is under construction
2021-04-04 Back to List
If you are looking for related products or have any other questions, please feel free to contact us.
Contact Us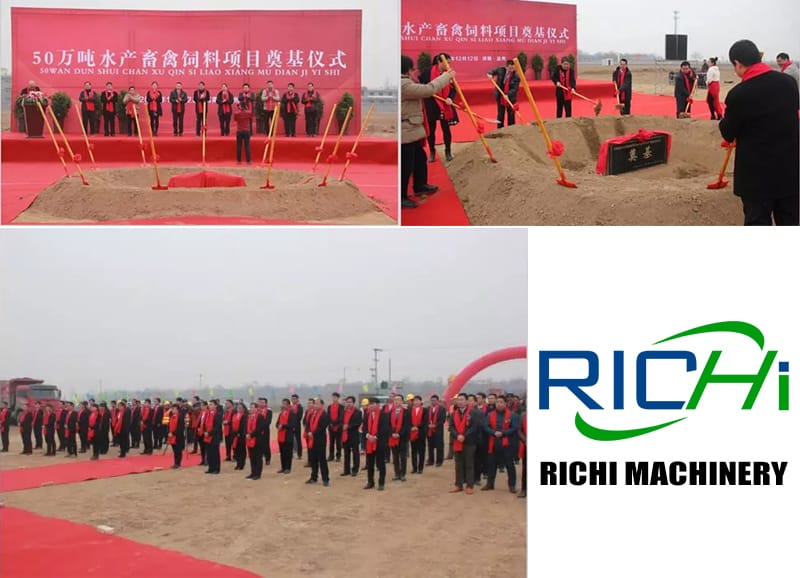 Recently, the groundbreaking ceremony of RICHI's 200 tons/hour multifunctional animal feed plant project was held in the High-tech Industrial Development Zone of Mengzhou City, Henan, China.
The guests participating in this groundbreaking ceremony included senior executives of the client company and local government leaders. Amidst the sound of firecrackers, the cornerstone stood firmly on the construction site, announcing the official start of the construction of the new plant.
The base covers a total area of ​​108,423 m² and was completed in two phases. The first phase is planned to design 4 fish feed pellet production lines, 1 livestock and poultry feed combined production line, and 1 animal premix feed production line, with an annual production of 200,000 tons of pellet feed.
The second phase is planned to include 5 sinking fish feed processing lines, 3 livestock poultry feed making lines, and 2 premix feed lines, with an annual output of 300,000 tons of pellet feed. The project will start construction on March 28, 2021. The first phase of the project is scheduled to be put into production on February 30, 2021. The overall project is planned to be completed within 3 years.
The start of the construction of the new design super quality animal feed production plant project has greatly encouraged all employees of the company. We look forward to the completion of the customer's new factory and the on-scheduled operation in one year. After the project is put into production, it will further increase the production capacity of the customer's feed company, enhance the overall strength of the customer company, and lay a solid foundation for the rapid development of the customer company, which is of great significance to the promotion of the development of local animal husbandry.