RICHI annual output of 360,000 tons of livestock and poultry feed production plant project in Hainan began construction
2021-02-03 Back to List
If you are looking for related products or have any other questions, please feel free to contact us.
Contact Us
Recently, RICHI's project in Hainan, China, an annual animal feed plant of 360,000 tons capacity for livestock and poultry feed, officially started in the local industrial park.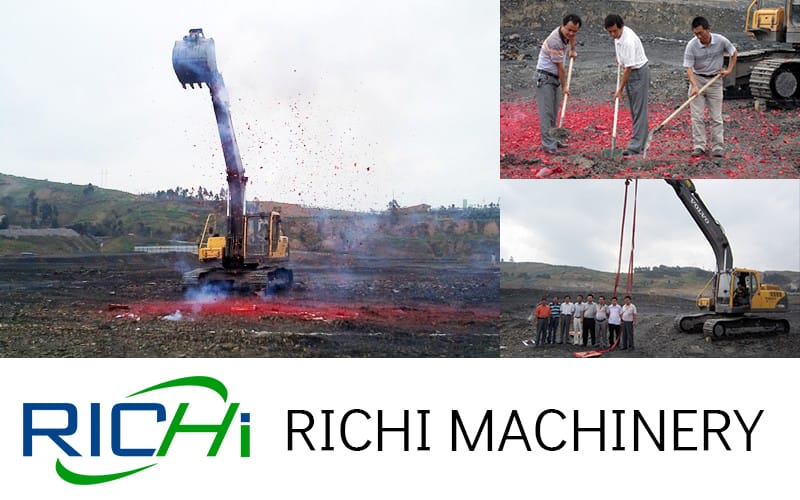 As the general manager of the feed factory, Mr Wang scooped up the first shovel, the prelude to the construction of this 360,000 tons per year poultry and livestock feed production factory project officially kicked off. The customer stated at the groundbreaking ceremony that this large feed mill project will actively respond to its group's strategic planning and layout in Hainan, overcome all difficulties, develop its full potential, and do everything possible to quickly build the group in accordance with the principles of high starting point, high standards and high requirements. This large scale full automatic poultry and livestock feed mill factory project in Hainan strives to be completed and put into production by the mid of this year.
This project with an annual output of 360,000 tons poultry and livestock feed manufacturing plant covers an area of ​​40 acres, with a planned investment of 150 million yuan and a construction area of ​​about 16,000 square meters, including production workshops, warehouses, staff dormitories, canteens, office buildings, etc., and produces green and efficient feed annually 360,000 tons. All poultry livestock feed processing equipments in this project are provided by RICHI.After the completion of the big capacity feed plant project, it will become a modern agricultural and animal husbandry enterprise with a large scale and high technological content in the poultry and livestock feed industry in Hainan. At the same time, it will accelerate the industrialization of Hainan's aquaculture, accelerate the strategic structural adjustment of agriculture and rural economy, and accelerate socialism. The pace of building a new countryside has accelerated the development and economic take-off of Hainan's animal husbandry.
RICHI will combine with the trend of industry development, constantly develop and innovate, to help feed enterprises improve production efficiency and feed quality, and create different competitive advantages for feed enterprises.